How to Reduce Abandoned Cart Rate with SMS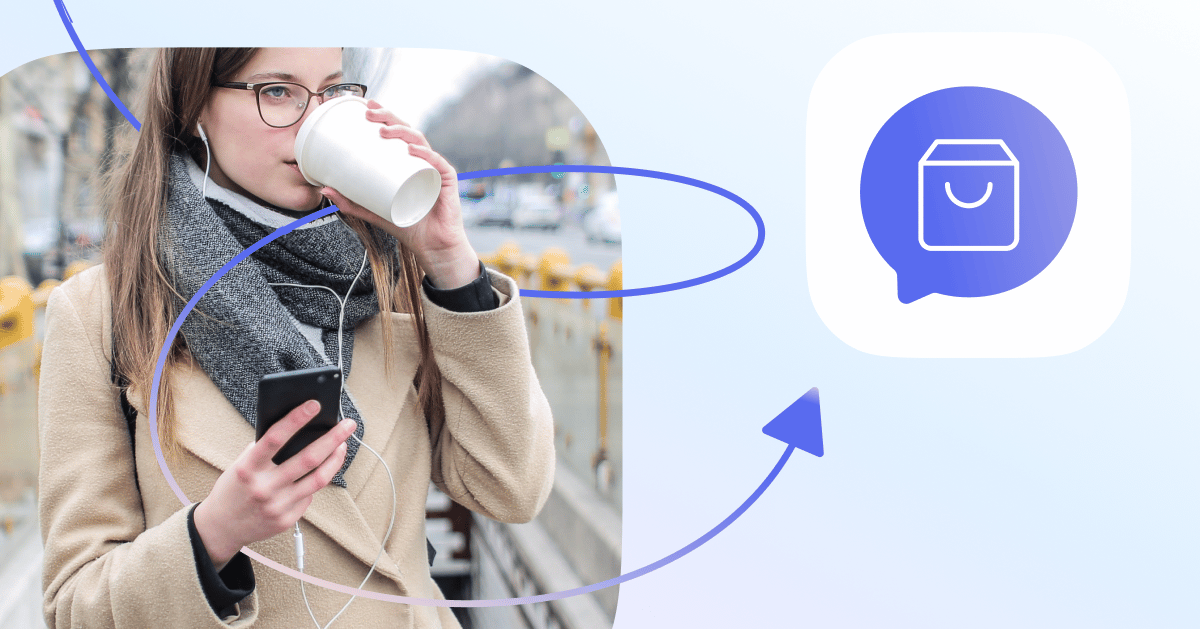 Nearly 88% of people who add items to an online cart never end up buying them. What are you doing to steer these potential customers back to your eCommerce store? If your answer is "nothing," then you're leaving money on the table. Big mistake.
Winning them back to your eCommerce store requires a strategy and squeezing the most out of every opportunity. You worked hard to get them on your website—they're now yours to win!
By sending abandoned cart SMS messages, you can remind shoppers about what they left behind and give them a gentle push to finish their purchase.
Use our expert guide to get your abandoned cart series off the ground and generating sales for your business with text messages.
What is an abandoned cart SMS?
Abandoned cart SMS are messages sent to customers who added products to their cart but didn't end up buying them. It's a smart sales recovery tactic, and the practices that work for email also apply to SMS.
Like a cart abandonment email, an SMS message uses the data you collect on an individual to send them a personalized message after they exit your site without purchasing. Just like with an email, you can customize an abandoned cart reminder with a snapshot of the items they left behind, coupons, and a one-click URL to bring them straight to the checkout page.
According to the latest data from Statista, roughly 88% of all online shopping orders end up abandoned. Here's how they break down by category:
Automotive – 96.88%
Baby & Child – 94.36%
Luxury – 92.61%
Airlines – 90.91%
Fashion – 90.68%
Gardening & DIY – 90.34%
Hotel – 87.55%
Cosmetics – 85.73%
Retail – 84.51%
If a customer adds a product to their cart, chances are they're interested in your products—just because they neglected to finish the checkout process doesn't mean the story has to end. Some people are not ready to buy yet; others may need a little incentive. There's also a good possibility they got distracted before they could finish and just need a quick reminder.
A well-timed cart abandonment SMS can encourage all these individuals to come back and complete their purchases.
Why do people abandon carts?
Statista highlighted the top reasons people leave their shopping carts and skip the final checkout:
When you understand why people abandon a purchase, you can write effective abandoned cart copy that addresses their concerns head-on. For example, you can offer compelling discounts, different shipping or payment options, or notifications about previously out of stock items that are now available.
When to send abandoned cart messages?
Sooner is always better when it comes to timing your abandoned cart SMS messages.
Rejoiner, an email marketing agency, studied millions of abandoned cart messages in their database to find which follow-up response times drove the most revenue. They found that companies sending a follow-up message one hour after abandonment saw an average conversion rate of almost 16%. Yowza!
As with abandoned cart email sequences, a three-message approach will deliver the best results for cart recovery with SMS. Be sure to send your messages one hour, one day, and three days after the shopper has left their cart.
Abandoned cart SMS #1: One hour
Conversion rates for messages sent 60 minutes after cart abandoned are higher because:
Your SMS campaign message doesn't reach people who were planning to return and buy their items.
Your message will probably arrive in their phone before they have time to shop elsewhere
The initial reminder message is likely to drive the most revenue if you take the right approach. Send a text that provides a gentle nudge to shoppers, and offer customer support to help minimize any concerns about completing the purchase. Note that it's critical to avoid any hard selling here.
Using marketing software like ManyChat, you can arrange for a live support agent to text with shoppers using 2-Way SMS Live Chat. Agents can answer questions, help with payments, or provide product recommendations if the shopper's desired item is out of stock.
Abandoned cart SMS #2: 24 hours
If the first text for the SMS campaign doesn't result in a sale, send another message about 24 hours later. Allowing a full day to pass in between texts will make your second message feel less disruptive, but 24 hours is not enough time for your customer to forget about their order.
Inject urgency into this abandoned cart SMS message. Create some tension and let the shopper know that their discount may run out (FOMO!) or that there are limited quantities of their chosen product available. Use copy like "[Plural item name] are selling fast, hurry before they run out!" or "Your discount will expire in three hours!"
Abandoned cart SMS #3: 3 days
You may feel like three days is a long time to send an SMS message, but in Rejoiner's study, the second and third cart abandonment messages raked in $324,672.49 for one of their client campaigns.
Offer customers an incentive to come back in your third abandoned cart SMS. Considering high extra costs like shipping are a leading cause of cart abandonment, offer a coupon or voucher for free shipping to overcome that barrier to purchase. You can use straightforward copy ("Still thinking about it?") or more playful ("Come back to us!"). The third text is your last chance to win back a potential customer, so make it as compelling as possible.
How to create an abandoned cart workflow with SMS
Once you set up an abandoned shopping cart SMS series in Flow Builder, ManyChat will send automated messages to encourage customers to return and complete their purchase.
Before we start, you'll need to things:
A Shopify store
A ManyChat Pro account
The ManyChat and Shopify integration
Subscribers who have opted in to your marketing list
Here's how to create an abandoned cart workflow using SMS:
1. Click the Automations tab in your ManyChat account.
2. Click + New Flow in the upper right corner of your dashboard.
3. Enter a flow name and click Create.
4. Click Add Trigger.
5. Click the Shopify tab and choose Abandoned Cart.
6. Click the Create Flow icon and click Send SMS. Then delete your Messenger block. You'll want to connect your Abandoned Cart trigger to an Opted-in for SMS condition first.
This will make sure your sending compliant messages to people. Then connect that condition block to your SMS block.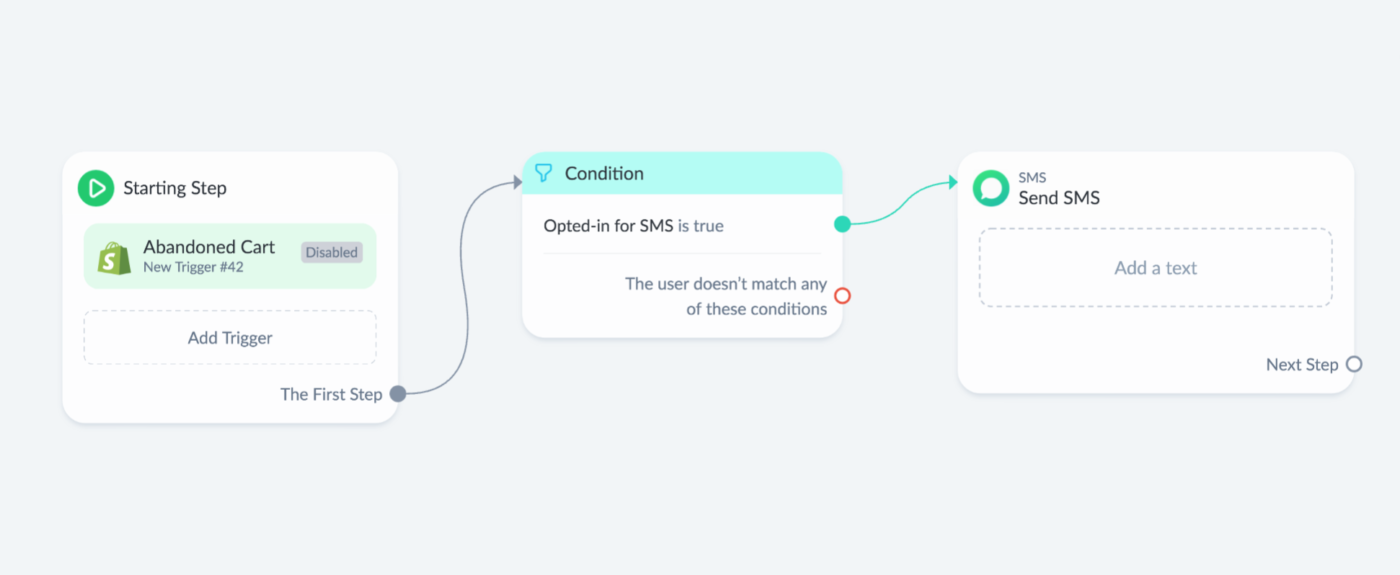 Now you're ready to personalize and design your abandoned cart SMS.
Want to reduce abandoned carts and increase sales in your store? Sign up for ManyChat free.
Advanced tips to reduce shopping cart abandonment rate with SMS
We've curated a few essential tips to help you get more clicks and sales from your campaign and make your abandoned cart recovery more effective.
Make it effortless for people to buy
Customers want to buy items as quickly as possible and get back to their lives. The more hoops you make them jump through to recover an abandoned product, the less likely they are to buy it.
Make it easy for your customers to go straight from SMS to the checkout process when they're ready to buy. You can use ManyChat to set up Coupon Campaigns that automatically apply a discount to minimize the number of clicks needed to complete a purchase. How's that for a next-level abandoned cart recovery strategy?
Personalize your communication
Remember that people like messages that make them feel like a human, not a dollar sign. Consider including your customers' names, a personalized coupon, and even their item list to show you put some effort into crafting your message.
Create catchy images
Whether you're browse abandonment or cart abandonment SMS messages, you'll want to include an image. Images are a great way to grab shoppers' attention and immediately convey your message. They can also produce a more positive emotional response, resulting in more clicks (and sales!) for your business.
There are a few things to keep in mind when choosing your images:
Use high-resolution images. You'll want to use high-quality images that attract the recipient's attention immediately when they see your message. There is not much space in a text message, so opt for the most compelling photos for your brand.
Use imagery that represents your brand. The images you use should mirror the message tone and be consistent with your brand's visuals on other channels. Choose pictures that focus on your product, and that will convince people to buy.
Offer live chat support
Live chat is a messaging channel that allows customers to speak with your business in real time. Even better, it delivers a more personal shopping experience, something we all appreciate.
A recent Twilio study found that nine out of 10 consumers globally want to chat with brands. With 2-Way SMS Live Chat, you can communicate with shoppers through texting to help recover lost revenue in a shopping cart abandonment campaign.
When you create a message for your cart abandonment campaign, be sure to let shoppers know live support is available. Add a line like "Reply to this message for live support" or "Need help? Respond to this text" to encourage shoppers to take advantage.
Offer a discount
Offering a discount is probably the easiest and most popular way to recover an abandoned cart sale. Retailers typically offer 10% off an order if the shopper buys immediately (or soon). If 10% is not delivering optimal results, some companies go as high as 15% or offer free shipping to sweeten the deal, as a high shipping cost is the most common reason customers drop out of the checkout process.
Discounts are also an easy way to demonstrate value and can increase add to cart rates and conversions for your campaigns. The only downside is that you'll have to sacrifice some of your profit. Before launching any type of discount campaign, be sure to crunch the numbers and confirm you'll still be earning decent margins. You can always adjust the offer to meet your financial requirements.
Add urgency
Some retailers generate anxiety and urgency with their abandoned cart messages to stay top-of-mind and entice shoppers to buy. When potential customers don't feel any pressure to take action, they're more likely to drag their feet. If presented with a limited time or availability offer , clicking the buy button becomes much more appealing.
Here are two ways you can inject urgency into your messages:
Use action-provoking language. Change words like "today" or "soon" to "now." When it comes to situations that appeal to our base instincts (like saving money), people can be easily convinced to do it now rather than later.
Mention stock availability or time limits. One way to introduce genuine urgency to your abandoned cart SMS messages is by letting shoppers know that they might miss out if they don't act immediately. You can achieve this by expressing limited availability for their items or establishing a limited time frame for your offer.
Segment messages based on product value
Once you've created a Shopify Product Catalog in ManyChat, you'll be able to send more relevant messages to people who have left specific items behind. Start by adding a "Products in Cart" condition to your abandoned cart flow in Flow Builder.
Open the catalog.
Then select the products you want to send specific abandoned cart messages for.
Once you've chosen your items, you can create an SMS follow-up in Flow Builder to help recapture the sale.
In what situation does this tactic work best? Say you want to offer more substantial discounts to people who have left higher-ticket items behind. You can create this automation in ManyChat and send different messages based on product value. This will spark more relevant conversations with customers and drive sales.
Read more: Selling on Shopify: How to Recover Abandoned Carts on Mobile
Reducing cart abandonment with SMS messages
You've heard it before, and you'll probably hear it again: mobile marketing has eaten the world.
With SMS marketing, you can deliver engaging experiences and recover more abandoned orders at scale. Whether it's through marketing automation or one-on-one live chat, SMS abandoned cart notifications are the "new normal" way to reach cart abandoners almost immediately after they leave items behind.
No more missed emails. No more lost sales. Just a better experience for each customer.
Recover lost sales and increase revenue in your store with ManyChat. It's free to get started.
The contents of this blog were independently prepared and are for informational purposes only. The opinions expressed are those of the author and do not necessarily reflect the views of ManyChat or any other party. Individual results may vary.