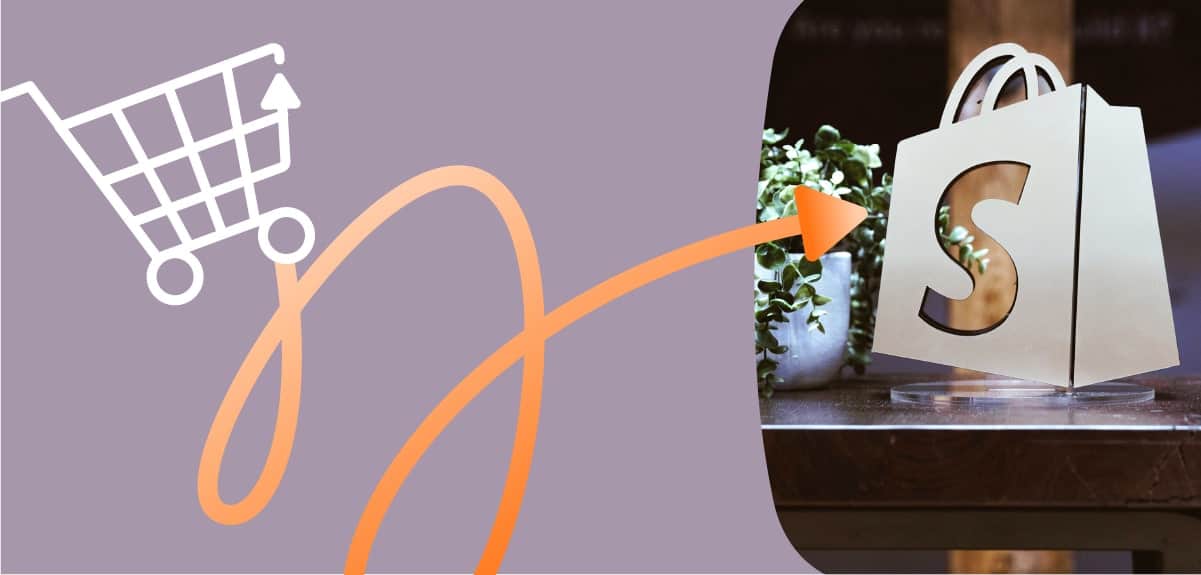 Shopify saw over $135 billion in sales in 2019, with more than 1 million merchants on the platform.
There's a lot to learn about how to grow a Shopify store, though. Success requires a few things — a focused niche, a good logo, and lots of traffic.
But even more essential to any profitable Shopify store is how and when you communicate with visitors and customers. As your store grows, so does your need to have a reliable marketing strategy and a communications plan that you can scale. The art is knowing where to spend time and resources in improving your online store versus other tasks that don't bring in the money.
To grow a Shopify store that sells, you want to build a strong brand and use Chat Marketing to communicate with your customers. Here are three ways you can to grow your Shopify store and drive more sales.
1. Start with a strong brand
The seeds of a strong Shopify store are planted when you first create your brand. A brand is more than just the products you sell. It's how you capture someone's emotions and build closer ties with them, in hopes they continue to buy from your store.
"The biggest thing people mess up with creating their stores is branding. They put a lot of focus on Facebook and Google ads, but forget about everything that happens on their website"

Adam Wilbanks, CEO of ROI Labs Agency.
Your brand goes beyond just your store as well. It extends throughout your entire marketing program from email marketing to Messenger and SMS.
"Your goal is to emulate a good personality across all your customer touchpoints. A lot of people see e-commerce as very segmented. Email is one thing, your bot is another, and your store is on its own…"
Adam, who's helped grow multiple Shopify stores past six-figures, explains that all these pieces add up to one big player, and you want to make sure they all integrate with one another. A consistent persona across all your channels makes your store easy to identify and keeps customers engaged over time.
For example, Pipcorn, uses their website to convey their brand as natural, healthy, yet modern:
The color palette and an eye-catching illustration promote the simplicity and natural feel of the product.
If you want to create a strong brand, start by:
Finding your place in the market. Who are your competitors? Who are your customers? And what can you do to make yourself different?
Choosing your personality. Create a persona for your company. Talk the way your ideal customers talk, and use that common language throughout your Messenger, email, and SMS marketing campaigns.
Create the visual identity of your brand. Choose your color palette, typography, logo and all the other pieces that make up your image.
Evolve your brand as you grow. Your brand may change or mature over time. New products can attract different customer groups, new trends can lead to new customer perceptions. You want to evolve with the times.
2. Create an attention-grabbing visual identity
Since your Shopify store is essentially an online window to your business, creating a visual identity that's fun and exciting is even more important to attract customers and increase revenue.
Consider this: if your store sees 100 visitors and only one buys something, you're converting at 1%, which isn't so bad. Say you add high-quality product photos and fun descriptions and just one more person buys, you now have a 2% conversion rate. The compounding interest of a strong visual identity is ten-fold.
Adam adds,
"Small tweaks like high-quality photos and descriptions focused on the psychology of conversion can quickly bring in more revenue for a store. Even if you move from one to two percent, you've already doubled your conversion rate without spending money on ads and emails. You've already doubled how much you're going to make online."
Photos
The Candi Factory, a clothing brand out of Toronto, uses high-quality and quirky images that attract the eye right when landing on the site:
The background is plain white and simple, letting the personality shine through the brands visuals.
Product descriptions
While high-quality photos are crucial, let's not forget about product descriptions that convert. Green and Blacks, an online chocolate retailer based out of the UK, add sensory elements to the copy to help potential buyers imagine the taste of the bar.
To create these types of assets, you can work with a team in-house or outsource freelancers to help — or give it a try yourself.
Colors
Your brand colors are the first thing that stand out to a customer. You can use color to establish an immediate, unconscious emotional connection with a customer and establish your own identity. When you think about it, you can understand a lot about a person based on their favorite color … the same goes for online stores.
If your Shopify store looks like every other online store out there, there's no way to separate from the pack. Hardgraft, an eCommerce brand that sells leather and knit goods, uses a light gray background to set it apart from competing stores.

The sleek and elegant site matches Hardgrafts sophisticated brand. And the unique look paves the way for a unique online shopping experience you won't find elsewhere.
Customize your store in Shopify
You have two options: Build a site from scratch or start with a template theme. Ground-up development gives you full control, while templates save you time with a ready-made sleek design.
Either way, you have a lot of options. You can browse through Shopify's pre-built themes or use a third-party developer. No matter what your business may be — photography, beauty, health, software, you name it — there'll be a template designed to meet your store's needs.
Within your chosen template, you have the freedom to experiment with layouts, text, images, and colors. It's simple enough to navigate but if want more control, consider the Shotgun app to help you customize your landing pages and more.
Grow your Shopify store with ManyChat today. The leading Chat Marketing platform for e-commerce marketers.
3. Use Chat to communicate with customers
There are endless ways to communicate with customers and drive sales using Chat Marketing. Let's take a look at a few key tactics:
Paid traffic
Click-to-Messenger ads
If you have an existing Shopify store, you can use the Shopify and ManyChat integration to build lookalike audiences for click-to-Messenger ads. So for example, you can create a group to target ads based on data you collect in Shopify. You can connect with new people, surface products, and send users to a product listing in your store.
Boosted Facebook Posts
With a Chat Marketing tool like the Comments Growth tool, you can boost a post on Facebook with a high-quality product image. When someone comments on the post, they are sent to the Messenger window where you can lead them to a product listing on your site.
Store visitors into subscribers
Tired of your email list not opening your messages? Now you can encourage store visitors to sign up for your subscriber list in Messenger. It's faster, more efficient, and more people open and act on your messages in Messenger than they do in their email inboxes.

In ManyChat, it's easy to test different pop-ups such as a Page Takeover, slide-in, or embedded sign up forms. You can choose when it displays, for example, after a certain amount of time or when someone goes to click "Add to Cart," and turn anonymous visitors into subscribers.
Abandoned carts
If a prospect got to the checkout stage, you know they're interested in your product. But for some reason, they've abandoned their cart. How can you re-engage them to encourage they buy something?
Creating an abandoned cart follow-up is one effective way to re-engage them. For instance, in ManyChat, you can build your own flows easily in Flow Builder.
You can choose the abandoned cart trigger to fire off an automated message when someone leaves products in their cart. The message can include a gallery of what's in the cart, as well as an easy way to get back and buy. Depending on what opt-ins you have, you can send the message through Messenger, SMS, or email.
If a customer has a question or two, this is also a great way to encourage them to ask. Maybe they'll want to speak with a person. In this case, you can prompt a Live Chat and answer their questions to encourage the sale.
Fulfillment messages
A simple "thank you" can go a long way in building customer relationships and encouraging repeat sales. And by automating post-purchase follow-up "thank you," you can sit back and relax while your new customers are nurtured.

You can start with a fulfillment message along the lines of: "Hey, we got your order. Here's your number to track it."
A simple message like this makes customers feel like they're in good hands. It keeps them informed on their order and minimizes buyers' remorse, helping you turn a fleeing one-time buyer into a long-term customer.

You can take it one step further by sending a message when your customer's order is shipped.
Sending fulfillment messages isn't just a great way to please your customers, but you can also use them to help you extend your post-purchase sequence to include upsells, cross-sells, getting customer loyalty program sign-ups and more.
Creating a top Shopify store for 2020
With more than one million merchants and $135 billion in sales, Shopify is leading the way for eCommerce store platforms. But in order to get the most out of it, you need to go beyond a good logo and traffic to your store.
Armed with these tips, you'll be on your way to grow a Shopify store that sells and help reach your eCommerce goals for 2020.
Grow your Shopify store today with ManyChat.