Cart Abandonment Email Examples and Best Practices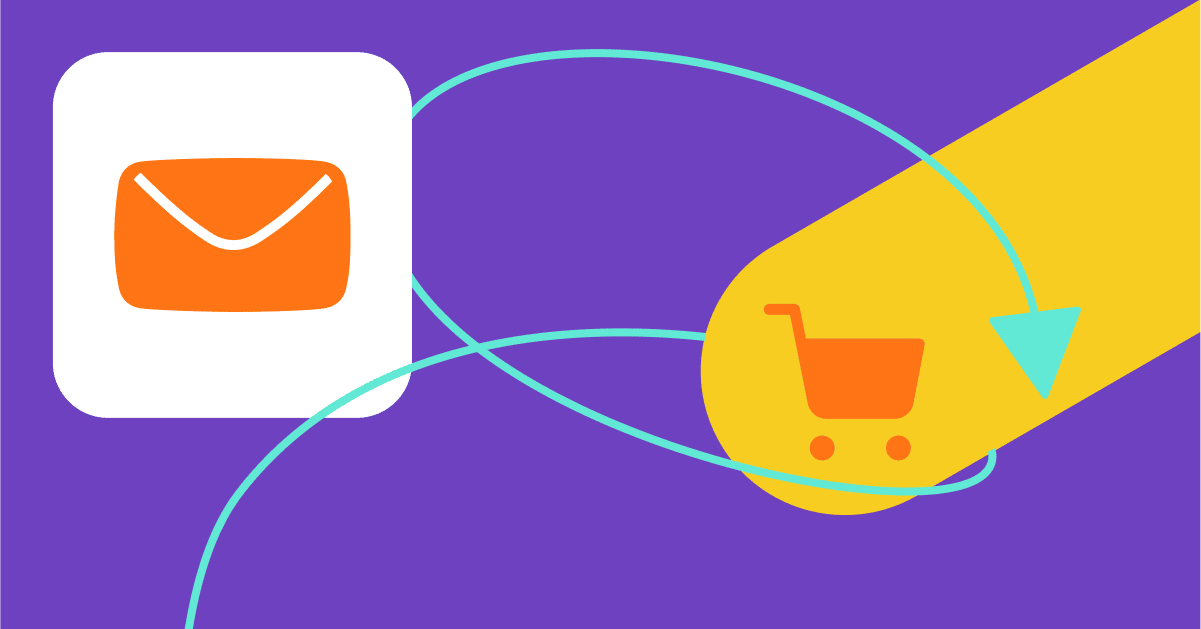 Think about all the times you've added items to an online shopping cart in your life. Did you buy every product? Or leave all of them behind? (Guilty!)
Maybe you received an email from one or two brands inviting you to come back and check out (with a nice discount as an added incentive)…which may have prompted you to finish the checkout process.
Promotional emails like this are likely part of an abandoned cart sequence.
Consider this: If the company you eventually purchased from hadn't sent you a follow-up email, you probably would have forgotten to return to your cart, and they would have missed out on that revenue.
In 2019, shoppers abandoned 88% of online orders. With stats like this, it's imperative to put an abandoned cart email strategy in place to recover sales, delight shoppers, and build sustainable growth for your eCommerce business.
What is an abandoned cart email?
An abandoned cart email is a cornerstone of every email marketing strategy. It's a follow-up email sent to customers who've added a product to their online shopping cart but then leave before purchasing.
A recent benchmark report from Klaviyo suggests that businesses using abandoned cart emails recover between 3% and 14% of these forgotten sales, with an average revenue per recipient of $5.81. While this sum by itself may not seem impressive, multiply that by hundreds (or thousands) of abandoned carts, year after year. Implementing an abandoned cart email sequence could net you some serious cash, and for the effort it takes to do so, the ROI is worth it.
Abandoned cart emails work by reminding shoppers about what they've left behind and encouraging them to come back and complete the purchase. You can personalize emails with images of their abandoned items, coupons, and a CTA button that leads them back to the checkout page.
According to data from Statista, the average shopping cart abandonment rate is 88.05%, but it varies by industry:
Automotive – 96.88%
Baby & Child – 94.36%
Luxury – 92.61%
Airlines – 90.91%
Fashion – 90.68%
Gardening & DIY – 90.34%
Hotel – 87.55%
Cosmetics – 85.73%
Retail – 84.51%
Any size business can send cart abandonment emails using email marketing software to automate the process. Even simple emails from your browse abandonment and abandoned shopping cart campaigns should help increase add to cart rates and improve the ROI from your paid ads. 
Cart abandonment email best practices
We've highlighted a few key tips that will help you improve your abandoned cart email strategy and recover more sales.
1. Set up an automated drip campaign
One challenge email marketers face is working out how many emails they can include in a series. Too few emails and they get ignored, too many and your unsubscribe rate skyrockets. Klaviyo's latest abandoned cart benchmark found that a single email resulted in the highest open rate. This email achieved, on average:
An open rate of 62.94%
A click-through rate of 14.53%
Revenue per recipient of $10.75
But these stats don't reveal the entire story. The same research also found adding additional emails to your abandoned cart sequence yielded promising results.
The first three emails in a sequence attained an average click-through rate of over 10%,— 4x higher than the average email CTR of 2.5%.
According to Klaviyo's data, you can expect to earn upwards of $10.76 per recipient on your first email, $8.27 on your second email, and $5.52 on your third.
It's clear including multiple abandoned cart emails in your sequence can improve profitability. Five or six automated emails may be too much, so consider testing a two- or three-step campaign first, and adjust as needed.
Abandoned cart email timing
Data clearly supports the theory that the sooner you send, the better results you'll achieve.
Rejoiner, an email marketing agency, analyzed millions of abandoned cart emails in their eCommerce platform to find the post-abandon time delay that drove the most revenue for their clients. They discovered that sending a follow-up message one hour after abandonment resulted in an average conversion rate of 16%.
Use a three-step approach to your email cart recovery series and send your messages one hour, one day, and three days after the shopper deserts their cart.
First Email (Sent one hour after abandonment): The sooner you send your first cart recovery email, the higher your conversion rate will be. (And the first email reminder will probably drive the most revenue!) Include images of their cart items in the email and offer an option to contact customer support to answer any questions or concerns that may be preventing them from completing the purchase.
Second Email (Sent 24 hours after abandonment): If your first email doesn't clinch the sale, send a second email around 24 hours later. Create a sense of urgency in this email by using copy like "Grab these items before they're gone!" or, if you have included a promotional discount to sweeten the deal, "Hurry, your discount will expire in two hours!"
Third Email (Sent three days after abandonment): For your third and final email, offer customers a compelling reason to complete their purchase. Given that high additional costs like shipping charges are a leading reason for cart abandonment, include a discount or coupon code for free shipping. This is your last chance to make the sale, so give it all you got!
2. Craft a catchy subject line
People judge emails by their subject lines. Good subject lines are personal, fun, descriptive, and give cart abandoners a reason to click and see what's inside.
Some good examples of abandoned cart email subject lines are:
However you choose to word your subject lines, it's important to consider your shoppers' mindset and test different statements to see what elicits the most favorable result.
3. Use high-resolution images
As mentioned earlier, you'll want to include images of the items your shopper has left behind in your cart abandonment email. They're a great way to grab shoppers' attention, immediately convey your message, and potentially produce a more positive emotional response, all of which can result in more clicks and increased sales for your business.
Here are a few things to keep in mind when choosing your images:
Use high-resolution images. You'll want to use high-quality images that attract attention and aren't grainy or blurry.
Use imagery that reflects your brand. The images you use should mirror your website's style and be consistent with your brand's representation across other channels. Choose photos or illustrations that embody your brand and will convince people to buy.
4. Offer live chat support
Live chat allows customers to talk with your business in real time and provide a more personal shopping experience. A recent report from Kayak found that 41% of consumers prefer live chat over other communication channels; in comparison, only 32% chose the phone, and 23% opted for email.
You can offer three live support options when building your abandoned cart email campaigns using ManyChat:
Direct reply from email
A Facebook Messenger live chat
An SMS live chat
With ManyChat, you can immediately chat with shoppers on their mobile devices through Messenger or SMS to secure the sale.
When crafting your emails, ensure that shoppers are aware that live support is available. Add a line like "Click here to contact support in Facebook Messenger," or "Need help? Text us at 555-555-5555" to motivate people to reach out if they have questions or concerns about purchasing.
5. Offer a discount
Offering a discount is probably the easiest and most popular way to recover an abandoned cart sale. A typical discount would be 10% off your order, but some retailers go as high as 15% or offer free shipping as an added incentive. (High shipping costs are the most common reason customers leave items behind.)
Discounts are also an easy way to increase perceived value and can improve conversion rates for your campaigns. The only downside is, well, you have to discount your merchandise or absorb some fees, cutting into your profit margins.
As with any successful marketing campaign, before you run it, crunch the numbers to make sure you still make a healthy profit even with a discount. That said, you aren't wedded to a specific offer, and can always adjust the offer as you see fit.
6. Add urgency
Some retailers infuse abandoned cart messages with a sense of urgency to elicit uncomfortable feelings of anticipatory regret and entice shoppers to buy. When potential customers don't feel any pressure to take action, they'll likely drag their feet; when presented with a limited-time offer or finite inventory, they are more likely to buy.
Here are some ways you can evoke urgency in your messages:
Use provocative language. Use words like "today" or "soon" to "now" in your email body copy. When it comes to high-reward situations like saving money, people will want to do it now rather than later.
Leverage your call-to-action button. The most obvious place to ramp up urgency is through your call to action. Rather than use a standard "Return to Cart," you could use "Check Out Now" or "Shop Now."
Limit the inventory or time allowed to redeem a coupon. One way to provoke your customers into taking action is by expressing their desired item's limited availability or placing a time restriction on your offer. You want shoppers to feel slightly anxious about potentially missing out on a great deal because the only way to relieve the tension is by purchasing the product.
7. A/B test your emails
Brands that A/B test their emails see 37% ROI than those that never include A/B testing, according to research from Litmus. If you're trying to improve your abandoned cart campaigns, it can be hard to tell which messages resonate most with your customers. A/B testing lets you try different things to improve your emails and get better results.
Most paid and free email marketing software provide metrics that allow you to understand how campaigns are performing. With ManyChat, you can use the Randomizer to test different pieces of your abandoned cart emails, such as:
Subject lines
Body copy
Images
Offers
Color scheme
Call-to-action buttons
Headings
Let's say that you run A/B testing on your emails timing, offer, images, and call-to-action button. You can test 1 or 2 elements at a time, so there aren't too many unknowns mixing with each other.
Once the test is done, you find that changing the offer and timing increases conversions by 5%. You can tweak the campaign in an hour and improve your chances of making more sales from your campaign.
Want to recover more sales and drive revenue in your store? Get ManyChat free today.
Best cart abandonment email examples
Alex Mill
Alex Mill sends its cart abandonment email after you leave items in your shopping cart on their website. All the images are dynamic—meaning shoppers see the products they've left behind.
While its clean design is appealing, the messaging is the critical element here. The brand reassures you that your items are reserved and waiting for you, and they can be yours (for an extra 15% off!) if you click through to the site.
Moment
Moment sends a genial email follow-up as part of its cart abandonment series. The subject line, "Leave something behind?" piques your interest, while the email's conversational and inviting copy immediately draws you in.
The brand also offers support right from the email to help minimize any doubts about its product, costs, etc., and even includes a case upgrade guarantee. When you buy items online, it's impossible to assess quality before purchasing. Given that many phone cases can be cheap and break easily, Moment highlights its warranty to build trust and encourage a sale.
Uniqlo
Uniqlo gets straight to the point in its cart abandonment series, starting with the subject line: "Open to see the new price." The brand's iconic red design and catchy "Lucky you" headline instantly grab your attention, and the mention of a new price evokes a FOMO reaction. Emotion-provoking information like this can entice a receiver to click through.
Though Uniqlo's email is short and straightforward, it saves room for a "You may also like…" section populated with items based on a shopper's browsing behavior. Traditional cart abandonment emails focus solely on the items left behind, but Uniqlo takes this strategy to the next level with product recommendations that serve as an upsell opportunity.
Adidas
Adidas's "Is your Wi-Fi okay?" email ticks all the boxes for an effective abandoned cart email:
It's clever and quirky—a great way to start any email
It's dynamic and highlights the item left behind shoppers leave behind
It leverages social proof by showcasing reviews and pictures taken by actual customers
It includes the option to customize the product (if applicable), one of Adidas's key advantages over its competition
You don't need a big marketing budget to create a similar email. Just inject a little humor and personality into your messaging and use your own customers' testimonials; soon, shoppers will be clamoring to return to your online store and finish their purchase!
Create abandoned cart emails with your customer in mind
It's easy to send generic abandonment messages. Although it's harder to send enticing, personalized emails that rack up clicks, the extra effort is well worth it. Use this guide as inspiration for your next cart abandonment email, and incorporate our tips into your next campaign. You'll soon be effortlessly creating a joyful experience for shoppers that results in tremendous sales growth over time.
Recover more sales and drive revenue with ManyChat. It's free to get started.
The contents of this blog were independently prepared and are for informational purposes only. The opinions expressed are those of the author and do not necessarily reflect the views of ManyChat or any other party. Individual results may vary.