Cart Abandonment vs. Browse Abandonment: What's the Difference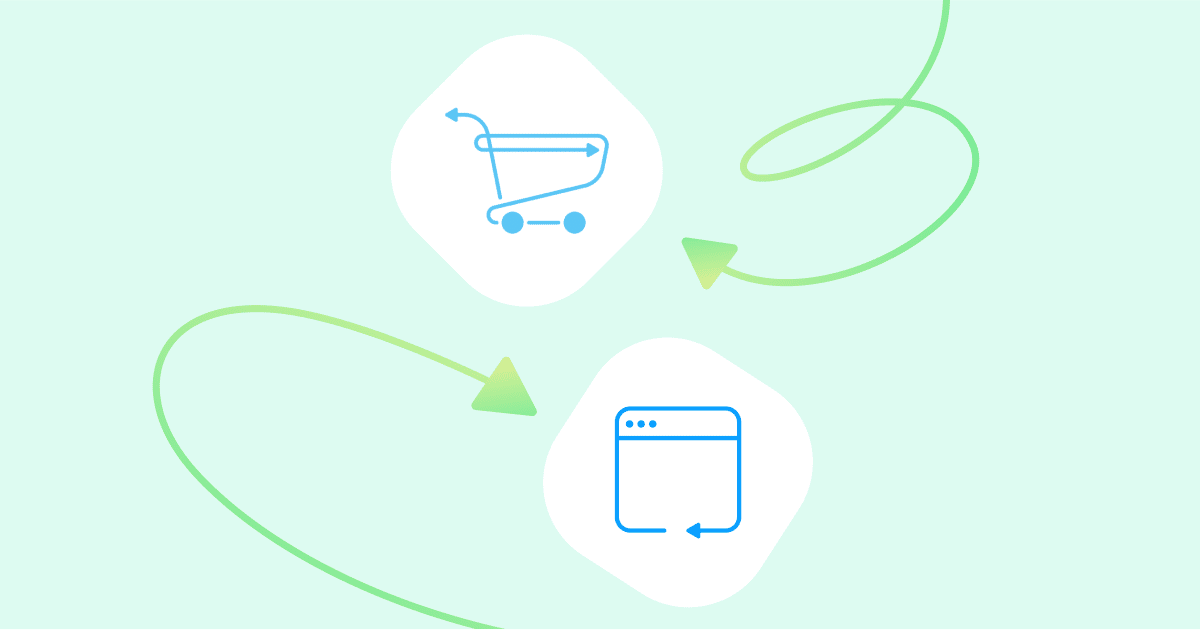 A lack of customer commitment on your site leading to browse abandonment and shopping cart abandonment can have a tremendous impact on your business.
The good news is there are effective methods to recover your lost sales and help you improve customer experience.
From implementing a browse abandonment message for online window shoppers to cart abandonment emails perfect for a potential customer with multiple products in their cart, we've got you covered.
What is Browse Abandonment?
Anyone that comes to your site to look around and have a quick browsing session, is an opportunity for a sale. If they leave without placing any items in their cart, it's a lost opportunity, which equates to a loss in revenue for your business.
Say, for example, you're looking for a particular product such as new bedding. You head to a site to look around, see what your options are, gain an understanding of cost, yet never put anything in your cart and click off. You have therefore committed browse abandonment. Many site visitors have low buying intent but there are ways to incentive shoppers so they don't become a browse abandoner.
First, you must understand why your visitors are not completing the purchase cycle. There are several reasons people visit a site, yet leave without putting something in their cart.
What is Cart Abandonment?
This goes a step beyond browsing because at this point, the items of interest have been placed in the cart, ready for purchase. For some reason, checkout is not completed and the items are left abandoned in the cart.
Similar to browse abandonment, there are plenty of reasons why this happens and it's not just the consumer who's to blame.
What are cart abandonment rates?
If we take a look at the statistics related to all of these reasons mentioned above, businesses like yours can figure out how to turn these browsers into customers.
On average, 69.57% is the documented online abandoned cart rate, which is a calculation based on 41 various studies on eCommerce shopping cart abandonment from Baymard Institute.
From a monetary perspective, that roughly equates to $260 billion in eCommerce sales lost from people in the US and EU who didn't complete the purchasing process. With the proper steps, this money is recoverable.
Once you're aware of your site visitor's roadblocks to completing the purchasing process, you need to then look at yours. In a Forbes.com article, Adam Hindhaugh, creative & product director at Ve Global, a London-based marketing technology firm, says that cart abandonment is largely a result of marketers making flawed assumptions because once a customer lands onsite, there's still plenty of work to be done.
There's little reason to let potential sales slip away. Platforms like ManyChat are utilized to remind customers of their forgotten purchases and give that necessary gentle nudge. This is accomplished through various platforms, such as email, SMS, and Messenger.
Solutions for Browse Abandonment and Cart Abandonment
Check out what dynamic content for browse abandonment emails look like.
What this coupon says is, "You liked what you saw and perhaps you felt the price was too high so here's this discount to help you justify your purchase." As a consumer, getting a deal on something that is full price is extremely attractive. You'll notice there is an immediate incentive coupon to complete the purchase.

In the example above, there is a sense of urgency created for the visitor to purchase.
A high performing abandoned cart email sequence can recover up to 30 percent of your lost sales. A good abandoned cart sequence gives you insight into why online shoppers are bailing so you can improve your shopping experience.  
Using a platform like ManyChat can help you create a drip campaign to convert those abandoners. This allows you to reconnect with your customers and inspire them to follow up on a recent visit to your site.
These abandonment campaigns can also be delivered through Chat Marketing using Messenger, which easily connects you with customers to remind them to purchase. You can choose the abandoned cart trigger in ManyChat to fire off a series of automated messages when someone leaves products in their cart as shown below.
A company should never rely on one form of communication so utilizing SMS along with email and Messenger will allow you to reach more customers efficiently and effectively.
If you have a Shopify Store, you can easily connect it to ManyChat to create an Abandoned Cart Campaign using automated reminders sent via SMS or Messenger. This allows you to guide consumers back to your store by displaying images of the items left in their cart, suggesting suitable products, and even personalizing discounts.
ManyChat allows you to create coupon campaigns that will be automatically synced over to your Shopify store without ever having to leave ManyChat. Offering discounts can be a powerful marketing strategy for your Shopify store that will engage and motivate your subscribers.
Do's and Don'ts of Browse Abandonment Outreach
Convincing someone who has chosen a specific product to think about is more challenging than someone who has just been browsing your site.
Do's and Don'ts of Cart Abandonment Outreach
You're so close to that sale and the communication reminding your visitor to finish their purchase is one that can give you back important revenue. There are ways to aid in abandoned cart recovery, so don't worry!
Improving your customer's shopping experience will help you build meaningful relationships and lead to more conversions.
The contents of this blog were independently prepared and are for informational purposes only. The opinions expressed are those of the author and do not necessarily reflect the views of ManyChat or any other party. Individual results may vary.