How to Reply to an Instagram Direct Message via Chat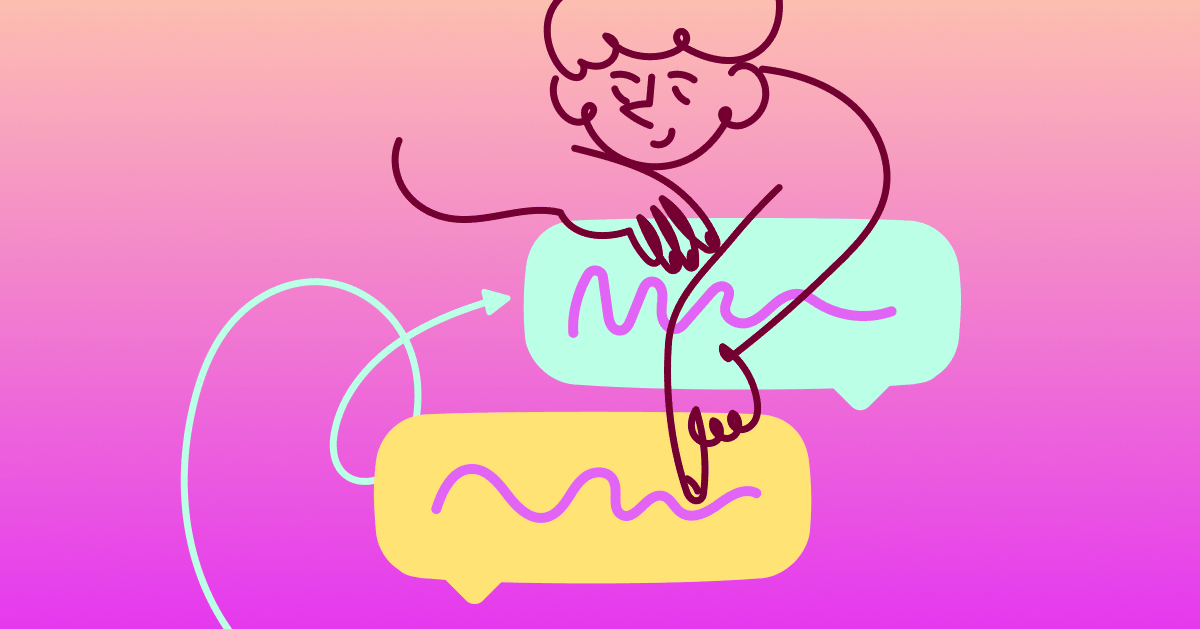 In 2020, the folks at Facebook (now referred to as Meta when talking about its ecosystem of apps—i.e., Snapchat, Instagram, and Facebook) decided to merge Instagram and Messenger chats.
While little has changed on the Messenger side, this merger greatly improved Instagram DMs. (Namely by enabling users to respond to specific messages in a chat.) For most, this change means group chats can be more organized and replies now have the option for more context.
For businesses and influencers, it means being able to address individual messages on both the Facebook and Instagram platforms in one place.
This quick tutorial will show you how to reply to these specific messages as well as automate your chats so you rarely have to manually reply in the future.
Quick note: At the time of writing, the Instagram and Messenger merger update isn't available everywhere. For example, Japan and parts of Europe—including the UK—still don't have this feature.
If you don't get the Messenger update prompt when you enter Instagram DMs or can't see the option to update in your settings, then the feature is most likely not available in your country yet.
Replying to Instagram DMs with ManyChat
Being able to reply to specific messages individually can add context to a conversation. But sending manual responses can consume a lot of time, especially at scale. So what can you do to save time? Build automated conversations.
With Instagram Automation by ManyChat, you can create Messenger chatbot flows that also work with Instagram DMs.
Automating conversations using a chatbot can help you:
Manage customer service questions: With ManyChat, you can create a customer service chatbot that provides your customers a set of chat options with instant responses that cater to their needs. Talk about speedy service!

Promote sales and send coupons: If your potential customer is new to your DMs, you can have a predetermined Conversation Starter direct them through current sales.

If you feel like getting creative, you can try hideAWAY Handmade's strategy and build a fun quiz with a coupon reward at the end.

Manage giveaway entries: Running giveaways is a great way to boost engagement on Instagram.

Instead of manually processing entries, you can set up a bot that automatically DMs those who enter contests using Comments Automation. This strategy helped Roma by Rochi generate a 741% lift in engagement.

Collect customer-provided information: When your followers enter your chatbot flows, use the opportunity to collect their contact information (in a responsible way). For example, ask for their email to send them digital freebies, enter contests, or for event reminders.

Respond to Story mentions: Getting positive Story mentions for your brand is awesome for brand awareness, but they can be hard to keep up with as you grow. Using ManyChat's Story Mentions trigger tool, you can instantly respond to every mention you get, and even generate leads with it (just like Frazer Brookes did).
Of course, not every conversation can or should be automated, so when you do need to step in, ManyChat offers an intuitive Live Chat dashboard to help you and your team reply to messages individually.
How to reply to a specific message on iOS or Android
Replying to specific messages in Messenger chat works the same on both iOS and Android platforms; the only difference is the icons involved. Here's how to reply to an Instagram DM:
Go into your Instagram app and tap the Messenger icon in the top right corner of the home screen.
Look for the conversation and specific message you want to reply to.
At this point, you'll have two ways to reply to a message. You can swipe right on the message itself, which will bring up the reply arrow icon, thenclick the reply icon to get back to the text box. There you'll see. a box above containing the message you're replying to.

The second method is to press and hold the message you want to reply to until the message options Reply, Report, and More options appear. Click on Reply. From there, type out your reply and hit Send.
It's that easy! Of course, you can now respond to specific messages on the web version of Instagram, too.
How to reply to a message on the web
Replying to a message on the web version of Instagram is similar to doing so through the app:
Log into your Instagram account and make sure you have the Messenger update ( it won't work without this update).
Click the Messenger Chat icon in the top right corner, then look for the conversation and message you want to reply to.
Click the three-dot options icon.
From there, you'll see the "reply" arrow icon appear (the word "reply" doesn't appear in the options).
When you click the reply icon, you'll see the same message appear above the message box to show that you're replying to it. Type out your response, and hit Send.
And just like that, you've replied to a specific message in a conversation instead of sending a message without context.
Save time with Instagram Automation today
The Messenger and Instagram DM merger was good news for social media marketers and users alike — being able to message friends and followers from separate networks on one platform is a major time-saver.
But with the help of Instagram Automation by ManyChat, you can save even more time, generate leads, and boost your revenue, making Instagram marketing more scalable than ever before.
Ready to give Automation a try?
Grow your Instagram following and make sales with Instagram Automation by ManyChat. Start free today.
The contents of this blog were independently prepared and are for informational purposes only. The opinions expressed are those of the author and do not necessarily reflect the views of ManyChat or any other party. Individual results may vary.