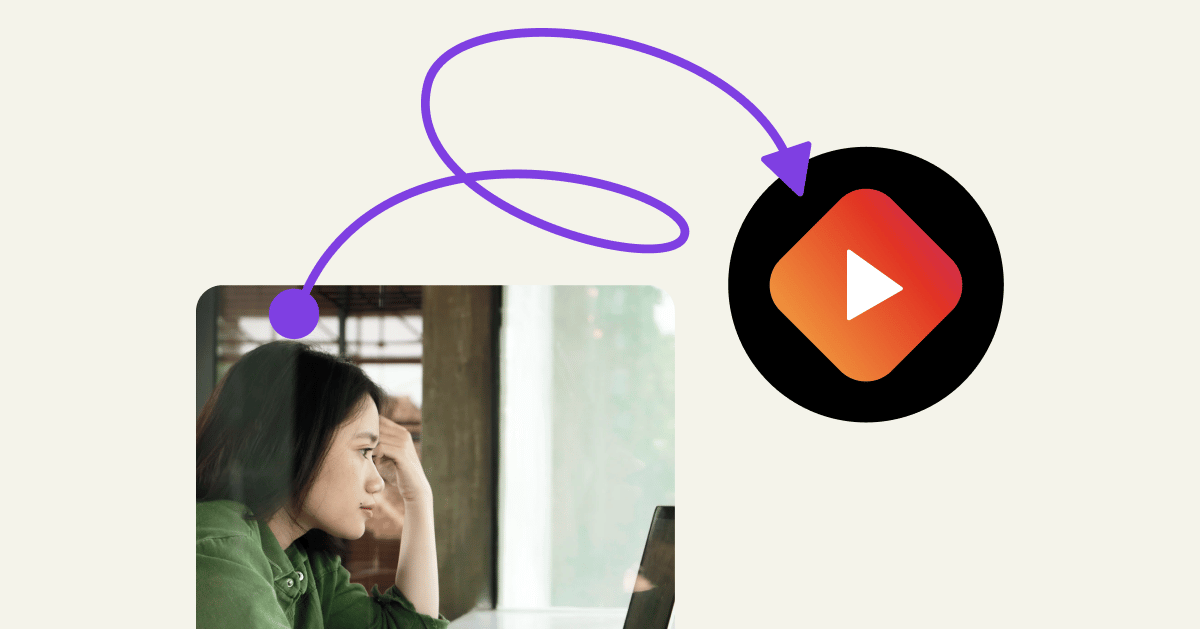 With over 1 billion monthly active users, Instagram is one of the biggest social media platforms in the world. As a savvy marketer, it's only logical that you'd want access to such a huge audience, but where do you start?
With video! The average watch time for online video has risen to 2.5 hours a day. According to Wyzowl, a whopping 84% of people say watching a brand's video has convinced them to buy a product or service. It's clear that video marketing is the way forward.
That's where Instagram video ads come in.
This guide will help you understand what Instagram video ads are, how they can benefit your business, how to create them yourself, and finally, some examples of successful ad campaigns to inspire you to make your own.
What are Instagram video ads?
Like carousel or single image ads, Instagram video ads are a type of ad format. They usually feature a branded video that runs around 30 seconds in length, and placements can vary across Instagram Feeds, IGTV, Reels, and Instagram Stories.
Since Facebook owns Instagram, you can also opt for your ads to appear as Facebook ads and display on the Facebook News Feed, Messenger, and other placements throughout Facebook's network. 
Are Instagram video ads right for your business?
The short answer is yes. From eCommerce stores to barber shops, every type of business can benefit from running video ads as long as the videos are eye-catching, high-quality, and laser-focused on their target audience.
Here are some other compelling reasons to invest in video ads:
According to BI Intelligence, video ads have the highest average click-through rate (1.84%) of all digital ad formats, including photo ads (or image ads).

Instagram Stories video ads integrate seamlessly into the Instagram app and look identical to normal posts or Stories—which helps reduce some of the negative perceptions people have of online ads.

According to Wyzowl, 85% of people would like to see more videos from brands in 2021.
Overall, video ads can help increase your conversion rate and engagement, generate leads, and ultimately help you snag more sales. Given their proven effectiveness, there's really no reason to exclude video ads from your strategy.
If you want to use Instagram video ads in your marketing strategy, check out our step-by-step tutorial in the next section.
How to make Instagram video ads
We're going to keep it simple for this tutorial and jump straight into the actual ad creation process. If you want the finer details about objectives, ad specs, and pricing strategies, check out The Beginner's Guide to Instagram Ads.
For now, let's assume you have an objective in mind and you've already created a new campaign in Facebook Ads Manager that aligns with it. (We've chosen "Brand Awareness" for our example.) After selecting your objective, you'll proceed to the first settings page.
Technical ad settings
On the first page of your new ad setup, you'll see the technical settings you need to establish before moving on to the next step.
On this screen, you'll be able to change the following settings:
Ad set name: Change the ad set to reflect the name of your campaign or objective.

Dynamic creative: This setting encourages you to set up multiple headlines, images or videos, descriptions, and calls to action (CTA's) that Facebook can then optimize based on who is viewing the ad.

Budget & schedule: Here, you'll want to set the budget for your ad campaign and the ad's duration. You can either choose an average daily budget (note that some days can cost slightly more or less than others) or a total lifetime budget. The more money you invest, the more potential reach you'll get.

Audience: Here's where you can get super strategic and define who you want to see your ad. Creating a Custom Audience (or a Lookalike Audience) and going beyond basic demographics is a must if you want your ads to be effective.

Consider what your target audience likes, where they live, how they behave, and even whether or not they've interacted with your business before. If you start with a few points of interest, Facebook will offer helpful suggestions of others to include.

Placements: You'll have two main options for ad placements. First is the recommended "Automatic placements," where Facebook will automatically allocate your ad placement to maximize your budget.

The second is "Manual placement," which you can use if you only want to display your ad in specific places, such as Instagram Explore, Feed, or Stories.

Optimization & delivery: Your ability to change these settings depends on the objective you choose when first creating your campaign. For example, when using the  "Brand Awareness" objective, the only optimization option is "Ad recall lift." 
Once you've settled on the more technical details of your ad campaign, hit Next at the bottom of the screen to move onto the ad creative settings.
Ad creative
On the second screen, you'll see the main settings on the left and (if toggled) previews of your ad on the right.
If you selected "Automatic placements" in the technical settings, you'll see a lot of previews that you can click on and edit to ensure each placement is set up to your liking. In this example, we selected "Manual placements" and chose Instagram Feed, Stories, and Reels to keep it simple.
For this screen, you'll see a few more basic settings like:
Ad name: You can change the name of this specific ad if it is part of a broader campaign.

Identity: You'll need to select the Facebook and Instagram Pages you control for the ad to display.

Languages: Here you can set your current ad to a specific language..

Tracking: You can add the Facebook Pixel code to your website for better conversion reporting, track app events (if you've chosen an app install objective), initiate offline event tracking through Business Manager, and even build your own URL parameters.

However, let's get back to the more interesting stuff—ad setup and creative. Let's start with the Ad setup pictured below:
Here you can choose from creating a new ad, using an existing post, or using a creative mockup in the dropdown menu. Pro tip: Running an existing post could save you time, but then you run the risk of mixing your messaging. (Remember that you want your messaging to be finely tuned to your audience and objectives.)
After determining your ad setup, choose your ad format.
Single image or video: If you only need to play one video in your ad, you can select this option.

Carousel: If you have a few videos (perhaps showing your product in different situations or use cases), you can try a carousel ad that places your media in a scrolling slideshow format. If you choose this option, your Ad Creative settings will change to "Carousel cards," where you can add the media for each card.

Collection: For this option, you'll have to enable the full-screen "Instant Experience" mode. Collection ads can feature a primary video along with other videos or images. Most critically, if you have an Instagram Shop with a catalog, you can offer your products right from the ad.

If you choose this option, Instagram will prompt you to select a template (or build your own) that becomes a landing page for your ad that can link out with multiple CTA buttons, like so:
After you've completed your ad's setup, you can move onto the Ad creative section. Here you'll add your video(s), a website URL (which you'll want for the "swipe up" feature), and the ad description.
An important step is to tailor the media and text for each ad placement. This is because some placements are better for specific aspect ratios than others.
For example, an Instagram Feed ad is best presented as a square video format (1:1), whereas Stories, Reels, and IGTV ads are better with vertical videos (9:16).
As you go to edit the specific placement, you'll see the following screen:
Here you can do some basic editing to switch video uploads, crop and trim photos, and select from thumbnail choices.
However, there are also some other options to note. Chief among them are closed captions (CC), which are super important for inclusivity, but also because 80% of consumers are more likely to watch an entire video with captions available.
If you're editing a Story ad placement, you'll also get "poll" and "background-color" options in the creative tools section alongside "text overlay" and "logo overlay."
Once you've set up your ad creative with all the placements and added your descriptions, it's time for publishing! (Though if you're still unsure about what a video ad can look like and how they perform, check out the ad examples below for inspiration.)
Video ad examples and tips
For our examples, we've chosen three eCommerce campaigns. We'll look at their objectives, strategies, results, and what you can learn from each campaign that you can try for yourself.
Sephora
Our first example comes from the well-known beauty brand, Sephora. The french-owned retailer wanted to do a promo for a new in-house fragrance collection called "Do Not Drink." With many stores closed because of the Coronavirus, it struggled without in-person sampling. 
Sephora took on the challenge by mixing the neuroscience behind our sense of taste and smell, launching its "Smell with Your Eyes" campaign through Facebook and Instagram.
It displayed creative animations for each fragrance alongside videos featuring VR filters on the Instagram Feed and Stories, resulting in:
A 17-point lift in ad recall
A 2.4-point lift in standard favorability
A 1.3-point lift in purchase intent
What to try
Your ad video content doesn't need to be action-packed and overflowing with scene-switching. It can be a single—but creative—animation or edited video that puts your product front and center.
However, if you want to kick it up a notch, consider borrowing Sephora's storytelling tactic: persuading viewers to involve all of their senses, not just sight and sound. Try to think of ways to get your audience to imagine with their other senses, like showing hands running through a silk dress or even an actor smelling the product.
Minimalist
Our second example comes from Minimalist, a luxury watch brand based in Dubai. It wanted to leverage patriotic sentiment around National Days in Saudi Arabia, UAE, and Kuwait to drive customers to its online and retail stores to buy National-themed watches.
For brand awareness, Minimalist first used carousel ads that showed up in the Instagram Feed and targeted a Lookalike Audience (this audience was based on existing customers). Then it launched Instagram Story ads to retarget those who had watched at least three seconds of the original ads.
These tactics resulted in:
1.5X increase in return on ad spend
60% decrease in overall "add to cart" cost compared to previous campaigns
2.5X return on ad spend compared to other campaigns it ran during the same period
What to try
This campaign is an excellent example of why it's so critical to use an appropriate Custom Audience. In Minimalist's case, it was able to leverage existing customer data to create a Lookalike Audience consisting of those most likely to convert.
If you have an existing customer audience, you can make use of them in the same way. However, even if you don't have current customers, you can still employ the same technique of running an initial campaign then launching another one retargeting people who watched a decent portion of your video ad.
Little Mistress
Last but not least is the luxury fashion eCommerce brand Little Mistress. It hoped to increase Black Friday sales by targeting ethical consumers with its clothing range made from recycled materials. 
Its "Party Guilt-Free" Story video ad campaign involved overlaying an image slideshow with stickers and an interactive poll to encourage viewers to engage with the ad. The end screen included a CTA to shop the collection on Little Mistress's website.
This campaign resulted in:
24% lift in "add to cart" conversions
94% increase in Black Friday sales compared to the previous year
2.8 million people reached
What to try
This ad campaign clearly illustrates how Instagram rewards content designed to engage viewers over that made for passive viewing.
When you run video ads in a Story placement, you can host polls in different ways. A popular tactic in fashion is to make outfit comparisons (e.g., "Which do you prefer?"). However, another way you can use the Story placement is to encourage viewers to share and mention your brand in their Stories (perhaps as an entry to a giveaway).
With the help of Instagram Automation by ManyChat, you can set up automated replies to users who mention you in their Stories. This strategy can also boost engagement and brand awareness, and even inspire brand loyalty.
Get started with Instagram advertising today
Building your brand on Instagram for an eCommerce store (or any other type of small business) doesn't have to involve years of marketing know-how and organic growth. By thoughtfully using Instagram video ads and following the strategic methods we've outlined in this article, you can leverage the social network's huge user base to reach your audience where and when it matters most.
ManyChat can also help you automate processes that give you an edge over your competitors. See if your business is eligible by applying below.
Grow your Instagram following and make sales with Instagram Automation by ManyChat. See if your business is eligible by applying below.
The contents of this blog were independently prepared and are for informational purposes only. The opinions expressed are those of the author and do not necessarily reflect the views of ManyChat or any other party. Individual results may vary.