The Complete List of Instagram Features for Marketers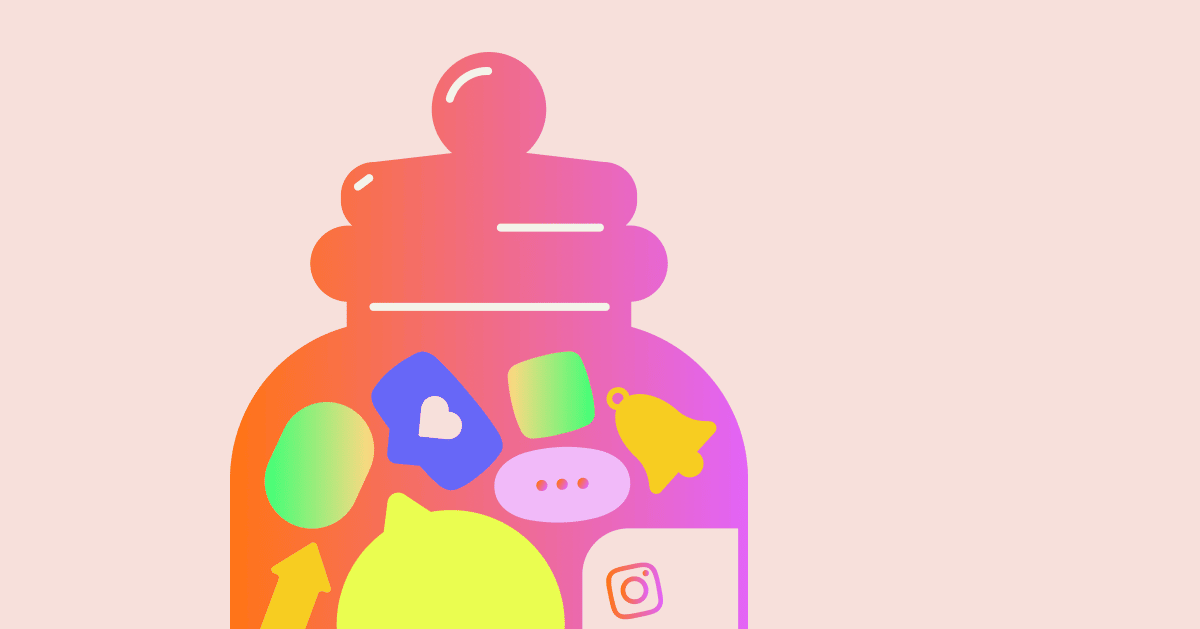 It's no secret Instagram is a powerful marketing tool for businesses of all sizes. You can reach new customers, build brand awareness, and drive sales by harnessing the platform's many features.
With over 500 million daily active users, Instagram offers substantial potential that's worth unlocking. But first, you have to get to know all its capabilities so you can leverage the platform to your advantage. To help, this article will cover some of the most important Instagram features marketers can use to grow their audience.
Important Instagram features for marketers
Social media platforms are notorious for constantly changing their algorithms and adding new features. However, we'll dive into the latest fundamental capabilities that deliver the best results.
Reels
Instagram Reels are 30-second videos you can create for your audience to scroll through. Influencers and brands use Reels to show off their products, disply behind-the-scenes content, or repurpose live videos.
The Reels user experience is similar to TikTok's in that users can watch a never-ending feed of short-form video content created by individuals to increase engagement, grow their Instagram profiles, and generate brand awareness. Reels can appear on the Explore page, but they also have their own tab on each Instagram account.
To post Instagram Reels:
Tap the Reels icon at the bottom of your screen
Post your 30-second video (you can also add music)
Best uses for Instagram Reels
Instagram's algorithm has been deprioritizing static posts to make room for more engaging video content to ensure users stay on the platform longer. This should shape your Instagram marketing content; every brand on Instagram should make an effort to post more Reels to increase their chances of engagement.
Stories
Instagram Stories are 15-second videos that disappear after 24 hours. Stories aren't like your regular Instagram posts: Instead of displaying in feeds once you upload them, they show up at the top of users' dashboards with your profile picture as the cover.
To use the Stories feature:
Click on your profile image with the "+" icon at the top of your Instagram feed.
Either select a recent image or video, or click the camera icon to create a new Story.
Once finished, tap Send to and make sure Your Story is selected.
Tap on Share to post your Story.
Best uses for Stories
Stories are a great way to share day-to-day content with your audience. While they aren't the best option for storing content that requires a longer lifespan, Stories are a great way to build engagement and keep your business top of mind.
Brand Stories tend to have an 86% completion rate. So if you want to catch your audience's attention, make sure you post to your Stories often.
Pro tip: Creating content on other platforms? Repurpose your content and add it to your Instagram Stories to increase your views for free. If your content happens to be too long for a Story, post a snippet of your content as a teaser to direct your audience to the full version.
Messenger
You can send photos, text, videos, and voice messages through Instagram's Messenger feature. You can even send Instagram posts or video chat with other users.
To use Messenger:
On your Instagram feed, click on the speech bubble icon in the top right corner of your screen.
Choose your message recipient.
Start interacting and sending your messages.
Best uses for Messenger
For a business, the Messenger feature can be prime real estate for interacting directly with customers, offering customer support, answering product questions, or redirecting them to your links. It's a great way for brands to build trust with their audiences and stay connected with their biggest fans.
Pro tip: Don't overwhelm yourself trying to manage all the incoming DMs in Messenger. Leverage automation, like ManyChat's Flow Builder tool, to respond to every message just like a real human would.
Video
As short-form video content becomes a more popular way to reach new audiences, Instagram has incorporated the ability to create and post an ecosystem of videos into its platform (while deprioritizing static posts). Video content on Instagram can include Reels, Lives, or Stories. Recently, Instagram combined IGTV with feed video posts to create one video format.
To use the Video feature:
Click on the "+" icon at the top of your Instagram homepage
Tap on Post to start publishing your videos
Best uses for videos
There's no concrete rules concerning what types of content should and shouldn't be made into videos. But generally speaking, if you're creating longer, more involved videos with higher production value, opt for the Video feature. Here's a quick overview of the maximum video length for each format:
Reels: Up to 30 seconds long
Instagram Stories: Up to 15 seconds long
Live Streams: Up to 60 minutes
Instagram post videos: Up to 60 seconds long
Instagram Videos: Anywhere from 15 seconds to 10 minutes long (60 minutes for select accounts)
Shopping
Instagram introduced shoppable features in 2019 to over 40 countries. To qualify, you need to have a business account, sell digital products, and comply with Instagram's policies and eligibility requirements.
To use the Instagram Shopping feature:
Create your product catalog with the Facebook Business Manager.
Under Settings, click on Business.
Navigate to Set up Instagram Shopping and follow the guidelines to submit your store for review.
Once approved, you can start tagging products in your profile so that more users discover your catalog when they come across your content.
Best uses for shopping
The shopping feature is ideal for businesses that sell physical products. It's a great way to turn your Instagram page into a storefront and increase sales.
Filters (AR and standard)
Instagram's AR and standard image filters enable you to inject a bit of personality to the content you upload. However, the filters differ slightly in that AR filters can alter both images and videos while standard photo filters only apply to static images.
To use Instagram filters:
In your Instagram dashboard, tap on the "+" icon in the top right.
Select Post, Story, Reel, or Live.
Once you create or upload your content, use the editor at the bottom of your screen to add and adjust your preferred filter.
Best uses for filters
Want to add some personality to your content? Are you growing your personal brand on Instagram? Take advantage of Instagram's filters! They can be fun to use and can help you create more dynamic content.
Search and Explore
A lot of the discovery magic happens through the Search and Explore features. Instagram's algorithm fills your Explore page with content it thinks you might be interested in—it's where you can discover new people or brands to follow and content to "like" and comment on.
To use Instagram's Search and Explore feature:
On the Instagram dashboard, navigate to the magnifying glass icon in the bottom left.
Tap on it and start exploring.
Use the search bar to search for additional profiles or content by username or hashtag.
Live
Hosting an Instagram Live is a great way to interact with your audience and build a loyal following in real time. You can go Live on Instagram for up to an hour and interact with your audience through comments and emojis. Live also allows you to host joint sessions with other users once you invite them to host with you.
To use the Live Instagram feature:
In your Instagram feed, navigate to the "+" icon in the top right.
Choose the Live option.
Use the menu on the left of your screen to add a title, a broadcast audience, a start time (if you're scheduling it ahead of time), and even choose a non-profit your audience can donate to.
Once you're ready, hit the big Live button in the bottom center of your screen to get started.
Best uses for Lives
Lives work well for more established accounts with a content strategy and an end goal for going Live. However, much like the rest of Instagram's features, no rules are set in stone.
You can choose to go Live any time you want to speak with your audience in real time. You can interact, answer their questions, or find other ways to connect.
Once you go Live, your followers will receive a notification that you're online. They'll also see that you're live broadcasting at the top of their feeds in the Stories section.
Tags
Tags (not to be confused with hashtags) help you engage other brands or users when you post content. If you tag a profile by mentioning them in a post or comment with the "@" functionality, it hyperlinks their handle and they'll be notified of your mention.
To use tags:
Mention a profile's handle starting with "@" to tag them in the comments of a post or a caption.
To tag someone in a video or image, upload your content, then tap Tag People to add your tag.
Type in their username to find and add them.
Best uses for tags

Use tags any time an individual or brand appears in your content. Adding tags is also a great way to increase the chances of your content being shared with a wider audience without any real effort on your part.
Pro tip: Use Instagram geotags to make your content more discoverable to users in your area.
Hashtags
Hashtags are different from tags in that they start with "#" and are used as keywords to categorize your content. The use of hashtags also makes it easier for Instagram's algorithm to index content and make it discoverable.
The most impactful use of hashtags has been a long-debated mystery. Research suggests including anywhere from nine to thirteen hashtags will help exposeyour content to more users. However, it takes experimenting with your content to see what works for you.
To use hashtags:
Choose your preferred hashtags and add them to your Instagram posts so Instagram can index them properly.
You can also run searches in Instagram's search bar using hashtags to find related content or more hashtag ideas.
Best uses for hashtags
Don't ignore hashtags as you create your Instagram strategy They're a key part of making your content easier to find amongst millions of posts. Always include a handful of hashtags in your posts for good measure.
Ads
Managed through the Facebook Ads Manager, Instagram ads are the paid option to reach a larger audience that might be interested in your content or products. Instagram ads run either on a cost-per-impression (CPM) or cost-per-click (CPC) model and can range anywhere from a few cents to a few dollars per click.
Navigate to the Facebook Ads Manager.
Design your ad by choosing an objective, naming your campaign, choosing a destination, your audience, and your budget.
Design the ad and submit it for approval so it can go live.
Best uses for ads
Ads can work well for established brands with a budget for paid acquisition that want to supercharge their growth strategy. They're also great for experienced marketers who know the ins and outs of ad optimization. If you don't want to grow your Instagram audience or generate sales organically, you can opt for the paid route by creating ads.
Automation
Even as your Instagram grows, you'll still only have two hands and 24 hours in a day, which can limit on how much you can accomplish manually. Yet, you may get hundreds (or thousands) of comments and receive a ton of DMs every day, and you still need a way to manage it all. The last thing you want is for your audience to feel ignored when they interact with you online.
Happily, you can use automation on Instagram to grow your profile faster and nurture an engaged audience.
ManyChat is an established Instagram partner that's built to help you maximize your Instagram growth. There are a lot of great ways to use ManyChat's Automation tools as part of your social media marketing strategy:
Use the Flow Builder feature to create automated DM responses.
Reply to and like IG post comments automatically
Automatically reply to anyone who mentions you in their Story
Capture and store user-provided information like emails and phone numbers inside ManyChat's customer relationship management dashboard to boost your marketing efforts
ManyChat makes your Instagram growth and engagement potential virtually limitless by multiplying your interactions with the power of automation. Plus, it's easy to integrate it with apps you're already using, like MailChimp, Shopify, and Zapier.
Do more with Instagram
If you're looking to start using Instagram to grow your business, make sure you take advantage of all the features available on the platform. In this guide, we've outlined everything you need to start scoring Instagram followers and creating a marketing strategy.
Put each feature to use and see how they can help you reach more customers and grow your business. Better yet, supercharge your growth with automation tools like ManyChat so you can chat with more of your audience, answer customer support questions, and build meaningful engagement in your comments 24 hours a day.
Impress your audience and grow your Instagram account with ManyChat's suite of Automation tools
The contents of this blog were independently prepared and are for informational purposes only. The opinions expressed are those of the author and do not necessarily reflect the views of ManyChat or any other party. Individual results may vary.