How to Add Music to an Instagram Story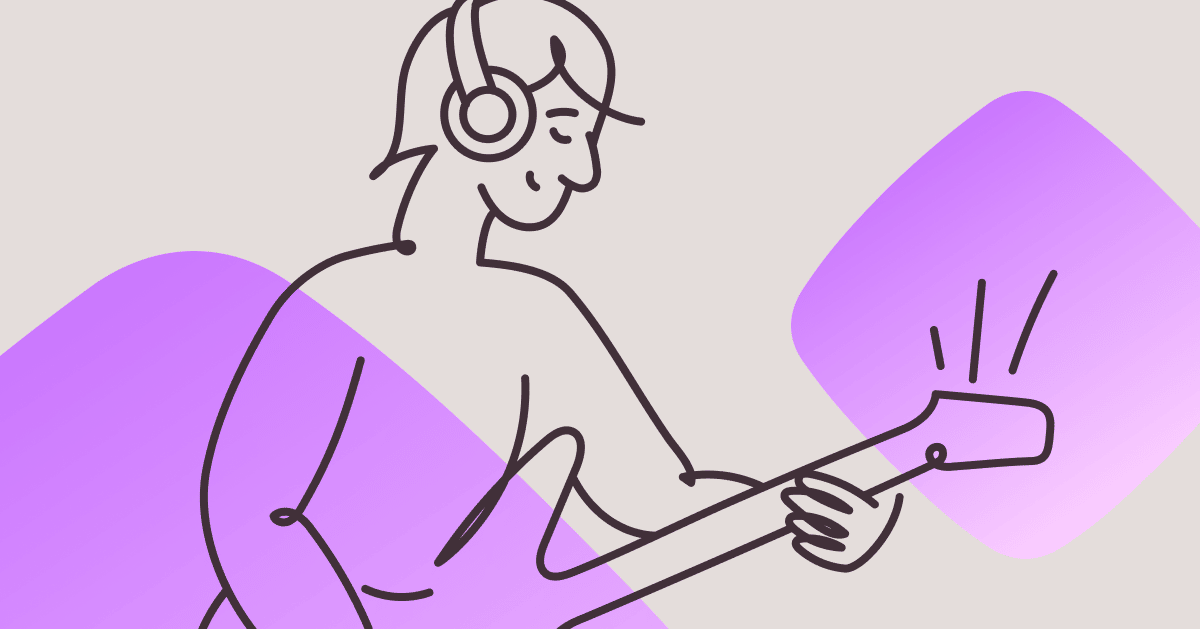 Instagram introduced the option to share music via Stories in 2018. Users can add their favorite songs to their photos and videos and use plenty of visuals to personalize how the song appears in their Story.
Taking advantage of Instagram's many attention-grabbing features is a great way for brands to organically grow their reach and capture attention. And learning how to add music to your Instagram Stories is one small way to keep your audience engaged.
This tutorial post will teach you how to add music to Instagram Stories with or without stickers. We'll also walk through exactly what you can do with Instagram's music features to help you add life to your stories.
How to add a music sticker to an Instagram Story
There are several ways to include music in your Instagram Stories, but adding a music sticker is a seamless way to do it. To get started:
Create an Instagram Story by tapping the plus icon on the top left of your Instagram dashboard.
Select a video/photo from your smartphone library to start creating your Story.
Click on the sticker icon at the top of your editing screen.
Navigate to the Music sticker.
Once you've selected the sticker, you can search for a specific song from the music list. You can also review the For you list, look through the Browse option, or choose a bookmarked song under Saved.
It's also helpful to preview the song by tapping the play button to the right of each song title. Take a moment to bookmark your favorites so they're easy to find the next time you're creating a Story!
Once you've picked a song, you can adjust whether you want the lyrics to show up, the lyrics' color, and the part of the song you want playing over your Story.
You can also choose if you want the music sticker to show in the form of song lyrics, a small icon with the name of the song, or the song's cover art.
Once you've customized and added the song of your choice, tap Done and post your Story!
Let's go a bit more in-depth on how to personalize your music sticker and song lyrics.
How to edit the music sticker
Instagram gives you plenty of customizable elements for the music sticker feature. You have three options forhow it will appear:
As lyrics that appear while your song plays
As the song's cover art
As a simple icon with the song's name in it
To personalize your music sticker, simply tap on the lyrics that first appear after you've selected your song until you find the format you're looking for. If you choose to include the song lyrics, you can tap on the color wheel icon at the top to select the color ofyour lyrics.
How to add lyrics to your Story
Instagram also lets you add specific lyrics to your Story. Perhaps you don't want to include the beginning of a song, but want to focus on the chorus instead.
To use the chorus lyrics, just adjust the white rectangle at the bottom of your screen by sliding it left or right toselect a seconds-long snippet of the song.
The song lyrics from the section of the song you want to use will start to appear. Play with the slider until you're happy with the results. Once you're finished, simply press Done at the top right and post it to your Story.
How to add music to your Instagram Story without stickers
Say you want to add music to your Instagram Story without the sticker feature. Here's how to do it with Apple Music, Spotify, and SoundCloud.
Apple Music
If you're looking to share music from the Apple Music platform so you aren't limited to songs on Instagram's playlist, Apple Music makes it easy to do.
To share your Apple Music:
In the Apple Music app, find the song you want to share.
Tap and hold it, then hit Share.
You'll see a list of apps you can share to, including Facebook and Snapchat. Press Instagram.
Voila! You've shared your song from Apple Music to Instagram.
Spotify
Some songs on Spotify might not be in Instagram's music selection. But much like Apple Music, sharing songs from your Spotify app is an easy process. Once you share it on your Story, your audience will be able to follow your link to your Spotify song.
To share your Spotify music:
Navigate to any song you want to share in the Spotify app.
Tap on the three-dot icon to open the share menu.
Tap Instagram Stories (This will make it so that your song's artwork is shared as a sticker).
Personalize it and post it to your Story.
Your audience will see an option to "Play on Spotify" at the top left corner of your Story and the link will take them to your Spotify song.
SoundCloud
Sharing music from your SoundCloud account is also an option. SoundCloud's music sharing feature will send your users to the song on SoundCloud.
Here's how to share music from SoundCloud:
Confirm you're using the latest version of the SoundCloud app.
Tap the Share icon.
Select the social media app on which you would like to share your song.
Add the final touches to customize your Story and publish it.
Pro tip: You can also share SoundCloud audio snippets! (If the song allows audio snippets, a speaker badge will appear on it.) Here's how:
Make sure you're using the latest version of SoundCloud.
Select the Instagram Stories icon.
Personalize your Instagram Story as usual.
Hit publish and share your Story with your audience.
Why isn't music playing on my Instagram Story?
Are you having trouble getting Instagram's music feature to work for you? Here's a rundown of errors to watch out for if you aren't able to add music to your Story:
Ensure your app is updated to the latest version by downloading it from the App Store
Your operating system on your phone may have crashed; sometimes powering off and restarting your phone can help
Make sure Instagram's music feature is available in your country
As of now, Instagram's music feature is only available in 51 countries, including the US, Germany, Australia, the UK, Sweden, France, and Canada.
If you really need to add music to your Instagram Story and it's not available in your country, you can always try to use a VPN to bypass geo-restrictions and access the feature that way.
Grow your audience on Instagram
One of the biggest challenges businesses face is growing their social media audience. Yet with so much competition online, you can't afford not to take advantage of all the Instagram features at your disposal.
Adding music to your Instagram Stories to make them more engaging is just one way to gain followers and cultivate an audience. Make sure you're maximizing all of your Instagram tools for a higher return on investment on the platform.

The more engaged and delighted your customers are with your online presence, the more likely they'll be to turn into paying customers.
Grow your Instagram following and make sales with Instagram Automation by ManyChat. Start free today.
The contents of this blog were independently prepared and are for informational purposes only. The opinions expressed are those of the author and do not necessarily reflect the views of ManyChat or any other party. Individual results may vary.