What is Growth Marketing?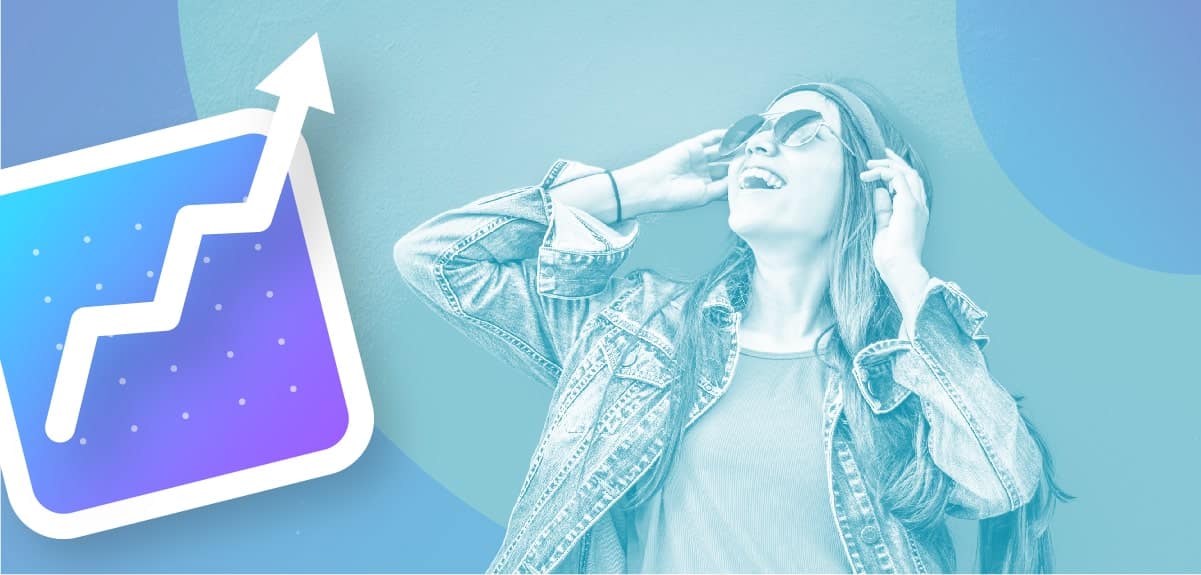 If your business wants to succeed in marketing, you'll have one goal: To turn prospects into paying brand advocates. And that can feel easier said than done.

Flashing ads in front of a cold audience is a simple approach. Getting them to pay for your stuff and help promote your company: that's the hard one. But to help make it a little easier, there's growth marketing.

It's a common misconception to think growth marketing is a new concept. Growth has been portrayed for nearly a decade as "hacking" for start-ups, which sends some businesses running. But in the past decade or so, the success of growth marketing has come largely from creating communities and innovating on new channels.

What makes it difficult is that it's one of the few marketing strategies that touch lead generation, acquisition, and retention. It all comes down to knowing your target customers and testing different ways to create value for them from start to finish.
What is growth marketing?
Growth marketing is a retention strategy where businesses generate demand and create successful customers, rather than only drive top-funnel activity. With growth marketing, businesses focus on adding value to the entire customer lifecycle from lead generation and acquisition to retention.
What makes growth marketing different from other strategies?
Growth marketing has been long recognized for its ability to drive brand awareness and generate traffic, leads, and conversions.

A growth marketer is best known as the experimenter for a company. However, they must now incorporate the role of a data analyst, marketing scientist, intelligence-platform pro, full customer-lifecycle expert, and sales-funnel extraordinaire.

Manuel Suarez, CEO of the award-winning AGM Agency, founded his agency on the concept of growth marketing. Since launching in 2015, his team is constantly on the hunt for the next growth opportunity to grab attention and drive revenue for his clients.

According to Manuel, growth marketing is the act of leveraging existing audiences to build on new channels aggressively without investing too much in paid ads.

The growth-marketing approach proves to be a differentiator: Companies who use it, such as Coca-Cola and Hershey's, are being rewarded with revenue and profit growth. They are continually testing new and creative ideas to attract more engaged customers.
Become an expert growth marketer with ManyChat. It's free to get started.
4 critical elements of growth marketing
1. Leverage new channels
The most powerful way to bring growth marketing into your business is by using new channels. Customers today are looking for authentic and real-time communication channels with companies. If you have a good message and good content, you should pair it with an effective channel.

Don Marler, a food truck vendor based out of Missouri, thought the world was ending once Messenger broadcasts went away. In response, he added SMS marketing into his multi-channel strategy to keep customers informed and drive sales. His audience not only happily received the way to keep in touch, but SMS also boosted revenue by 30%.

If you've been running the same marketing strategy for years, look for new opportunities to get more control of your audience. Chat channels such as SMS, Live Chat, and Messenger can drive more engagement, higher quality leads, and help grow your business like wildfire.
2. Educate your audience
Educating people makes a huge impact on your relationship with them, as a friend or a business. When you deliver value — whether it be in the form of videos, articles, podcasts, recipes, etc. — you build trust with the human who engages with it.

Manuel built ManyChat's Most Engaged Bot in 2019. He explains how education helped his client, ketogenic health coach Dr. Berg, drive over $10 million in sales in one year:

There's so much information about this subject [ketogenic diet] out there. There's also too much competition. Our goal was to create an education channel where people could learn anything and everything at any time. Today, the ones that win the game of business are the ones that provide value before asking for the sale.

The educational bot has over 800,000 Messenger subscribers, 40-plus sequences, 500-plus widgets, 400-plus tags, 400-plus keywords, and engages in over 150,000 conversations with customers each month.
3. Experiment with new techniques
By testing new ways to create successful customers, growth marketing urges sales and marketing teams to weave innovation into their everyday work. For growth marketers, creating highly-engaged campaigns requires knowledge about their audience's pain points, preferences, and goals. So as new ways to interact emerge, it's a marketer's job to build consistent two-way communication on channels their audience is comfortable on.

For example, the rise in text message marketing gives marketers a way to reach their audience at any moment. They'll send texts with promotional offers and hope for clicks.

A growth marketer sees this as an opportunity to help customers win. They can open up a 2-way SMS live chat to help customers find a solution, offer tips and advice, or send a personalized deal.
4. Collect customer feedback
Growth marketers need insight from both churned and existing customers. Many companies create strategies and funnels based on a questionable foundation. For example, the onboarding process has technical problems that prevent people from completing registration.

Inform your marketing, product, and sales team with ongoing feedback and resources to help lead them in a better direction. They can create better creative and storytelling. Invest in product or service line expansion. Create strategic partnerships.

Small tweaks driven by real insights can make a big difference in how your company evolves with its customer base.
What kind of growth marketer are you?
A good growth marketer needs to step outside their own shoes and become the actual customer. As you develop your marketing plan for 2020, think about how you can incorporate the elements above to create two-way communication with your audience, and drive sustainable growth for your business.
Are you looking to boost your growth strategy with automation? Sign up for a ManyChat bot. It's free and you can start today.
The contents of this blog were independently prepared and are for informational purposes only. The opinions expressed are those of the author and do not necessarily reflect the views of ManyChat or any other party. Individual results may vary.