[Case Study] How Manuel Suarez Built Conversations 2019's "Most Engaging Bot"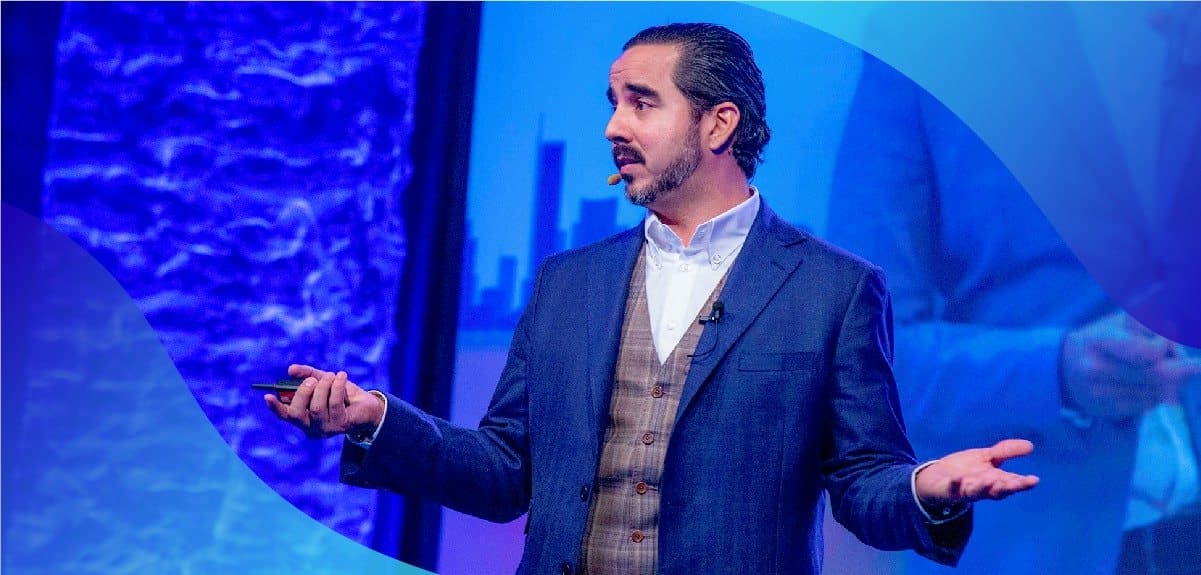 AGM Marketing's CEO Manuel Suarez had a clear goal when he started using ManyChat: to jump on the next growth opportunity.

Since starting his agency in 2015, Manuel and his expanding team of marketers have been obsessed with finding the next messenger marketing growth hack. This drive is what drove the success of his agency for a few years.

To Manuel, growth hacking is the act of leveraging existing audiences to build up a new channel aggressively, without investing too much into ads.

Before Messenger, the agency ran Facebook and Instagram ads, Google AdWords, email marketing campaigns, and everything in between. Traffic was sent to a client's site. They'd capture the visitor, and nurture them through an automated drip campaign until conversion. This strategy worked for many of the agency's brands.

It wasn't until Manuel heard about Messenger Marketing from a friend that he knew his agency was missing out. And in August 2017, he created his first Messenger channel using ManyChat for Dr. Eric Berg, a top ketogenic diet expert.

Since then, Dr. Berg's Messenger channel has turned into an award-winning example for bot builders and chat marketers. From October 2018 to October 2019, Manuel and his team brought in over $10,300,000 dollars in revenue for the doctor — all attributed to Messenger as the last click.

For Manuel, his strategy is straightforward: "For Dr. Berg, we grabbed a great message, with great content, and plugged it into Messenger. With 90% open rates, we were able to get a lot of people interested in his products, with the ability to communicate daily with the doctor."

Dr. Berg's bot won ManyChat's Most Engaging Bot at Conversations 2019, and continues to drive meaningful conversations with over 800,000 subscribers to date, adding 20,000 new subscribers to the health coaches marketing ecosystem each month.

Here's how AGM grew sales and brand awareness with Messenger Marketing.

Why ManyChat?
In Manuel's own words, "ManyChat has become for Messenger, what Kleenex became for the tissue". He'd heard about other Messenger bot providers, but partnered with ManyChat for a few big reasons:
Growth tools. Manuel uses the entire suite of Growth Tools to build subscriber lists, but one of his favorites is the Comments Growth Tool. Whether its a customer service request or an organic Facebook post, he leverages the tool to automate responses and help companies like Dr. Berg's field more requests with less overhead.
Industry leadership. ManyChat's leadership helps drive the success of its Chat Marketing platform. For Manuel, ManyChat continues to stay ahead of the curve and on top of the game — an important part of providing value for his clients.
ManyChat Community. Supported by powerful industry leaders such as Ezra Firestone, Mackensie Liberman, and Molly Pittman — the community of influential marketers and bot builders behind ManyChat creates a healthy and reliable environment to assist agency growth.
How AGM Used ManyChat to Build a New Messenger Channel that Generated over $10 million in revenue in one year
Manuel and his team at AGM had noticed Dr. Berg was staying active on social, but the ketogenic diet expert struggled to reach more people outside of these channels. Email open rates hovered around 12%. Social media leads ended up lost in translation. They needed to come up with a new way for both building brand awareness and increasing sales.

In an effort to build a new channel for outreach, they decided to use Messenger Marketing. Manuel and his team built an entire library of resources on everything about losing weight and the ketogenic diet. The goal was for people to feel like they could always go back and get information about what Dr. Berg offered. It was one concentrated channel where they could get everything they needed.

"There's so much information about this subject [ketogenic diet] out there. There's also too much competition," Manuel describes. "Our goal was to create an education channel where people could learn anything and everything at any time. Today, the ones that win the game of business are the ones that provide value before asking for the sale."

They set up mini-courses, cheat sheets, remedy cards, and quick tips purely aimed at driving engagement inside Messenger. After a lead became a subscriber, they could use Sponsored Messages and paid ads to warm audiences to promote more helpful content and upsells. They also tested various embedded growth tools on Dr. Berg's website to continually gain more subscribers.

"We've been running the same social media strategy for years. I saw the opportunity with Messenger to get more control of an audience. It's almost like a middleman that allows me to send more qualified traffic to sites," Manuel tells us. "We quickly saw how Messenger was providing higher quality leads and overall engagement. So instead of going straight from video ad to website, we sent them from ad to Messenger, then to the website for the final sale."

Partnering with ManyChat, the team could scale list building for Dr. Berg's company. Manuel tells us 98% of their focus is on growing Messenger subscribers. With over 800,000 Messenger subscribers, 40-plus sequences, 500-plus widgets, 400-plus tags, 400-plus keywords, and over 150,000 Monthly Active Conversations, Dr. Berg's ManyChat bot has become the most engaged bot in our platform.
Results Round-Up
Manuel and his team at AGM have one core belief: A good marketer needs to stop being who they are and become the actual user in order to build successful two-way communication. That's exactly what they did with Dr. Berg's bot.
By becoming a person interested in learning about Dr. Berg and becoming healthier, they were able to build an award-winning bot that achieves:
175,000 active monthly conversations.
20% click-through rates on upselling and cross-sell promotions.
20,000 new subscribers per month on average.
Over $10,300,000 dollars in revenue for Dr. Berg in one year.
His one tip for growing your agency?

"Many businesses out there still don't understand what Chat Marketing is. Which means that for agencies, we have a golden opportunity to go door-to-door and show them what you can do for them. It's not just about building a channel. It's showing them how you can bring in subscribers, how to get people calling their business, get sales up, and generate income, so you can sell them on retainers."
Want to drive more leads and sales for your business? Get ManyChat today. It's free to start.
The contents of this blog were independently prepared and are for informational purposes only. The opinions expressed are those of the author and do not necessarily reflect the views of ManyChat or any other party. Individual results may vary.