The 7 Wins and Deadly Sins of Instagram Marketing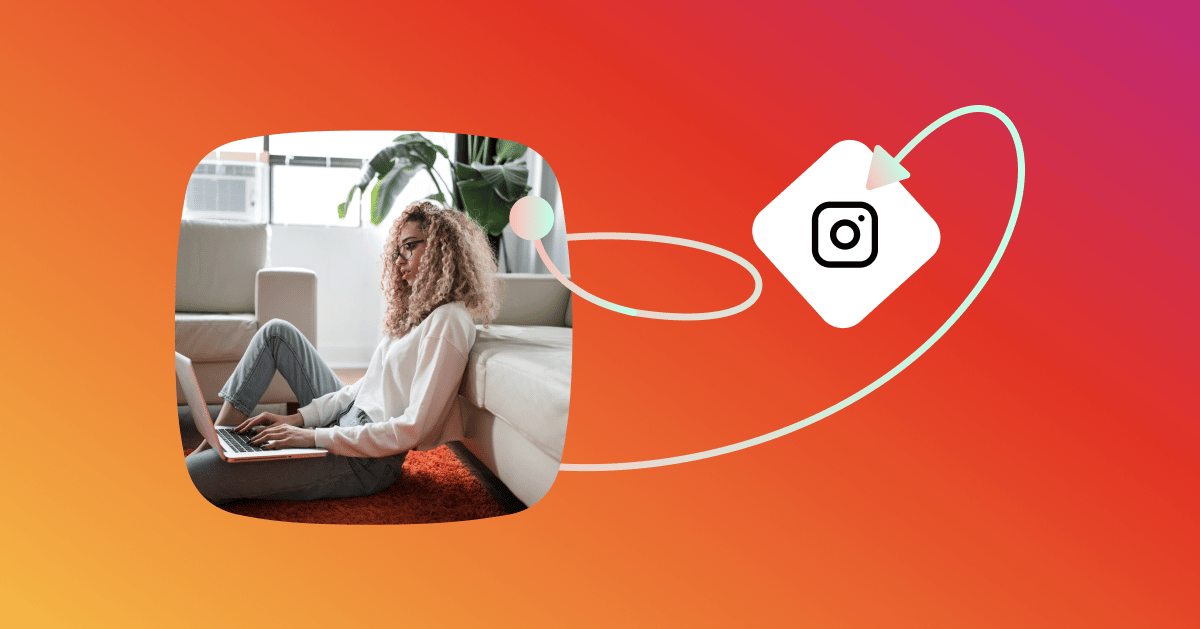 If you own a small business or are looking to build your personal brand, creating a social media marketing strategy is one of the best ways to reach your target audience, engage them, and generate more sales.
One platform that has proven popular and powerful with both consumers and brands since its founding in 2010 is, of course, Instagram (IG). With over one billion monthly active users, it's one of the biggest social media platforms in the world.
However, if you're new to the idea of using social media for business purposes, the thought of doing so can be overwhelming. Where do you even start? Don't worry. This guide will help you understand some of the do's and don'ts of Instagram through research and examples, so you don't have to learn the hard way!
Do's
In this section, we're going to talk about the positive actions you should try to take when using an Instagram business account.
Treat IG like a sales tool
First and foremost, one of the most important points to consider is how you'll use Instagram. For a business owner, Instagram makes a great sales tool; in fact, 80% of people surveyed by Facebook said Instagram helped them decide whether to buy a product or service.
Just like a traditional sales funnel, you can build an Instagram sales funnel that takes people from start to finish through their customer journey.
For example, you can try top-funnel brand awareness campaigns by working with influencers (big and small) like Owlet has done here with blogger @candlewoodcottage:
Notice how @candlewoodcottage has included the call to action "head to my stories to hear more" at the end of the post. It's a good example of how to nudge top-funnel customers towards a sale.
Read: How to Build an Instagram Sales Funnel in 2021
Respond to messages instantly
According to Sprout Social's 2020 Index:
The longer you let DM's sit in your inbox, the longer your customers will have to wait to receive a reply. A drawn-out response time is a red flag for customers considering a purchase from your company. No one wants to be ignored.
However, automated replies—such as FAQ Quick Replies or starting a whole chatbot flow with ManyChat—can greatly improve your message response rate. Check out how Fletcher Goods does it:
Using a chatbot can help you significantly improve response times and give yourself a little breathing room to work on other parts of your business.
Read: How to Improve Your Instagram Message Response Rate
Plan and schedule the posts on your Instagram Feed
One of the most significant factors that will lead to success on any social media platform is consistency. Instagram is no different. When you plan and schedule your content, you'll enjoy several benefits, like:
Ability to build a strong visual brand identity
Consistent engagement with your followers (who know when to expect a post)
Improved chance of the algorithm is broadly pushing your posts
Time savings from batch scheduling posts for publishing
There are many post scheduling tools out there that can help you with this task, including Hootsuite:
Planning your content in advance is also a handy way to ensure you don't miss any public holidays or brand anniversaries. Just try to be open to changing your post content if you need to address any relevant current affairs.
Run giveaways
Giveaways are a terrific way to boost engagement, gain new followers, and collect valuable personal information from Instagram users.
You can run a giveaway by incentivizing your audience to share your brand with their followers and their information with you in exchange for a chance of winning a relevant prize. For example, personal style brand Roma by Rochi ran a highly successful giveaway with the help of ManyChat automation:
Followers commented on this post with the word "SORTEO" (lottery). When triggered by this keyword, Roma by Rochi's Messenger bot entered users into the giveaway—offering extra chances to win if people mentioned the brand in their Story. This strategy increased engagement by 741% and captured over 2.6K emails.
Read: How Roma by Rochi Saw a 741% Lift in Engagement Using Instagram Automation
Engage with your followers
While we already talked about how responding quickly to DM's is critical for providing top-notch customer service, it's equally key to engage with your followers in public as well.
One way to keep an eye on your social mentions and industry conversations is by using a tool like Brand Mentions or Sprout Social. Such solutions provide feeds of mentions and comments, and you can respond to them via an easy-to-use dashboard.
Take Biffs, a UK-based vegan fast-food restaurant. When someone tags the restaurant in a post, Biffs always likes and comments on them:
Engaging with your followers regularly affords you the best chance of appearing on their Feeds. It can also help you build more meaningful relationships simply by showing your brand has real people behind it.
Use Instagram Stories
Instagram has a few staggering Story stats that do a pretty good job proving how important they are. For examples:
500 million accounts use Stories every day
4 million businesses use Stories ads every month
58% of people surveyed said they become more interested in a brand or product after seeing it in Stories
One way you can get followers to engage with your Story posts (or interact with theirs) is by using ManyChat's Flow Builder to automatically respond to Story mentions. Frazer Brookes gained a 40% lift in engagement by leveraging this method.
Read: How Frazer Brookes Saw a 40% Lift in Story Engagement Using Instagram Automation
Invest in Instagram ads
No matter how great your content might be, it can be difficult to reach your entire target audience for various reasons: time online, frequency of app use, audience size, etc. This is where investing in Instagram ads can help pick up the slack.
There are many different kinds of ads (including Story ads) that will align with your brand, goals, and target audience. Bear in mind, though, that no matter which ad type you choose, you'll need to create ads that will grab attention quickly.
For example, to get the word out about its Pride products during Pride month, Bunny Style ran video ads that immediately got to the point:
Running Instagram ads can help influence the 80% of IG users we mentioned earlier who decide to buy products after seeing them on Instagram.
Read: Instagram Ads Beginner's Guide (2021)
Don'ts
Now you know some of the best practices for success on Instagram. Next, we're going to look at some of the common pitfalls you (or your marketers) should avoid.
Overuse photo pre-set filters
Simple photograph filters have been around on Instagram since its inception in 2010. In the app, you're able to take a photo and choose from a selection of pre-made filters or create a custom filter that can improve the overall appeal of your image.
However, you want to be careful that you're not either using filters on every single photo or using a filter at 100% opacity—doing so can make your images look overly surreal and inauthentic to your audience.
The Advertising Standards Agency (ASA) in the UK has even gone so far as to ban "misleading filters" on beauty ads in response to the #nofilters trend.
Buy followers or likes
Another big no-no for doing business on Instagram is buying followers or likes.
For one, it's against the platform's policies; in 2020, Instagram introduced new ID verification measures to crack down on this behavior. If IG realizes you're buying likes and followers (and they can tell), you risk an account suspension.
In the image above, you can see this account has fewer than 10 likes on most of their posts, except one that has 55 likes (which indicates they probably bought 50 likes).
In addition to breaking Instagram's rules, you also risk turning genuine people off your brand. It's very easy to tell if you've artificially boosted your follower count (a lack of engagement or spammy "bot" comments are a telltale sign).
Use too many hashtags
One of the best ways to boost brand awareness and reach your target audience is to use hashtags so your post or Story appears in more searches. Instagram lets you use up to 30 hashtags in a post and 10 in a Story.
However, maxing out your allotted space with popular hashtags in the hope of going viral isn't always a good idea. At best, it can slightly increase engagement; at worst, it will come across as spammy and annoy your audience.
Research shows that 11 hashtags are the optimal number to use in a post. Some of the best ways to optimize them are:
Researching relevant hashtags in your niche, not just relying on platform-popular ones
Following hashtags you use to stay on top of what's working
Creating your own branded or campaign-related hashtags
Share long links
Another blunder a marketer or small business can make is including a long, awkward link, either in a post itself or in their Instagram bio.
While you're not as limited in character space as you are on Twitter (you can have up to 2,200 characters in an Instagram caption), long links are still unsightly and challenging for customers to act on since they aren't clickable in posts.
Take this post, for example:
One way you can eliminate long links is to either use a link shortener like Bitly or a catchall link provider like Linktree to share your most important links on one landing page. Though if you have over 10,000 followers, you can add links to your Instagram Stories using the "Swipe Up" feature.
Mix your visuals
This point is related to the "plan and schedule your posts" suggestion we mentioned earlier. Instagram users find significant value in attractive post aesthetics and curated "grids," and an engaging, visually appealing Feed takes planning.
Of course, you shouldn't post the same content all the time, but you want to avoid mixing up your visuals in a way that confuses your brand message and identity. Consistent visuals let your followers (and potential followers) know what to expect from future posts.
New Retro Net does this really well:
Customers know they can expect to see neon 80's-inspired "synth-wave" related content in every post.
Delete your Instagram posts
Sometimes you might feel that a particular post isn't performing as well as you'd hoped, and you consider deleting it forever or reposting at a different time. However, deleting posts is a bad idea for a few reasons.
First, the IG algorithm factors in people's reactions to your posts to determine what to include in people's Feeds in the future. When content disappears, so does the opportunity to learn from any post-related behavior.
Second, you'll lose any insights you were able to gather in your analytics dashboard. All data is nearly always valuable in some way, even if it's just showing that your audience doesn't care for a particular type of content.
If you're adamant about preventing a post from appearing on your Instagram profile or customers' Feeds, a better option is to archive your post instead. This way, you get to keep all the data you've gathered—including the likes and comments—but the post itself will be hidden from the public.
You can find the option to archive a post by hitting the three dots in the corner to bring up the options and selecting Archive near the top of the list.
Play the unfollow game
The last "don't" on this list is similar to the practice of buying followers: mass following and unfollowing. It's another tactic people use to artificially boost their follower count and appear more popular than they are.
The theory is that if you follow lots of people, at least some of them will follow you back. If they don't, you unfollow them. This becomes an ongoing cycle. Some will try this practice manually; others will use black market automation (which, again, is against Instagram's terms of use). Either way, it's a bad idea.
Instagram caps the number of accounts you can follow at 7,500 and has spam control measures in place to help prevent this kind of behavior. Even so, according to Statista, 28.4% of influencers with between 20K and 100K followers used this method in 2018.
While the point of this tactic is to "grow" your account, in actuality, the time would be better spent creating meaningful and engaging content that will genuinely attract followers and paying customers.
Get started with Instagram marketing today
Instagram is a social network with vast marketing potential for your business. By following the best practices we've outlined above, you'll have the greatest opportunity to reach and engage with your target audience, turning them into customers.
With Instagram Automation by ManyChat, you can use timesaving tools that can help you optimize your marketing efforts by automatically generating leads and sales, leaving you more time to focus on other critical business priorities.
Grow your Instagram following and make sales with Instagram Automation by ManyChat. See if your business is eligible by applying below.
The contents of this blog were independently prepared and are for informational purposes only. The opinions expressed are those of the author and do not necessarily reflect the views of ManyChat or any other party. Individual results may vary.