New Instagram Sponsored Product Listings: What Do They Mean for Your eCommerce Business?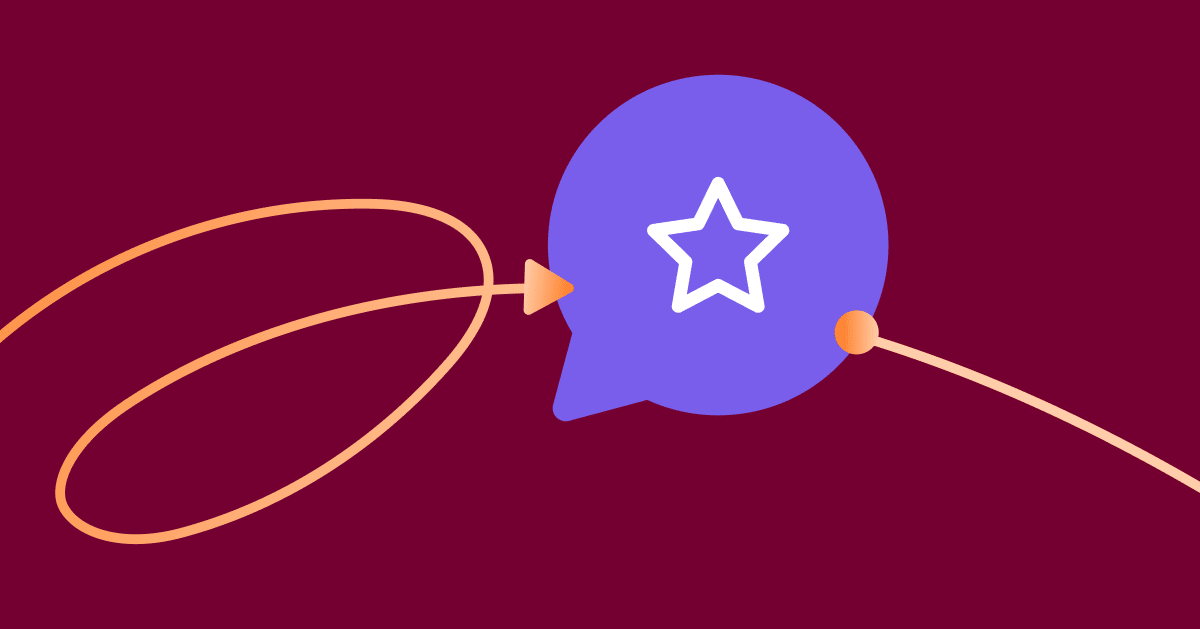 It's no secret that Instagram is one of the most powerful social media platforms ever created — not just in terms of size (1 billion monthly active users and counting), but in terms of the revenue potential it has for eCommerce brands.
More than 130 million Instagram users click shopping posts every month. Some 81% of shoppers use the app to research products or services they're thinking of buying.
As part of the app's move towards social commerce domination, its latest feature — sponsored product listings — is now available to all merchants using the app to advertise. The listings appear in the Shop tab and direct those already in the mood to splurge towards your products.
In this guide, we'll share what these new sponsored product listings look like, why you should take advantage of them, and how to create your own.
What are Instagram sponsored product listings?
This Instagram Shop is big business for eCommerce brands, despite only becoming a major focal point inside the app in November 2020. By replacing the "Activity" tab (which has since shifted to a tiny button at the top of a user's news feed), Instagram is doubling down on usage of the Shop tab.
"With the Shop tab, we're making it easy to get inspired by creators you love, shop on Instagram, and support small businesses. You can find personalized recommendations, editors' picks curated by our @shop channel, shoppable videos, new product collections, and more."

Adam Mosseri, Head of Instagram
A sponsored product listing is a product photo that appears on the Shop tab inside the Instagram app. It looks much like the other organic results. The only difference is that a paid promotion is marked as "sponsored."
Once someone clicks on a sponsored product listing, they'll go through to a mini product page (still inside the Instagram app) where they can view the products':
Description
Photos
Price (including shipping)
Color options
…before deciding whether or not to purchase.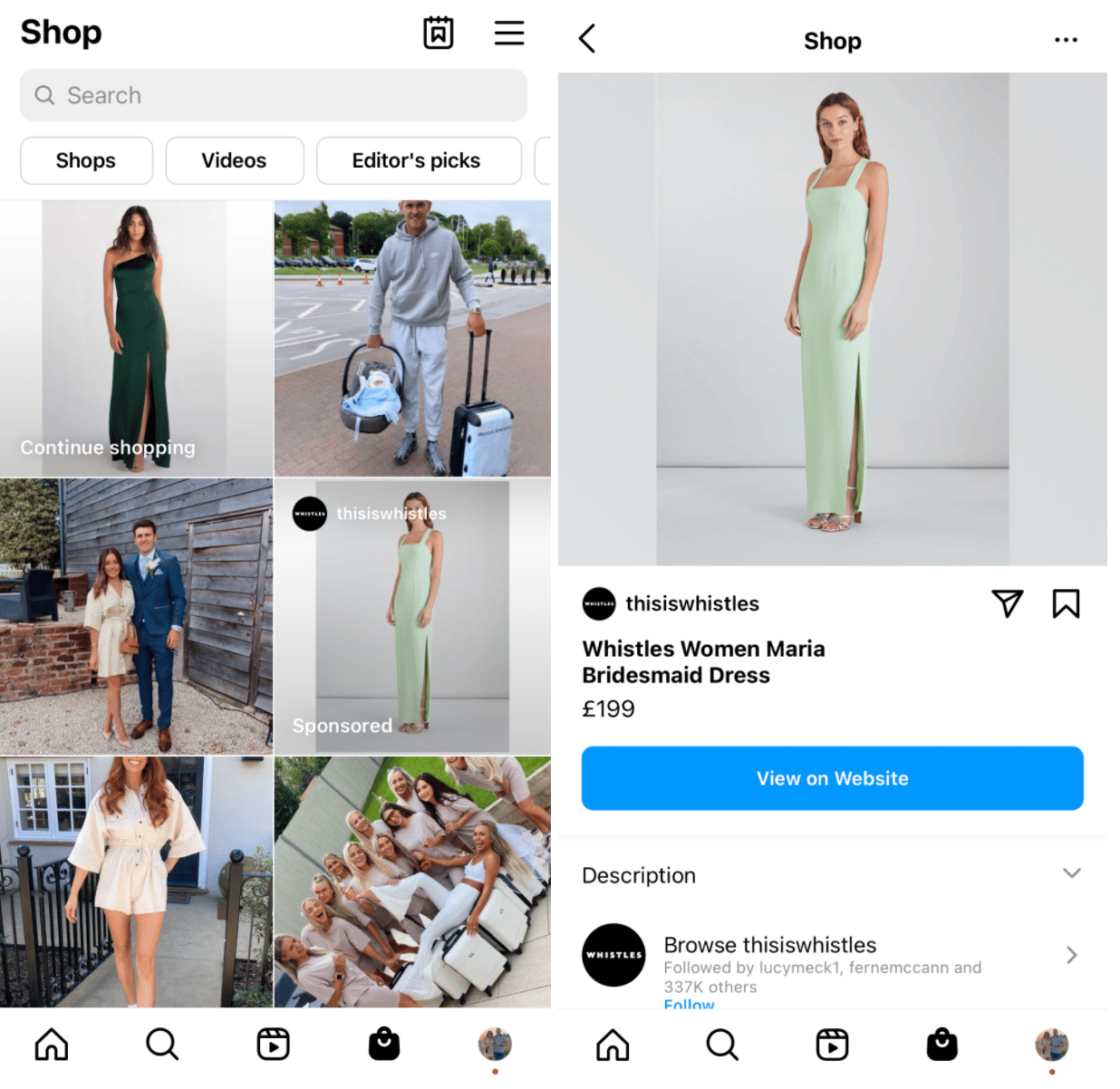 Just in case the person isn't ready to purchase just yet, they'll also see alternative products from the same brand.
Users can add sponsored product listings to a wishlist. Each person can also share the listing with a friend — two smart workarounds to build a potential customer base through Instagram, even if your ads don't result in a sale right away.
Once a customer is ready to buy, the entire process is streamlined. Shoppers can click a call-to-action (CTA) button and check out on the website. Or, if you have an Instagram Shop, Instagram can handle the entire transaction. Customers can view, browse, and check out without leaving the app.
Why bother using Instagram sponsored product listings?
Data shows that Instagram is a valuable shopping channel for eCommerce brands. Half of all consumers have visited a website to make a purchase after seeing an item on Instagram. Another 70% actively turn to the Instagram app to discover new products.
Sponsored product listings are another type of Instagram content that brands can use to sell their products on Instagram. They're also one of the most exciting.
Unlike organic product listings, which have to be found by your target customer organically, sponsoring a product in the Shop tab gives your brand the chance to reach the type of person most likely to buy. In other words: it speeds up the process of growing an Instagram account, increasing your follower count, and there's no need to rely on praying your product listings appear in their Shop feed organically.
How to create a sponsored product listing on Instagram Shop
Since sponsored product listings have only just been rolled out to merchants using the Instagram app, there is no official documentation on how to run a sponsored listing just yet. (We'll update this article when there is.)
However, one thing is a given: You need an Instagram Shop to run this type of advertising campaign.
We wrote a whole guide on how to create an Instagram Shop. The nuts and bolts are:
Confirm you're eligible to create a Shop. You must sell physical goods, own the domain for an eCommerce store, be located in an area where Shop is available, and comply with Instagram's merchant and commerce policies.
Create an Instagram business account (if yours hasn't been converted already).
Upload your product catalog to your Instagram Shop. You can do this with the catalog manager inside Facebook Business Manager or using integrations with popular eCommerce platforms like BigCommerce or Shopify.
Submit your Shop for review. This can take anywhere from a few days to two weeks.
Once approved, set up Instagram Checkout. This step is optional but gives shoppers the ability to buy products from your Instagram Shop without leaving the app.
Start selling on Instagram Shops today
There are good reasons to expect that the Shop tab inside Instagram has the potential to be a major revenue growth opportunity for eCommerce brands.
The social media platform's pivot towards commerce has only just started. The launch of sponsored product listings is a sign that its plan to be a big player in the social commerce space is going full speed ahead.
Another outstanding feature of Instagram-sponsored product listings is Instagram Automation. This ManyChat-based service has the ability to provide shoppers with real-time responses to their pre-purchase questions. By supplying your own keyword triggers, you can create a personalized experience for your customers that automatically steers them directly to the information they are most interested in.
If they send a DM about sizing or availability, for example, they don't need to hang around and wait for your social media team to respond. They receive an automatic response while they're still in the frame of mind to make a purchase.
Ready to turn Instagram into your business's biggest revenue generator? Get started with Instagram Automation by ManyChat today.
The contents of this blog were independently prepared and are for informational purposes only. The opinions expressed are those of the author and do not necessarily reflect the views of ManyChat or any other party. Individual results may vary.