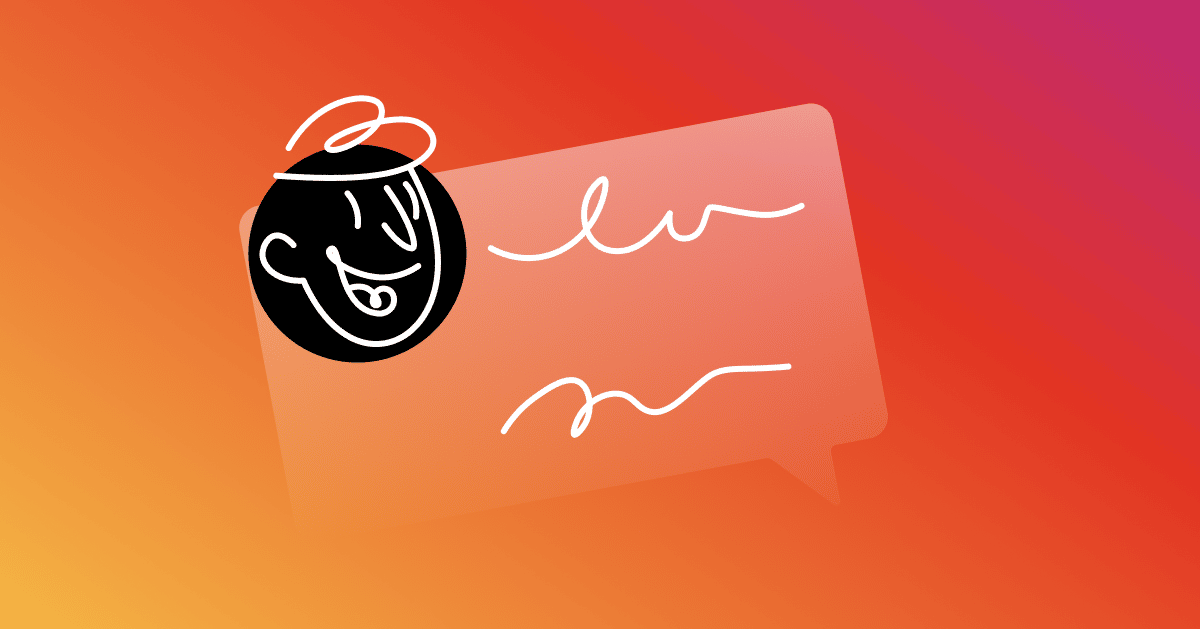 Statista projects that more than 900 million users worldwide will log on to Instagram (IG) each month this year. By 2023, experts predict that nearly 1 billion users will log on to the platform every day.
Once people log in, some of the most popular activities they partake in include watching other users' Instagram Stories, looking at posts from other users' feeds, watching a video, and posting a picture. These are all activities that eCommerce businesses can participate in and benefit from—if they know what they're doing.
Given IG's massive daily active user base, it's no wonder so many brands have already created Instagram profiles. Businesses that successfully leverage Instagram's promotional features drive traffic to their websites, increase lead generation, and convert more customers. But it takes a solid Instagram marketing strategy to grab consumers' attention on such a competitive social media platform and turn them into loyal customers. This post will help you work efficiently toward reaching your goals on Instagram.
Define your goals
Before you kick off any Instagram marketing, you need to define your goals. What do you want to get out of building your brand on Instagram? While there's no specific path you have to take here, knowing why you want to use Instagram to build your brand will provide valuable guidance along the way and allow you to measure success.
Your marketing goals might include:
Solidifying your brand identity
Increasing brand awareness
Growing your brand audience
Increasing website traffic
Growing community engagement
Boosting lead generation and sales
Once you solidify your marketing goals, document them so you can refer to them as you craft a strategy, create content, and engage with Instagram users.
Know your audience
Here's a harsh truth: You can have the best social media marketing strategy on the planet, but it's not going to matter if your audience isn't active on social media. Take a look at where your target audience spends time online.
If they spend time on social media, find out which platform they use the most. If they're not on social media, are they reading email newsletters? Or are they visiting online marketplaces?
Once you have a better idea of their preferred platform, you can work on a winning strategy geared explicitly towards that channel. If they're not on Instagram, don't waste time posting and building your brand on there just because it's trendy. It's essential to have a brand presence wherever your audience spends their time.
If your audience is already using Instagram, then you can proceed with an associated strategy. Once you start publishing content, you'll be able to use data to dig a little deeper and figure out what your target audience spends the most time doing within the app to refine your tactics.
Consider the following questions:
Do they prefer Instagram Feed posts or Stories?
Do they engage with video content or photos?
What time of day are they most active on the app?
Do they purchase items they've discovered on Instagram?
Are they motivated to click out of the app for additional content (such as by clicking the link in an Instagram bio)?
The answers to these questions—along with your goals for marketing on Instagram—will guide your content strategy. If videos on your Instagram feed get the most engagement, you should favor that type of content over posts with static photos.
Establish your branding
Before you publish your first post, define how you'll capture and display your brand personality via Instagram. Some companies choose a brand color (or a few colors) to feature in their posts and Stories. This helps ensure the entire profile looks cohesive.
For example, @Obvi incorporates its bright brand colors into its Instagram account via its profile picture, feed posts, and Story highlight covers.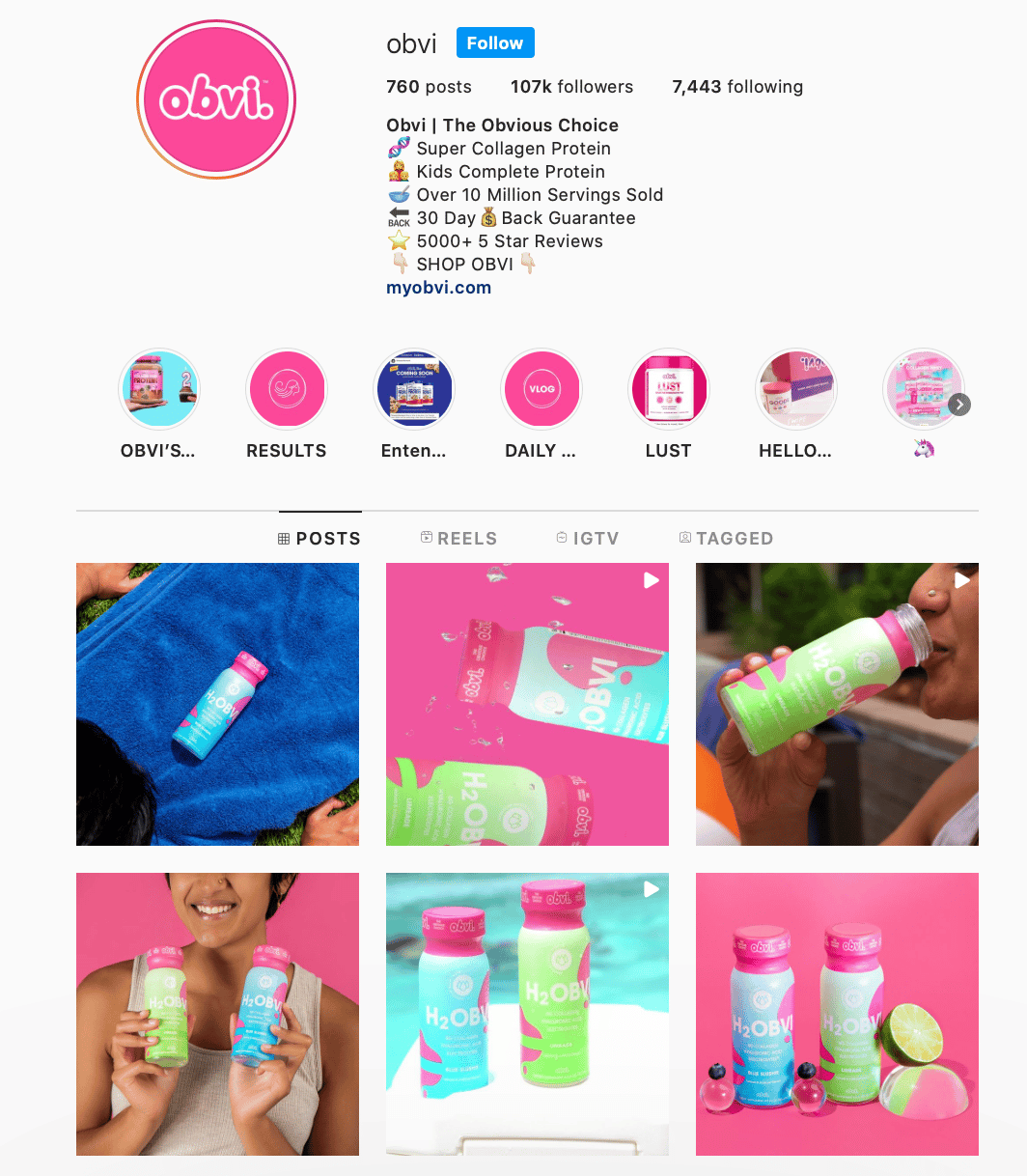 You can also add your logo to your photos and use a branded hashtag or brand-related terminology in your post captions. And don't forget to use the bio section to link your website and feature contact information! If you have fewer than 10k followers, your bio link is the only one you'll be able to publish on IG.
Create a content calendar
Instead of planning a day's—or a week's—worth of content, plan for the entire month, or even further out. Use planning and scheduling tools (such as MarketMuse, Asana, or Trello) to create a content calendar. This way, you'll always be on top of what's coming up, and you won't have to scramble to publish something last-minute. Make sure you're publishing on a regular basis.
Having a content calendar also ensures your Instagram feed and your other marketing channels display consistent content. Perhaps you plan to post different types of content on various social profiles to encourage followers to engage with your brand on multiple channels. Or you could put a video on your Instagram feed but add behind-the-scenes photos into your Instagram Story. The possibilities are endless!
Actively participate on the platform
Regularly publishing on Instagram is a must, but being an active participant is also crucial. Instagram rewards accounts that use all of IG's features, including Stories, Reels, IGTV, and various post types for your Instagram feed (such as video or carousel formats).
Interacting with other Instagram users is another way to participate. When someone comments on a post, be sure to like and reply to it. Be on the lookout for Instagram users who mention your brand, so you can like their posts, reply to Story mentions, and leave comments when applicable. Pro tip: Don't limit your interactions to positive mentions. You may be able to salvage more than a few customer relationships by addressing negative concerns.
If manually interacting with users on Instagram seems like a significant time commitment (depending on how popular your brand is, it can be), ManyChat's Instagram Automation can engage with posts and instantly reply to comments, direct messages, and Instagram Story mentions, all without you lifting a finger. Instagram Automation will help you improve your efficiency on the platform and provide a better user experience for your followers and customers.
Research and use hashtags
Hashtags are a way for a social platform to categorize your content, as users can find all related content by searching for a single tag. Hashtags are essential in any Instagram strategy because they can expand your reach when appropriately used in post captions and Stories. In fact, Instagram posts that include at least one hashtag see nearly 13% more engagement than posts that don't use any.
Utilize hashtag research tools, such as Sprout Social or Tailwind, to compile a list of ones that make sense for your brand and audience. Make sure to include hashtags that encompass your industry, business name, or products to exhibit your brand personality.
Share user-generated content
​​A report from Stackla in 2019 revealed that consumers are more than two times more likely to see user-generated content as more authentic than what's created by a brand. According to a survey from Statista, 77% of U.S. internet users were skeptical of shopping recommendations and ads delivered on social media platforms.
Today's consumer wants to know precisely what they're getting when they pay for a service, experience, or product. Seeing positive confirmation (also known as social proof) from other users helps build trust on Instagram between followers and your brand. Take advantage of this and share as much UGC as possible.
Partner with influencers
As the reports from Stackla and Statista showed, consumers have become nearly immune to traditional advertising efforts, but they still rely on recommendations from people they trust. For this reason, connecting with a social media influencer offers the best of both worlds. You control the messaging, and influencers persuade their followers (with whom they have built up trust) that your products are worth trying. (Well, this is how it works in theory, anyway.)
When you work with an Instagram influencer, they'll introduce your brand to their following, share how they use your product, and why they like it. People are more likely to take recommendations from people whose opinions they value. Word-of-mouth marketing is successful in many industries, including restaurants, electronics, and apparel. Using an influencer to showcase your brand is a proxy for personal recommendations.
Sometimes, influencers offer exclusive discount codes for their followers to compel them to try the product within a set period. Working with an influencer is an excellent way to increase reach and sales while circumventing traditional ads.
The key to success is finding an influencer who aligns with your business, mission, and the products you sell. And always choose authenticity over sheer follower numbers!
Track your progress
Once you launch a social media strategy, you will need to measure its success. Pay attention to the data that matters and ignore "vanity" metrics. For example, tracking the number of followers you have is one way to measure brand reach, but what if none of your followers ever buy from you? Generating higher engagement could mean more conversions and sales, so you'd want to track that data instead.
Pivot if you need to
If your current strategy isn't bringing in the numbers you expected, pivot to the next plan or make adjustments. For example, if you launch a series of static product posts that don't garner the engagement you'd hoped for, take a closer look at the captions, hashtags, or even the photos themselves. Test different kinds of content and use the results to continue to refine your strategy.
Check out your competition
Researching your competitors can be an excellent way to get an idea of what works and what doesn't. Are they using social media? If so, which platforms? How often are they posting, and what types of content are they sharing? Are followers interacting with their posts?
You can use this information to your advantage when you create your social media strategy. It's never a bad idea to keep an eye on your competitors, especially when new trends arise and you're evaluating whether or not to jump on the latest one.
Conclusion
It has become essential for eCommerce brands to have an Instagram presence (assuming their target audience spends time there), but it takes much more than simply creating a profile and randomly publishing posts to succeed. The good news is that putting in the time and effort often results in a lucrative return.
Start building your brand online with ManyChat + Instagram. Start free today.
The contents of this blog were independently prepared and are for informational purposes only. The opinions expressed are those of the author and do not necessarily reflect the views of ManyChat or any other party. Individual results may vary.