What Is Direct and Indirect Competition?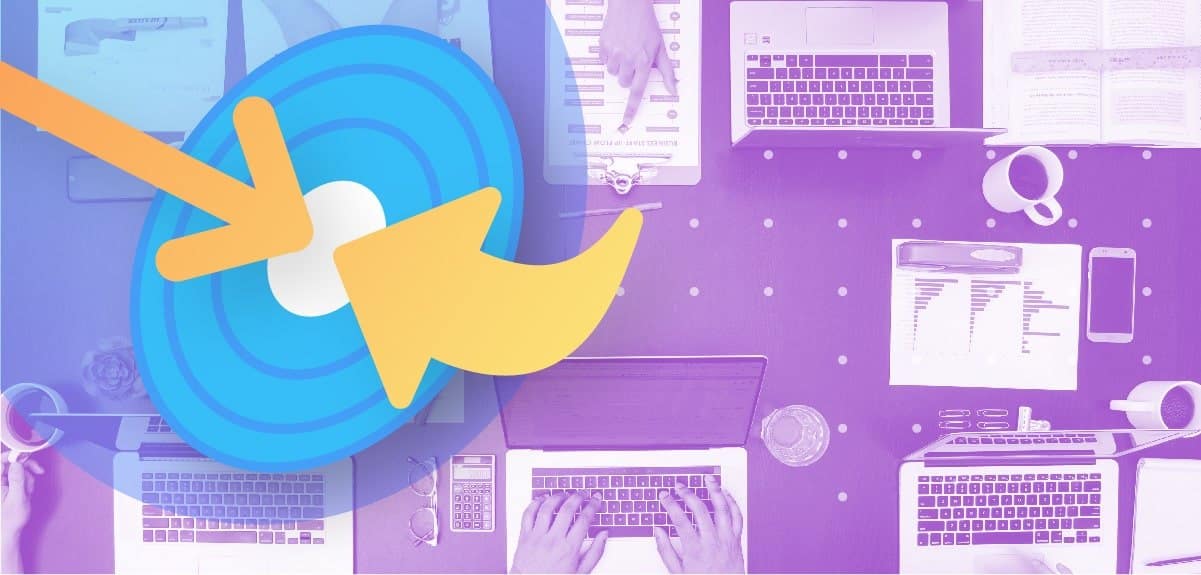 Direct competition is any company that offers the same thing as you while indirect competition refers to a business whose products or services are different from yours but potentially could satisfy the same need and reach the same goal.
Whether you're an e-commerce marketing agency or full-time fitness blog, with greater success comes greater competition to acquire more customers. How you go about monitoring your competition is important to achieving sustainable growth.
To succeed in growing your business, you have to understand what is direct and indirect competition in your market. Their influence matters as an unseen, yet ever-present, element that impacts your business. They compete with your brand and join in on the fight for customers' attention.
Most people would assume that McDonald's only competes with other fast-food restaurants and cafes (direct competition), when in reality, they also compete against meal-subscription boxes, home cooking, and special diets (indirect competition).
Discover how you can uncover both direct and indirect competition you're up against, shape your strategy, and build a sustainable business for the future.
Understanding what is direct and indirect competition
Direct competition refers to a company that offers the same product or service as you and also typically attracts the same target audience​. For example, if you want casual American food on a Friday night, TGI Fridays or Applebees might fulfill your needs. Both restaurants offer the same product at similar price points.
A secondary competition to consider is an indirect competitor, which refers to a business or outlying factor that offers different approaches for customers to reach the same goal. So you could go to TGI Fridays for a burger and fries, or order delivery via UberEats from a local burger place, or even pop open the grill and whip up something yourself — which probably healthier anyway.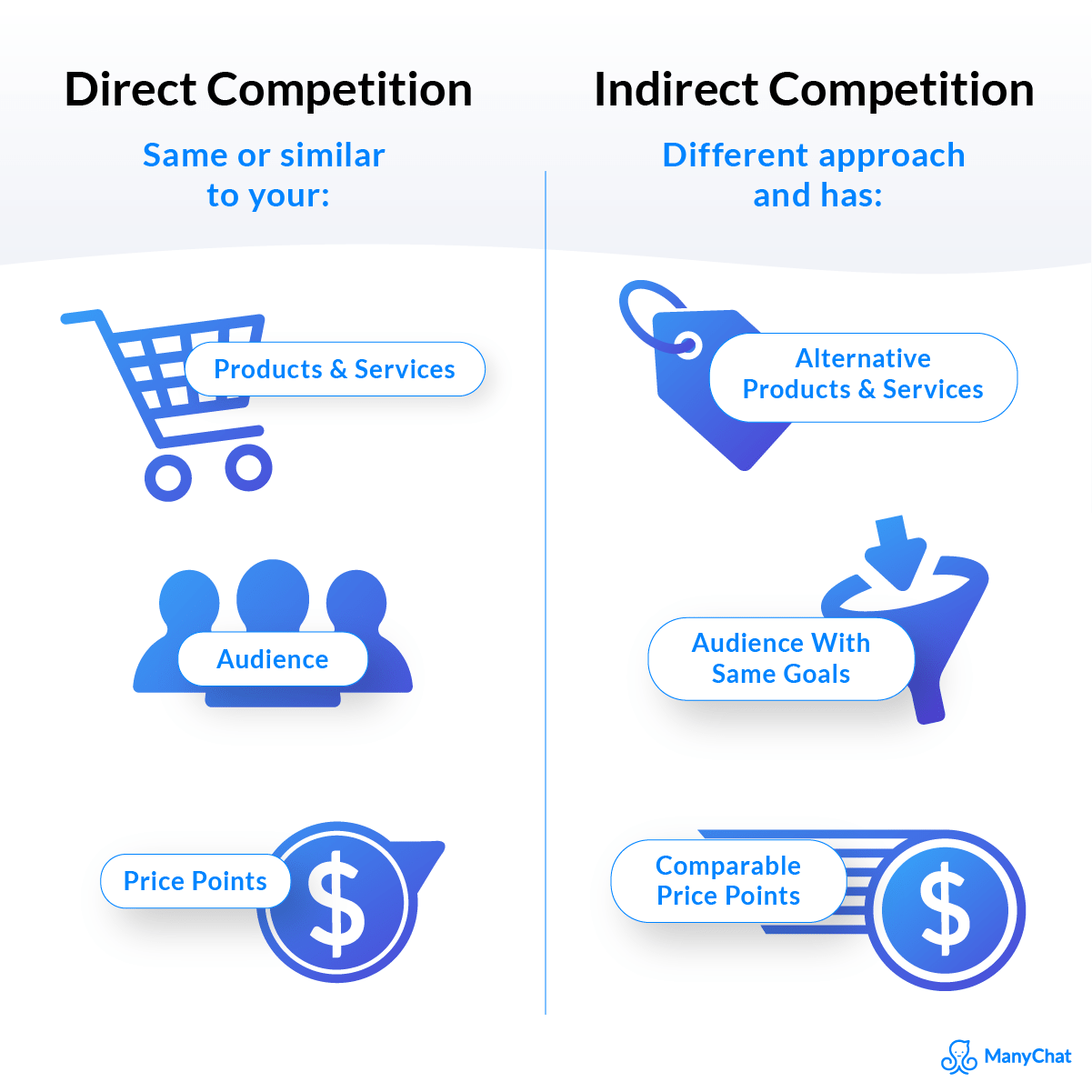 As a small business, you can use this understanding to create a marketing plan that reaches and connects with your potential target audience, without spending a ton on paid ads.
Begin to think about how you could become distinct and unique in your market. And what makes people want to lend their attention to you.
Why you should know your direct and indirect competitors
It's not news that your company has competitors. With changing buyer behaviors and preferences, most companies continually adapt to ongoing changes. But what most miss is the underlying forces that aren't in the latest marketing trend articles on Google.
Michael E. Porter, a Harvard Academic, is known for theories in business strategy and economics. He believes that industry competition is rooted in its underlying economics and other competitive forces that go well beyond the established players in a particular industry. According to Porter, a strategist's goal is to establish a position in their industry where the company can defend itself against these forces or use them in their favor.
For example, if you market an e-commerce store, a competitive force could be the customers need to see and look at a product in-store first. Or maybe they can make your product cheaper at home. To combat these competing forces, you can offer a free in-home trial of your product, or quick and easy returns if someone doesn't like it.
Businesses that sell services can also defend themselves from indirect competition. By continually educating your audience and helping them solve problems, you build affinity between your company and customers. If you're an agency, keep your audience up to date on trends and teach them how to market themselves on a budget.
This approach may counter your initial way of looking at who is a competitor. We're used to looking first at who offers the same or similar product and how we can outpace them. This leads us to miss out on what other factors play into what makes a customer buy from you.
Porter's theory has lived on in Harvard Business Review since 1979, and continues to influence today's strategists when developing an industry position.
Outsmart your competition with Chat Marketing. Sign up for a free ManyChat bot today.
How to beat both sides of the competition
A business owner has to become an expert at monitoring all the types of competition that might be influencing his or her outcomes. This information can be used to understand what's going on in the customer's mind, and the owner can then tailor messaging accordingly.
1. Keep an eye on all competitors: business, trends, and economics
Being able to understand how your customers think is important to your business. You need to know-how trends, new products, and even economics impact decision making for buying your products.
What makes customers buy what others sell? Why do they think twice? What do they currently value in their lives or business?
Every business from Ecommerce and agencies to mom-and-pop shops need to better understand these influences and use them to build closer relationships with their customers.
2. Provide helpful content
Whether you're a Fortune 500 brand or a freelancer, your content is how you interact with other people. It's not so much talking about how great your products and services are, but helping potential customers win.
For example, a restaurant can provide recipes and cooking advice for readers who may want to cook at home. A marketing agency can publish content that helps prospective clients use social media channels better or even how to choose an agency.
Providing helpful content has more to do with supporting a customer's journey than with promoting your brand. A well-integrated marketing strategy, including content, helps a company stand out no matter what the competition, leading to positive brand awareness, greater connection to prospective customers, and higher retention of existing ones.
3. Communicate on channels customers are comfortable on
To create a customer base keen on sticking around no matter what, a real relationship is needed first. Building a genuine audience around your business involves not disrupting them with intrusive banner ads and spam.
Instead, you can use different chat channels like Messenger, SMS, and email to talk with potential customers, fix problems, share information, and nurture the relationship. This helps make sure people are happy enough to come to you when they need to buy something related to your company.
4. Become a guide for customers
Both large and small companies will focus on making everything quicker and more human in the coming years. Obviously, a way to manage queries is important, but only if you add a touch of guidance to your strategy. Too often, companies set up a chatbot to answer questions and call it a day.
For people who sell digital products like Health and Wellness Specialist Dr. Berg, and for many other online stores, the focus stays on helping customers win. By guiding them towards success, communicating with them frequently, and making sure they are getting value from what you sell, you build closer relationships and keep them in your ecosystem rather than your competition's.
Becoming a more competitive business
There's only one rule for managing both direct and indirect competition: Stay aware of trends, new products, and economic influences, and use them to create better opportunities for people to engage with your company. The rest is up to you.
Want to build closer relationships with customers that drive more sales? Sign up for a free ManyChat account today to get started.
The contents of this blog were independently prepared and are for informational purposes only. The opinions expressed are those of the author and do not necessarily reflect the views of ManyChat or any other party. Individual results may vary.