5 Instagram Hacks to Sell Your Online Course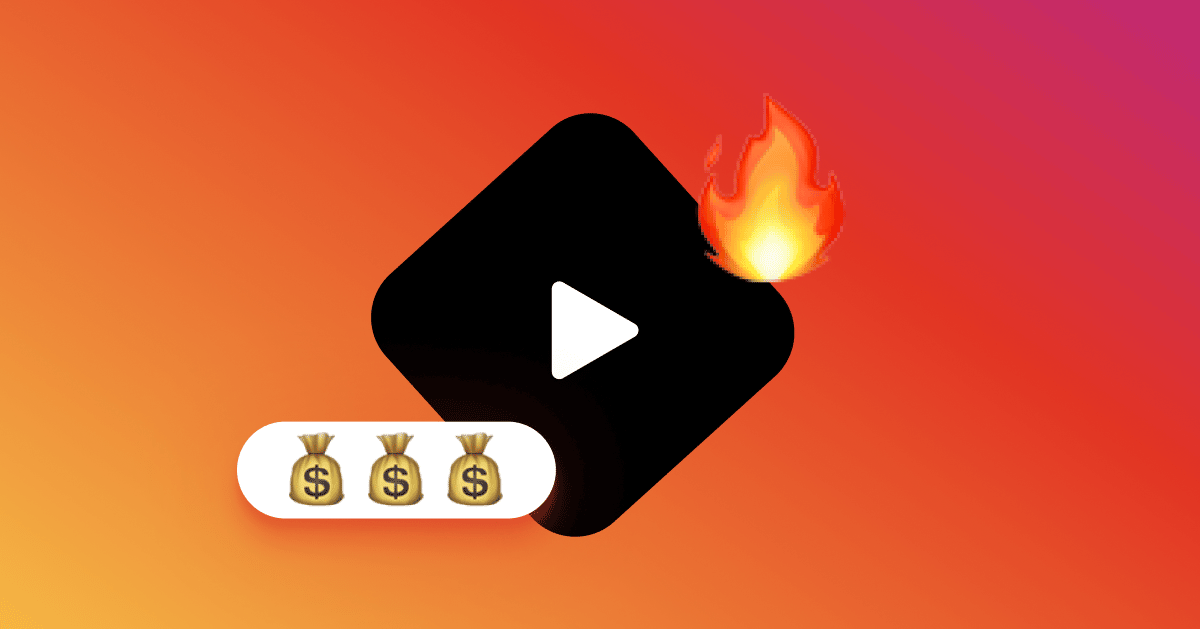 You've finally finished creating that online course after dedicating time and money to creating, recording, and editing your content. Now you have some free time back in your days again. Congrats!
There's just one tiny thing: Now you have to market your course. You don't want all that hard work to go to waste.
Instagram (IG) is one of the most popular platforms for creators to sell their courses. But what are the best tactics to actually drive sales? This article will take you through the basics of building an automated Instagram sales funnel, plus five hacks you can use to sell your online courses.
First, let's talk about Instagram funnels
Instagram is a place people can interact with brands directly. They can comment, follow, message, and now even buy inside the app. So, how do you connect with all these users? Posts and hashtags are excellent marketing assets to build awareness for your online course, but that's just the beginning.
Effective Instagram marketing is more than just feed posts and Stories. To fully leverage the platform, create comprehensive, automated buyer journeys inside Instagram to sell your digital products.
Here's a quick look at a standard IG funnel:
To review:
Top-funnel: Continue to generate the same content you're already creating. Publish Stories, posts, run Instagram Live sessions, etc. Maybe even run Instagram ads to find new customers for your course. There are many organic Instagram growth strategies you can use to build up the top of your funnel.
Mid-funnel: As more people begin interacting with your page, you'll likely need help managing conversations with users. Use Instagram Automation to run these engagements. You can automatically qualify leads in Instagram Messenger, automate replies from Story mentions, respond to comments and reactions, create pre-filled buttons in Instagram Messages to prompt new conversations, and more.
Bottom funnel: Now that you're spending less time interacting with the majority of your fans, you can devote more effort to connecting with big-ticket wins and VIP clients. Save your one-on-one chats for high-quality leads and close the sale in real time via a live chat.
The best part? ManyChat provides automation and Live Chat features for course creators and digital entrepreneurs. You can get your funnel up and running in an hour and start selling more on Instagram almost immediately.
Get more from your Instagram marketing efforts with ManyChat. Join the ManyChat for Instagram waitlist now.
Hacks for selling your course on Instagram
Now that you have a better idea of how your Instagram funnel can look, let's dig into at some hacks you can employ to automate engagement and drive sales.
Post Instagram Stories
Automate conversations in Instagram Messenger
Go Live
Run Instagram Ads
Use live chat
Post Instagram Stories
Instagram Stories are one the best ways to sell courses on Instagram. Over 500 million people watch Instagram Stories every day, and 58% of them say they've become more interested in a brand or product after seeing it in a Story.
The latest Instagram statistics show that nearly 50% of messaging starts from Instagram Stories. The hack: Start conversations directly from Instagram Stories.
With ManyChat, you can automate conversations based on keywords people message you. For example, say you want to promote a lead magnet like an ebook. You can post a Story that says "DM us with the keyword 'ebook' to get this free download."
When someone types "ebook" in your Instagram Messages, it kicks off an automated conversation with them.
You can also fire off messages when someone mentions you in a Story. With the Story Mentions Trigger by ManyChat, you can fire off a message when someone tags you in their Story.
This is a terrific hack for creators who want to engage with many followers at once but don't want to spend time manually responding to everyone who interacts with their profile.
Automate conversations in Instagram Messenger
The bigger your following gets on IG, the more messages you'll receive in Instagram Messenger. Many course creators and entrepreneurs struggle to keep up with the overflow of messages they receive daily.
You can use a variety of ManyChat features to manage conversations and mitigate an overwhelming influx of messages.
Conversation Starters
Conversation Starters are quick replies that prompt conversations with new customers. You can set up to four customizable, predefined buttons to appear when Instagram users message your business for the first time.
Keyword Automation
You can set specific keywords to trigger automations in Instagram Messenger. When a user types in a particular keyword, it will begin a conversation.
Keyword automation is helpful for creators in many situations. Say you have an upcoming webinar, and you're running a campaign to get sign-ups. You can automate the registration process by using keyword automation in ManyChat.
Simply add the keywords people will use to message you as a trigger. Once someone inputs "register" or "sign up," for example, into a conversation with you on Instagram Messenger, it'll initiate the booking process.
Here's what you'll see.
With keyword automation, webinar sign-ups now take minutes, without onerous back-and-forth messaging or manual work.
User input
Ask your contacts for information, and their answers will be stored in your CMS. User inputs let people respond in two ways:
Free text: They can type any response they want
Multiple choice: They can tap pre-filled replies to your question
Creators have a few different options for using these custom inputs:
Collect SMS and email information to run omnichannel marketing campaigns
Learn more about customers' interests and preferences
Create more personalized campaigns using collected information

The result? You'll have more meaningful interactions with your following that can lead to higher leads and sales.
Go Live
Instagram Live is an interactive tactic to connect with new followers, drive engagement, and sell your courses.
Instagram has continued to build on the feature, adding new elements such as Live Rooms. A Live Room offers you the chance to initiate more innovative opportunities like co-creating with other entrepreneurs, starting a talk show, or running group Q&A sessions.
The hack: Use keyword automation for Instagram Live sessions. Say you're giving away a free checklist during a talk. You can tell people to send an Instagram Message to you with the keyword "get checklist," and they'll receive it via Instagram Messenger.
Run Instagram Ads
Instagram is a great platform for running ads to promote your brand and products. Since it uses Facebook's advancing targeting practices, you can guarantee your ads will find the right audience for your offer.
You can use Instagram ads to:
Send traffic to your course landing page
Build awareness for your brand
Grow your following
The hack? ManyChat helps you create scalable Instagram Story ads that engage users automatically. The Keyword Automation features allow you to start conversations with viewers and build a relationship right away.
All a viewer needs to do is type in a keyword from your Instagram Story ad, which triggers the conversation inside Instagram Messenger. From here, you can take the conversation in many different directions. You can deliver a lead magnet, learn more about their interests and preferences, or collect other contact information like phone numbers or email.
Use live chat
Live chat through Instagram Messenger is a new feature infopreneurs and creators use to grow sales. Automation helps qualify (and disqualify) leads so you can dedicate more time to high-ticket clients. (You know, the ones that make you money.)
In ManyChat, your Live Chat dashboard lives alongside all your marketing campaigns, offering brands the chance to provide fast and reliable customer support. If you have a team, you can assign conversations to different agents to stay organized and can even send people down an automated flow or sales page after you've solved their issue.
Using Instagram Automation to sell your courses
As you can see, running automated campaigns on Instagram will save you time and money. You'll never miss a lead, nor have to spend time manually messaging every individual who wants to buy your courses. Instagram Automation manages all that for you.
Start by testing a few automations, post a Story with a keyword trigger, and build your contact list inside ManyChat. You'll soon start to see higher engagement, better leads, and improved sales for your efforts.
Grow your Instagram following and make sales with Instagram Automation by ManyChat. See if your business is eligible by applying below.
The contents of this blog were independently prepared and are for informational purposes only. The opinions expressed are those of the author and do not necessarily reflect the views of ManyChat or any other party. Individual results may vary.