Top 9 Organic Instagram Growth Strategies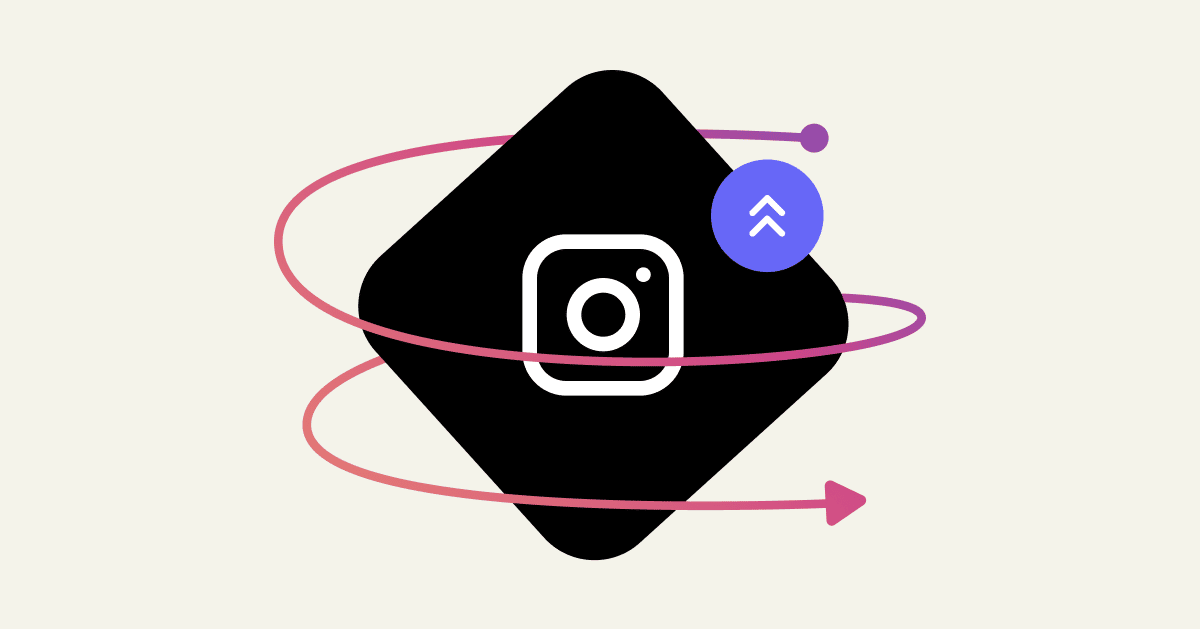 Far too often, brands spend days creating the perfect Instagram marketing strategy, only to see their posts go live and result in little follower growth or engagement. Poor results lead to poor organic Instagram growth, and often cause brands to believe that people don't like their brand, or their content just isn't good. (Hint: this is not true.)
Let's be honest, Instagram organic reach is tough for anyone looking to build their presence without ads. What's more, changes to the Instagram algorithm can make it even more challenging to drive growth, and gain organic followers for Instagram. 
Despite these obstacles, there are ways to improve your organic reach and increase your Instagram followers without paying for advertising. This article will cover the top Instagram growth strategies you can put into action today, so you can earn real Instagram followers. 
Top organic Instagram marketing strategies
Browse our list of Instagram growth strategies to get more followers and boost sales:
Automate conversations
Instagram began as a place to post and share photos with friends. Today, it's a massive social media platform that boasts over 1 billion monthly active users. When Instagram added its Instagram Messenger function, it opened the door to mass messaging from followers.
Like Facebook Messenger, Instagram Messenger is a great marketing and communication channel for businesses to connect with customers. Yet, with such a high volume of direct messages, managing all these conversations manually is hard on an Instagram account. 
Fortunately, you can automate the customer communication from Instagram with ManyChat's Instagram integration and focus more on content creation and generating sales.
Chat experiences provide customers a more intimate way to interact with your brand. They can help you achieve better business outcomes—whether it's getting leads, generating sales, or providing customer support.
Read more: Instagram Checklist: Your Guide for Growth Success
Run giveaways and promotions
People love a great deal, or better yet, something for free. But marketers rarely use this tactic enough. Around 72% of consumers say they want brands to post discounts or sales on social media, but only 18% of marketers think that customers want to see discounts on such platforms. There's a clear discrepancy in expectations here.
To boost your brand's user engagement and drive growth with organic Instagram followers, try holding regular competitions and promotions. For users to enter your giveaway, require them to follow your account and any other brands you're partnering with, as well as tag other users. 
Consider holding monthly or quarterly giveaways so that your followers look forward to your giveaways. Having regular events like this will encourage users to stick around and look out for the next one.
Ecommerce store and sportswear brand Fabletics uses International Legging Day as an opportunity to give away a free pair of leggings and a private group workout session with its founder, Kate Hudson:
Use the right hashtags
Including relevant hashtags helps your target audience discover your brand. When you use hashtags effectively, they may help you drum up more engagement and improve your reach.
Instagram allows users to publish up to 30 hashtags, but that doesn't mean you should use that many. Using too many hashtags actually decreases engagement rates:
Furthermore, including more than a handful of hashtags can make your post look spammy and discourage users from trusting your Instagram profile.
Selecting the right hashtags for your post is equally important. Generic hashtags like #travel or #Friday are used by other accounts so frequently that your content may get lost in a sea of other posts on users' Instagram feeds.
The trick is to select a few highly relevant hashtags that your target audience is likely to see. You can conduct organic hashtag research by looking at high-performing competitor accounts or by searching the Explore page.
Using three to five pertinent hashtags will help attract genuine followers while ensuring your Instagram post looks authentic. Branded hashtags can also help your content stand out and encourage users to share posts with your brand's particular hashtags.
Coffee machine brand Nespresso uses just three branded hashtags to show off its product:
Post consistently at optimal times
The optimum moment to post on Instagram is hotly debated. CRM platform HubSpot says the best time to post is between 11 AM and 4 PM EST, while Instagram scheduling app Later reports the ideal posting time is between 9 AM and 11 AM EST.
Having this information in your back pocket is nice, but it's more critical to know when your posts are most likely to spur engagement. Identifying the best times for posting will take some trial and error. Peak user activity largely depends on your target audience's demographics and business industry.
You can use tools to help you ascertain when your users will be most receptive and active. Make sure you're signed in to a business account and take a peek at Instagram Insights to see when your users are most active on the platform. Here you can see data broken down by activity, audience, and content.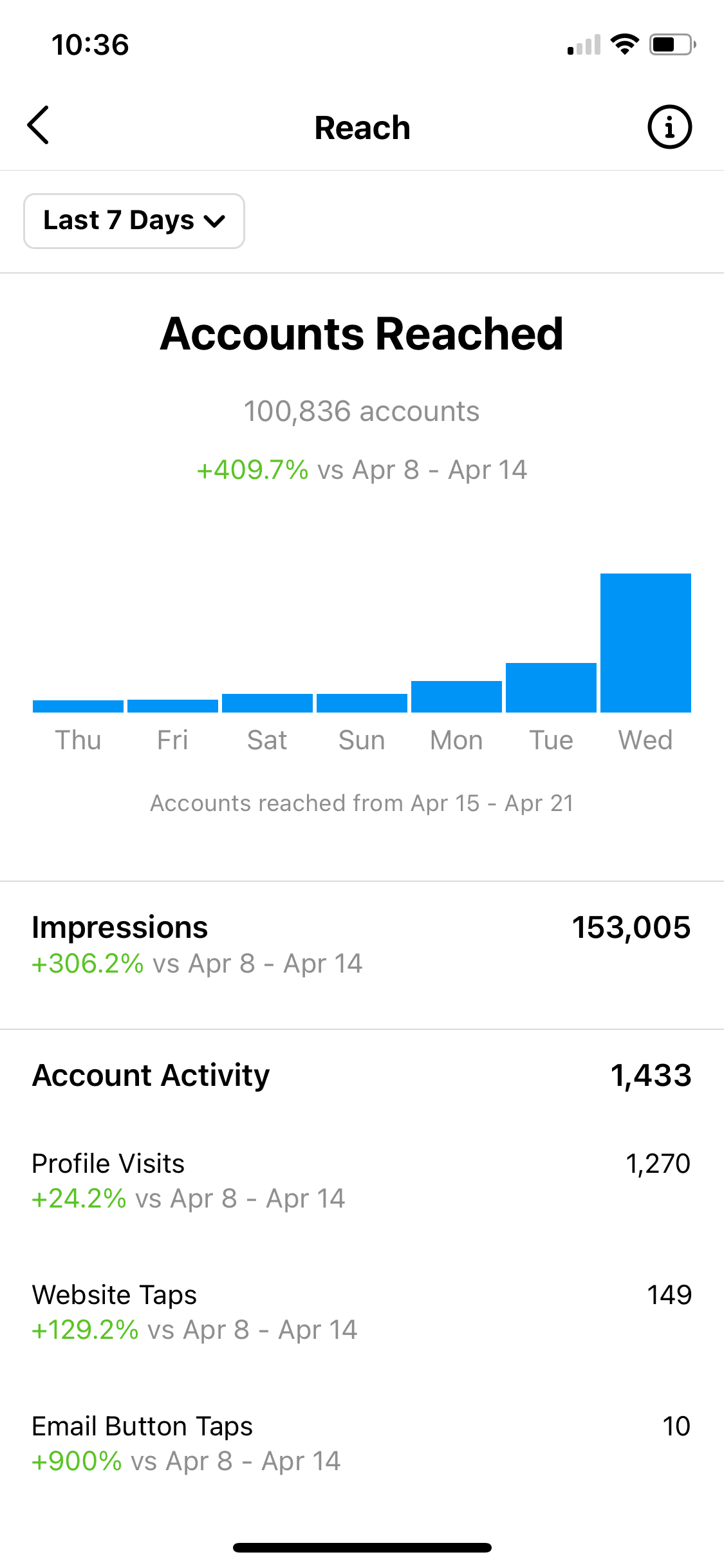 Under the Audience tab, you'll be able to find data on when your audience accesses Instagram, their age range, gender, and location.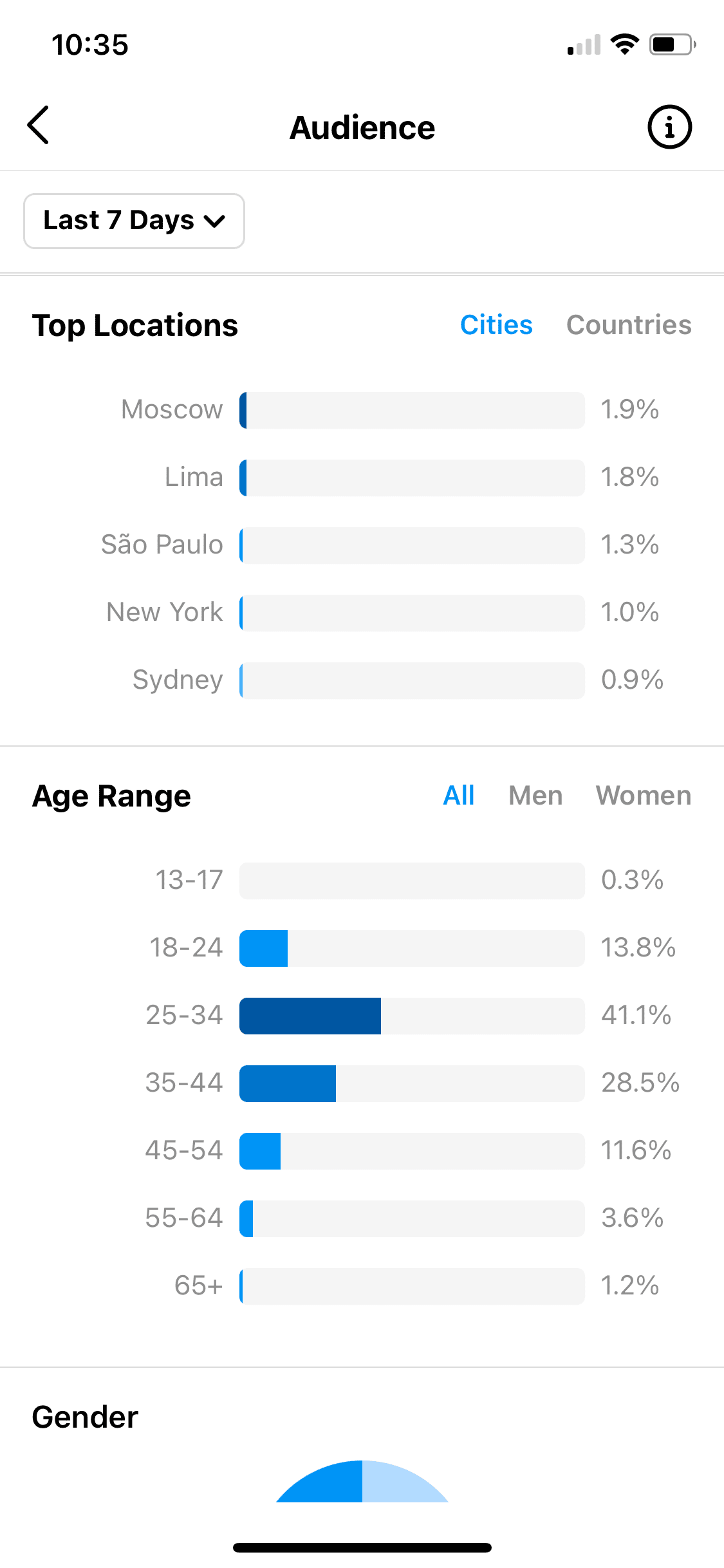 Experiment by publishing different content at varying times to find the sweet spot for your audience. Then go further by evaluating what types of content you posted were the most successful, the times when you published them, and how your audience reacted to them.
Once you know when and with what content your audience is most likely to engage, you can build out your Instagram posting schedule.
Read more: Instagram Fun Facts and Stats You've Got to See [Infographic]
Diversify your content production, especially with every Instagram story
Instagram engagement is no longer limited to in-feed posts. Engagement metrics now include Story mentions, views of Reels, and Story replies. Don't rely solely on in-feed posts––commit to publishing a few Instagram Stories each week as well.
Given their interactive nature, Stories are a great way to encourage users to engage with your account. You can even get additional use out of Stories by saving them as highlights to educate potential followers about your brand and account.
The facts don't lie: 57% of brands believe that posting Stories have been "somewhat effective" or "very effective" as part of their social media strategy. To keep your content, and each Instagram story fresh and exciting for your follower base, try incorporating different types like polls, quizzes, video interviews, and even recorded classes.
Airbnb combines eye-catching in-feed posts with interactive Stories that encourage user participation:
Interact with your audience
Approximately 64% of consumers want brands to connect with them, and 76% of consumers say they would buy from a brand they feel connected to instead of from a competitor.  It's clear that interacting with your customers, and organic Instagram followers, drives growth as well as encourages followers to convert. 
Posting quality content is one way to increase your follower count, but to take engagement to the next level, you'll need to interact with followers regularly. Interacting with your followers helps build a stronger connection to your brand and encourages users to come back to your account. Start engaging with your followers by leaving comments on their posts, answering their questions, and liking related content. Just as important, is to stay away from shady tactics, including buying followers.
Take care to avoid marketing tools that encourage you to purchase likes, followers, or comments. These harmful engagements will only increase your fake follower count and may prevent more genuine interactions.
Always stick with a consistent tone of voice to authentically portray your brand's personality when engaging with your followers. And make sure your voice matches your brand, to earn real Instagram followers!
Ben and Jerry's responds to its followers' comments using a playful tone that matches its brand image:
You can also interact with followers through live chat on Instagram Messenger. Using ManyChat, you can respond to people's questions and help solve their problems, all in one place. Say someone, like an Instagram follower, has a question about your products or an issue for customer support, you can enter a live chat and fix it right away.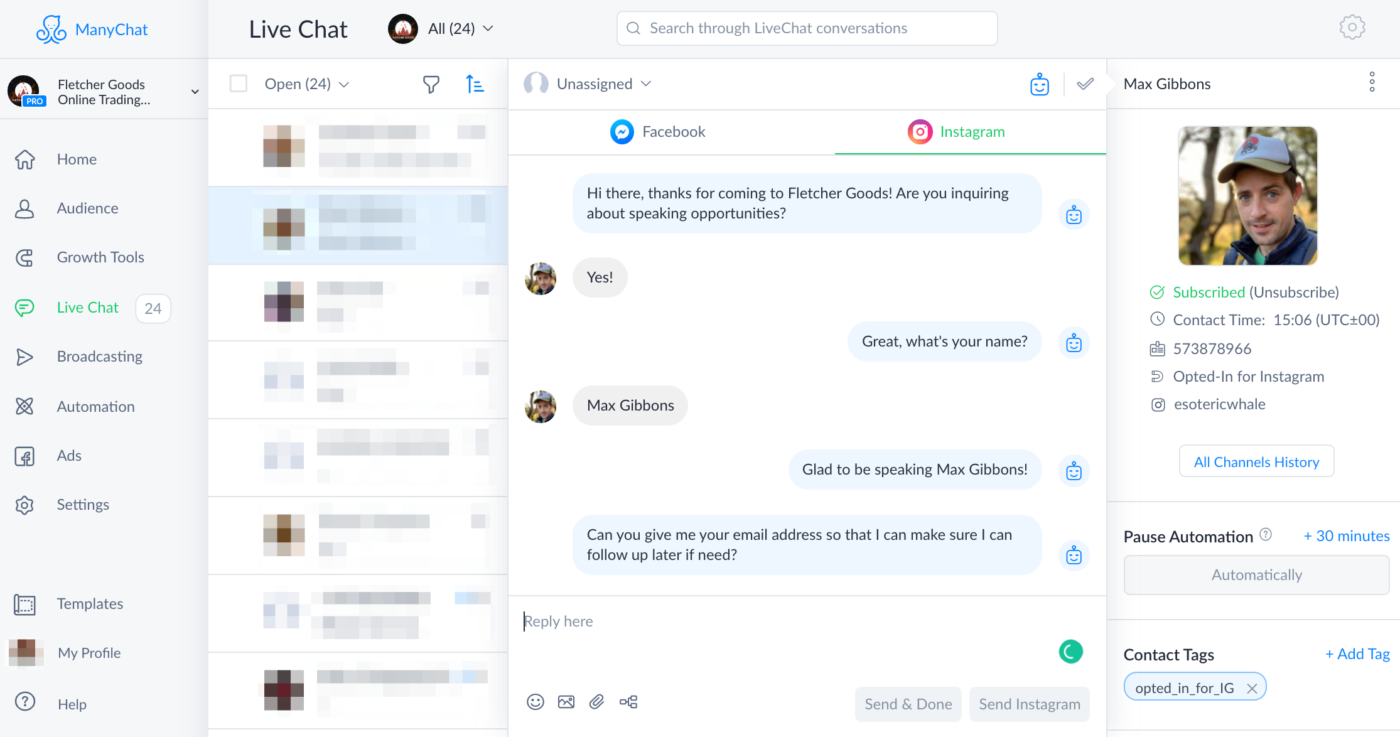 Team up with micro-influencers
Working with influencers can be a highly effective way to boost your content's reach and drive account growth.
Leveraging influencer marketing is also a powerful way to get your content in front of a target audience unfamiliar with your brand. This means that an influencer can turn a stranger into an organic follower. An estimated 41% of consumers say they find at least one new product from an influencer weekly. 
You don't need to have a huge budget to collaborate with influencers. Instead of partnering with huge influencers who boast massive followings, focus your efforts on smaller-scale ones. Although micro-influencers may have fewer followers, they are often more authentic and engaged––which is far more important than a high follower count. They may be able to get your account in front of an engaged niche audience and help you drive sustainable organic growth.
Working with influencers in your niche also has the added benefit of establishing credibility for your brand. If followers see known personalities endorsing your content or products, they'll be more likely to trust your company.
Food influencer Amanda Ghee creates authentic content to promote food brands by sharing easy-to-replicate recipes:
Promote your Instagram content on other platforms
Your target audience likely spends time on other social networks. Try tapping into different audiences by promoting your Instagram account on other platforms.
Pinterest, the visual social media platform, is a great way to increase the lifespan of your Instagram content and should attract far more than one organic follower. You could repurpose your in-feed content into a series of Pinterest posts that link to either your Instagram page or your website. 
Remember to add social media buttons to newsletters and your website so users can easily find your Instagram page.
Tap into user-generated content
User-generated content refers to any image, text, or video posted by followers that you repost on your business profile. It's a great way to encourage followers to participate in your content creation. It's a successful tactic, too: Consumers are 2.4x more likely to say user-generated content is authentic compared to brand-created content. You can encourage UGC by getting users to post about your product or brand on their accounts, then share the most high-quality posts with your followers.
The best part is that you don't need a high budget to implement this strategy because customers will do most of the content creation for you. One way to boost UGC is to create a hashtag, then encourage customers to share images of your product with that hashtag.
When followers share these images, it'll increase brand awareness and drive growth. Your customers' followers may see their friends' posts and be tempted to visit your brand's profile (and follow it, if you're lucky!). UGC also acts as social proof––new followers and potential customers may trust the brand more if they see others using your products.
Beauty products brand Burt's Bees leverages this strategy by sharing images of customers using its products and explaining their favorite beauty hack in the caption:
Grow your Instagram following organically
While boosting organic growth on Instagram can seem intimidating, it's possible to see results if you consistently use the right techniques to get organic followers for Instagram. Armed with the strategies in this guide, you can increase engagement with every Instagram follower on your Instagram account, improve your brand's visibility, and drive organic growth.
Remember to start slowly by trying one or two of these strategies and evaluating your audience's response. Good luck!
Grow your Instagram following and make sales with Instagram Automation by ManyChat. Start free today.
The contents of this blog were independently prepared and are for informational purposes only. The opinions expressed are those of the author and do not necessarily reflect the views of ManyChat or any other party. Individual results may vary.