How to Get More Likes on Facebook: 10+ Tips to Get Seen in 2021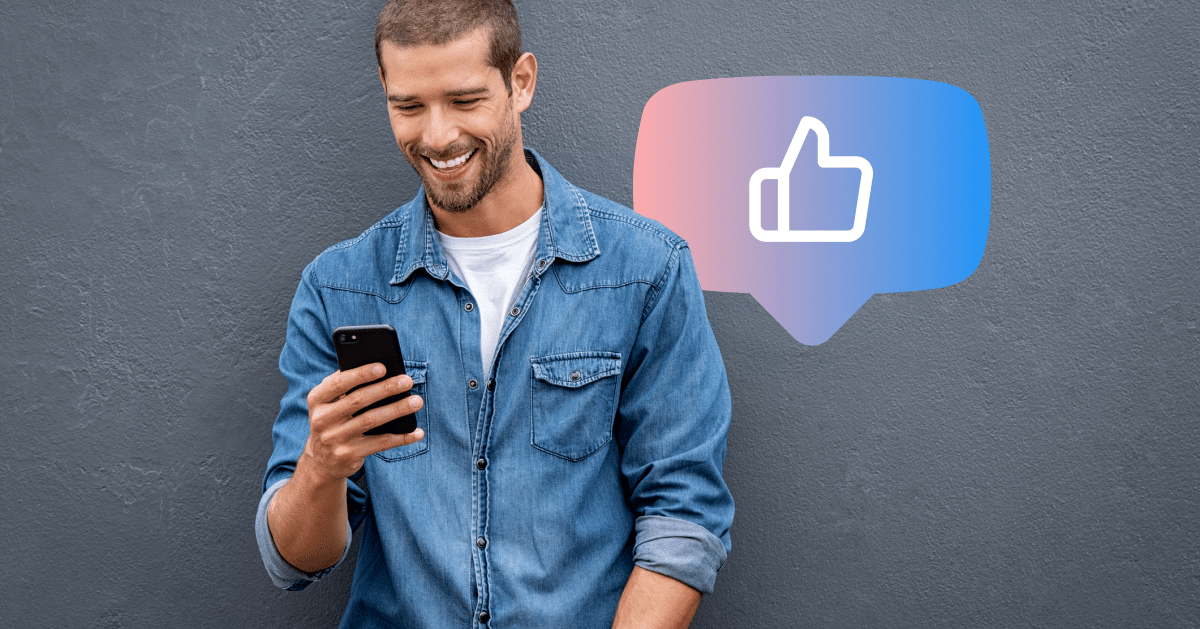 Are you trying to get more Likes on your Facebook Page or posts?
With over 2.7 billion active users on Facebook, it's no wonder why you're focusing on this social network in 2021. There's a whole world of potential future fans and customers out there—you just need to find them.
Getting more Likes is the key to finding more people. Posts with high engagement get better placements in a user's News Feed. Plus, the more people who like your Page, the bigger following you'll build.
So, how do you get more Likes on Facebook? We'll share the answers for both posts and Pages.
Why Facebook Likes matter
Before we dive into the details, let's be clear on why Facebook Likes are more important than ever.
Ranking signals
Similar to other search engines like Google, Facebook has its own algorithm that helps decide which posts to place in a user's News Feed.
One of the main ranking signals is engagement. The more comments, likes, and other engagements that a post receives, the more likely it is to show up in the feeds of the people that are connected with your audience.
It's like a snowball effect: the more people see a post, the more engagement it gets—and the higher placement it'll receive.
Feedback on your digital marketing strategy
The number of Likes a Facebook Page gets will give you feedback that what you're sharing is relevant to your audience—or the opposite.
You can adjust your marketing strategy to account for this, try new things, or double down on what works, using Facebook Likes (either on the posts or Page itself) as your north star metric. It's a quick way to get feedback without getting in the weeds.
Identify content that works (so you can create more of it)
Using Facebook Likes as your main KPI helps you decide what works. If something doesn't work the first time for you, don't be afraid to try it again.
One of the best ways to get more Likes on Facebook is to create and share more of the type of content your audience loves. Filtering through your content to see which is the most engaged with helps you pinpoint what works.
The goal? To create more, similar content and build a loyal following on Facebook.
Should you focus more on getting likes for your Facebook posts or Page?
That's a question most people get stuck on when they're building out their Facebook strategy.
You should always focus on getting more post Likes, rather than followers to your Page.
(The organic reach Facebook gives to its Page is getting worse. Just 5.2% of the people who follow a brand's Page will see their organic content.)
However, people that don't like your Page will still see your content in their feed if someone they know likes or engages with it. So, if you focus on post engagement first, your content reaches more people. That could have a knock-on effect on your Page Likes.
For this reason, we recommend starting your social media strategy by focusing on post likes first. Then, as more people see your content (because it's getting high engagement rates), you can move on building out your Page's following.
How to get more Likes on Facebook posts and videos
Now we know that Likes on Facebook posts should be prioritized over Page Likes, let's take a look at nine tactics you can use to increase engagement on posts and videos:
1. Have a Facebook marketing strategy
Are you surprised to learn that getting more likes on Facebook doesn't start with the posts themselves?
Your entire approach should be driven by your overall digital marketing strategy. That includes the answers to questions like:
What are your goals?
How do you measure success?
Who is your target demographic?
What's your brand voice, and how do you engage with your audience?
A strong overall Facebook marketing strategy will help you take these tips and create an approach that works for your brand.
You'll be able to reach your target audience, communicate with them in a way that matches your overall online presence—and more importantly, meet your business' goals. That's one way to prove the value of social media to your leadership team.
2. Set your profile up correctly
Next, you'll want to make sure that your Facebook Business Page set-up is complete, with all the right information to help your audience find and connect with you.
That includes:
Your logo as the profile photo
A customized cover photo
A completed "about" section
Links to your website and other social media platforms
(We'd recommend bookmarking Facebook's recent improvements to make sure you're making the most of new updates. It's also worth double-checking that you don't violate any of Facebook's terms for Pages. You don't want your hard work to go to waste.)
Granted, most of these things won't be visible to people who're passively scrolling through their News Feed and viewing your post.
Yet a small percentage of people might see your Facebook post, like it, and click through to your Page to find out more. Making sure your Page is fully completed means people get more information about your business, and don't fall at the last hurdle.
3. Create relevant, timely, interesting content
Once your Page is set-up and optimized for more visitors, it's time to move onto the fun part: creating the content you want to increase engagement on.
The key to succeeding on Facebook is to talk about trending topics. So, take a look at what's trending on Facebook and Twitter throughout the day/week. Can you spot any opportunities to create and share a great piece of content on a hot topic?
You can also think about different holidays and days of the year you can reference in an interesting, unusual, funny, or impactful way.
Take this post from Yankee Candle, for example. They've crafted a Facebook post to promote their products which tie into Valentine's Day:
Also consider seasonality and how your audience is likely to be feeling, their daily activities, and where your brand fits in. If it's in the middle of winter, for example, are they stuck at home and snowed in? Create content that'll keep them entertained.
4. Post and engage consistently
To increase Facebook Likes, you need to be consistent.
Showing up often with the kind of content people want to see means they're more likely to engage with it. More engagement means more people see your content, and the cycle repeats itself (eventually resulting in more post and Page Likes.)
A superb way to do this is by engaging with your audience. Try and reply to as many comments as possible in an authentic, helpful way—even the negative ones. Get involved in conversations in your comments section, and show up so your audience knows you're around and not just running an automated effort.
The more Facebook fans you can get commenting with your post, the more engagement it'll get… But you won't get that engagement unless you specifically ask for it.
5. Be conscious about your timing
There's not much point in posting to Facebook if your audience isn't online, right?
For that reason, you need to consider the best time to post on Facebook. It will be slightly different for every brand and audience profile, but this guide is a good place to start:
Between Wednesday and Saturday
9-10am, 12-1pm, 4-5pm for B2C brands
9am-4pm for B2B brands
(Be aware that these 'best posting times' might change depending on the timezone of your Facebook audience.)
Find your optimal posting times by experimenting with different timings and days of the week. You want to see what your audience responds to. Once you have the answer, you'll be able to create your own personalized schedule that's perfect for them.
6. Keep your content short
Facebook users mainly scan their News Feed to find interesting content. They don't always have time to read long walls of text.
In fact, recent research shows that a mobile user spends an average of 1.7 seconds looking at a piece of content. It's likely why posts with 80 or fewer characters see a 66% higher engagement rate.
The good news is they can recall this content after spending just 0.25 seconds on it. Regardless, you'll need to consider how much of your message you can get across in those few seconds.
Take this example from Best Buy. They have an image with two short sentences, and still managed to get 500+ engagements:
The key is to make your content quick, snappy, and light-hearted. The easier it is for a Facebook user to read your post, the more chance you have of getting them to like it.
7. Repurpose high-performing content in other ways
Not all of your Facebook content has to be created from scratch. Chances are, you already have a library of high-quality content to repurpose—a tactic that won't only improve brand recognition, but will save time, too.
Have a video that's doing well on TikTok? Create a custom GIF from the video and share it on your Facebook Page.
Ran a webinar for your B2B audience that got tons of engagement? Grab the script and do a 20-minute Facebook Live video on the same topic.
Have a tweet that's going viral? Screenshot it, add an on-brand border or background graphic, and post it to Facebook.
MAC Cosmetics even do this with user-generated content created by influencer partners:
Your audience won't always follow you across multiple platforms, so reposting similar content is an opportunity for them to see it for the first time. (Even if they've already seen it, it might be easier for them to share with friends on Facebook than on another platform—equalling more engagement.)
This strategy is a great way to post visual content, too. One report found that 80% of marketers do this, with 32% saying it's the most important form of content for their business.
Taking other types of content and turning it into infographics, videos, or images is a surefire way to get noticed in a crowded News Feed. More post likes is almost guaranteed.
8. Take inspiration from high-performing content
We've briefly touched on the fact that you can use historic posts to see which type of content works best on your Facebook Page.
But if you want even more post likes, take inspiration from high-performing content in:
Competitor's Facebook Pages
Influencer's social media pages
Let's put that into practice and say that you've noticed your ideal audience engages well with quotes, or modern illustrations, or behind the scenes content. Create it and share it to your own Page.
It goes without saying that you shouldn't rip off another brand, though. Instead, think about the type of content they create and what does well. You can always find a way to add your own personal twist on a trend, or create a photo, video, or other visual image in a way that's specific to your style.
9. Use Facebook Ads
Facebook Ads can be a great way to introduce your Page and content to a new audience.
Set up correctly, you can take advantage of the massive audience Facebook has built. You're able to target your ads to people with similar interests and behaviour to your existing audience—so they're more likely to engage.
(It's no surprise why 72% of marketers use Facebook to run social media ads.)
When creating a Facebook ad, the most important thing is your campaign goal. This helps Facebook decide which users your ad will be shown to.
Do you want to increase Page likes, or get engagement on a specific post? If it's the latter, you could try boosting a post that's already doing well. You can also create a new ad from scratch, optimized for engagement, to get more likes on a particular post.
As for the ad itself, the same advice goes: keep it short and sweet, like this example from Starbucks:
Research by AdEspresso suggests using give words for your ad headline, with 19 words for your ad copy to see the best results. So long as people can read and understand your Facebook Ad in a matter of seconds, you're onto a winner.
How to get more likes on a Facebook Business Page
Once you've built a strategy to get more engagement on your Facebook posts, it's time to move on increasing your overall Page Likes. Here are five quick ways to do that.
1. Embed a widget in your site's sidebar
The key to getting more Facebook Page likes is to drive people there who have a strong likelihood of being interested in your content.
Think about it: if your Facebook Page talks about graduating college, you probably wouldn't want anyone over the age of 40 visiting your Page. They wouldn't have an interest in the things you're talking about, so wouldn't like your Page.
The easiest way to drive relevant traffic to your Page—and have a group of people you can encourage to like it—is to create a visual reminder that your Facebook Page exists. Do this by adding a widget to your website's sidebar or footer using Facebook's Page plugin.
If you're running a WordPress site, it's also easy to find a suitable plugin that'll create a widget for you. Some popular examples are Widget for Social Page Feeds and Smash Balloon Social Post Feed.
Your Facebook widget can show:
A list of recent posts or comments
A simple "Like button"
A small Facebook logo with your link
You can also take your Facebook posts and embed them into your website content, like this:
Either way, mentioning your Facebook Page in an obvious place on your website is a superb way to drive people with an interest in your content towards your Page.
2. Run a relevant contest or giveaway
Contests and giveaways have been used to increase Facebook engagement for years.
They work by asking people to do something (such as like your Page), which will count as an entry. You'll then choose one person to receive a prize—such as a free product or service—out of all who've entered.
However, Facebook has realized that marketers use giveaways to inflate their Page likes, so they've introduced a few rules. You'll need to make sure that your contest or giveaway meets Facebook's Pages terms.
(Also consider any regulations in the country you operate. For the US, it's the Federal Trade Commission and for the UK it's the Competition Markets Authority. Find your relevant authority using this list.)
You can't ask for people to share a post or tag their friends in a contest, but you can ask for them to like or comment on a post. You can also ask for Page Likes, but they're notoriously challenging to track, so aren't a useful way to select a winner.
Still, many competition entrants will like your Page as a way to increase their chances of seeing your content (and figure out if they've won).
3. Feature a call to action on your blog or website
A call to action (CTA) clearly asks someone to do something.
You've probably seen them on blogs or newsletters. It's usually something along the lines of: "For daily tips and advice on [subject], like our Facebook Page".
The only problem? Most websites do this and it's not very convincing.
The good news is: you can take this a step further by creating a Facebook Messenger chatbot on your website. It will popup on your website and encourage visitors to take action (like join a webinar or ask a question). The answer will be delivered through a conversation with your business' Facebook Page:
You can even use the chatbot link to start Facebook conversations through purchase confirmation, order updates, or customer support emails.
Each will drive your existing audience back to your Facebook Page with the aim of convincing them to hit "like Page" once they get there.
4. Add a link to your email signature
Like the widget and call to action examples above, this is another way of increasing the visibility of your Page—and therefore the chances that someone will choose to like it.
Feature a link to your Facebook Page as part of an image button on your email signature. Ask your email marketing team to do the same; they have a huge list of email subscribers who might be willing to stay updated on Facebook.
(If you're running a contest, highlight it in your email signature with a strong call to action. The more people who see it, the more likely you are to have a huge Page following to choose a winner from!)
5. Invite people to Like your Facebook Page
You don't get what you don't ask for, right? The same applies to Facebook Page likes. Sometimes, you need to directly ask Facebook users to hit the "Like" button on your business' Page.
Start by inviting your own network to Like your Page. To do this:
Go to your Facebook Page
Click "Invite Friends"
Type their name and hit "Send Invites"
Remember the effort you put into getting more likes on posts and videos? You can easily invite those people who've engaged with your posts to like your Page, too.
The idea being: if they've loved a post and commented positively on it, maybe they'd enjoy your future content too. Your Page like invite serves as a nudge for them to head across, explore your Page, and hit Like.
Do this by clicking the list of people who've liked a post, and hitting "Invite":
Ready to get more Facebook Likes?
It's no secret that getting more Facebook Likes will help your social media strategy immensely.
Start by focusing on boosting engagement on the posts you're sharing. The more engagement each post gets, the more chance you have of reaching new people; people who could potentially hit "Like" on the Page itself.
Remember to make use out of your existing audience when starting to build a Facebook following. Our bot makes it easier to do that—and more.
The contents of this blog were independently prepared and are for informational purposes only. The opinions expressed are those of the author and do not necessarily reflect the views of ManyChat or any other party. Individual results may vary.