Stay Ahead of Holiday Shopping Trends Through the End of Q4 with Automation
The holiday season is intimidating for most eCommerce brands. Not only is it the biggest shopping period of the year (accounting for up to 30% of all retail sales), but the stress and pressure that comes with Black Friday, Cyber Monday, and Christmas eCommerce sales is a lot to handle.
There's pressure on your customer service team to deal with the inevitable holiday returns, while your social media team fights through its inboxes to answer questions about your Black Friday sale before it ends.
Luckily for you, this year doesn't have to be the same. In fact, you can get ahead of holiday shopping trends using automation, taking the stress off your team and delivering customer experiences holiday shoppers now expect. This guide shares how.
1. Capture mobile shoppers' email addresses
The holiday shopping season officially starts on Black Friday; however, up to 60% of people have already started their holiday shopping by November 1 (and many shoppers start scouting for deals as early as September).
Even if your Black Friday sales aren't in full swing just yet, capture those early shoppers through a mobile pop-up on your website. Connect ManyChat with your Shopify store, then create a pop-up that asks a visitor for their information (like their phone number or email address) to get on the early bird list. By the time your Black Friday sale rolls around, you'll have a list of engaged people ready to shop.
Regardless of what you're offering in return, remember to make the pop-up mobile-friendly. It's estimated that 72.9% of all retail eCommerce sales will happen on mobile this year. Great news for you, since customers are just a few clicks away from visiting your website, completing your form, and landing themselves a spot on your retargeting mailing list.
2. Send personalized Black Friday discounts
Did you know that 44% of consumers are influenced by discount codes to try a new online retailer during the holiday season? It's why Black Friday, Cyber Monday, and the Christmas period are arguably the biggest shopping days of the year. Retailers offer discounts in a bid to stand out from the competition — and consumers expect to see them.
Work this into your automation strategy using an omnichannel chatbot. Create a Flow in ManyChat that delivers unique discount codes to your two biggest customer segments:
People on your email list who haven't bought yet.
Existing customers.
The coupon code — which can be delivered automatically through SMS, Facebook Messenger, or Instagram — will incentivize first-time shoppers to become a customer and turn existing customers into loyal fans. You can even set up a call-to-action (CTA) button that appears inside the conversation that takes consumers directly to the product(s) they show interest in.
3. Keep COVID-anxious shoppers informed
It's no secret that the COVID-19 pandemic changed how people shop throughout the holiday season with 70% of holiday shoppers concerned about being too close to others in stores. But another 32% are willing to try a new store if they have COVID-19 safety precautions in place.
Inform potential visitors to your shop about your COVID safety precautions using a chatbot. On your business's Instagram account, for example, edit your bio to say something like, "Send a DM saying 'COVID' for an update on our store policies."
Configure a "COVID" Keyword Trigger in Instagram DM Automation by ManyChat. Anyone who sends your account a direct message (DM) with that Keyword Trigger will receive your store's social distancing and face covering policies, as well as the least busy times to visit your store, immediately helping customers feel more comfortable about visiting in person rather than avoiding your shop altogether.
4. Give real-time stock availability
Most retailers up their inventory levels throughout the holiday season. However, if your marketing campaigns are working well, it's not unusual for products to fly off the shelves.
Consider this when thinking about activities to automate. 43% shoppers will try a new online retailer if the product they're shopping for is in stock. That means if a customer visits your site and sees an "out of stock" message for a product they wanted to buy, you could lose them to a competitor.
Solve this problem by creating a chatbot that gives potential shoppers real-time stock availability. Some 60% of consumers said that they would buy from a website that offered a chatbot concierge.
ManyChat integrates with Shopify to pull stock levels. If a customer asks whether your mattress is in stock, for example, your chatbot might give the following responses depending on your inventory:
Product in stock: "Success! The mattress is in stock, but it's a popular one and can't promise it will be here all Black Friday. Grab it now before we sell out."
Out of stock: "Uh oh! We've sold out of this mattress. We're expecting a delivery next Monday, but if you can't wait until then, other customers love [Mattress #2]."
And the best part is, you have a shot at converting first-time holiday shoppers into year-round repeat customers. Some 15% of consumers have made a purchase through a chatbot. The majority (81%) had a positive experience, so much so that they would do it again.
5. Run a holiday-themed giveaway
The holiday season is the time for giving not just to friends and family, but to your customers. Get into the holiday spirit by hosting a giveaway on social media — the online channel that 25% of people plan to use throughout their holiday shopping process.
The concept of a social media giveaway is simple: You give away one prize, such as a free product bundle, to someone who enters. Each person on the giveaway list needs to do something to enter — whether that's like your Instagram post, send a DM, comment on your Facebook video, or tag a friend in the comments.
Not only does it help build an email list (more on that later), but accounts that run Instagram giveaways grow 70% faster than those who don't.
In ManyChat, set a Keyword Trigger like "GIVEAWAY" that enters people into your new giveaway flow if they send an Instagram DM, Facebook, or text message containing that word.
Follow it up with a welcome message while they wait for their entry to be confirmed, then tell them if they have or have not already entered. (The chatbot will pull information from the built-in CRM to see whether they have already entered.) If they have successfully entered, tell giveaway entrants how they can earn extra entries. If they haven't entered yet, explain how to take part while reminding them of the prize at stake.
The ultimate goal with a social media giveaway is to build your email list. As the final step of your giveaway chatbot, ask for a contact's email address in return for bonus entries. That way, you still have a direct line of communication to those individuals who don't win the giveaway, and have a list of people who've shown interest in your products and might hit "purchase," even if they didn't win the prize.
Read more: How to Create a Facebook Giveaway Bot
6. Recover abandoned carts
Unfortunately, not all of the holiday shoppers who visit your website and add an item to their shopping cart will complete their purchase. Research found that 71.36% of shopping carts were abandoned Black Friday 2020. Cyber Monday was even worse with an average cart abandonment rate of 80.69%.
There are various things you can do to prevent cart abandonment on your website, like being transparent with shipping costs, offering alternative payment methods, and adding social proof to the checkout page. But what happens when a potential shopper ignores all of those tactics and hits the exit button of their browser?
Well, they're not lost forever. Send them a message on a channel, such as SMS, Instagram DM, or Facebook Messenger, they've engaged with your chatbot before. Remind them of the product they had in their basket and ask why they haven't completed their purchase. If it's a pricing-related issue (like the product being too expensive, for example), give a discount code as a final incentive to purchase.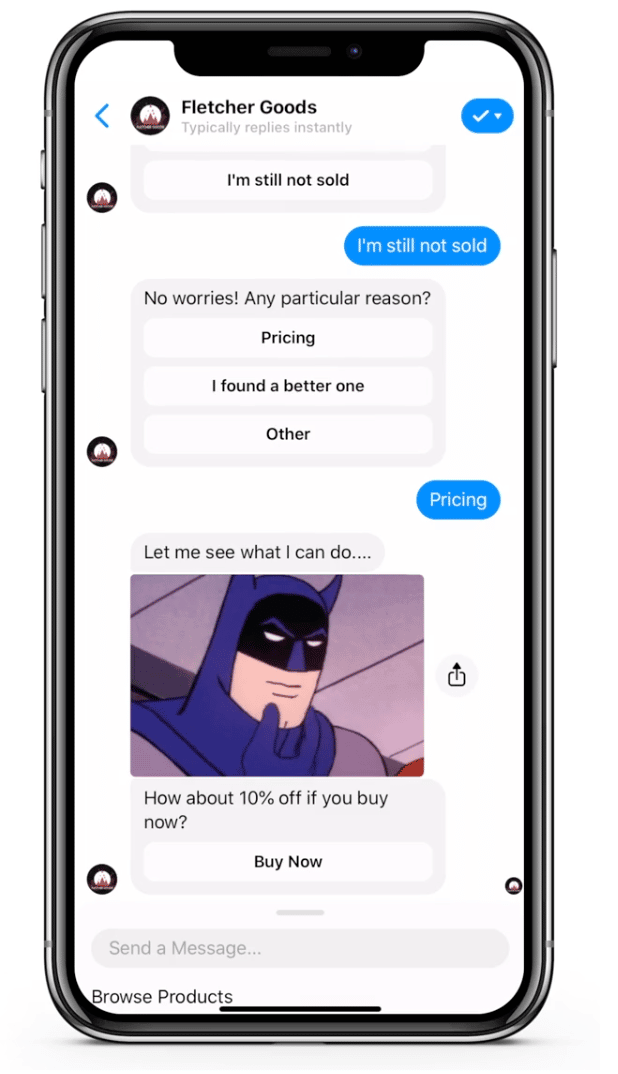 7. Automate the holiday returns process
Ecommerce brands saw a 41% increase in online returns during the 2020 holiday season. Whether the person didn't like it, it was the wrong size, someone else had bought the same gift, the excuses behind a holiday-related return go on and on.
Regardless of the reason for the return, it's important that your eCommerce business gets the experience right. The vast majority (84%) of customers would shop with a retailer again if the returns experience was positive.
While customer returns aren't fun to deal with, the good news is that you can automate most of the process. Instead of directing people towards your customer support department, have them talk to a chatbot. (Customers are more receptive to this than you think: Four in 10 people don't have a preference on whether a human or chatbot helps them, so long as they get the help they need.)
Configure the chatbot to ask whether they're a first-time or frequent customer (you can change the type of service you offer and the information you ask for based on their response). Then, ask for their order number. ManyChat's integration with Shopify will find this in your order management system and confirm whether the item is still eligible for a return. If so, the chatbot will give them the option to print a return shipping label right then and there.
And that's it! The returns process was handled with no strain on your customer service team, and the customer got what they wanted, fast.
Pro tip: When using automated responses, always give the customer the option to talk to a human customer service representative. Chatbots can handle most queries, but sometimes, people want to speak with another person. Use your chatbot to collect important information — like the order number — before customers are passed through to a team member to save time.
The holiday season doesn't have to be stressful
That's a sentence most eCommerce brands don't believe, but should — especially when automation is thrown into the mix.
Not only can you use ManyChat's automation to handle the influx of social media support questions during the holiday season, but you can automate lead generation campaigns and give shoppers the information they need to make a purchase.
Save time and automate these holiday trends with ManyChat.
The contents of this blog were independently prepared and are for informational purposes only. The opinions expressed are those of the author and do not necessarily reflect the views of ManyChat or any other party. Individual results may vary.