21 of the Best B2B Lead Generation Tools for 2020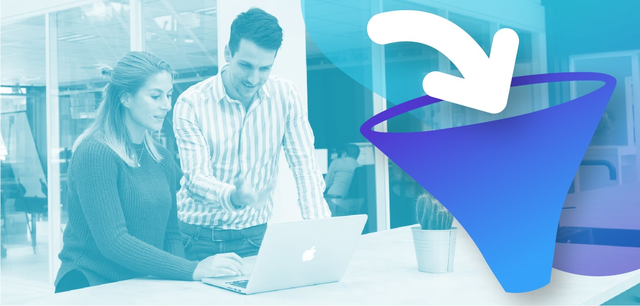 B2B lead-generation tools are loved by many for their ability to get high-quality leads and turn them into sales. But the truth is, they are not all created equally.
Some don't help qualify the right prospects, others don't garner attention, and many struggle to help you measure and document lead generation success.
If you want to see the top B2B lead generation software, you're in the right place. Here are the best ones to help you start meaningful conversations, close deals, and generate revenue so you too can become a successful B2B marketer.
1. ManyChat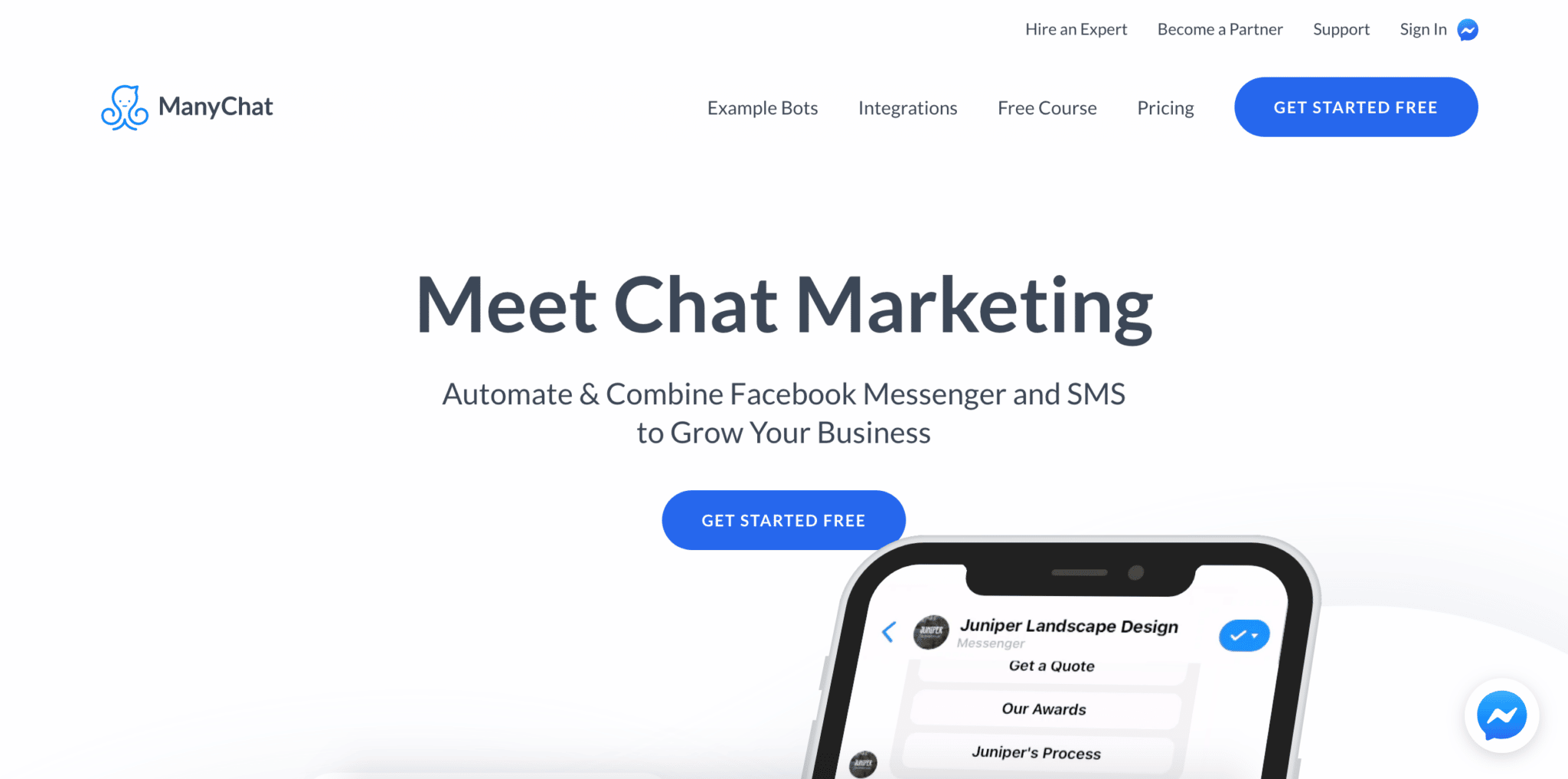 Want a lead-generation software that continually attracts high-quality leads? That's where ManyChat comes in. You can easily build a Messenger bot that handles everything from acquiring leads to nurturing them, and even retaining them. With features such as website forms, live chat, lead generation process automation, and sales lead scoring, you can capture and connect with potential leads nearly on autopilot.
Any type of business from software providers to agencies can use ManyChat to:
Create a lead-generation strategy that grabs a lead's attention.
Maintain a constant flow of high-quality leads.
Turn those leads into customers.
Measure and document lead generation success.
Plus, you can now send SMS and email inside ManyChat, turning your business into a chat-marketing superstar.
2. Leadfeeder
LeadFeeder lets you know who's visited your company's website. It helps speed up your lead generation strategy by prioritizing leads based on website activity, then automatically pushes contact information to your CRM — no contact forms or anything.
All it takes to get started with LeadFeeder is linking your Google Analytics to the software. They offer a free 14-day trial period. After that, paid plans start at $59 per month.
3. Prospect.io
Prospect.io is a powerful email-prospecting tool in the form of a Google Chrome extension. You can use this tool to build a prospects list with contact information you pull from company websites and social networks such as LinkedIn. Then you'll be able to send templated emails and track results with one click. It integrates with leading CRM software including Salesforce, HubSpot, Pipedrive, and Slack. And plans start at $35 per user.
4. Skrapp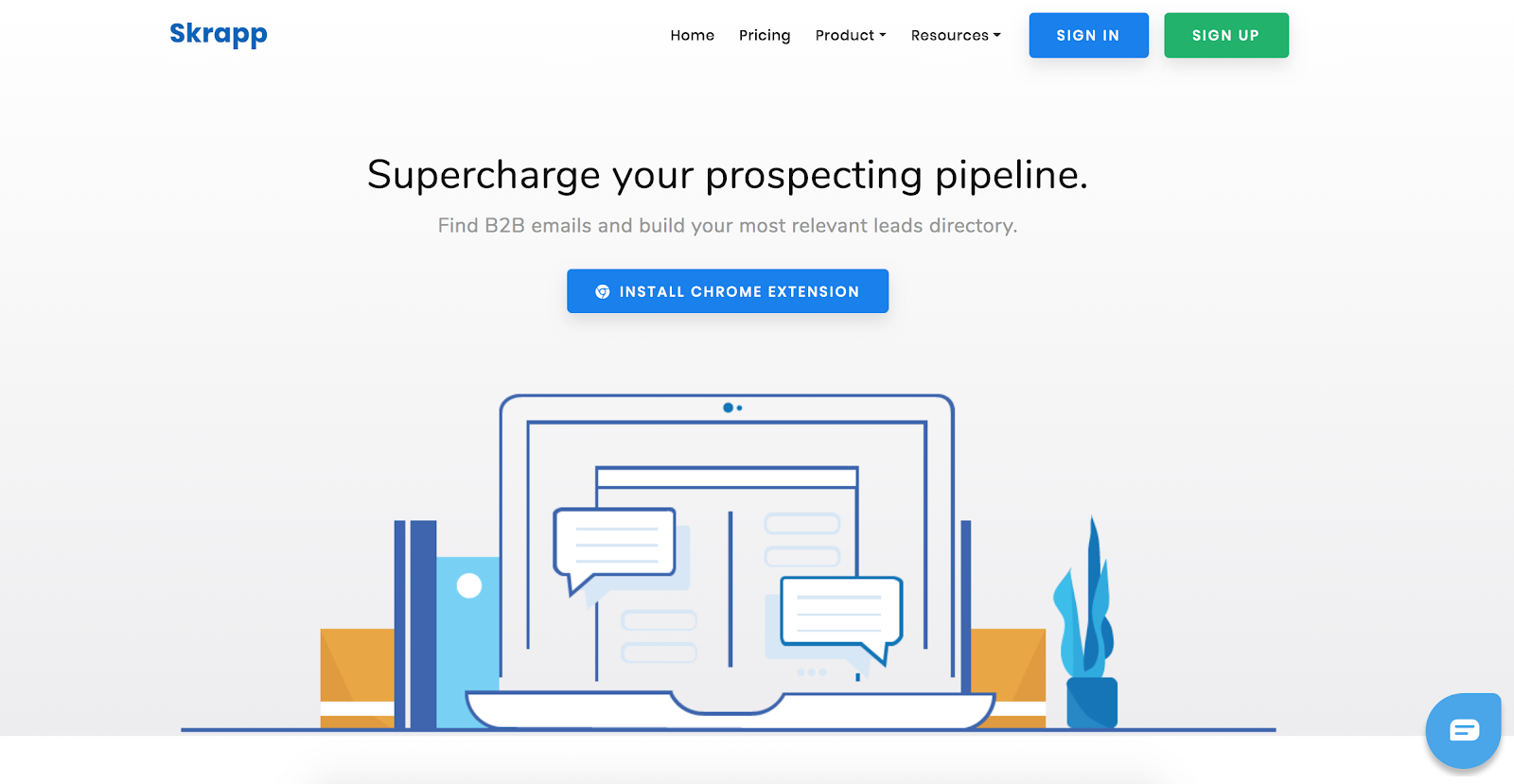 Skrapp is a popular prospecting tool to pull LinkedIn contact information and emails. You can hook it into your LinkedIn profile or Sales Navigator, as well as extract lead information from company websites. This lead gen tool also has a domain search feature where you can find lead information in the platform and push it to a segmented in-app directory. It's free to send up to 150 emails per month, then pricing varies.
5. OptinMonster
Do you want to grab emails and contact information from people landing on your site? That's what OptinMonster is made for. You can use their drag-n-drop builder to create opt-in forms from lightbox popups, floating bars, slide-ins, fullscreen takeovers, and more to capture more leads.
With OptinMonster, you can also split test campaigns, show personalized messages to returning visitors, and build a sales pipeline. The basic plan starts at $9 a month.
6. Instapage
Instapage is a must-have tool to create high-converting post-click landing pages, which is more important than you think. Personalization helps you get more from your ad spend, and Instapage provides everything you need to turn high-quality B2B leads into customers.
7. LeadPages
Want to increase efficiency in creating lead-gen experiences for all your campaigns? You can use LeadPages to create custom landing pages that integrate with your company's tools. LeadPages lets you choose from hundreds of high-converting templates, create interesting lead-gen experiences, and helps increase in the number of leads you generate per month, which in turn helps you close more sales for your organization.
8. ClickFunnels
ClickFunnels is another B2B lead generation tool that's without a doubt one of the most powerful around. It offers website and sales–funnel building tools and strategies to market, sell, and deliver your services online. Not only does it offer a simple drag-and-drop editor, but also Facebook Marketing Automation and 1 Click Upsells all in one dashboard. ClickFunnels is a fantastic way to implement a conversion-friendly landing page on your website with minimal effort. You can start building your first funnel today by signing up for a free 14-day trial.
9. LinkedIn Sales Navigator
Chances are, many of your B2B prospects and customers are already on LinkedIn, so why not look for them there?
LinkedIn Sales Navigator is a great lead-generation and sales tool to help you build and nurture prospects on LinkedIn. With this tool, you can discover your ideal customers with advanced search and filter features, plus it provides actionable insights to help you better understand leads. It's a favorite for many B2B lead generation agencies.
Pricing varies. It starts at $64.99 per month (billed annually) and increases from there.
10. Quora
Quora is another free, yet powerful, lead generation tool that can help you find your targets. It's essentially a forum where people come to ask questions about their problems. You can answer these questions (without being salesy!) to show you understand their challenges, create conversations with them, and grow your online presence. To get started, login and search for questions and topics related to your industry.
11. HubSpot
Seeking a smarter marketing strategy? HubSpot is an all-in-one solution for every kind of company from software to IT service providers and more. Fit with landing pages, content marketing management, SEO, and social media management and analytics, you can create a successful inbound campaign for your business. It's free to get started, and works on a pay-as-you-grow model.
12. ActiveCampaign
ActiveCampaign is a CRM with email and sales automation at its core. This awesome lead-generation software keeps all your customer data in one place. Helping you manage your pipelines, follow-up with leads, and keep your deals fresh. It sports an excellent user interface, easy segmentation for campaigns, and is cost-effective. Pricing starts at $9/month for 500 contacts with free migration from any other platform.
13. HotJar
HotJar is a heatmap and visitor recording tool that helps marketers see what people are really doing on your site. You can use it to better understand users and identify any points they get stuck at. With HotJar polls, you can also survey people who bounce to better optimize your site for conversions. It's user-friendly and offers scalable pricing plans for all types of B2B companies.
14. Google Optimize
Google Optimize lets you run optimization tests on your web pages quickly and easily. It comes integrated with Google Analytics, so you don't have to set up anything. And you can learn what works best for site visitors through A/B, multivariate, and redirect tests. For example, if your goal is to get visitors to act on a free product demo, you can test different CTA's, images, button colors, nav bars, and more.
15. Zapier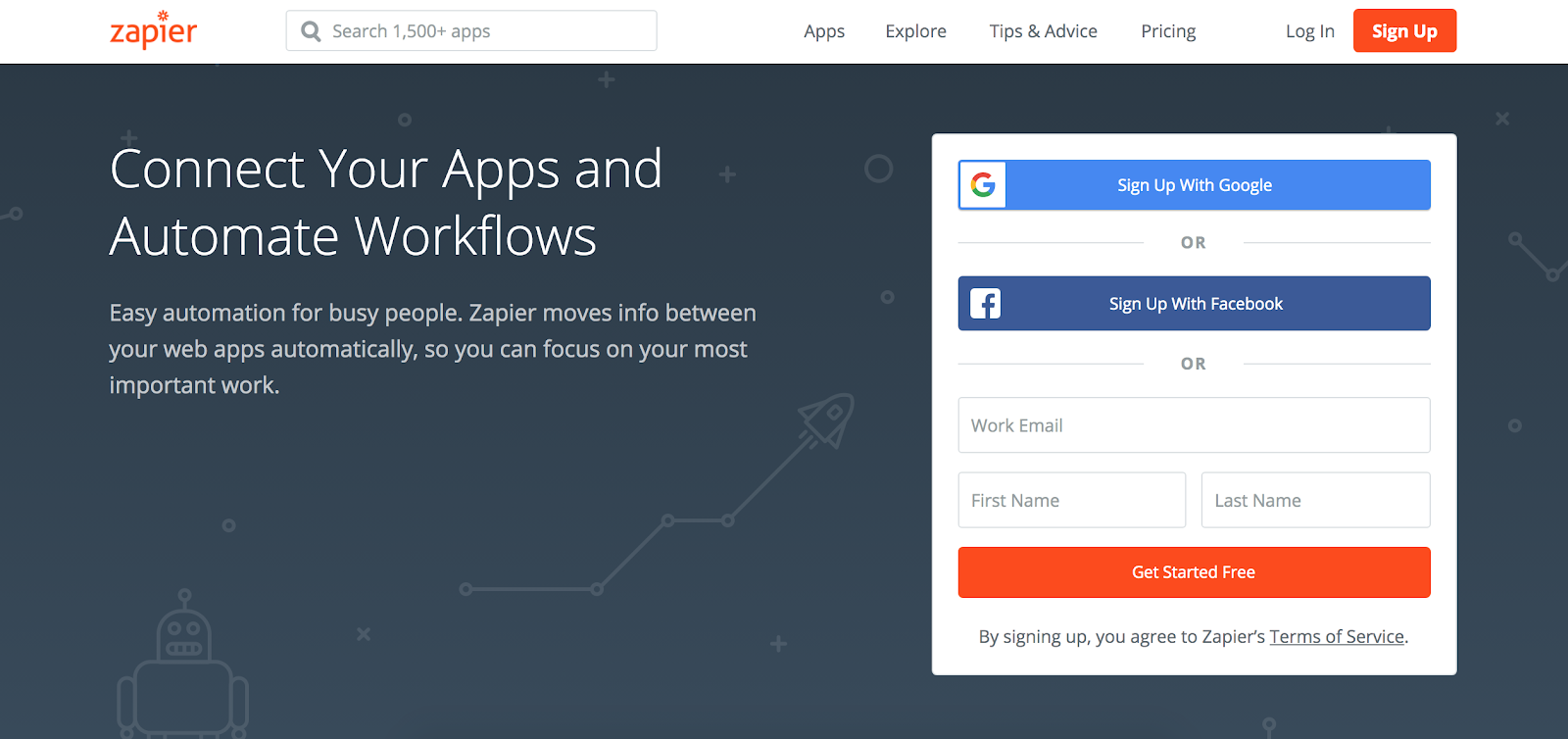 Zapier is a process automation tool that helps you easily connect all your web apps and workflows. It can be used to connect over 1,500 apps without any technical know-how and little effort. Zapier frees up your time from doing repetitive tasks, is convenient, and starts free so anyone can automate their work.
16. AdEspresso by Hootsuite
AdEspresso is a complete digital marketing platform that helps you better manage your paid ads. You can create, manage, and analyze campaigns for Facebook, Instagram, and Google right inside the platform. It's extremely easy to use, offers courses through AdEspresso University, and offers a free 14-day trial so you can test it out for yourself.
17. Xtract.io
Xtract.io is an effective market intelligence tool that helps you strengthen your B2B marketing campaigns. It collects, enriches, and shares insights from contacts in real-time to personalize your marketing efforts. You can use it to build a qualified lead database and improve conversions for your company.
18. Calendly
Tired of the back and forth of booking calls? Calendly can help you schedule everything from demo requests to discovery and sales calls with ease. You set the times you're available, and leads can simply book and go. Calendly has three plans: free, premium, and pro — premium starts at $8 a month.
19. Qualaroo
Qualaroo is a customer-research tool that can be used to collect user feedback. It makes gathering insight about your products or services seamless in-app. If you want to go beyond what users are doing, and understand why they do it, you may find this helpful for your lead-generation process.
20. CallPage
Is your company heavy on getting leads over the phone? Look no further than CallPage. It offers a suite of cloud phone products that bring in more business. Users on your site can request a free call back right away, or schedule a time for later on. It's a great option to increase site conversions and offers a free 7-day trial.
21. TechValidate
The B2B sales cycle can be extremely long. A great way to speed it up is by using TechValidate by SurveyMonkey. This lead-generation software captures customer feedback and turns it into case studies, testimonials, reviews, and more. You can use it to back up your marketing claims with real data, fuel account-based marketing campaigns, and scale social proof.
All the B2B lead generation tools to capture qualified leads.
Generating leads in the B2B space is no easy feat. It takes more time, resources, and effort. To maintain a flow of good leads while retaining your existing customers, you should have the right tech in place. These 21 tools and software will help you create a predictable lead generation process that drives sales for your company.
Are you a B2B agency looking to scale? Check out our Agency Partner Program for revenue sharing, priority support, and more.

The contents of this blog were independently prepared and are for informational purposes only. The opinions expressed are those of the author and do not necessarily reflect the views of ManyChat or any other party. Individual results may vary.