Do what you love and boost conversions on autopilot
Turn Instagram comments, replies, and DMs into sales using Instagram DM Marketing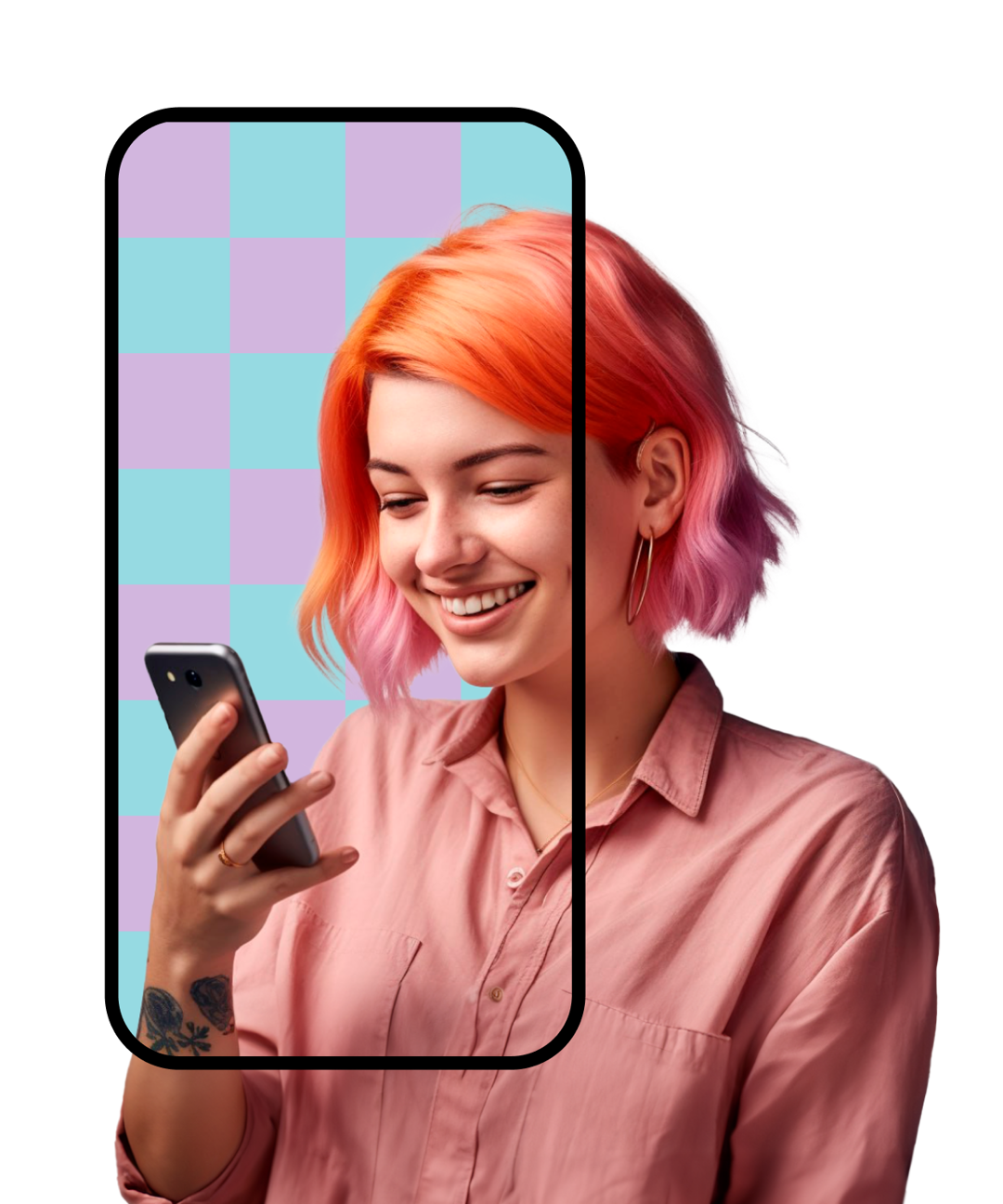 Jenna Kutcher
Use my code JENNA at checkout to get 1 month free of PRO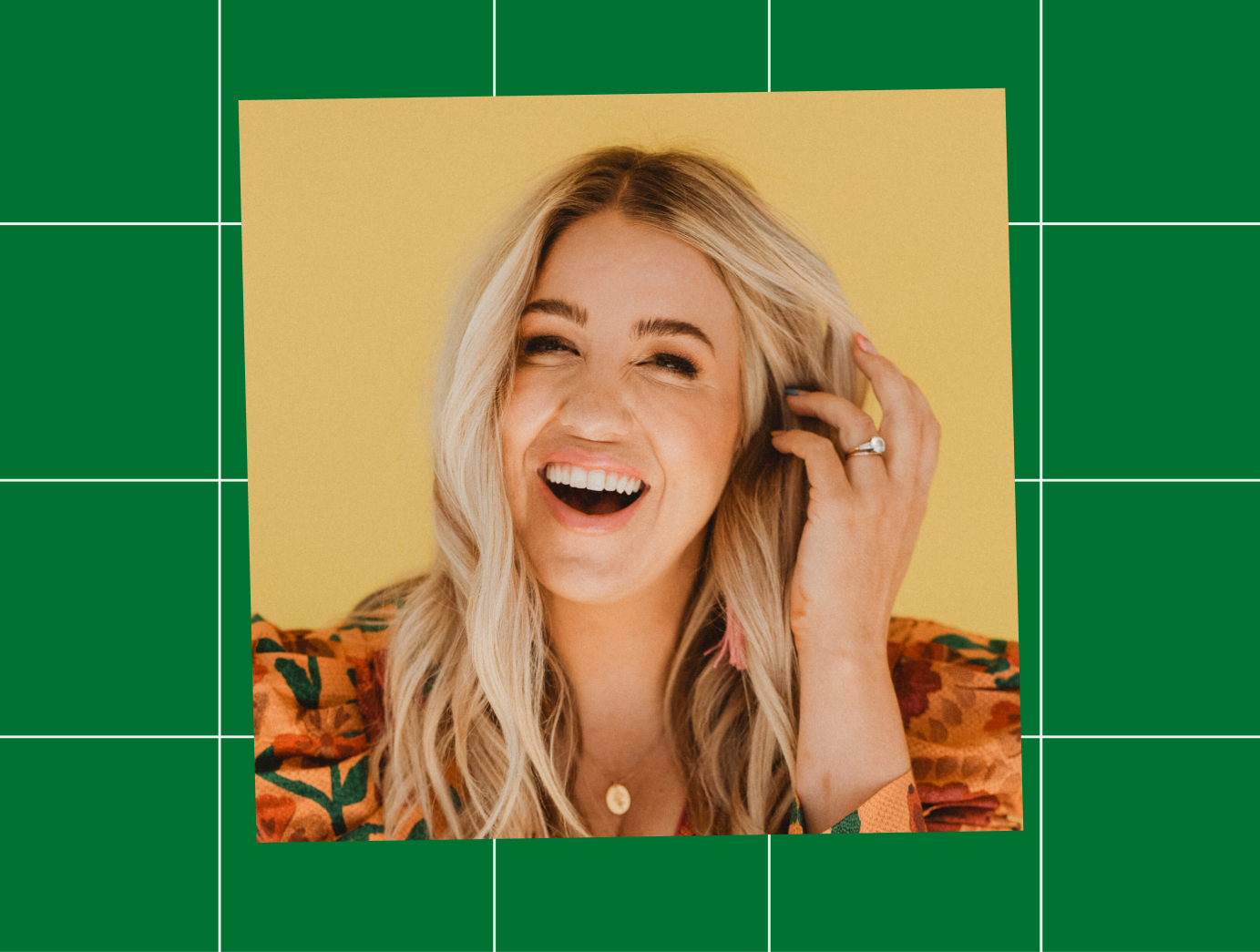 "
Manychat has changed the game for my business and the way we show up online! It's allowed me to get more direct results from social media and show up and serve my followers on a whole new level! This is a must-have for creators and entrepreneurs
Jenna Kutcher, Podcaster, NYT Bestselling Author, Digital Marketer, Speaker, Educator
Transform the way you promote, launch, and sell on social media
Better than the link in bio
Boost your conversions and generate leads using DMs: Directly send automated updates, product links, and more. Engage and follow up seamlessly without redirecting them off Instagram.
Respond to every comment on autopilot
Deliver fast, automated responses 24/7 using Manychat. It costs less than a virtual assistant, captures your unique brand voice, and never forgets to respond.
Amplify your engagement
Auto-respond to every comment and story mention - and watch as your engagement skyrockets. Creators have experienced jumps from 50 to more than 800 comments per post. Plus, quick automated responses boost your post to the top of IG's algorithm.
Build your list on your terms
Collect email addresses and phone numbers from your followers to build a list that you own. Manychat gives you the tools to cultivate and communicate with your audience on your own terms, without relying on IG algorithms.
Grow your followers without extra posts
Automated replies to every comment and message increase your engagement levels faster than you could imagine. This transforms the IG algorithm into your biggest cheerleader, showing your content to an ever-growing new audience as your follower count rises day by day!
Stop wasting time on repetitive DMs
Dealing with similar DMs and comments? Let automation handle the repetition, so you can free up valuable hours in your day. It's no wonder creators call Manychat the ultimate time-saving sidekick in your back pocket.
No tech experience? No worries — let our AI Assistant help
Our intuitive AI Assistant can generate an Instagram chatbot conversation in minutes.
Amplify every action using IG DM Marketing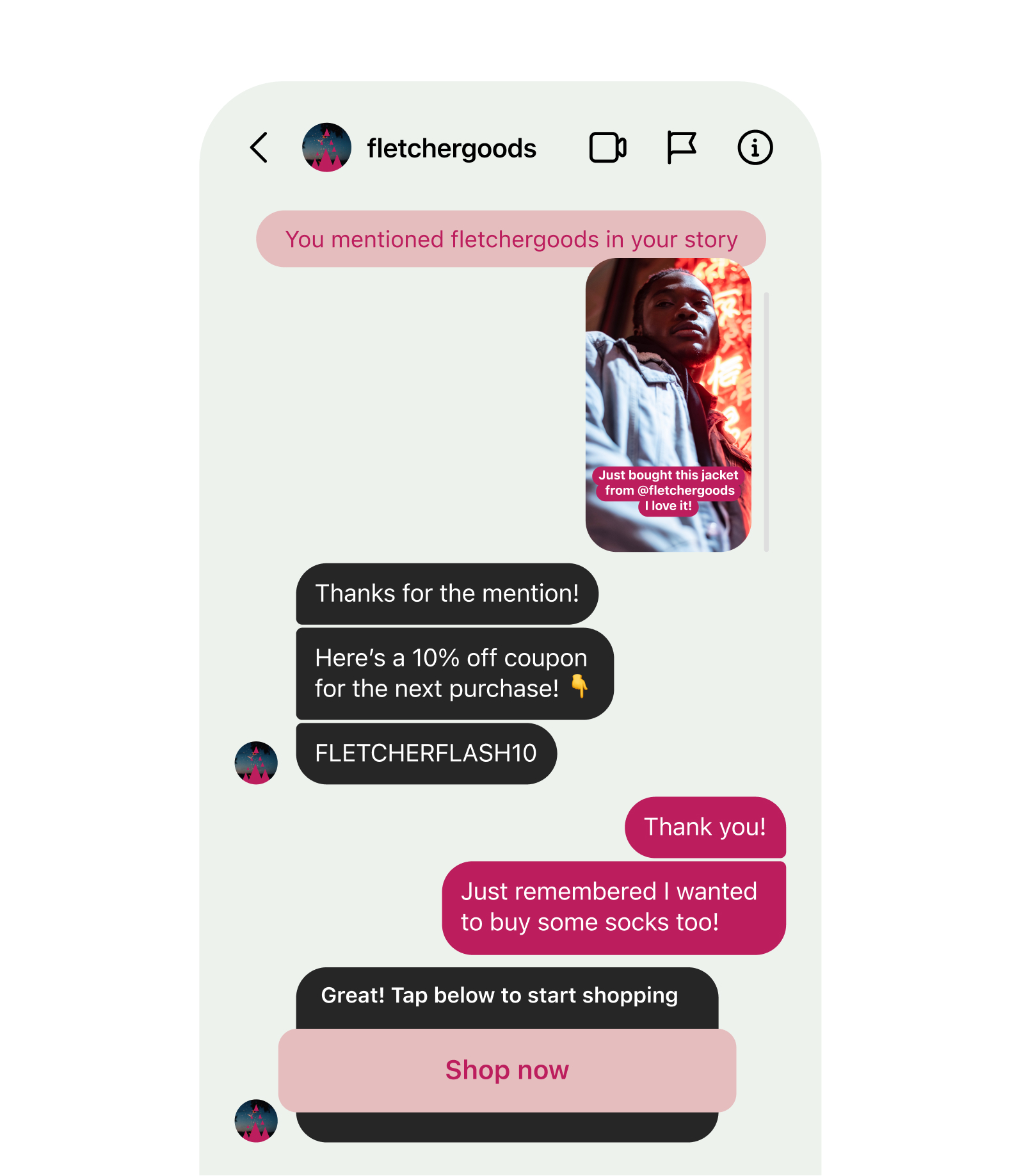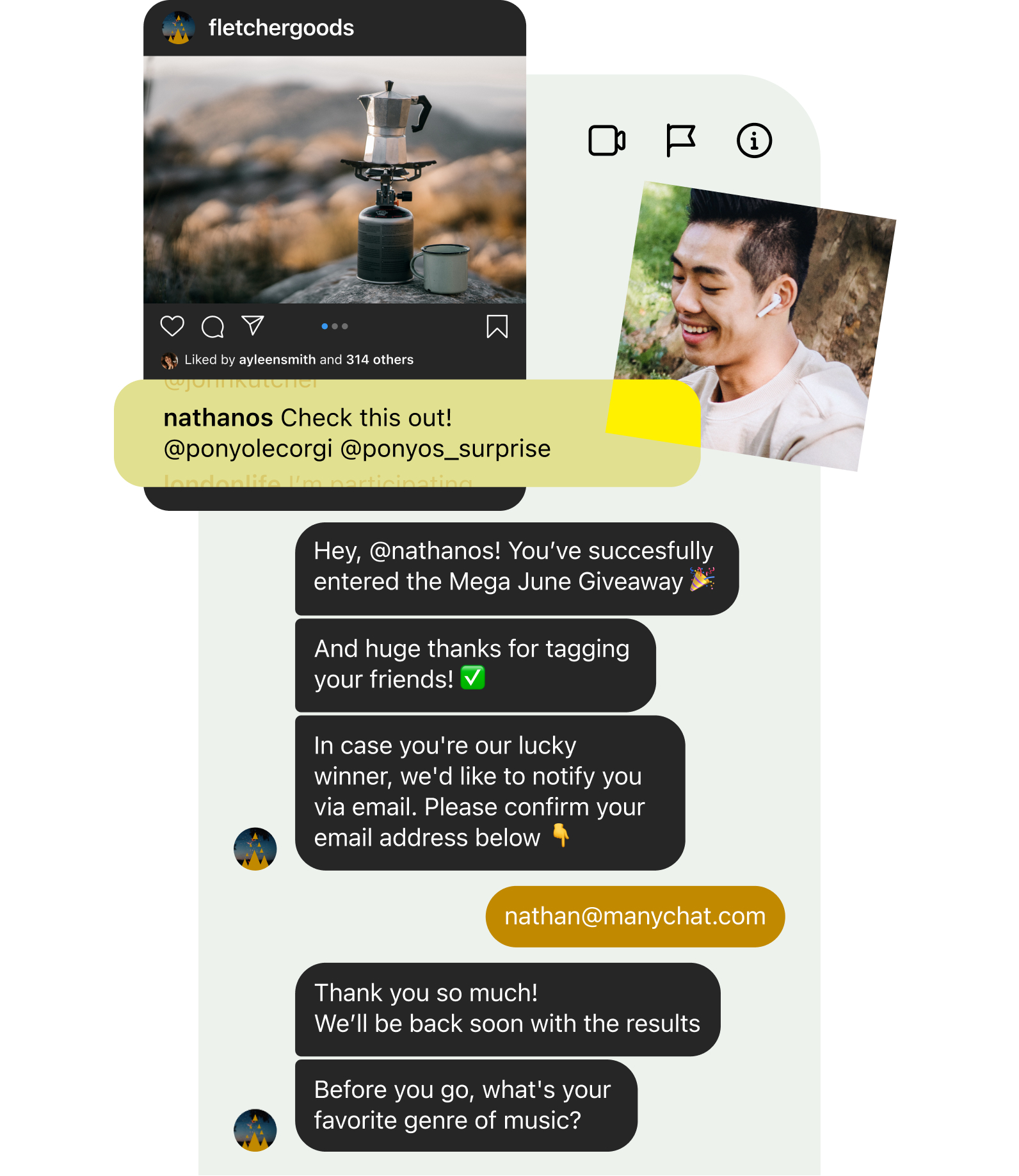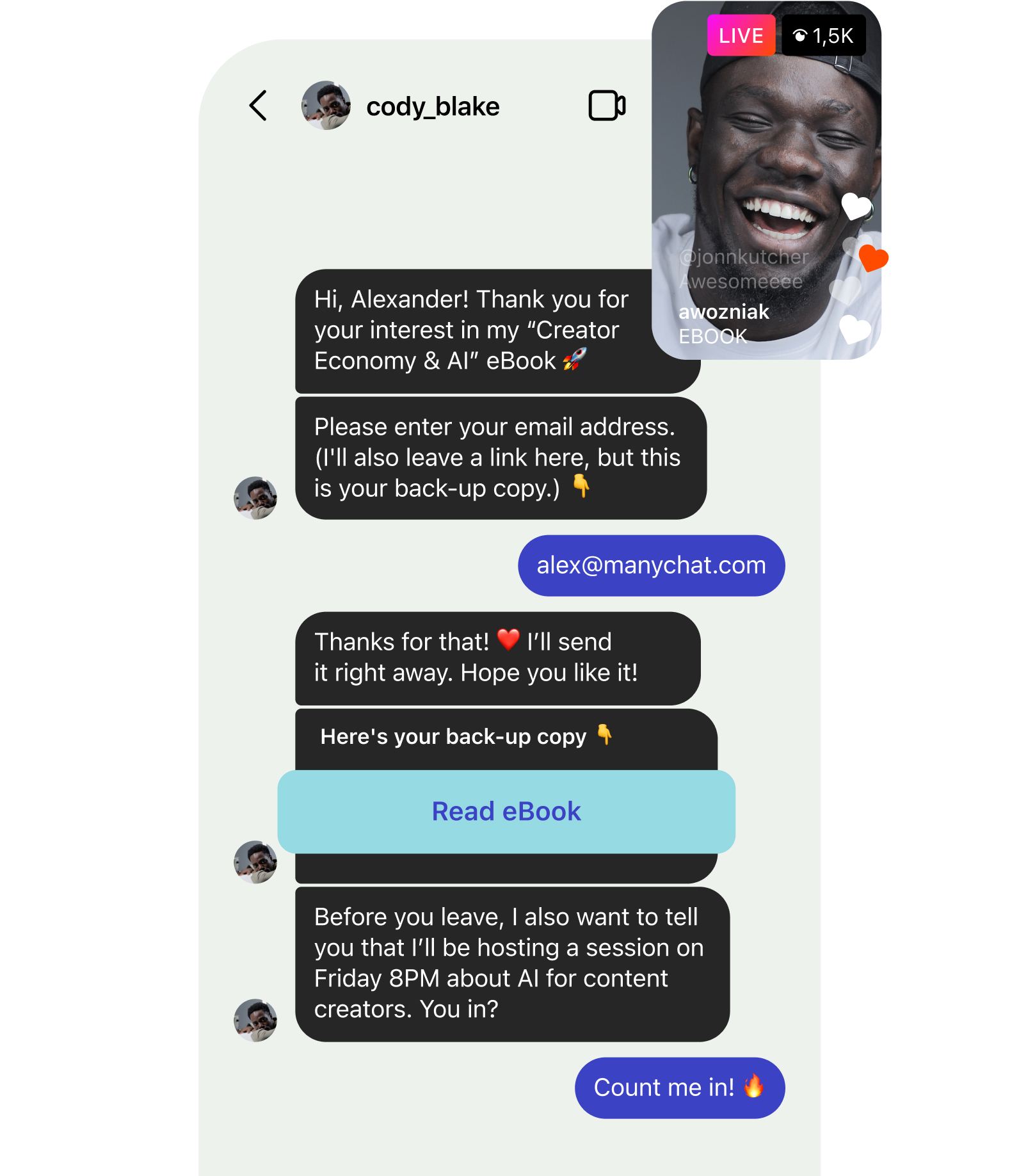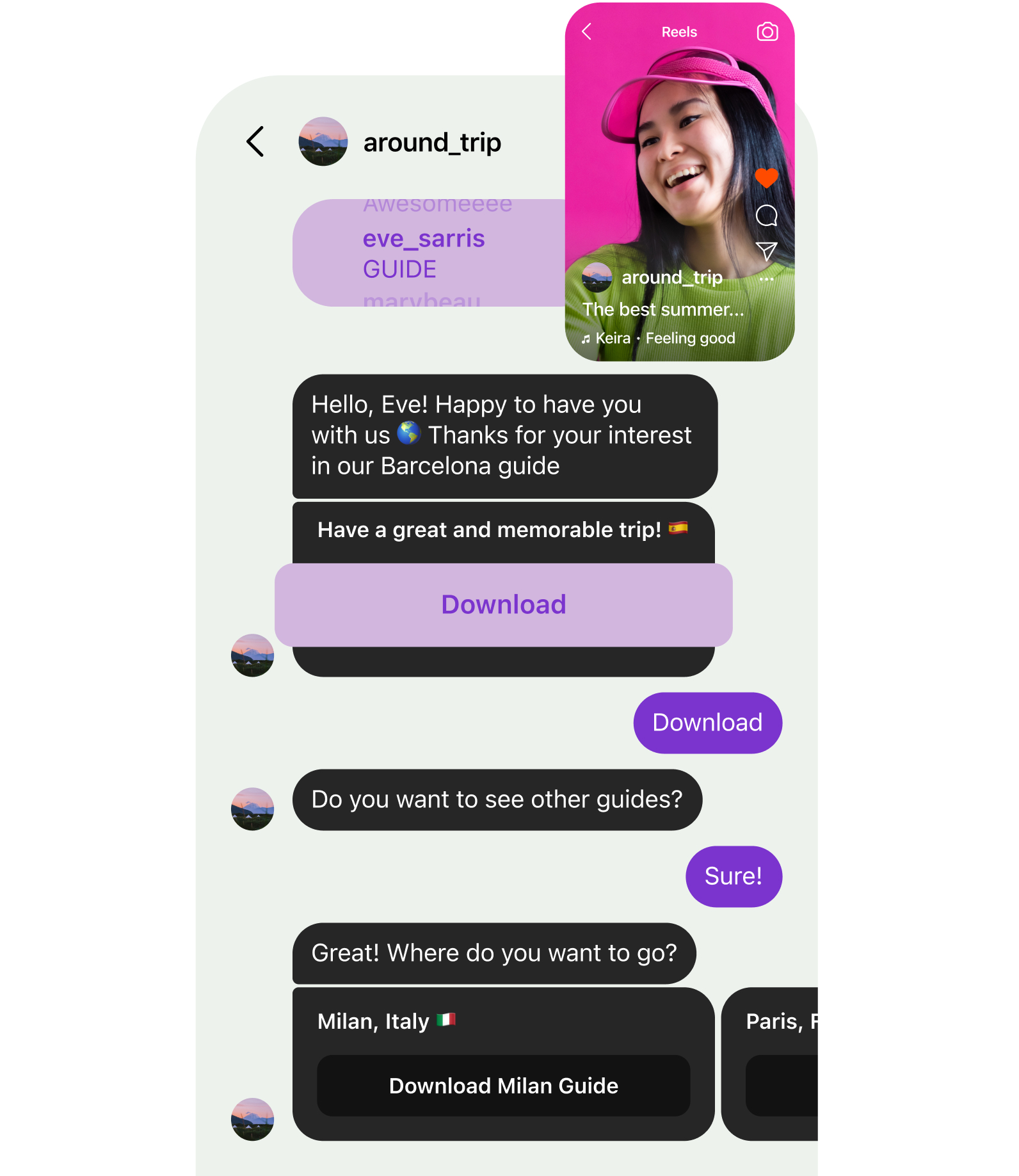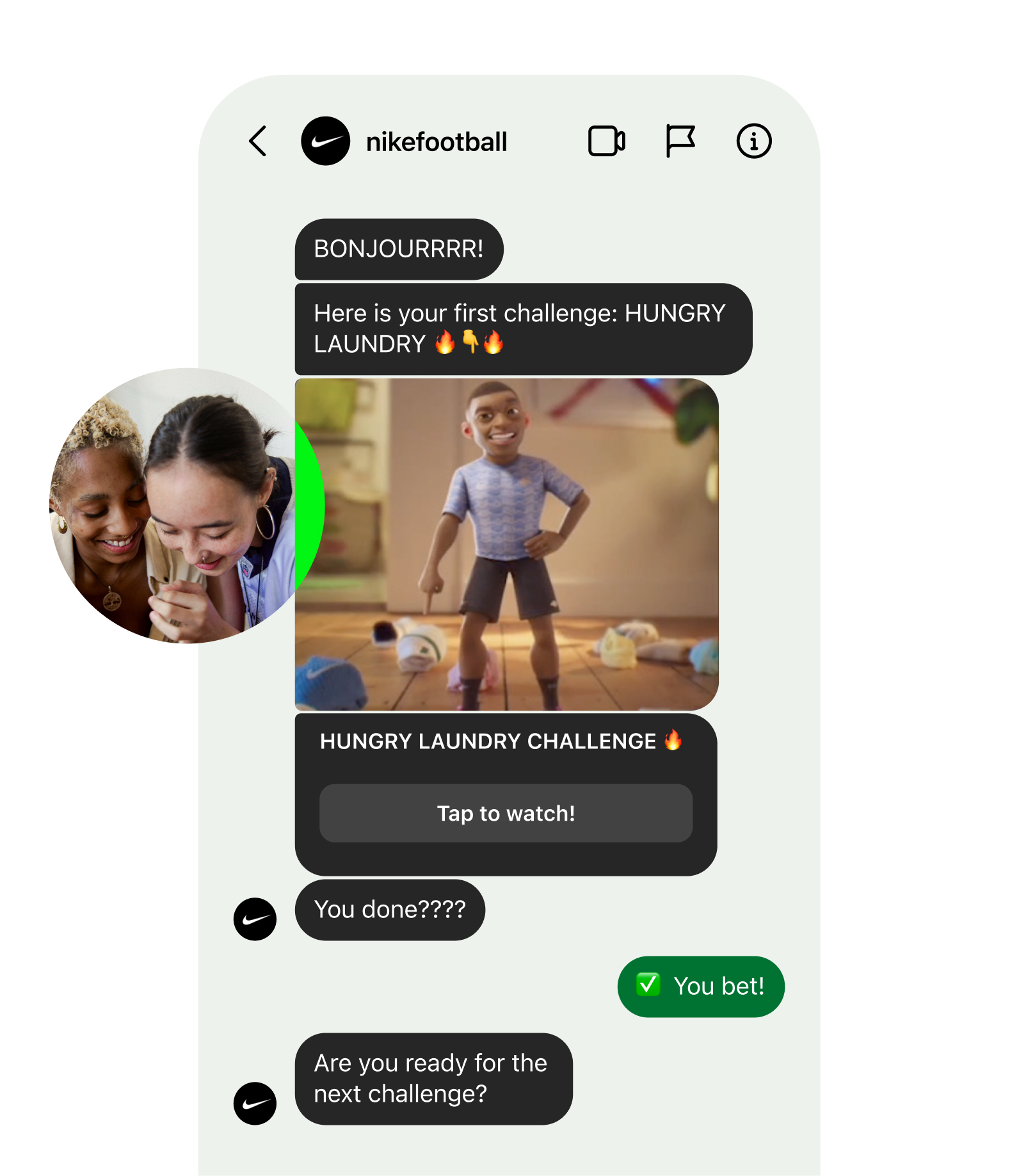 Get started with Manychat
Step 1.
---
Join 1 million+ smart brands and sign up for a risk-free trial
Step 2.
---
Use our template gallery to create a customized Instagram DM Marketing campaign in as little as 15 minutes
Step 3.
---
Leverage Instagram to generate more conversions, sales, and revenue
Frequently Asked Questions
What is a Facebook Messenger bot?
What can a bot do for my business?
Why do I need a Messenger bot?
How do I create a Messenger bot?
Try Manychat for free
Transform more conversations into sales, leads, and conversions today
Get Started