Social Media Day 2021: Why & How You Should Celebrate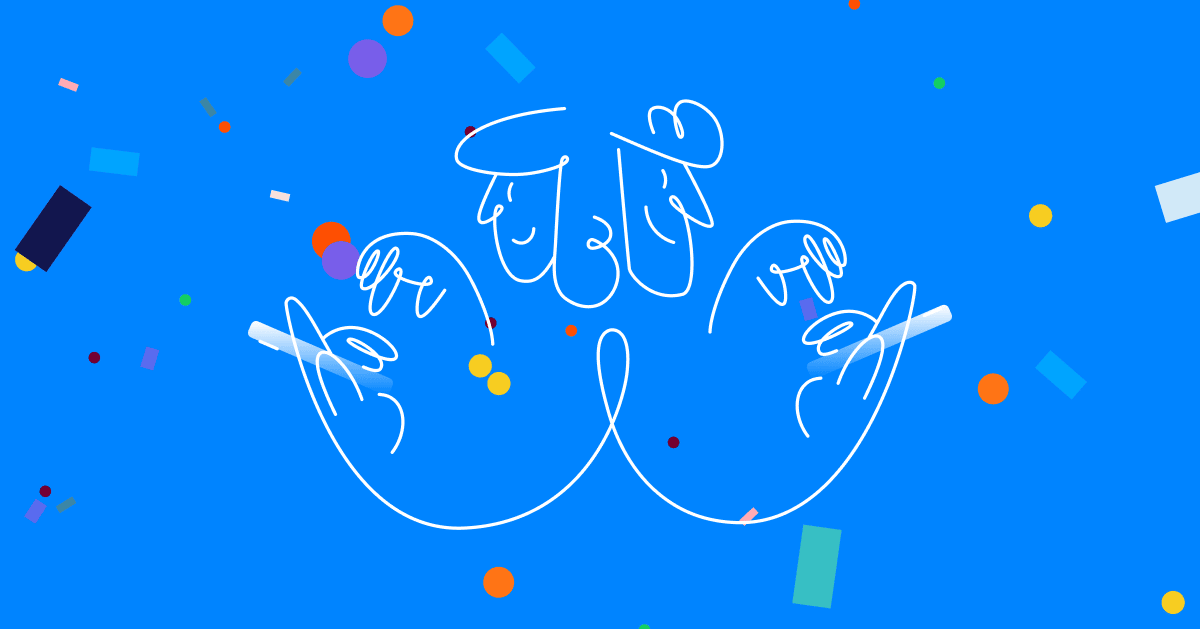 It's no secret that holidays can provide a significant boost to business and social media platforms. Halloween in October is widely celebrated amongst internet users, as well as Valentine's Day in February. Christmas in December is one of the biggest holidays of the year, particularly for sales and online shopping, and April Fools' Day is celebrated on every corner of the internet. Father's Day falls on the third Sunday of June, and that entire month is Pride Month.
Whether one falls on a Monday, Sunday, or any day in between, holidays provide perfect opportunities to add content to your social media calendar. And if your brand is on social media and engaging in digital marketing — which, in 2021, it should be — there's one particular holiday especially worth capitalizing on: Social Media Day.
What and when is Social Media Day?
Launched in 2010 by Mashable, Social Media Day falls each year on June 30. It began as a way to celebrate social media's immense impact on global communication; however, that impact has only grown since the holiday's inception. 
From allowing users to keep in touch with old friends to fundamentally changing the landscape of marketing and advertising, social media has woven itself into the fabrics of everyday life. Facebook, Twitter, Instagram, Tumblr, TikTok, Snapchat, LinkedIn, Reddit — the list goes on and on  for social platforms.
Even in the last decade, the internet's vast expanse of social networking has evolved from existing primarily on computer monitor screens to being accessible from the very palm of your hand. (Raise your hand if you're reading this article on your touchscreen cell phone!)
A brief history of Social Media Day
To understand how Social Media Day started, let's go back to the beginnings of social media itself — and no, we're not talking about the social network, MySpace (launched in 2005) or even the short-lived Friendster, which emerged in 2003. Instead, one could argue that social media's actual birth occurred over 150 years earlier on May 24, 1844, when inventor Samuel Morse sent a message from Baltimore to Washington on the newly-invented telegraph. From that fateful day emerged a vast network of telegraph operators from coast to coast, communicating with each other using dots and dashes — a far cry from today's Twitter posts and Instagram stories. 
Today, someone in Australia can have a real-time video conversation with someone in the United States using Skype, Facebook Messenger, Zoom, or a number of other platforms. Likewise, businesses can automate instantaneous discussions with their customers without even needing a human on their end of the conversation. Can you imagine trying to explain to Samuel Morse the incredible technology his invention eventually led to? He'd probably be spinning in his grave fast enough to produce power equivalent to that of a wind farm. And if he'd been born just a little bit later, he might even say "OMG," a turn of phrase that you probably wouldn't have guessed originated in 1917!
While the concept of social media arguably began with Samuel Morse, it didn't exist in the form we recognize today until the World Wide Web was invented in 1980 and subsequently popularized worldwide. As the internet grew, social media took on different forms — from the once-popular America Online to Tinder's still-infamous dating platform — and the conceptualization of social networking became more and more ubiquitous in modern society. So when Social Media Day emerged in 2010, there was no question that such a holiday had to exist!
The world as we know it today almost revolves around time spent on social media. YouTube and Google are used as verbs in everyday conversation. Celebrities, politicians, companies, and regular people alike spend time engaging with their followers on Twitter. "Social Media Manager" is a real and coveted career involving managing a social media calendar, posting on one social media platform after another, taking part in hashtag holidays, monitoring social media usage, and more. It's crucial to be a social media pro to engage in successful content marketing.
While one could easily argue that every day is Social Media Day, celebrating the holiday on June 30th of every year presents enormous potential for businesses, influencers, and individuals alike.
Why celebrate Social Media Day?
There are countless reasons why every business should invest in social media marketing, and holidays like Social Media Day provide an excellent opportunity to do so. Here are some reasons why you should consider publicly celebrating Social Media Day every year, whether it falls on a Monday, Sunday, or any day in between.
Boost engagement with trending search terms and hashtags
On Social Media Day, you're likely to see a boost in trending #socialmediaday and #smday hashtags on Twitter and Instagram, as well as an increase in blog posts celebrating the holiday. For example, a Google Trends report plainly shows a boost in "social media day" search engine traffic around June 30. Retailers, influencers, and other businesses will be celebrating, and you should too.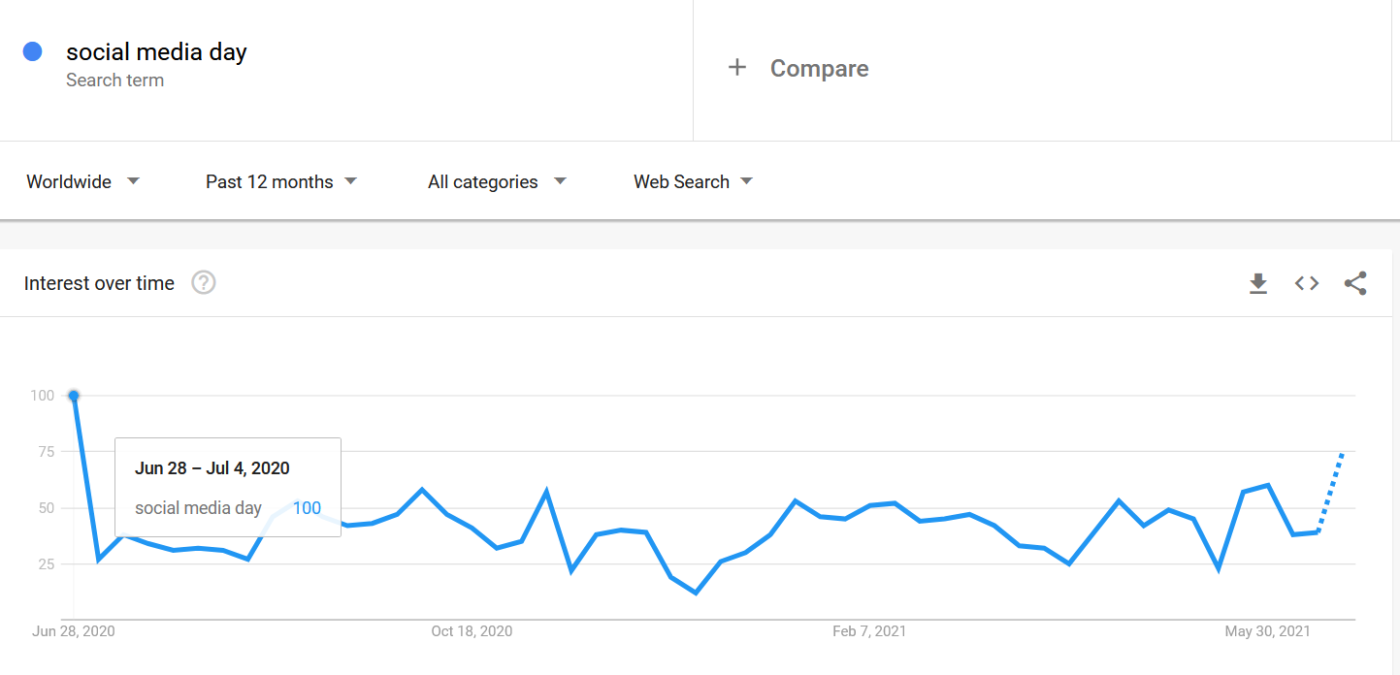 Show your audience that you appreciate their support on social media
These days, it's not enough to just show your audience who you are and what you're doing with simple social media posts. Engagement is critical to maintaining a following on social media, and Social Media Day is the perfect time to show your audience how much you appreciate them. After all, without an audience, social media isn't exactly "social" anymore. So if you don't want your online presence to echo into an empty abyss, engage with your audience and build some brand loyalty.
We know "engage with your audience" probably sounds like vague and overly general advice for social media users, but don't worry, we've got you covered. Keep reading to learn about some specific ways to utilize Social Media Day and boost your audience engagement with social media usage.
How you can celebrate Social Media Day
Celebrating Social Media Day presents countless opportunities to engage your audience in several different ways. Here are a few of them.
Host a celebratory giveaway
If there's one thing every audience is guaranteed to like, especially on Social Media Day, it's a giveaway. After all, who can pass up free stuff? A giveaway can boost your existing audience engagement while simultaneously bringing in new followers, and it's easier than you probably think to run one. Automating a giveaway on your Facebook page is easier than ever, so there's really no downside  for time spent creating one.
Here are a few things you can raffle off to your audience in celebration of Social Media Day:
Discount codes for products you sell.
Personal shout-outs on Twitter or Instagram.
Free e-books or products.
One-on-one chats with your giveaway winners.
Set up a coupon campaign
While it may seem counterintuitive, giving your customers discounts in the form of coupons tends to increase revenue rather than decrease it. Of course, there's no better time to give out coupons than on holidays, especially Social Media Day. Use ManyChat's Facebook Messenger bot automation to efficiently run a coupon campaign for social media users on Facebook or Shopify, or set up a Zapier integration.
Run a Facebook or Instagram Live event
If you've been brainstorming ideas for Facebook or Instagram Live events, look no further. Social Media Day is the perfect opportunity to reach out to your audience and engage with them. Utilize the holiday and host a live social network event to talk to your audience, thank them for their support, and even let them ask you some questions. If you need some tips on driving traffic to your Facebook Live events, this blog post has you covered. And with ManyChat's new expansion into Instagram automation, your potential is limitless.
Automate "Social Media Day" conversations with followers
If you're already planning on posting about Social Media Day, it's wise to account for your audience engaging with you about it. Using ManyChat's keyword automation, you can set up customized and fully automated responses on your social media platforms. You can even set up an automation to send a discount code or special message to anyone who mentions "social media day" in an Instagram story or a Facebook comment or message.

The Future of Social Media Day
As of 2021, Social Media Day has been alive and kicking for 11 years. And with every new year, more and more businesses and social media accounts are joining in on the celebration. As social media grows and evolves, the ways people engage socially online will continue to grow and evolve in kind. When Samuel Morse sent that fateful first transmission on the telegraph, it was revolutionary. When the World Wide Web went public, it took the world by storm. So today, in the age of social media, we can't help but wonder: What's next? 
Whatever it is, we can't wait to celebrate it.
Celebrate Social Media Day by signing up for Instagram Automation by ManyChat!
The contents of this blog were independently prepared and are for informational purposes only. The opinions expressed are those of the author and do not necessarily reflect the views of ManyChat or any other party. Individual results may vary.