Prep Your Instagram Account for the Holidays: The Complete Ecommerce Guide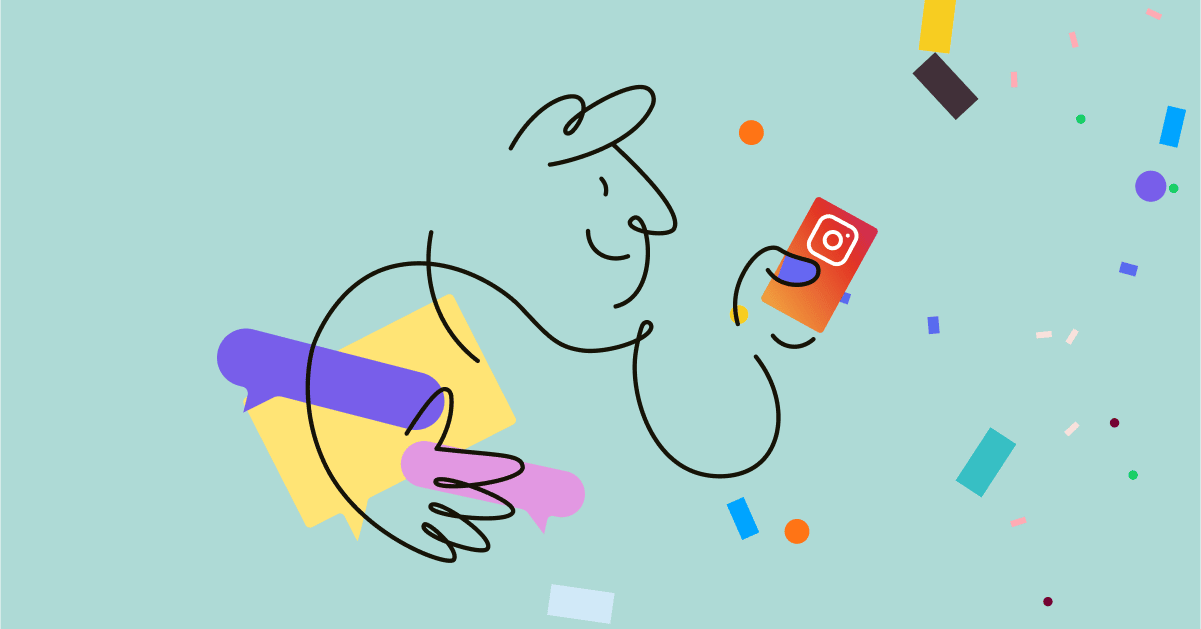 The holidays aren't quite here yet, but now's the perfect time to start preparing your social media accounts for the biggest shopping season of the year. Last year, 60% of consumers planned to start holiday shopping before November (likely due to the pandemic). Before 2020, 75% of consumers planned to shop between October and November. As a result, prepping your Instagram account now for the end-of-the-year is the right way to go.
It's uncertain whether COVID will affect the 2021 holidays, but the season is fast approaching. Planning your holiday marketing now means you'll be prepared, have more time to perfect Instagram ads and content, and be able to focus on other things when the busy season (hello, Black Friday and Cyber Monday!) arrives in full force.
Fill in your content calendar
Now's the time to start planning the content you're going to publish during the holiday season. Start by listing your holiday-specific goals, such as generating brand awareness or promoting a seasonal product.
Use a marketing calendar to outline the types of content you'll publish, such as specific photos for your Instagram feed, Stories, or IGTV videos. To ensure everything is spaced correctly, you can also decide when to post promotions and giveaways versus general holiday marketing content. After all, you don't want a week filled with only promo content!
Make room in the budget
If you're planning to run Instagram ads this year, save extra room in your advertising budget. Since the holiday season is such a popular time for shopping, pay-per-click (PPC) ads are more expensive across platforms, including social media and search engines.
For example, in the UK, CPM for Instagram ads increased from $3.08 to $5.53 (180%) around the 2020 holiday season. The competition is stiff, and companies are willing to pay more on a holiday campaign if it means getting customers to a landing page.
Don't forget about the holiday content objectives you set initially and only spring for ads related to those goals. Set a budget on Instagram so you never go over your allotted spend, and you'll feel more confident going into the season.
Get ads approved early
Once you've made room in the budget, start working on the ads you want to run so you can submit them for early approval (this is a must for all platforms). With Instagram ads, you can schedule the dates you want each campaign to run, so you can set them up early and they'll start automatically.
If you wait until the last minute, you might have to wait longer than usual for your ads to be approved (it typically takes 24 hours). You could be sacrificing precious holiday shopping time because you procrastinated, and if an ad gets rejected, you'll still need time to get it right and resubmit it. So don't delay!
Plan sales and product launches
Of course, you can always use your content calendar to internally mark dates for a big holiday sale and specific product launches. But why not start announcing what your Instagram followers can expect this holiday season?
Get your followers excited about upcoming sales, big promotions, seasonal bundles, or free shipping by dropping hints about what's to come. You can even prep your shoppable posts and Stories now, which allow Instagram users to buy items from your online store in fewer clicks. 
Though it may seem early, chances are customers are already thinking about the shopping season. Announcing your plans now is also a great way to get on the radar of customers who go into the holiday season with a game plan for their shopping lists.
Create holiday messaging and graphics
Now's also the time to start creating the visual assets you plan to publish during the holiday season, such as graphics, images, videos, GIFs, infographics, or even a holiday gift guide. These assets could be for sales or promotions, while others may focus more on brand awareness or engagement.
Depending on your brand, you may also want to build graphics to create a festive profile. You could update your profile picture or spruce up your cover images.
Aside from prepping graphics, you can also pull together your holiday messaging, including taglines, captions, and video scripts. Find creative ways to be genuine about the holiday season while also including your brand.
Research relevant holiday hashtags
Including the right holiday hashtags will help increase your reach and engagement. Research effective hashtags now so you'll have them at your disposal for use in your graphics, captions, and Stories.
Instagram posts with at least one hashtag get nearly 13% more engagement than posts that don't use any. Utilize hashtag research tools, such as Sprout Social or Tailwind to compile a list of ones that make sense for your brand and audience. 
Consider using hashtags for novelty holidays during the season, too. For example, National Brownie Day and National Cocoa Day are both in December. If it makes sense for your brand, publishing content around an obscure holiday is clever, fun, and you can create additional promotions around them.
Be ready to answer questions
Since more people will be shopping during the holiday season, you're likely to see an influx in questions about sales, product information, shipping dates, and order statuses.
There are a few different ways you can prepare for this. If you have a dedicated team or individual who handles Instagram engagement, ensure they have the information and resources to answer any questions that hit the inbox.
Consider using ManyChat to handle Instagram conversations. With Instagram Automation, you can automate responses to common questions and customer concerns. You can also escalate high-priority issues to live agents, assign conversations to team members, capture impulse-purchase intent, and respond quickly to customers, all from one dashboard.
Decide how to give back
Giving back at any point in the year is essential, but it's especially top-of-mind during the holiday season. Now's the time to start brainstorming ways to be charitable this year and maybe even include your Instagram followers. Here are some ideas:
Donate a percentage of your holiday revenue to a cause. This is a great approach that encourages customers to shop with you and helps them feel good about where their money is going.
Donate your products or services to those in need. This would be a suitable option if you have a physical store or actively participate in your local community.
No matter how early it may seem, getting ahead of the holiday bustle is never a bad idea. Set aside a budget, brainstorm creative ideas, fill in your content calendar with sales and promotions, and then prep to provide customer service. The season will be here before you know it!
Try ManyChat's Instagram Automation this holiday season.
The contents of this blog were independently prepared and are for informational purposes only. The opinions expressed are those of the author and do not necessarily reflect the views of ManyChat or any other party. Individual results may vary.