Instagram Checklist: Your Guide for Growth Success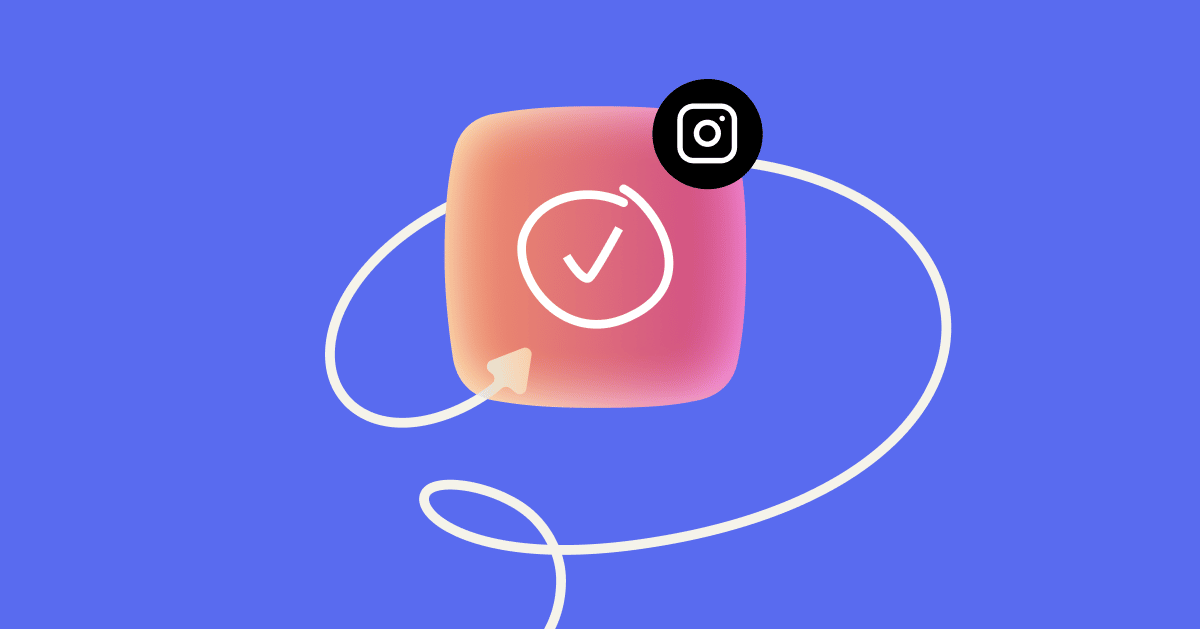 With over one billion users and growing, Instagram (IG) is one of the top places to build brand awareness, drive sales, and connect with customers whether you're an online store owner, entrepreneur, or marketer.
But there's more to using IG than just posting photos and captions. There's a strategy you must build, including how you can easily engage with your audience.
As you grow your business and following, responding may get overwhelming. Finding the right balance with automation is the key to business growth. Yes, you can automate your Instagram work. Just like scheduling a post that allows you to set it and forget so you can go about other business needs. Instagram Automation enables you to do the same.
Use this self-analysis questionnaire to help you identify where you are with your Instagram strategy, where you need to go for Instagram growth success, and if IG Automation is right for you.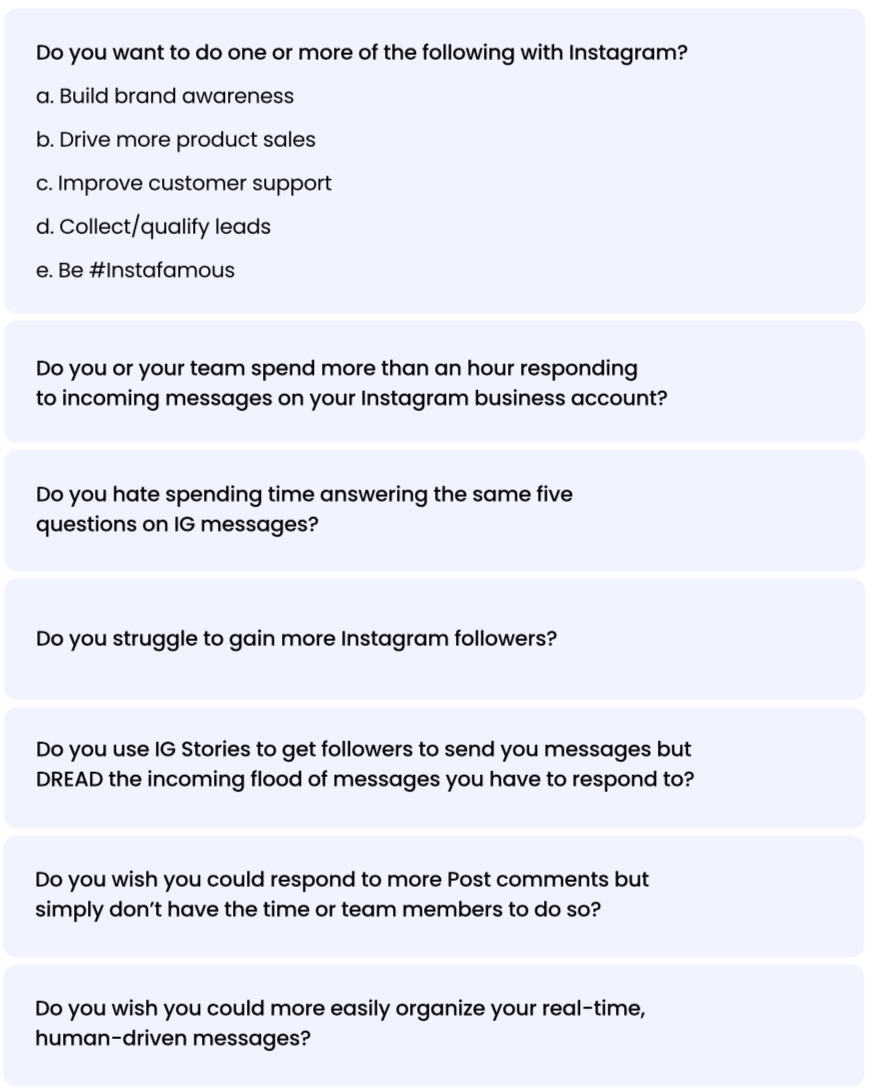 Did you answer yes to at least one of the eight questions above? Then Instagram Automation is essential for you to improve your Instagram marketing strategy. Here's why.
Build brand awareness
There are over one billion people on Instagram, which means tremendous opportunities to reach a broad yet diverse audience. Instagram has also made it easy to promote your brand with advertising tools. Yet, it's also possible to leverage the unique nature of Instagram to spread the word organically: features like Reels, Stories, and Lives make it easy for content to be shared and go viral. Adding Instagram Automation to your existing mix of Instagram marketing initiatives supercharges the platform's inherent virality by layering on messaging.
For example, let's say that your Story, which tells users to send a message, gets shared a thousand times. With Instagram Automation, you'll be able to respond to every single incoming message from that Story.
Drive more product sales
Instagram is the mall of the 21st century. Eighty-one percent of shoppers use Instagram to research products or services before purchasing. Seventy percent of shopping enthusiasts turn to Instagram for product discovery. If you're old enough to remember the mall, some real people worked at the store and could answer your questions, give you recommendations, and help you check out.
Use Instagram Automations to create product quizzes, answer FAQs about products, and even up-sell.
Improve customer support
While you might be using your Instagram for marketing purposes, any social media manager (or anyone who manages their IG account) will know that any brand Instagram account will get customer support questions. If your brand exists on a social platform, and your customers are there too, then you can be sure you'll get questions ranging from shipping updates to return requests.
Instagram Automation allows brands to automate some of these resolution processes and step in with an actual human where needed. With ManyChat, you can integrate with other platforms to pull in customer data and boost resolution times and satisfaction scores.
Generate and qualify leads
For certain businesses, Instagram is a great "top-of-the-funnel" marketing channel, generating lots of awareness and interest. That's great, for example, if you're a consulting or real-estate business, but it can also mean that many potentially unqualified leads could fall into your funnels. With Instagram Automation, lead generation businesses can turn their Instagram Messages into an automated lead qualification funnel, completely removing the manual work spent asking the same set of questions.
As always, companies can also step into the conversation with an actual human to close the sale or give highly qualified leads white-glove service. With ManyChat, businesses can collect essential information like emails or phone numbers or general text from users and use ManyChat's email or SMS services.
Spend more than one hour on Instagram Business Account
If you or your team spend more than an hour answering questions or responding to comments, then it's time you start to automate those responses. With Instagram Automations, you can set up automated conversational Flows that answer the most common questions.
Answering the same questions on IG messages
Like previously mentioned, you can set up automated responses to the most common questions, but more importantly, give your customers multiple ways to "start" conversations with your brand. With Instagram Automation, customers can start chatting with you from IG Stories, indirect messaging, Post comments, and IG Ads! Ensure that no conversation slips through the automation cracks.
Gain more Instagram followers
People follow Instagram accounts for a variety of reasons. We at ManyChat have found that when Instagram users start and then have a meaningful conversation with a business that resolves their problem or inquiry, they tend to follow the account. Ensure that you set up customer problem-solving automation and boost your follower count! 
Not enough time in the day to respond to stories
Fifty percent of "user-to-business" conversations start from Stories. This means that over half of the time, when Instagram users start a conversation with you, the brand, it starts from IG Stories. We know that brands love to run Instagram Story Ads, one of the most popular IG Ad formats since they get a lot of organic engagement. Yet, responding to each one of these incoming messages is complicated, tedious, and takes time! Use Instagram Automation to reply to Story-initiated conversations.
Responding manually to Comments
You've done all this hard work making the PERFECT Instagram Post, and it gets all this exceptional organic engagement with comments! Congrats! Now, you have to respond to each one. With Instagram Automation solutions, you can automatically react to specific key posts and automatically send a message. Programmatically responding to Comments means that you'll add another layer of engagement to your organic Instagram growth funnel.
Scale your IG ads with more one-on-one engagement
Over 50% of businesses on Instagram produce an Instagram Story. If you post an Instagram Story Ad and asked users to respond, you'd have to respond to those messages manually. That can take up a lot of time. With IG Automation, you can create a flow to automate the conversation, meaning more time back to you while still creating a personalized experience for the end-user.
One method: Create your Instagram ad. Ask the user to reply to the ad with a specific keyword. That particular keyword will then trigger the correct flow, and then you can easily capture contact information, answer questions, give away a coupon, or more!
Easily organize your real-time, human-driven messages
Instagram Automation allows users to chat with you via Live Chat functionality. Also, you'll be able to save and tag users with critical information using the ManyChat Tags, Custom Fields, and more actions that Live Chat allows you to do (like Send to Flow action).
Automating conversations through Instagram can help you scale and grow your business. From answering questions to driving sales, IG Automation allows you to build meaningful relationships within Instagram Messenger.
Grow your Instagram following and make sales with Instagram DM Automation by ManyChat.
The contents of this blog were independently prepared and are for informational purposes only. The opinions expressed are those of the author and do not necessarily reflect the views of ManyChat or any other party. Individual results may vary.