[Case Study] How Offset Solar Generated $1.2M in Revenue in 6 Months with ManyChat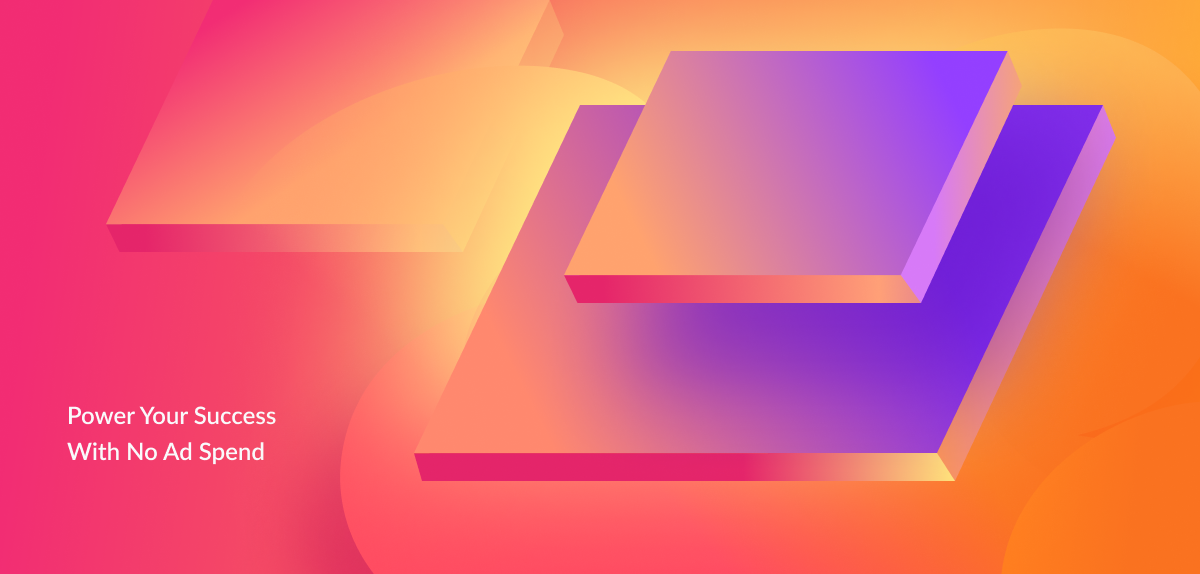 There are two big obstacles people face when they come to your site:
They don't know what they want
Or they don't how to find it
That's where Messenger Bot on your homepage comes in.
Businesses can now offer a better sales experience with a chatbot on their web pages: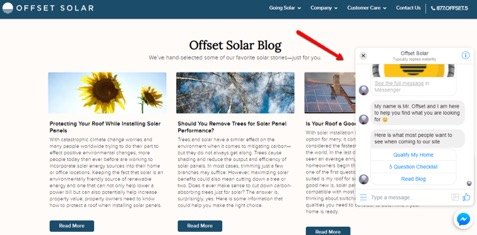 Chatbot conversion rates are typically higher when you set them up correctly, even if you don't have the most optimized website.
The best part? It's E-A-S-Y to implement.
In this chatbot case study, you'll learn how Offset Solar generated $1.2M in revenue in 6 months with $0 ad spend. And we'll teach you step-by-step how to do it too.
Follow these steps to convert website visitors with your chatbot easily:
Step 1: Start by asking visitors a question
Most human-to-human conversations start by asking a question or giving a compliment. The first conversation with a prospect should be no different.
If someone is on your site, they are likely interested in your service. A Messenger bot becomes handy because you can ask them directly if they are interested in hearing more about what you're selling.
But what are the best marketing questions to ask?
Using phrases like "see if you qualify," have shown to have much higher open rates than phrases like, "are you interested?". Remember, it's not so much of what you ask, rather, it's about how you ask it.
We tested two different openings, the first:
Hey there! Click here to view MUST see solar information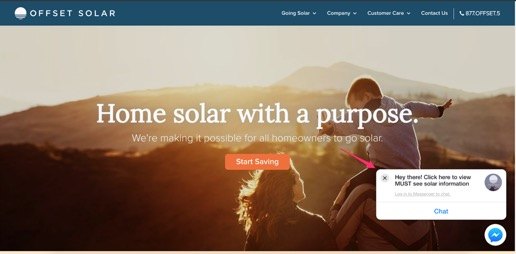 And the second:
Hey! Want to see if YOUR HOME qualifies for the Offset Solar incentive program?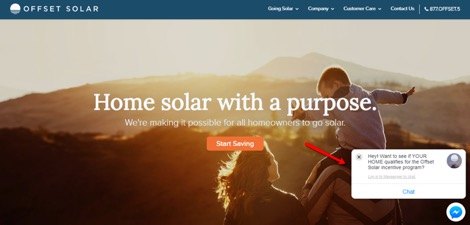 Both openings offered the same thing, but by asking a question, the open and click-through rates were significantly higher.
Step 2: Offer Helpful and Valuable Content Right Away
Consumers are always looking for value!
When they see value, the chances of them purchasing your product or service increase significantly.
You know where the traffic on your site wants to go so offer to take them there. Your bot should offer to navigate people to the next logical step in their journey.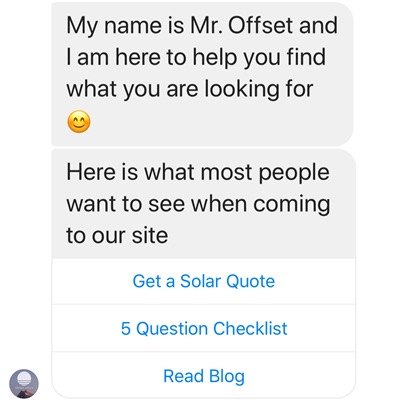 In this scenario, Mr. Offset has identified three things that website visitors are usually drawn to. They can choose from 3 things:
To see if their home qualifies for the solar program
Receive the 5 Question Checklist (their Lead Magnet)
Check out Offset Solar's blog
Offering a Lead Magnet such as a checklist or other downloadable content is effective because you can get their email, and get them subscribed to your bot so you can follow up with them later to turn them into a lead.
To improve lead generation, we found it effective to send people who downloaded the Lead Magnet, but didn't become a lead, a follow-up message: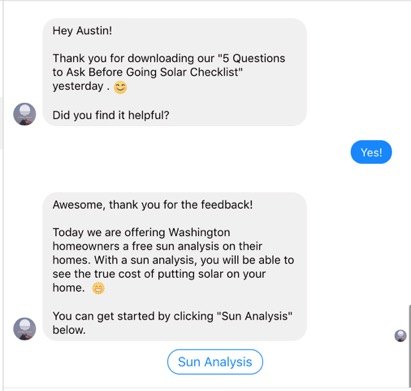 If they say yes to finding it valuable, you can ask them re-offer to taken them down becoming a lead sequence.
Step 3: Create sequences that are conversational and personal
Premium pricing and other sales perks are pretty useless if a prospect is not willing to listen your pitch!
Be engaging enough and a prospect will stay online long enough to hear what you have to say. Even a simple polite greeting can make a difference.
Program your ManyChat bot to be engaging and show off some personality. You can even use small talk and silly questions. It can be a great opportunity to convey the voice of your brand.
This is the Mr. Offset bot.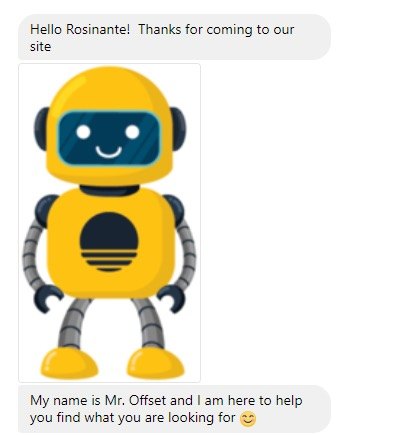 You can write a bot as a character with likable traits and show a picture of your bot in the chat!
People are more likely to cooperate with a bot when they know they are talking to a bot. So when you introduce your Messenger bot, you decrease the likelihood of someone breaking your message sequence.
If someone does break the message sequence, set up an alert to a customer service rep so they can hop in and answer any questions the prospect might and help them become a lead.
Step 4: Collect the Most Sensitive Information Last
The best chatbot examples collect basic information and then record all interactions with users. Part of its function is to retrieve, organize and analyze data, and use every bit of information to create actionable insight whenever necessary.
When it comes to your Messenger marketing strategy, request the most sensitive information last. Ask your basic qualifying questions first to make sure they are a good prospect while getting them amped about your offer.
As you can see in the image below, the Offset Solar bot asks for the most sensitive pieces of information last.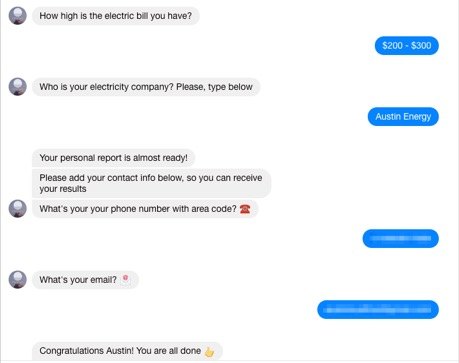 It's important to ask prospects qualifying questions to ensure that you only have people who are likely to buy in your sales funnel.
As you can see in the image above we ask the prospect for their utility company. This is a qualifying question because not all utility companies participate in the incentive program Offset Solar offers.
Another tip before asking the sensitive information collection questions is to ask pre-suading questions to increase the likelihood of someone giving you sensitive information.
For example: We ask people how high their electric bill is. This gets them thinking about the financial burden the electric bill brings them, thus increasing their likelihood of giving you their information so that we can offer them our energy solution.
Step 5: Close The Deal in Person
While Messenger bots are good at automating conversations, a prospect will often have a plethora of questions before signing the dotted line.
This is why it's beneficial to have a salesman to help them complete the sale. The salesman will help the customer overcome any last minute resistance by answer any questions or concerns in a tactical and empathetic way.
At the end of our flow, we offer the prospect the ability to schedule an appointment with a sales rep.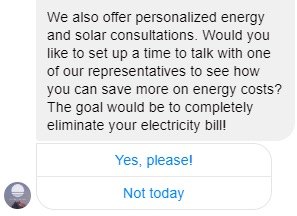 The Results of This Chatbot Case Study?
The method was a huge success. By simply funneling leads with our Messenger bot, we generated 1.2 million dollars in revenue.
This case study aims to help you understand two things:
1. Don't underestimate the power of a simple automation tool.
Your Messenger bot can be so simple that it doesn't require intricate flows or Facebook ad campaigns. Yet, you can do amazing things with it. If you program your chatbot to genuinely help people, the results will be much better than what you expected it to be.
2. Human interaction is still necessary.
While a chatbot can build trust, a personal interaction is what really seals the deal. Even if your chatbot strategy is going well, make sure to nurture leads with real, human interaction.
As long as you are open to trying new things and put your heart into it, you're bound to achieve great results!
Want to leverage these Messenger Marketing strategies to grow your own business? It's ridiculously easy with ManyChat, and getting started is absolutely free. Click here to build your bot today with ManyChat.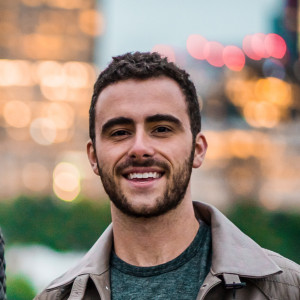 Austin Kueffner is a bot-making connoisseur who enjoys studying and understanding the nuisances of conversation. On the weekdays, you can find him building a full stack marketing agency, Alicedigitaldesign.com, with his best friend, Rob Schmidt. On the weekend, you can find him reading, drinking red wine, & enjoying life in the beautiful city of Austin, Texas.