10 Best Marketing Strategies for Real Estate Agents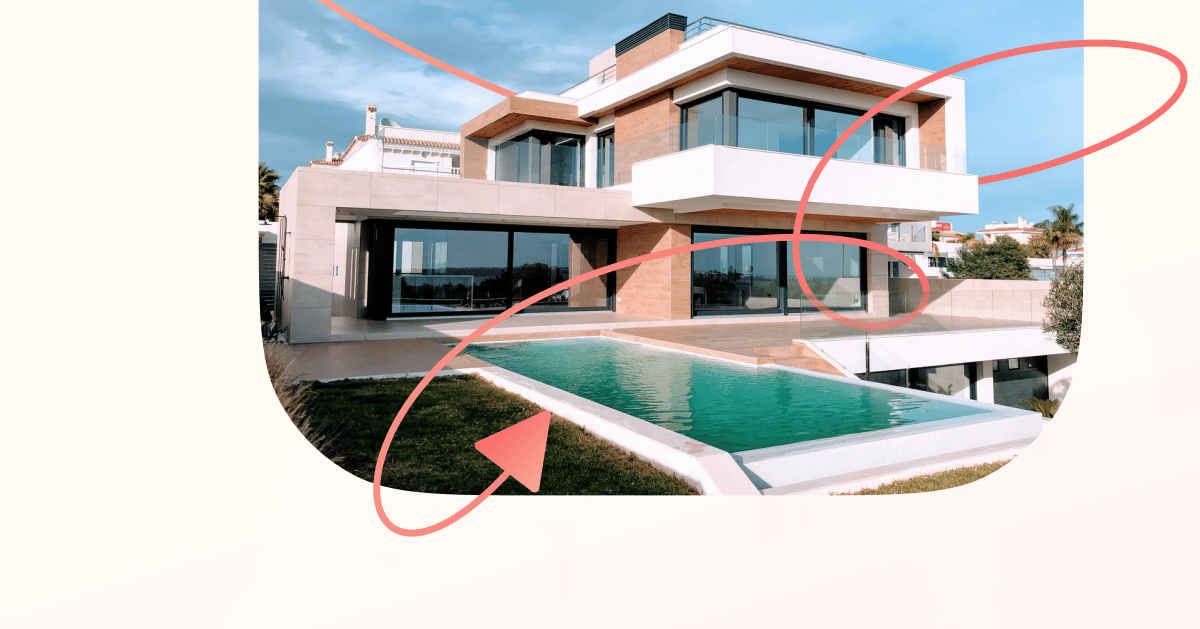 All local real estate agents share a common struggle: competing with big industry names. When it comes to marketing yourself, you know how difficult it can be to compete with them.
Not only do the big players have supersized marketing budgets, but they also have plenty of staff who can be everywhere and do everything at once.
So how do you beat them at their own game?
Fortunately, you can stand out and connect with your audience by delivering personalized experiences.
As a small- to mid-sized agent or realtor, you can offer a personalized experience that will set you apart. It's a tactic that helps build trust with your prospects that can make all the difference. In the end, marketing for real estate agents is all about selling a personal experience—which is something industry giants simply can't offer.
Try these ten budget-friendly real estate marketing ideas and strategies to generate leads, nurture potential buyers and sellers, and close on more homes.
1. Connect with prospects on Messenger
One smart way to grow your real estate agency's online presence is by using a real estate Messenger bot to promote your agency and listings through Facebook Messenger. It's changing the way real estate agents build lists and communicate with leads.
The real estate Messenger bot is a type of Chat Marketing which has many advantages, including:
Less expensive, more engaging Facebook ads that drive costs down while expanding your reach.
More personal experiences that take place in people's private chat window—which means they're more likely to click on what you send them.
Faster and more direct communication with prospects versus cold calling, online forms, and emails.
An easy way to position yourself as an expert local agent by sharing information with people about what's going on in town.
You can use Messenger to qualify leads, show homes, advertise open houses, and more—virtually on autopilot. You can also integrate your IDX search and CRM to keep everything organized in one place.
Messenger bots are an essential part of any modern real estate marketing plan because they can:
Answer questions in real time
Be available 24/7
Qualify buyers and sellers
Allow people to schedule property viewings
Show listing images and videos
Keep track of conversations
Automate follow-ups
Here's an example of how one ManyChat user, Jeffrey Brogger, founder of Real Estate Agency Steezey.Digital, uses Messenger to qualify leads from Facebook.
You can get your real estate bot up and running in 10 minutes using ManyChat. Learn how with this guide.
2. Text with leads
As a real estate agent or broker, you know following up with leads as quickly as possible can help close a deal. SMS Marketing offers a fast and reliable way to communicate with a prospective home buyer or seller so you can build valuable relationships with ease.
Ramp up your SMS for real estate marketing game with these tips:
Send property photos. A stunning photo of your property can help convince prospective buyers decide to book a viewing.
Deliver requested listing information efficiently. When someone asks for more information, you can quickly send detailed info along with booking links, Google Maps links, and more.
Automate follow-up communication with leads. Buying or selling a property is a big deal. Since people typically need time to make a decision, you can send automated follow-up messages via text. Ask people if they want to schedule a viewing, or they can ask you a question right from their phone with 2-Way SMS Live Chat.
Offer different property listings. Once you have an idea of a prospect's budget and an area where they want to live, you can send recommended listings right to their phone through a short link via text.
You can text with both buyers:
and sellers:
With an SMS software like ManyChat, you can create text message conversations using its intuitive visual flow builder. To really boost your advertising efforts and sell more homes, you can also pair it with email marketing and Messenger to build omnichannel marketing campaigns.
3. Create a real estate website with "curb appeal"
If your site is full of uninspiring messaging and dull imagery, your audience won't stick around. There may be a property on your site that a buyer wants, but lackluster (or lack of) photos may convince them to continue their search elsewhere.
To make a website that commands attention and builds trust with prospects, make sure to include the following:
HD pictures and videos
Information about neighborhoods
A fun and informative real estate blog
Advice from experts
Market value information
Search options by map or feature
As you build out your website, you can use various tools to add visitors to your contact list. For example, ManyChat's opt-in bar Growth Tools or Customer Chat widget can help you connect with people on your site.
4. Use local keywords in your copy
Local search is a valuable strategy for any real estate digital marketing. While it can cost a small fortune to hire a search engine optimization (SEO) agency, you can give it a go yourself or hire a freelancer off of a website like UpWork.
"If you want to rank for real estate terms, you have to add the name of your neighborhood, city, or region into your website text. Mix it up and work phrases into the text in a natural way into your header tags and body copy. In my experience working with real estate firms, it's been a key way to get that desired #1 organic spot in Google."

— Amy Falcione, Founder of Small Business SEO Agency, Big Picture Marketing
Use keywords on your site such as "houses for sale in [your area]" or "licensed real estate agent in [your area]" to help buyers find you faster on Google. Your goal is to rank in places like the Google Maps 3 Pack.
If you're unsure what keywords to go after, a quick search on Google Keyword Planner, AnswerThePublic, or Keyword Tool can help. Also, check what keywords competitors are using on their sites and incorporate them into your website.
A strong search engine presence is critical when it comes to boosting your lead generation rates. Over half of all real estate leads originate online!
5. Start an email newsletter
You might be thinking, "Really, another newsletter recommendation?"—but hang on. Newsletters are still a time-tested way to build trust between you and prospects, as well as past clients.
To expand your marketing reach, create a newsletter that highlights local news and new listings through email, then showcase homes in a more interactive way through Messenger.
If someone is interested in a home, they can reach out right in the Messenger chat window to learn more.
Pack your newsletter with information on the latest sales, open houses, and housing marketing news, and you'll have people clamoring to be your client in no time
6. Publish testimonials from previous clients
Nothing sells better than word of mouth. If a buyer was happy with their experience working with you, ask them to leave a review—then include it on your website.
Some of the best places for clients to leave reviews are:
7. Leverage of virtual tours
Buyers love virtual tours because it gives them a solid perspective of what the property looks like before they even set eyes on it in person. If at all possible, make virtual tours a staple of your real estate marketing strategy. And, should your budget allow, using a drone is a modern way to provide clients with a full 360° tour from all heights and angles—both inside and out.
You can also use a 360° camera or upload individual pictures to software like Ezvid to create a virtual tour for prospects.
8. Actively participate on social media
Business accounts on social media like Facebook, Instagram, LinkedIn, and Pinterest are excellent channels to showcase beautiful properties and promote your closings. Use Twitter to keep up to date on local events, see what people are talking about, and engage with active buyers and sellers.
If you're not buying ads on social media, you may want to reconsider. Ads allow you to advertise directly to targeted audiences and enhance your marketing efforts.
Instagram ads, for example, are a great way to attract new followers and connect with your base. Social media platforms are perfect for sharing success stories with prospective clients and even inspiring other real estate marketers.
And don't forget: Showing off that new beautiful home via Instagram Stories just might net you one more lead.
You can add a Messenger Ref URL as your destination URL for both organic and paid traffic. This link will drive traffic from your ad into your Messenger bot to continue the conversation and help close the lead.
Add the link in the Text & Links section of the ads you create in Facebook Ads Manager before publishing.
Read this guide to learn how to create a Messenger Ref URL inside ManyChat.
9. Partner up with your local community
Word-of-mouth marketing and referrals are invaluable. And, of course, they play straight to your strengths—the personal touch of a local real estate agent.
Team up with an organization for community-based projects. Anything from special events to volunteering helps build relationships with people in person, and these events make for great photo opportunities you can share on social media.
You could also consider collaborating with another local business or real estate agency partner to offer a free class on first-time home buying. Why not? Your chance of getting referrals increases dramatically as your network grows larger and more reliable.
10. Up your branding game
If nobody sees you, how will they know who you are?
Put your brand on freebies such as pens, balloons, stress balls, and other little giveaways people typically keep.
It's incredible how something as mundane as a tote bag can provide exposure where you least expect it. Not every marketing campaign needs to involve a grand gesture!
Put these real estate marketing strategies into play today
The real estate game is tough, no question, and batting against heavy hitters with big budgets is even tougher.
Think it's time for a new real estate marketing plan?
Follow these ten marketing tips for real estate agents, and you'll find it easier and more efficient to build your business on a budget.
Want to generate leads and sell more homes? Market your real estate business with ManyChat. It's free to get started.
The contents of this blog were independently prepared and are for informational purposes only. The opinions expressed are those of the author and do not necessarily reflect the views of ManyChat or any other party. Individual results may vary.