11 Instagram Story Stickers: How to Create Interactive Content That Improves Engagement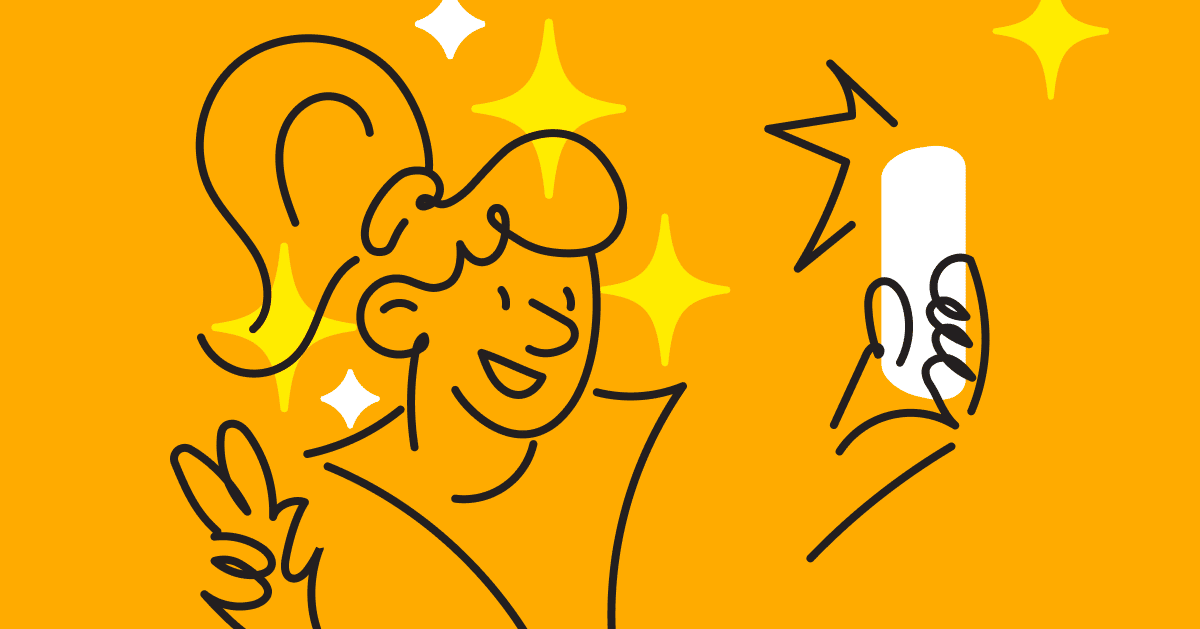 With over two billion monthly active users, Instagram remains a lucrative platform on which brands can connect with their followers and, ultimately, sell their products and services. But new social media platforms like TikTok mean that customer attention is being pulled in different directions. How can brands stand out and keep their target audience interested?
One answer: Instagram Stories. The vlog-style content isn't visible from the feed, making it an ideal way for brands to build relationships with followers—especially considering 90% of Instagram users follow at least one business account.
This guide will walk you through the different types of Instagram Story stickers that you can add to your own stories, along with a few examples from brands that are using them to drive user engagement for their business.
What are Instagram Story stickers?
An Instagram Story is a limited-time piece of content. Stories are visible on your Instagram account and from the homepage (if a user follows you), but disappear after 24 hours. They can feature both photo content and videos, and users have the option to add stickers to enhance the interactive elements within the post.
Stickers can encourage your followers to do something, like donate to charity, visit your website, or answer a question. They can also add extra flourishes to static content with the music, hashtag, and location sticker options.
There's no limit on how many stickers you can use in a single Story, but it's important to remember what you want to achieve. Don't confuse your audience with too many options. Instead, keep to one or two stickers that elevate the quality of your Story.
"Stickers massively improve engagement," says social media consultant Pippa Akram. "On the surface, they tap into the way we naturally interact with our phones. Actively engaging makes us feel more connected to the brand. Each tap helps to send the Instagram algorithm those all-important signals which show that a user has a 'relationship' with your business."
How to add a sticker to your Story
Ready to start engaging your audience through Instagram Stories? To add a sticker to your Story:
Press the plus icon on the top right of your homepage.
Select Story.
Take a new picture or video, or add content using the square gallery view icon in the bottom left of your screen.
Tap on the sticker icon (the smiley face in the top toolbar). You'll see all of the sticker options that you can use in the pop-up.
When you're ready to post your Story, tap Your Story at the bottom of the screen.
If you create Story templates ahead of time in a tool like Canva or Photoshop, leave a placeholder for where your sticker will go on the final post. The stickers won't become active until you add them from within the Instagram app. This is the case for both Apple and Android devices.
Manually uploading these specific slides to your Story is the best way to ensure that your stickers are live, rather than scheduling them ahead of time.
11 types of Instagram Story stickers
Understanding what each sticker can do will allow you to make the best choices when it comes to planning your Instagram marketing strategy. Here's a walkthrough of the different kinds of Story stickers that you can use.
1. Link sticker
The link sticker is a new sticker available for your Instagram Story. Until this sticker was released, only users with over 10,000 followers were able to create offsite links using the "Swipe Up" option. Now any user can link to content outside of the Instagram app.
The link sticker encourages users to check out your website or work elsewhere—making it ideal for service-based small businesses. For example, creative coach and writer Elin Lööw frequently links to her YouTube channel from Instagram Stories, using the video sharing network to dive deeper into her process than she would ordinarily do through shorter social media videos.
This sticker is also effective for sharing:
Blog posts
eBooks
Promotions or sales
Newsletter signups
Pro tip: Improve engagement and build relationships with Instagram followers by replacing the link sticker with Instagram Automation. ManyChat's Keyword Trigger, for example, sends followers an automated message when they DM your business's account with a specific keyword.
Let's put that into practice. Say you're diverting people towards a webinar sign-up page—instead of using the link sticker, collect information directly through Instagram DM when followers send a message containing the keyword "WEBINAR." It's a frictionless experience for users because they can register for the webinar and simultaneously opt into your email marketing campaigns—all without leaving the Instagram app.
2. Location sticker
If you have a brick-and-mortar business or your products are in a store, the location sticker is the one for you. It will put your business on the map and make it searchable from anywhere within the Instagram app.
Users can click on the location sticker in your Story and go to a dedicated page that features a map and other public Instagram posts that have also tagged that destination. Beauty brand Glossier has been rolling this out on its Instagram Stories as it opens new stores around the world.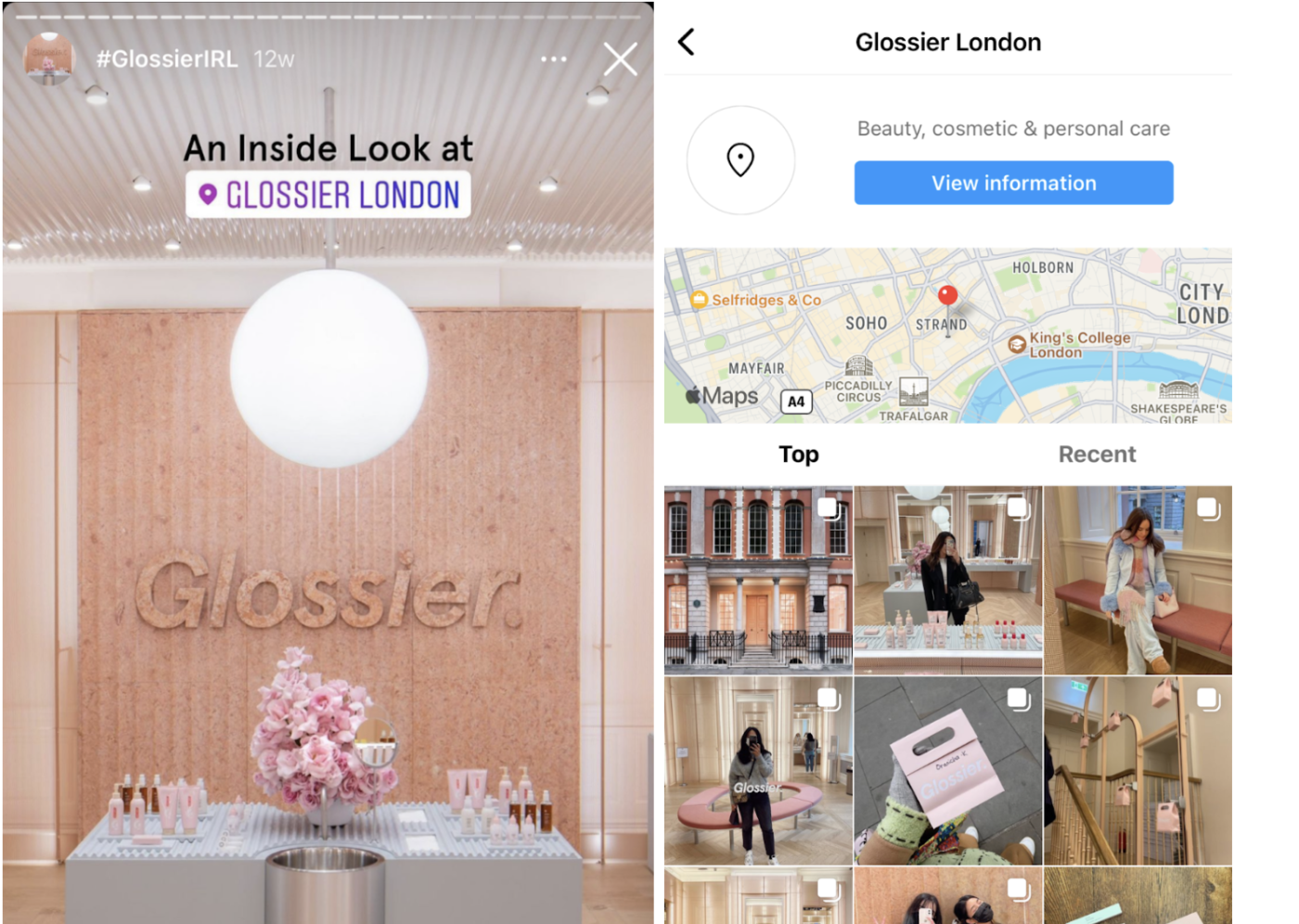 This sticker has greatly helped users to find the stores themselves. Furthermore, it has also built excitement for soon-to-be-visiting customers, thanks to the thousands of other posts from Instagram users who have already checked out the new location.
3. Weather and time sticker
While the weather and time stickers aren't as engaging as some of the other options, don't be quick to discount them when evaluating which Instagram Story stickers to use.
Major sporting events like Wimbledon or the Olympics will often add these stickers to Instagram Stories in live posts throughout the day. Weather is a critical factor in whether these events can continue as planned—Story stickers keep visitors or online viewers updated on what they can expect that day.
4. Account mention sticker
Mention stickers are similar to location ones, but instead of a place, you're tagging a person. This is the best way to create a mutually beneficial post if you're collaborating with influencers on the platform.
The promotional and opening Stories of any Instagram takeover, for example, should always include a mention sticker linking to the account of the person working with you. Take a look at this Story from influencer Louise Pentland:
You can even use the mention sticker to thank your biggest fans. User-generated content (UGC) is a marketing opportunity that brands should utilize to amplify their marketing efforts. A study by Stackla found that 79% of people were influenced by UGC when it came to purchasing decisions. Taking the time to share your customers' content and thank them can make a big difference in your business.
5. Hashtag sticker
When clicked, the hashtag sticker diverts Instagram users towards the results page for the hashtag. As you work on your marketing strategy, research which hashtags your business should be using. Make use of highly popular hashtags that already exist to gain new followers (the "add yours" sticker is another option for this approach).
Another option is to create a branded hashtag of your own to launch a new product or service, like this example from food tech company JUST Egg.
6. GIF stickers
Most of us have probably used Giphy to send funny GIFs to our friends. But did you know that you can also add GIFs to your Instagram Stories?
Using the in-app search bar, you'll find a selection of clips that you can add to your Story. Just keep in mind that the choices are more limited than what you'll find in Giphy. This sticker feature is best for generic GIFs (think flashing arrows or highlighted circles) you can use to point to a specific element on your Story post, like these boho-style GIFs:
If you have access to a graphic designer, Instagram does give you the option to add your own branded GIFs that you and other users can add to Stories. Innocent Drinks, for example, rolled these out to promote its line of beverages on the platform:
7. Music stickers
If you're looking for a fun way to add some audio to your stories, the music sticker is the one for you. Choose from thousands of songs in the Instagram library to set a particular mood or tone in your posts. Influencers like Zoë Sugg add music to stories to create vlog-style content.
A quick warning on this one: It's best to use the in-app choices rather than uploading a post with your music already included. Not using in-app choices will lead you into copyright issues, and your Stories won't actually appear.
8. Poll stickers
When you're looking for a quick way to add engagement opportunities to your Instagram, poll stickers should be your go-to. Research from Instagram itself found that 57% of people preferred polls and questions from brands on Instagram over other social media platforms.
"The most versatile sticker is the poll sticker. I sold around 90% of my Instagram Story workshop in 2019 by following up directly with those who voted in the poll sticker I used."

Pippa Akram, social media consultant at Social Pip
You have two options when it comes to polls: the first is a two-choice sticker that works for yes/no questions or "this or that" posts. Brands like Starbucks use this as a quiz sticker for followers to vote on reward choices.
The multiple choice box is best for more detailed customer feedback. You can use this to solicit thoughts on:
Which product to release next
How followers want to find out about new releases
Whether customers would buy a product
The multi-choice poll box works just like a traditional survey or quiz, but offers a quicker and more engaging format. This example from Nike shows how easy it can be to collect customer feedback via Instagram.
9. Sliding scale emoji stickers
The emoji slider is another type of poll sticker that can be used to gauge feedback from your customers on a sliding scale. Take this example from travel inspiration brand Travel + Leisure—a brand that uses the sticker to reinforce how beautiful the views from its room are:
This Instagram Story sticker allows you to add up to two emojis. Users slide along the bar to rate how close they are to each option (think of this like a positive/negative scale). It takes no time at all for users to interact with this sticker and it is a good way to quickly boost your post engagement.
10. Question box stickers
The questions box is one of the most interactive stickers that you can use on Instagram. It allows users to type in their own answers to a question that you set. Responses are only visible to the account that posted the Story, but you can share these on a later post for others to see.
As the answers are entirely up to the user, there are endless opportunities for how brands can make use of the question box. Ask Me Anything (AMA) posts, like this example from mindset coach and writer Lauren Osselton, and behind-the-scenes looks into your business are some of the most popular.
11. Countdown sticker
Adding a countdown to an Instagram Story builds anticipation for your audience. Use it to create a sense of urgency if you have something on offer, or a limited-time sign-up for a new service.
Users can click on the timer to receive a notification once the time is up. This makes it a helpful reminder for something coming up, like tickets going on sale for an event or an upcoming product launch.
Need some inspiration? Networking group The Co-Working Club uses countdown timers on Instagram Stories to notify followers of upcoming dates or special events.
Boost your social engagement with Instagram stickers
When you're looking for new ways to grow your Instagram account, using Story stickers can give you the boost you need. Test out several different options on your next few posts to see what your followers are drawn to and engage with most.
Impress your audience and grow your Instagram account with ManyChat's suite of Automation tools
The contents of this blog were independently prepared and are for informational purposes only. The opinions expressed are those of the author and do not necessarily reflect the views of ManyChat or any other party. Individual results may vary.