How to Build a Superior Instagram Aesthetic For Your Brand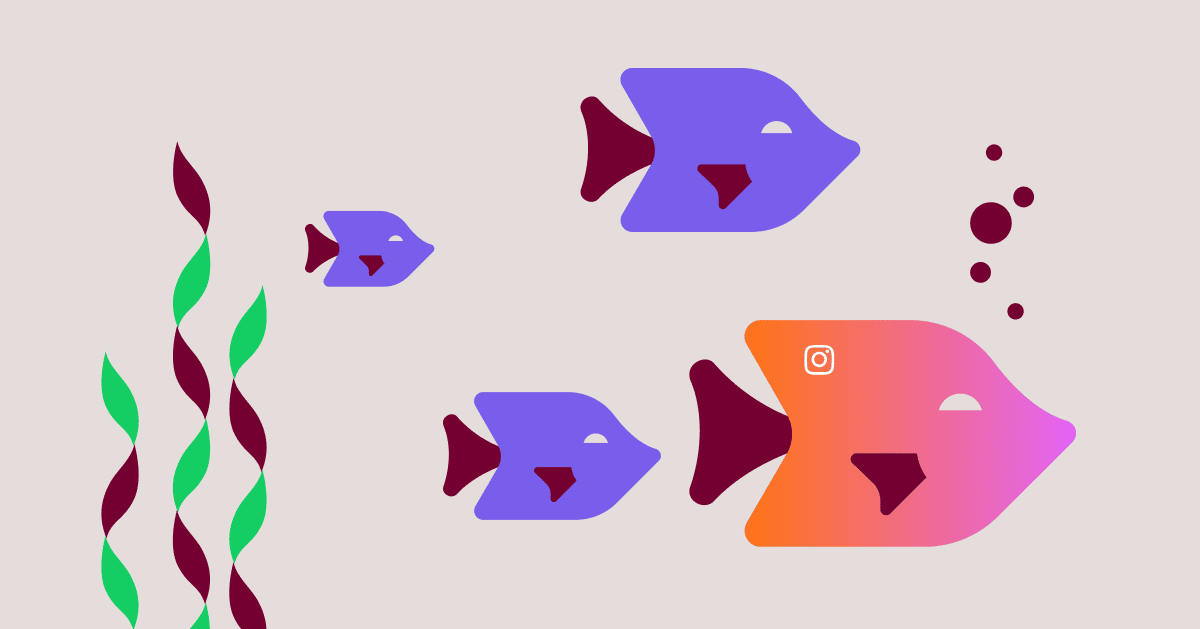 Appearances play a critical part in social media marketing and branding on Instagram. When potential customers visit your Instagram profile, the first thing they'll notice is how your overall profile looks. Your Instagram aesthetic is the first impression you give them—it's up to you to get it right.
A cohesive Instagram theme or aesthetic is the best way to provide brand consistency. Why is that important for the social media platform? According to research from Lucidpress, average revenue increases by 32% with consistent branding.
If your business is struggling to build an Instagram aesthetic unique to your brand or you're not sure where to start, keep reading. This Instagram branding guide will cover:
What is an Instagram aesthetic?
What are the benefits of a brand aesthetic on Instagram?
How to create a unique Instagram aesthetic
Instagram aesthetic ideas and examples
What is an Instagram aesthetic?
The concept of an Instagram aesthetic is simple. Make your Instagram account look appealing and recognizable to Instagram users by adhering to a specific color palette, fonts, photo editing styles, and planning your posts.
For example, if you're a fitness-focused brand you might make use of strong, bold color choices and fonts, and maybe a gritty, high-contrast photo preset.
Sounds simple, right? Then why do some brands fail with this type of social media marketing?
According to research from eMarketer, the top three challenges for marketing and sales professionals to integrate brand identity are:
Cannot ensure brand assets meet brand standards (31%)
Brand importance is undervalued (31%)
No uniform brand guidelines (31%)
For small businesses and influencers, most of these Instagram brand problems are easy to fix by building a brand aesthetic.
Creating one from scratch is super easy. But even if you're working on an existing account, the effort of creating a brand aesthetic to attract potential customers is still worth it. Now let's move onto benefits you can expect to enjoy from a brand aesthetic.
What are the benefits of a brand aesthetic on Instagram?
The research above alludes to some of the benefits of having a brand aesthetic. For example:
Building a brand aesthetic helps create brand standards: Business websites are easy to "set and forget." However, you need to update your Instagram feed regularly. This means Insta can drive brand standards even more than a website.

Maintaining a brand aesthetic shows the value of brand consistency. Remember how consistent branding generates 32% more revenue on average? Consistent brand aesthetic = growth = value.

A brand aesthetic solidifies uniform brand guidelines. Some accounts end up looking thrown-together because posts don't adhere to any guidelines. With an established brand aesthetic, you have guidelines to follow.
Instagram is a platform where your brand personality can shine. With the help of a formal brand aesthetic, your Instagram content will generate amazing benefits.
How to create a unique Instagram aesthetic
Building an Instagram aesthetic starts before creating Instagram posts. So let's take a look at the steps you need to follow before you think about hitting the "share" button using your Instagram profile.
Step #1: Think about your brand
Your Instagram aesthetic is an accumulation of ideas that visually express your brand identity to potential customers. But for that expression to take place, you need to define what your brand identity is first. Your brand is what makes you stand out from competitors in your niche.
If you're an established business, chances are you have a few assets to start with, like business website, logo, color scheme, and a defined target audience. If so, you can skip to step two.
If you're building your business from scratch and you want Instagram to be there right at the beginning, ask yourself the classic questions:
What does my brand stand for? Defining your why is crucial, not just for branding on Instagram, but also for long-term business goals. Having one or more core values helps to establish why your brand exists and why people should buy from you.

For example, if you have a vegan food brand that emphasizes the environmental impact of food, it'll have a different approach to one that prioritizes health benefits. These differences will change how your feed looks.

Who is my target audience? As with any social media platform, you need to be specific about who you're trying to reach with your Instagram account.

For example, the audience for a hipster grooming brand is going to be very different from a bridal gown and accessory brand. Think about talking to an individual instead of a group of people.

What is my brand's personality like? The brand personality tends to come together while defining your values and target audience. You want it to resonate with people so they can identify with it.

You can express a personality in a few ways—from brand voice to overall mood or vibe. Think of the environment-focused vegan food brand: It might aim to have an educational, friendly, and approachable personality with an earthy, grounded vibe.
After answering these questions, you'll be able to put together concepts for how you can express the brand visually.
Step #2: Translate your brand visually for Instagram
There are two main focus areas that influence thevisual aspects of your Instagram account: color and editing.
Color is arguably the most important element of a cohesive Instagram aesthetic. Research suggests that about 62 to 90% of a product assessment is based on colors alone. On top of that, brand colors are one of the dominating factors in generating a brand personality.
Think about it: Would it make sense for a calming, Scandi-style interior furniture brand to have a neon-based color palette? Probably not.
The easiest (and most fun) way to help create your brand color palette is to curate a mood board of pics your brand might post or create similar posts. You can do this using a platform like Pinterest or Canva. With a large enough mood board, you're likely to notice a pattern in color and style.
You can also use a tool like Colorkuler to help you work out an existing color palette on your profile.
Creating a mood board and color palette also helps you with the second element: editing.
The easiest way to maintain a consistent color palette and vibe is to use photo editing presets or templates. Programs like Adobe Lightroom or Photoshop have editing tools that can help you build presets you can use on all of your Instagram photos before publishing them.
This process helps make your profile look uniform regardless of the content you post. On top of that, investing the time to create a preset or two upfront saves you hours of editing work later on.
Step #3: Plan your Instagram feed
Creating posts that follow your brand colors and style leads to the next step: planning your Instagram feed. You might think if all your posts are going to look similar in style, tone, and color, why plan at all?
Some posts might look good on their own, but when placed next to another one can create a disjointed feel as a result of angles, dominant colors, or even the post context. So taking the time to see how your next few posts will look together on your feed will help you improve your overall aesthetic.
There are several great post-previewing tools available that help you see how your "grid" will look. Some popular ones include Planoly, Preview, and Preppr (alliteration not intended).

Some of these tools include a built-in scheduling feature, so you don't even need to remember to post your planned feed!
Step #4: Incorporate your aesthetic across different types of content
With a better grasp on how you want your Instagram presence to look in your feed, it's time to look at different content—including Instagram Stories, Reels, video, and Story Highlights.
The best brands don't stop at making feeds aesthetically pleasing. Since the Story Highlights section is the next noticeable area people see, it's essential to consider its aesthetic as well.
Here you can use custom cover images for your Highlights that complement your aesthetic. Gymshark's profile is a great example of how to use Highlight cover images effectively:
These black and white images accompany its feed posts (which are mostly high contrast and sport/gym related).
But to get Story Highlights, first you need to post Stories. It's challenging to get Stories and Instagram Reels to adhere to an aesthetic unless you're filming the same types of videos in the same places (hint hint).
However, a few quick methods for achieving that uniformity are to either use stylized captions or find a way to include your dominant brand color in backgrounds, text color, filters, in-frame props, etc.
Instagram aesthetic ideas and examples
Now that you're aware of the concept of a brand aesthetic for Instagram marketing, we're going to show you a few examples of brands that are actually pulling it off. Without further ado, let's jump in.
Protein Works
Protein Works is a fitness supplement brand known for its popular protein shakes and accessories. The business itself has recently undergone a whole rebrand ( this is a great example if you're thinking of doing the same thing), essentially removing one of its old key colors—bright orange.
You'll notice it has also opted for minimalist-style icons that include a ring of its new base color, a warm brown, in its Highlights. As you can see, the color palette of its feed posts also includes this warm brown or variations of it—which ascribes an overall warm and homely feel to the brand.
All Villain Apparel

Moving into the clothing space (but not away from fitness), we have the brand All Villain Apparel. It's a gritty athleisure brand with clothes designed to be worn in the gym and on the street.
In this example, you'll notice it has followed the advice about using a consistent filter or preset for its still images to create a high-contrast, dark look that complements the brand vision.
It has also made use of the Story Highlight space to create an illusion of its abbreviated brand name. However, it could make better use of the feature by giving the Highlights individual names and themed content.
Soho Home
Another brand that makes use of a warm color palette is Soho Home. The brand is an interior decor business designed to bring comfort in a bohemian style.
As you can see, Soho Home and Protein Works have very similar color palettes—muted saturation and warm browns. If you'd also like to create a warm homely feel for your brand, you can use a similar color palette and take inspiration from existing brands. The context of your posts within the rest of your profile is what will makes your brand stand out.
Peppermayo

For a final example, we'll be looking at Peppermayo, a women's clothing brand with a penchant for pastel.
While not every clothing item Peppermayo sells is pastel-colored, its overall brand color scheme is presented that way. Soft pinks, greens, and creams help to express the brands perceived "soft" femininity, though it still offers bold style choices.
You'll also notice that each of its feed posts has imagery from different places and contexts, making the aesthetic a little more difficult to achieve—in theory. However, the brand has managed to sneak in at least one of its key colors in every photo. This creates cohesion, but in a much more subtle way.
Take your Instagram marketing to the next level
Building an Instagram aesthetic might seem overwhelming at first, but with time and practice (plus using handy presets and style guides) it becomes second nature. Since it's so expressive and unique, creating one can even be the most fun part of building a brand on Instagram.
But once you've established the overall appearance of your brand Instagram account, what's next? With the help of Instagram Automation by ManyChat, you can leverage your growing audience to make your Instagram account work harder for your business.
Key features like Conversation Starters, DM chatbot Automation, and the Story Mentions Trigger allow you to put time-consuming tasks on autopilot—helping you build relationships (and revenue) even while you sleep.
Grow your Instagram following and make sales with Instagram Automation by ManyChat. Start free today.
The contents of this blog were independently prepared and are for informational purposes only. The opinions expressed are those of the author and do not necessarily reflect the views of ManyChat or any other party. Individual results may vary.