Instagram Promotions Made Easy: How to Support Your IG Campaigns With ManyChat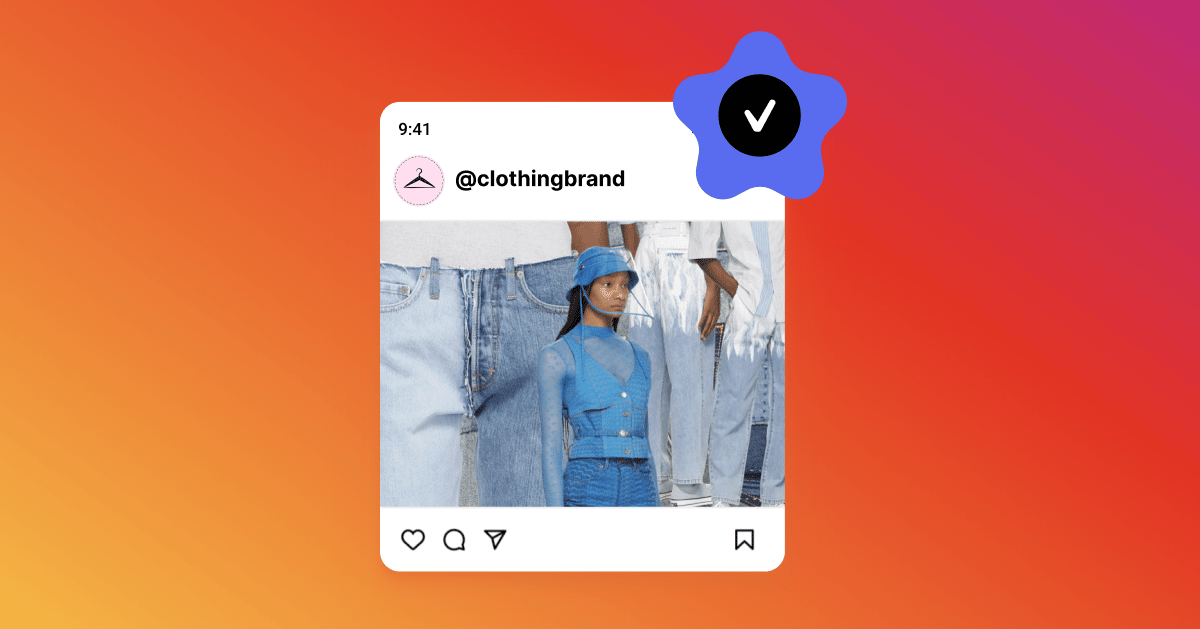 With a potential audience of more than 1 billion people, Instagram (IG) is a critical channel for social media marketers. Even better, thanks to its use of Facebook's advanced targeting capabilities, it helps you get your message in front of exactly the right audience. (You know, the people who are most likely to buy your product and services!)
It's essential to understand how Instagram Automation by ManyChat works so you can take advantage of Instagram's vast potential. Businesses can use IG Automation to improve their return on investment (ROI) for their Instagram marketing efforts.
This short guide will show you how to supercharge your business results by leveraging automation to connect with interested people through conversations.
Start conversations from Instagram ads
Instagram ads are one of the best ways to promote products and increase sales for several reasons. For one thing, over 80% of people have bought a product after seeing it on the app. Imagine if you could connect with this impressionable audience in a meaningful way and at scale? (Oh, wait, you can! Keep reading to learn how.)
Start by creating conversational Instagram ads right from Facebook Ads Manager. When building your ad, choose the Instagram Direct placement. Then scroll to the Message Template block and click +Create, where you'll have the option to add welcome text and questions. The viewer will see these when they interact with your ad.
The trick here is adding a phrase that includes your Keyword Trigger. For example, if your keyword is "menu," one question could be "Can I see a menu?". When a person taps the Send button, it'll trigger the predefined flow for that keyword.
Easily turn your Stories into sales
With over 500 million viewers daily, it's no surprise that businesses today use Instagram Stories to successfully promote their products and services. Here's why: 58% of users claim they've become more interested in a brand or product after seeing it on one or more Stories.
Stories are also a place where conversations start between a business and viewers. While this is a great opportunity for brands, manually messaging people back soaks up valuable time and resources.
One way to reduce the time you spend on manual messaging is by using keyword triggers. Say you're running an Instagram promotion for an ebook download. If you use a phrase like "DM us the word 'ebook' to get this free download," interested viewers can type "ebook" into Instagram Messenger and quickly receive it.
No manual messaging needed.
Setting up this action sequence in ManyChat is simple. Create an Instagram Keyword trigger in Flow Builder and write a few follow-up messages.
You can set the keyword to be any word or phrase. In the previous example, we used "ebook," but say you're running a masterclass about energy medicine. In this case, the trigger keyword could be "energy." Just make sure the keyword matches your offer, and you'll be good to go.
Promote from your Instagram bio
Want an easy way to attract more engagement for your Instagram promos? Promote your campaigns in your Instagram bio.
Say you're running a keyword campaign to acquire new sign-ups for a webinar. You can add copy along the lines of "Message us the word 'XYZ' for more information."
Followers just need to send an Instagram Message, and your promotion will run itself from there.
Run giveaways
Giveaways and contests are a highly successful organic Instagram growth strategy. Nearly 72% of consumers say they want brands to post discounts on social media, yet only 18% of marketers believe customers want to receive discounts on such platforms.
You can run regular competitions and giveaway promotions for your brand to grow your business using Instagram. A common tactic involves "comment and tag-a-friend" content; it's a great way to expose new people to your brand. The concept is simple: Just ask people to tag their friends in the comments for a chance to win a prize.
One way to generate even more campaign engagement is by responding to people after they comment. Brands typically do this in the comments section, but you can also send messages straight to the commenter's Instagram Messenger inbox.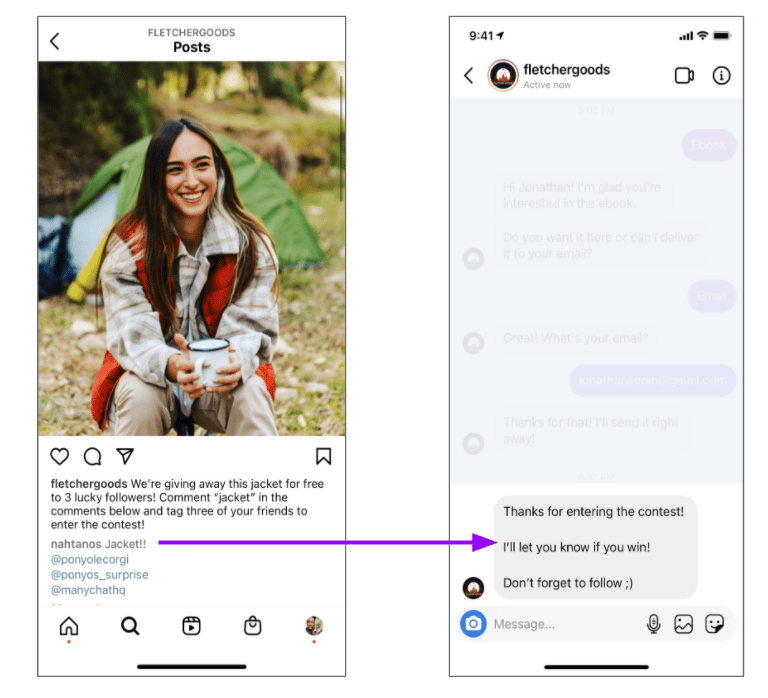 You can use ManyChat to automatically respond to these comments. Send a thank you message, get permission to send contest updates, or collect contact info for future promos. You could even strike up a conversation with the person to get to know them.
Giveaways and contests are always exciting for your followers. Use them to connect with your fans and build meaningful relationships that benefit your business.
Read more: How Roma by Rochi Saw a 741% Lift in Engagement Using Instagram Automation
Qualify leads automatically
Question: Does it feel like the act of qualifying leads often sends you on a wild goose chase? If you've been a brand on Instagram for some time, you know that not every message or new follower leads to a sale, which makes the qualifying process all the more frustrating.
Sometimes you'll chat with a person, answer their questions, and help them out, only to have them leave without buying anything. Maybe they tell you they never had the budget to buy your products and services to begin with. Or they just ghost you. What a bummer!
You can avoid wasting your valuable time by using Instagram Automation for ManyChat. It continually helps you qualify leads automatically after you've set up a flow. Connect all your Instagram promotions to a lead qualifying flow, and you'll save time and energy that you can devote to more rewarding activities.
Managing leads inside ManyChat eliminates the need to manually determine which leads deserve more attention in your sales cycle. You or your team will no longer have to deal with unqualified messages and can focus on down-funnel activities that boost ROI.
When creating these lead flows, you can power the entire conversation using User Inputs. Collect data on a follower's goals, challenges, or experience with a topic, then mirror it back into future message copy for conversations with them. This is how you can personalize your offers and convert more leads at scale.
Your ManyChat CMS stores all the information you collect about users so you can use it for future Chat Marketing campaigns. You can also connect it to another CMS, like ActiveCampaign or Hubspot, to automatically sync customer data and utilize it across all your platforms.
Read more: How to Set Up Lead Scoring in ManyChat
Prompt new customers with talking points
The larger your following gets on Instagram, the more direct messages you'll receive. Big brands and influencers on IG often struggle to respond to every message right away. Some messages may be urgent and need your attention; others may be common questions you see repeatedly.
Brands are turning to Conversation Starters to help send people the information they want faster. Conversations\ Starters are quick replies that prompt a conversation with a new customer. You can set up to four customizable buttons that appear the first time a user interacts with you on Instagram.
Think about the questions you normally get on Instagram to create your Conversation Starters. For example, if you're a retailer, people may be looking for deals and specials. If you're a restaurant owner, they may be interested in your menu or location.
Choose the top four topics people usually message you about and turn them into Conversation Starters. You'll create a better user experience in Instagram Messenger and decrease the time you spend manually messaging each person.
Improve response time for questions
When you start running these automated processes, you may feel less authentic or engaging. But that couldn't be further from the truth. Leveraging automation to run your Instagram customer engagements allows you to give people what they want: Fast, reliable service.
The best part? If someone needs human support or you want to reach out personally, you can jump into a live chat conversation. 
Grow your Instagram following and make sales with Instagram Automation by ManyChat. See if your business is eligible by applying below.
The contents of this blog were independently prepared and are for informational purposes only. The opinions expressed are those of the author and do not necessarily reflect the views of ManyChat or any other party. Individual results may vary.