How to Use Mobile Traffic on Facebook to Boost Your Marketing Efforts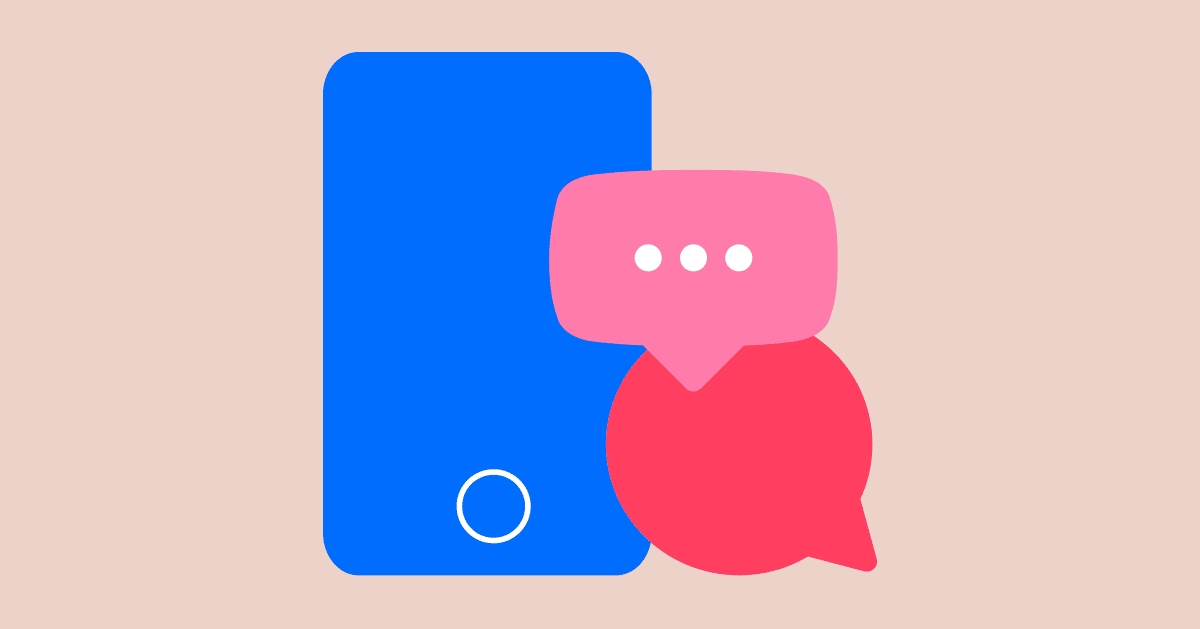 The secret to Facebook marketing is leveraging mobile traffic.
It may come as a surprise, but over 98% of active Facebook users worldwide accessed the platform on a mobile phone as of January 2021. Digital innovation, ever more powerful smartphones, and changing consumer behaviors have driven people away from computers and onto their mobile devices.
So, how can you leverage Facebook mobile traffic to drive better business outcomes? This article will walk you through three easy ways to start today.
What percentage of Facebook traffic is mobile?
According to Statista, 98.3% of the social media juggernaut's users accessed the platform on a mobile device in January 2021. Based on current data, that amounts to nearly 2.75 billion monthly active Facebook users on mobile. 
Of course, you're not going to be targeting Facebook's entire user base. You'll likely end up leveraging Custom Audiences to find the best customers. When done well, focusing on mobile traffic from Facebook can help you achieve vital business goals, including:
Raising brand awareness
Improving conversion rates
Building relationships with your customers
Generating more qualified leads
Facebook mobile traffic strategies: 3 ways to optimize
Now that you're more aware of how important mobile is to your social media marketing strategy, let's look at three ways to optimize for Facebook mobile traffic.
Run mobile-friendly ads
When you create a Facebook ad campaign in Facebook Business Manager, you can choose from different ad options. While all ad types can be effective (more or less), you'll want to select the best format for a mobile audience.  
Options include:
Click-to-Messenger ads
Instant Experience
Carousel ads
Collection ads
Lead ads
Click-to-Messenger ads
These mobile-friendly ads send individuals who have clicked on your ad directly into Messenger. They also work for Instagram feed ads.
Click-to-Messenger ads help you start conversations with people while simultaneously leveraging Facebook's highly detailed targeting abilities to help find relevant leads for your business. You can tailor conversations to meet your audience's needs and drive favorable business outcomes, one conversation at a time. 
Use cases for click-to-Messenger ads include:
Generating leads for your business with promos and deals
Raising awareness for your brand and its products
Driving direct response sales
Take advantage of Facebook's mobile traffic with ManyChat. Start free today.
Instant Experience
Instant Experiences aren't technically an ad format, but you can add them to specific ad types to create a mobile experience. Think of an Instant Experience as a landing page that immediately loads in Facebook (sparing the user the aggravation of waiting for an external domain to load, which can take ages). It also takes up the whole screen. 
Some use cases include:
Launching a new product: You can create an Instant Experience to immerse your target audience and build hype
Highlighting a specific service you offer
Sharing your brand story to build customer relationships
If you want to learn more about Instant Experiences, check out the article, "Facebook Canvas Ads Beginner's Guide." (Note that Instant Experiences were formerly known as Canvas Ads.)
Carousel Ads
The magic of carousel ads hinges on your ability to be creative with them. They display multiple images or videos at once, and each "slide" or "card" can host an external link. You can also include an Instant Experience or take the user into Facebook Messenger. 
Businesses can use each card to display individual products, walk the customer through a tutorial, or even take a "panoramic" approach, like in the example below.
Benefits include:
The ability to say more with fewer words by allowing multiple product or service images do the "talking"
The option to display multiple products at the same time, or even one product in several different situations
A chance to showcase multiple testimonials to build social proof
If you want to learn more about carousel ads, check out this article, "Facebook Carousel Ads: How to Launch Successful Campaigns." 
Collection Ads
Collection ads feature a cover image or video coupled with four smaller image slots below the cover where you can show off your products. 
The best part of using collection ads? They automatically include an Instant Experience where viewers will see your offerings through different templates: Instant Storefront, Instant Lookback, and Instant Customer Acquisition.
Collection ads are useful when you want to:
Create a usable storefront in a viewers' News Feed
Showcase your product catalog to new customers to convert them from browsers to buyers
Pair them with dynamic ads to retarget interested users
If you're itching to learn more about collection ads, check out our post "Facebook Collection Ads Quick Start Guide." 
Lead Ads
If lead generation is your bag, then look no further than the ad format designed specifically for this task: lead ads. These ads appear on the homepage as a standard image or video ad at first, but as a viewer interacts with the ad, it moves them into an Instant Form.
You can use these forms to gather either a "higher volume" of leads or fewer leads with "higher intent." The former helps you acquire newsletter signups, PDF/ebook downloads, or webinar signups; the latter is better for booking sales calls or consultations.
These mobile-friendly forms can help you:
Build up that all-important email list for greater digital marketing opportunities
Increase your conversion rate (Facebook will often pre-fill contact information for the viewer, making it effortless for them to submit a form)
Take advantage of Custom Audiences or Lookalike Audiences that can snag you high-quality prospects
Retarget customers who have already interacted with your business
If you want to learn more about lead ads, check out this guide, "How to Use Facebook Lead Ads to Grow Your Business."
These ad formats aren't the only ones available through the Facebook mobile app, but Facebook has specifically designed them for optimal mobile engagement.
Use a Facebook Messenger bot
Earlier, we mentioned an alternative to linking to an external landing page in your ads: using the CTA or action button to direct the customer to Facebook Messenger. At first glance, you might think, "I don't have the time to be chatting with customers all day long!" but that's where Facebook chatbots come to the rescue. 
Chatbots are bits of AI-based software that use Natural Language Processing (NLP) or pre-determined templates to communicate with users. Businesses use them in place of real people to respond to customer questions and help move prospects down the funnel towards a conversion. (With ManyChat, you can also have a human jump into Live Chat if a problem arises or you need to answer specific questions).
It sounds futuristic, but chatbots are very common these days. In fact, you can get started quickly by making a Facebook Messenger bot without using any code. 
A chatbot can help you with several different business processes, like:
Customer service support. If your business sells products, you can use a chatbot to send order updates, process returns, or direct customers to an FAQ page.
Personalized marketing. Bots can help you automate and personalize your marketing communication and offer a refreshing change from email marketing.
Lead generation. Once you identify a prospect or potential customer, chatbots can help you continually process and analyze data that can surface "hot" leads.
Using a chatbot is like having a 24/7 assistant helping you run the customer-facing parts of your business while you take care of the more critical, strategic parts.
Chatbot examples
To help you get a better idea of how chatbots work in real life, here are a few businesses that each use bots a little differently.
Kaimana Jerky
These fish-jerky folks at Kaimana Jerky in Hawaii use a Messenger bot to relay straightforward, no-nonsense communication. They use a welcome message to introduce themselves and their bot, "Kōkua":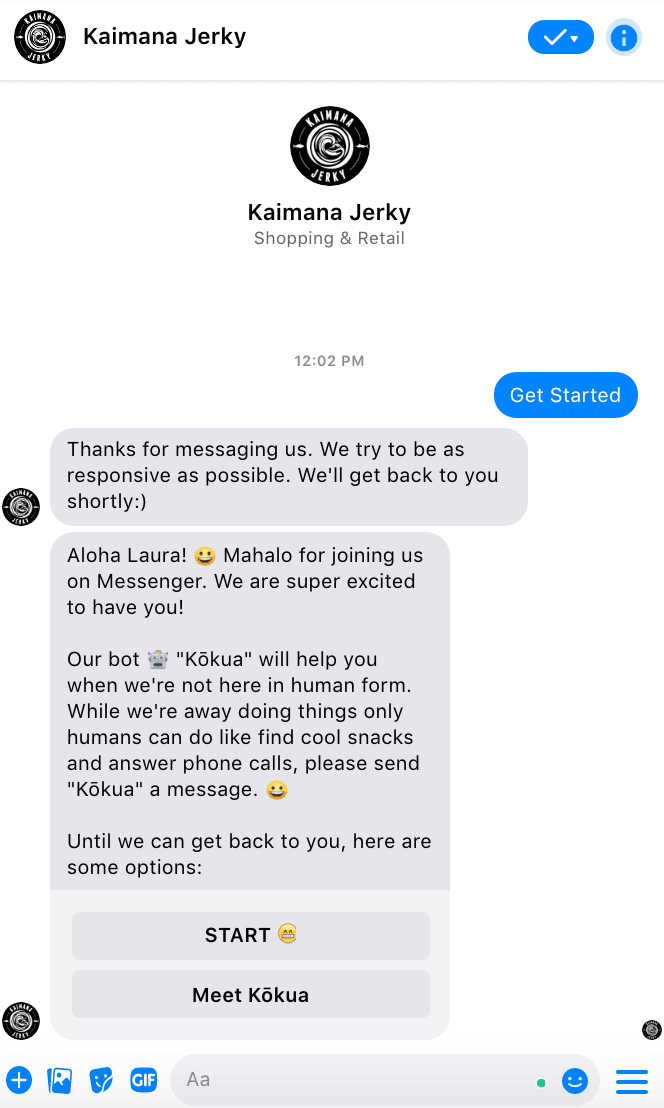 They use Kōkua to direct customers to their shop, triage messages that need human attention, or provide their business phone number so customers can call if they need jerky now. Nothing too technically fancy, but the voice they've given their bot sure helps them stand out.
Job Bot
Job Bot helps people to look for a new job right in Messenger! This bot is a little more sophisticated because it needs to process multiple variables users might throw at it, like city name, keywords for job titles or skills, whether or not the user wants to receive updates, and more.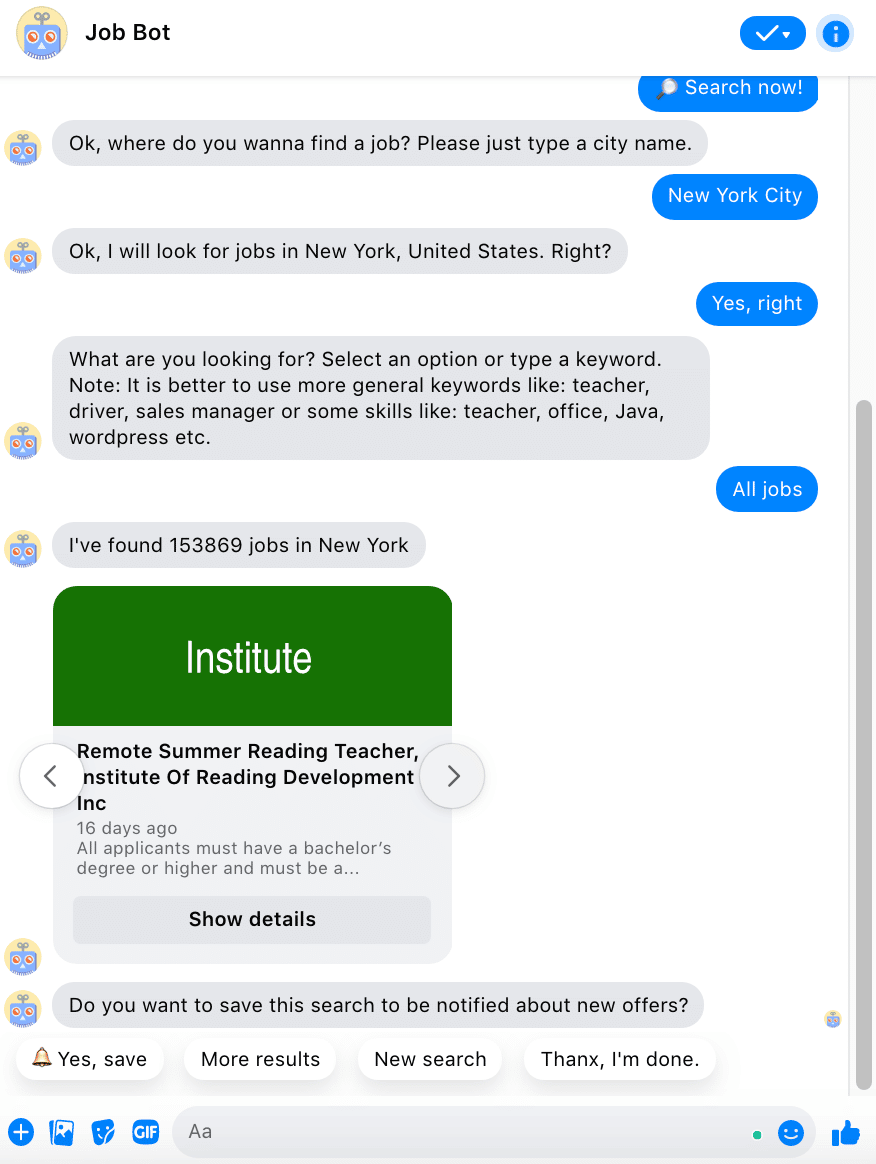 You'll also notice in the example above that the bot also provides a "galleried" response showing links to jobs it could narrow down later on in the conversation. This kind of response is also helpful for product-led businesses like Zinvo.
Zinvo Watches
Zinvo Watches is an L.A.-based premium watchmaker brand. To help leverage mobile traffic from Facebook, the company built a Messenger bot linked to a paid ad that helped customers find their perfect watch based on a chat quiz.
The customer would answer style preference questions leading them to the galleried options shown in the example above. As a bonus, each completed answer helped Zinvo tag and segment its audience so it could provide relevant promotional offers in the future.
Read more: How Zinvo Watches Uses Curated Offerings to Drive Conversions with ManyChat
Go live
If you're looking to improve your metrics inside Facebook, our final tip for leveraging mobile traffic is a little more hands-on. It involves using Facebook Live to generate leads. 
Why use Facebook Live instead of uploading a standard video? For one thing, Live videos generally get 3x as many video views as pre-recorded videos. This means higher organic reach for your business Page and Facebook posts because more people are likely to engage with them. 
You'll want to either use a business Facebook Page or personal brand account to broadcast your Live events. Take a peek at how Molly Mahoney turned one Facebook Live video into $90,000 in sales for inspiration. She used a powerful combination of Messenger bots and ManyChat's Comments Growth Tool with her Facebook Live broadcast to generate leads for her consultant training program. 
You can read the exact steps she took in the case study linked above, but here is the gist of her process:
Molly hosted a Live video speaking to consultants she was targeting; the video connected to the Comments Growth Tool.

When a viewer responded to the Comments Growth Tool message, it opted them into a Messenger bot flow which included a link to the Facebook group delivering the course content and more information on signing up.
Of course, you can use Facebook Live more straightforwardly. Here are a few common uses:
Product or service demos
Hosting Q&A sessions
Talking about flash sales
Hosting interviews with relevant people in your industry
Offering free live training (which can lead to paid training)
Facebook Live offers substantial opportunities to intimately engage with your customers. If you want a step-by-step walkthrough on going live on Facebook, read our guide, "How to Go Live on Facebook (+ Tips and Examples)."
Optimizing your Facebook marketing for mobile traffic
With so many users accessing the internet from their phones, mobile traffic from social media platforms (especially from Facebook) can be an incredible opportunity for finding new business. However, many marketers will often let this traffic go to waste by neglecting to optimize for mobile. Don't let this happen to you!
With these practical tips, you can get a leg up on the competition and create a more enjoyable experience for your audience.
Take advantage of Facebook's mobile traffic with ManyChat. Start free today.
The contents of this blog were independently prepared and are for informational purposes only. The opinions expressed are those of the author and do not necessarily reflect the views of ManyChat or any other party. Individual results may vary.