9 Powerful Facebook Advertising Tips (That Actually Work)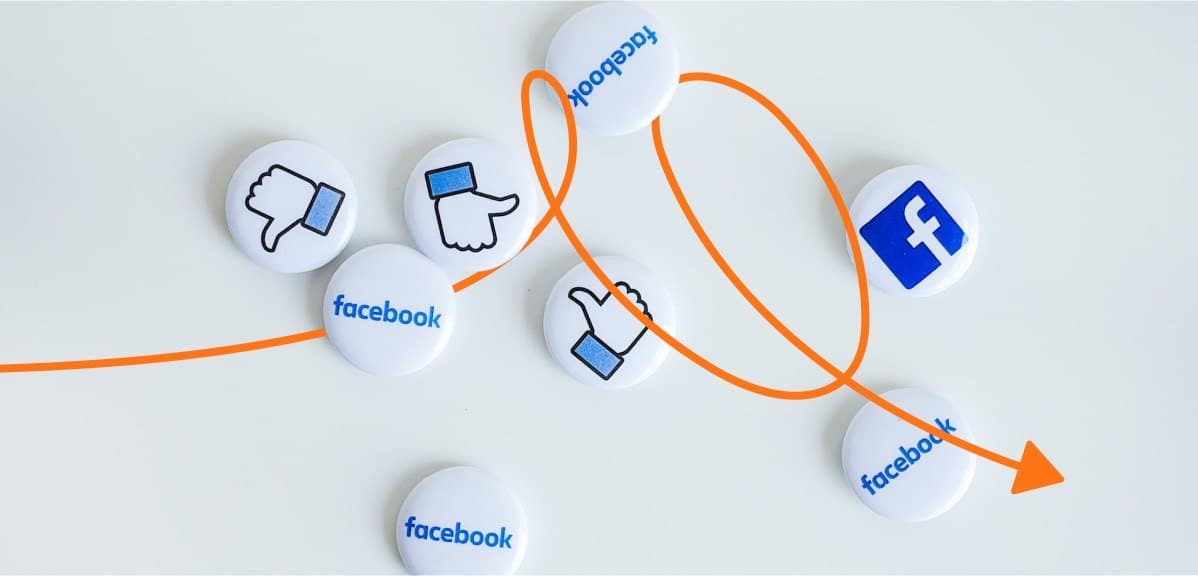 You've probably seen the stats talking about how Facebook advertising outperforms other advertising channels, reaching new audiences and driving company revenue faster.
But when it comes to your campaigns, the results are less than remarkable. So is it time for you to give up on Facebook ads? Probably not. It's likely you just need to take a few steps to increase conversions on Facebook ads.
Fortunately, there are a few key tips to boost the number of leads and conversion your ads are generating.
If you're spending time and budget creating Facebook ads but aren't getting the returns you expected, consider these nine Facebook advertising tips for boosting campaign ROI.
Nine Facebook advertising tips to boost conversions
1. Answer shoppers questions in Live Chat
It probably goes without saying, but shoppers may have questions about a product before buying it. Rather than forcing them to email or call a support agent, you can proactively answer their questions through a Live Chat.
Live Chat is a tool that lets you talk to shoppers instantly through a chat window in your Messenger bot or website. Since email responses can take up to 24 hours, Live Chat in Messenger lowers the time required and makes transactions faster and easier.
Say you you set up a flow where users can browse products in the Messenger window:
You can set up an "Ask An Expert" button for each product which sends shoppers into a Live Chat with your business.
Set up an action block to Notify any admins on the account and add the tag "Needs Help" to keep tabs on the shoppers. Then create a follow-up message to let the shopper know when someone will respond.
Transferring shoppers to Live Chat also triggers the Human Agent Message Tag, which gives you up to seven days to respond to subscribers. You could also download ManyChat's mobile app on iPhone or Android for quicker and more efficient communication.
2. Target custom audiences to maximize results
Facebook Custom Audiences are a powerful advertising tool that helps boost sales reduce wasted ad spend.
They are highly defined groups of people who've already spoken with your company, such as subscribers on Messenger, people who've visited your website, and people who have a specific lead score.
Even more, you can use Custom Audience to build lookalike audiences, or new potential customers who share key traits with your existing customers.
"Never advertise to people you don't know. Build Custom Audiences based on previous interactions are a great way to segment ads and drive results with your business. If you have an active Facebook Page, you have all the information you need to target a quality audience."

Trilce Jiron, Founder of TBS Marketing
Some examples of high-value audiences you can target are:
A Lookalike Audience based on your current subscribers and people who've recently visited your online store.
A Custom Audience of people who added products to cart, then abandoned the purchase.
A Custom Audience based on people who've viewed products, but didn't add to cart.
3. Run click-to-Messenger ads to reduce wasted ad spend
Traditional Facebook ads continue to get more expensive year-over-year.
If you're looking for ways to lower Facebook ad costs while maximizing results, run click-to-Messenger Ads. These ads let potential buyers start a conversation with your business inside the Messenger chat window. They are an effective way to drive interaction and sales from your Facebook ads.
While a traditional Facebook ad would send people to a landing page, this conversational ad style softens the approach to selling — which means you don't have to scare people away by pushing a sale. It's a more friendly and engaging style to run ads that consistently show higher revenue for businesses.
Take The Pearl Source, an online jewelry retailer, as an example. The company ran a 15% off coupon during the 2019 holiday season to attract more sales for the holiday season and build a list of customers for future marketing efforts. They offered the discount as an ad that clicks to Messenger, resulting in 254 redemptions (a 43% conversion rate) and over $64,400 in additional revenue from new customers.
Grab the same Facebook Messenger bot flow they used below to run your own successful ad campaign.
Check out the flow via this link. Then download it as a template for your own click-to-Messenger ads!
4. Show products inside Messenger
When selling online, it can be hard to connect people with your products. Distractions can take place during the interaction that cause shoppers to bounce. If you send them browsing products on your website, they may never get there. If you send a coupon to their crowded inbox, they may never get it.
A product gallery inside the Messenger window keeps people in the flow after seeing your offer. Shoppers can quickly browse your offers and make the decision to buy.
Here's how to build one in your ManyChat bot.
Product galleries in Messenger help familiarize customers with your products fast. By keeping everything inside the chat, you can offer Live Chat to answer questions and help people understand your products' quality to encourage them to buy.
Want to sell more products? Get ManyChat today. It's free to get started.
5. Take payment in chat
Studies on payment methods confirmed what we already know: convenience is a prime motivator for customers to buy. Businesses have to find ways to remove friction points along the path-to-purchase to increase conversions.
When it comes to Facebook advertising, taking payments inside of the chat is becoming more popular. Integrations such as Paypal and Stripe allow customers to pay through the digital wallet, meaning you can provide both a preferred customer experience and speed up the buying process.
Here's how you can set up in-app payments with ManyChat.
6. Promote a limited time offer
Limited time offers can add a sense of urgency to messages and help keep your ad top-of-mind to shoppers. When a consumer knows they have a short time frame to take advantage of an offer, they are more likely to jump on it.
5 Napkin Burger, a small chain restaurant in NYC, includes the phrase "limited time" to encourage people who receive the ad to take advantage of it.
The campaign, which ran from December 11, 2018 to January 31, 2019, helped the company reach a new segment of potential customers and drive new sales for the restaurant, including:
477 in-store offer redemptions
20% increase in average sale amount
10X return on ad spend
2,500 new Messenger and email subscribers
17% redemption rate
See where you can tie in the following phrases to encourage people to take advantage of your Facebook ad:
Limited time
Last time
Now
Today only
Deadline
Seconds
Minutes
Offer expires
One day only
Now or never
For more tips on writing good copy, we recommended reading 7 Tips for Writing the Best Facebook Ad Copy.
7. A/B test flows
Many experiments suggest that A/B testing and optimization can help marketers increase conversions and revenue. The hard part is finding the best testing method to make the biggest impact on your Facebook ad campaigns.
You can use A/B testing to quickly compare two ad strategies, or test different audiences, creative, placement, and bot flows. It depends on what you hypothesize and want to discover in your campaigns.
To learn more about A/B testing in Facebook Business Manager, start here. 
Testing your bot flows in ManyChat
When Chat Marketers test different flows in ManyChat, their goal is typically to measure the performance of each flow and reduce the cost per conversion.
There are two key ways A/B test in the platform:
Randomizer: The ManyChat Randomizer is a block you can add in flows to send traffic down different paths. You can test up to six different paths as long as the total percentages equal 100%.
After creating your messages and sending traffic through the flow, you can see which path performs better. You can then send more traffic down that flow to improve your overall conversion rate.
Conversion paths: This takes a little more work, but is worth it if you want to maximize your ad spend. It involves using different ManyChat elements for different paths to conversion and seeing which performs the best.
For example, The Dream Workshop, an online and physical retail shop in Costa Rica, ran a three-way split test in their latest ad campaign:
Facebook dynamic ads to websites with Live Chat support through ManyChat.
Facebook traffic ads attached a ManyChat bot flow using the Messenger Ref URL.
Dynamic ads pushed to WhatsApp for ages 55+ where a sales rep would talk interested people through the buying process.
By testing different paths to conversion, the retailer achieved a 438% return on ad spend, and sold an additional $43,800 in online sales during COVID-related government shutdown.
8. Send Sponsored messages
Compared to traditional Facebook ads, Sponsored messages are paid messages you can send out to any who has messaged your page through your bot or live chat. This includes people who have unsubscribed, but doesn't include people who have blocked your page.
In general, sponsored messages are more affordable and cost about 10 cents per opened message. They are not labeled as "Sponsored" until the receiver opens up the message.
Sponsored messages also get results. For example, in partnership with ManyChat Agency Partner Misfit Media, one family-owned sandwich shop delivered a buy-one-get-one-free coupon as a sponsored message to past customers.
They sent the offer to people who had interacted with Miller's Roast Beef on Messenger with a two-week deadline to redeem. Since their audience had previously expressed interest in the product, they were able to boost sales while keeping ad spend low.
Results included:
91% open rate.
417 offers redeemed.
Over $7,000 in additional revenue from repeat customers.
48% click-through rates.
Here's how to create Sponsored messages inside ManyChat.
9. Follow up with cart abandoners in Messenger
Messenger has one little rule you have to take account when following up on the platform. You only have 23 hours and 59 minutes to send someone a message after they interact with your bot. After that, you have to pay to send a Sponsored message or follow-up by SMS or email.
To automatically follow-up with abandoners, set a smart delay to send a message after a specific amount of time. This gives you one last chance to get someone to redeem a coupon or act on an order inside the Messenger window.
To set this up, tag the button click that you consider a conversion. In the example below we'll call it "Checked_Price".
Then, set up a smart delay to trigger a message after three hours of inaction. Create a condition that says "Tag isn't Check_Price", then create your follow up message. The condition will make sure the only people receiving your follow up are those who did not click the button in your flow.
If you want to learn more about the 24-hour messaging window, we recommend reading Facebook Messenger Marketing Policy Update.
Take advantage of these powerful Facebook advertising tips
As you can see, while Facebook advertising doesn't have to be insanely difficult. If you want to spend less time fixing and optimizing ads, and see more of the returns you're expecting, use these nine Facebook advertising tips to boost your campaigns ROI.
Improve your Facebook advertising with ManyChat. It's free to get started.
The contents of this blog were independently prepared and are for informational purposes only. The opinions expressed are those of the author and do not necessarily reflect the views of ManyChat or any other party. Individual results may vary.