9 Smart eCommerce Marketing Strategies to Boost Online Sales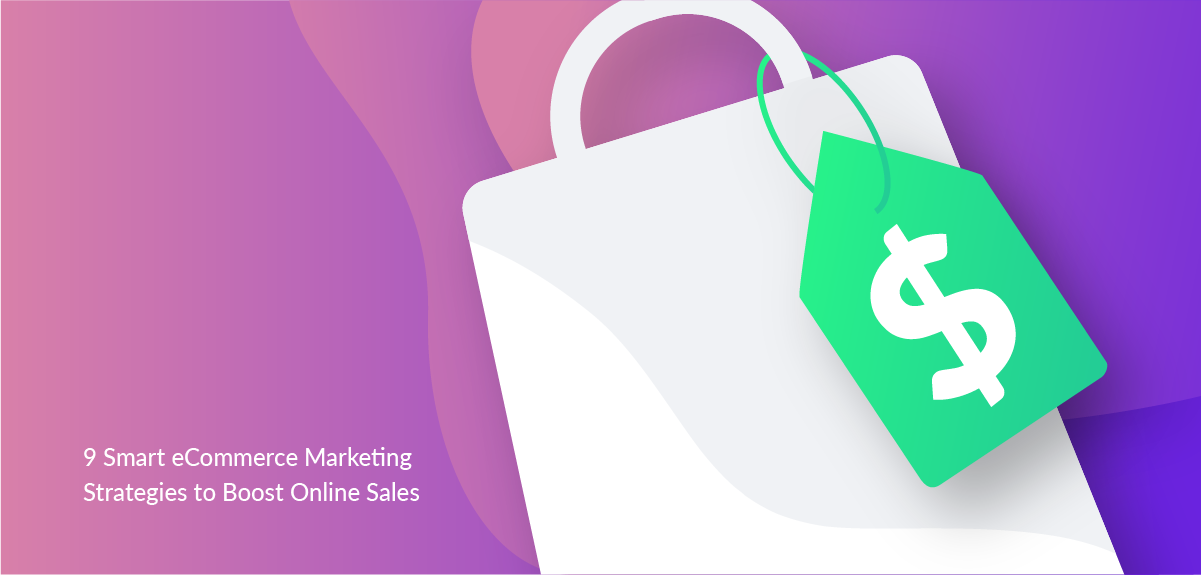 Here's the truth about creating an efficient eCommerce Marketing strategy: it's pretty complicated.
Read any guide to eCommerce marketing strategies, and you'll come across a bunch of "simple" and "easy" things that'll (maybe) drive more revenue.
… If only it were that easy.
If you're serious about creating a profitable eCommerce marketing strategy, you need to be smart in how you build a community on social media and retain customers.
Otherwise, you're doing what everyone else is doing: spending countless dollars on cold leads and people who don't care about your product.
So, ready to see how can you improve your online marketing strategy? Check out these top nine eCommerce marketing tips.
9 eCommerce marketing strategies to maximize engagement and boost online sales
1. Create content that visualizes your product
This is an important point.
People can't touch your products or see them in person when shopping online. So in turn, you want to find engaging ways to present products so people can get a feel for them, both on your e-Commerce site and on social media.
It replicates seeing the product in-store and helps shoppers make more informed buying decisions than a single image.
Research also shows that interactive content generates twice the amount of conversions than static content.
For example, many eCommerce sites use a zoom option so shoppers can see more details about the product.
Or create product videos that show potential customers the item in action like Training Mask 3.0
If you want to sell more online, it's smart to figure out how to bring your product to life digitally.
2. Invest in Messenger Marketing
Messenger Marketing is the act of using chat platforms to start conversations and commerce with prospective customers and loyal ones.
It's an essential channel because only about 15% of people will open your email, and 2% click through. There's lag time, limited post-click activity, and high unsubscribe rates.
Your Messenger bot will be more impactful when using it for your online store on social media. With Messenger, almost 80% of people open your message, and 56% click-through.
Whether it's slow sales day, end of month specials, or promoting a big sale — you can launch a campaign with little investment.
Messenger is quickly changing the eCommerce industry, are you ready to take advantage of it?
3. Use viral giveaway campaigns
When you're looking to spread the word quick, viral campaigns are a smart way to do it.
Sharing relevant giveaway content with friends has become easier, thanks to Messenger.
Why? Well, friends share stuff with their friends when it's fun and engaging.
A good eCommerce marketing strategy example is the Yava Fitness Centers and ManyChat + Viral Loops campaign.
The giveaway gathered nearly 35,000 subscribers for Yava Fitness Centers.
It was to the point, enticing, and only took two clicks to share with a friend.
Here's an example of the conversation that drove 48.8% of participants from Messenger referrals:

Read more about the Messenger Referral case study here.
4. Send exclusive deals to existing customers
No matter what strategy, tactics, or software you use, there's one universal truth:
Repeat customers help grow your online store, and more importantly, generate more revenue at a lower cost.
But how?
If it sounds complicated or daunting, here's something to think about — chances are, they're already going to buy from you. It's just a matter of sending them the right deals at the right time.
Reward customer loyalty by sending them special discount codes, weekly deals, or offers. Keep it simple: send a personal follow-up in Messenger to show them appreciation.
A few good times to send these are:
After the first purchase
When someone makes X amount of purchases
If they haven't purchased in a while
Personal events like birthdays or holidays
5. Deploy conversational Facebook Ads
Conversational Facebook ads are a surefire way to increase return on ad spend and drive online sales.
Basically, it's an automated conversation you have with someone to get their information, offer something, or recommend a product.
You can send them as Click-to-Messenger ads or Sponsored Messages, all on autopilot, too.
It's a cost-effective way to engage with potential customers, capture leads, and qualify them for your funnel.
Because everything happens in Messenger, keep your ads conversational, friendly, and interactive to see results.
Here's an example of a conversational ad to get sign-ups for a HubSpot webinar:
6. Promote organic posts
Facebook advertising is a huge eCommerce topic.
The main goal with Facebook advertising is to ensure that targeted people to click your ad and buy something. But creating that perfect ad is hard, and doing it wrong can affect everything from placement to cost per click.
To be honest, most eCommerce marketers don't need to worry about making ads from scratch.
Simply use organic posts from your Page that performed well, and target them to specific audiences.
It's the approach that MVMT, a small luxury watch brand, took to generate over $90M in revenue in five years through Facebook ads.
7. Build community around your brand
Start a Facebook Group where your audience can come to share information and interests or discuss concerns. Then, create content around those conversations to help out or inspire them on social media.
In saturated industries like beauty or discount retail, it's hard to carve a space for your company.
But have no fear — the community is here to help you build awareness and sell more to the right people.
Frank Body's built a community around women (or as the brand refers to as "babes") who want to show their natural selves, have fun, and enjoy their beauty products.
In an industry dominated by influencers and celebrities, this type of community on social media is rare. But it can significantly boost your marketing efforts.
The result? Annual sales of $20M and counting.
8. Include automation
Automation is an essential part of your eCommerce marketing strategy.
If you plan it right, you can set specials to go out for birthdays, holidays, end of month promos — all without lifting a finger.
So you can easily scale your business, and get maximum value from your investment.
9. Optimize your product pages for SEO and design
Optimizing your product pages, from keyword research to technical SEO to link building, can drive more targeted traffic and potential customers from search.
Start with a product title based on what people are searching for online. Tie that same keyword into your description and meta, then keep an eye on how you perform in search.
Bonus points for HD photos, product videos, trust badges, and shipping details too.
eCommerce is getting faster and happening on a ton of different platforms and devices. An effective inbound marketing plan can help boost revenue for your business alongside these strategies.
Start applying these eCommerce marketing strategies today
eCommerce has become a tough industry to compete in, but with a smart approach, you can tap into your audience and sell more online.
If you're struggling to jumpstart your online store, or sales are trending down, start applying these strategies today.
If you ever need help putting together a Messenger Marketing strategy for your company, we at ManyChat are happy to help! Sign up your free ManyChat account today to get started.