CoreCommerce Integration: How to Connect Your Online Store to ManyChat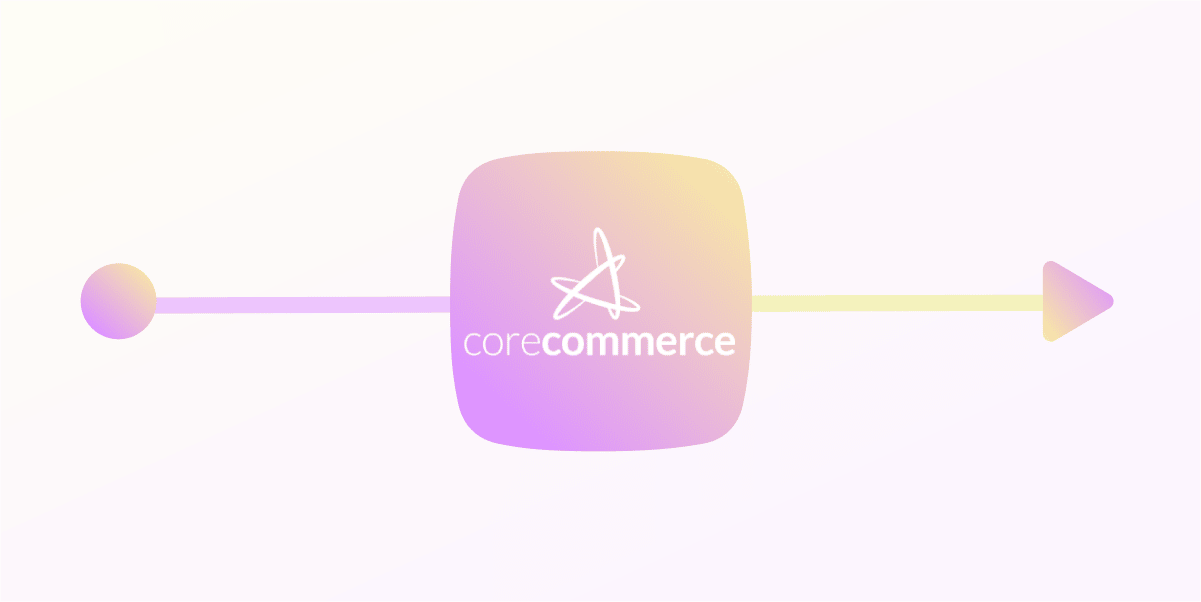 To be the best you've got to set your business up for success, and having the right marketing automation software is essential to beat out the competition.
Three-quarters of all companies already use at least one marketing automation tool, while 76% of marketers see a positive ROI within a year of implementing marketing automation into their business.
While other eCommerce software offers general automation guidance, nurturing prospects with highly personalized, useful content has — until today — been far from easy. 
When connecting ManyChat with the CoreCommerce platform, you can simplify and automate marketing tasks and workflows, to increase efficiency, build relationships with customers, and grow revenue faster.
Here's a handy walkthrough to get set up, today.
Why connect your CoreCommerce store with ManyChat?
Five key perks you get from connecting ManyChat to CoreCommerce are:
Turn store visitors into subscribers. ManyChat's Growth Tools let you build high-converting opt-in tools that are optimized for maximum engagement. Display your most attention-grabbing offers. Adjust the design, timing, and placement, then publish it to your site with one click. Grow your subscriber list fast.
Create an engagement marketing engine. Use Flow Builder to connect with customers through SMS, Messenger, and email. It's the easiest way for merchants to build multi-channel drip campaigns, send post-purchase follow-ups, collect feedback, increase conversions, and drive sales.
Reach higher-value customers with your social media ads. Use customer data from your online store to create Facebook and Instagram ads that expand customer reach and increase sales. Track interactions and ROI inside the ManyChat in real-time to see which ad strategies make you the most money.
Sell more products with personalization. Get access to robust workflow automation tools that increase revenue and recover lost sales. Create personalized offers based on user behavior and purchase history. Send abandoned cart messages on Messenger, SMS, and email to automatically follow-up with people who leave your store without buying anything.
Offer real-time customer service through Live Chat. Let a human talk with store visitors, anytime, anywhere. With ManyChat's mobile app (available in the App Store and Google Play), you can chat with customers from your phone to help solve problems and make sales.
Connect your CoreCommerce store with ManyChat with this step-by-step guide.
How to connect your CoreCommerce online store with ManyChat
Connecting your CoreCommerce store to ManyChat takes three simple steps:
Create a Growth Tool in ManyChat
Authorize your domain in ManyChat account
Add Javascript Snippet to CoreCommerce store
1. Create a Growth Tool in ManyChat
First, sign in to your ManyChat account, or create one if you haven't yet.
In your dashboard, click the Flows tab in the left navigation bar. Then click the + New Flow button in the upper right-hand corner.
Name your flow and click the Create button.
Next, you'll end up in Flow Builder. Click Add Trigger.
Select a Widget from the menu. For this example, let's set up a Customer Chat.
Once you load the Customer Chat, create your Greeting Text and Follow up message in Flow Builder. Then click Install JavaScript Snippet.
2. Authorize your website and copy JavaScript code
Add your website domain to the authorize website list.
Copy the code under the Install ManyChat Snippet tab.
3. Add Javascript code to CoreCommerce account
Go to your CoreCommerce admin dashboard and hover over the left navigation bar. Click Design and Edit HTML/CSS.
Scroll down and find Select a file to edit. Click the dropdown menu below and select header.html.
Add the Javascript code between </head> and </head>.
Then scroll up and click Publish All Files.
Once you publish the adjusted file, your Overlay widget will show up in your online store.
Note: If your widget does not show up, go back to your ManyChat dashboard and check if the widget is activated.
To activate a widget, toggle the Disabled switch to Activated in the bottom left-hand corner of the widget settings in Flow Builder.
Please note that the CoreCommerce integration is available as part of our ManyChat Pro plan.
Getting the most from ManyChat for CoreCommerce
For CoreCommerce users, ManyChat integration is a smart choice to grow your small business. It provides a reliable way to create unique shopping experiences for customers and boost sales, is cost-effective, and quick to get started.
Want to connect CoreCommerce to your ManyChat account? Go Pro now.
The contents of this blog were independently prepared and are for informational purposes only. The opinions expressed are those of the author and do not necessarily reflect the views of ManyChat or any other party. Individual results may vary.