[Case Study] How The Beard Club Gained 30,000 Subscribers in 4 Weeks With Conversmart and ManyChat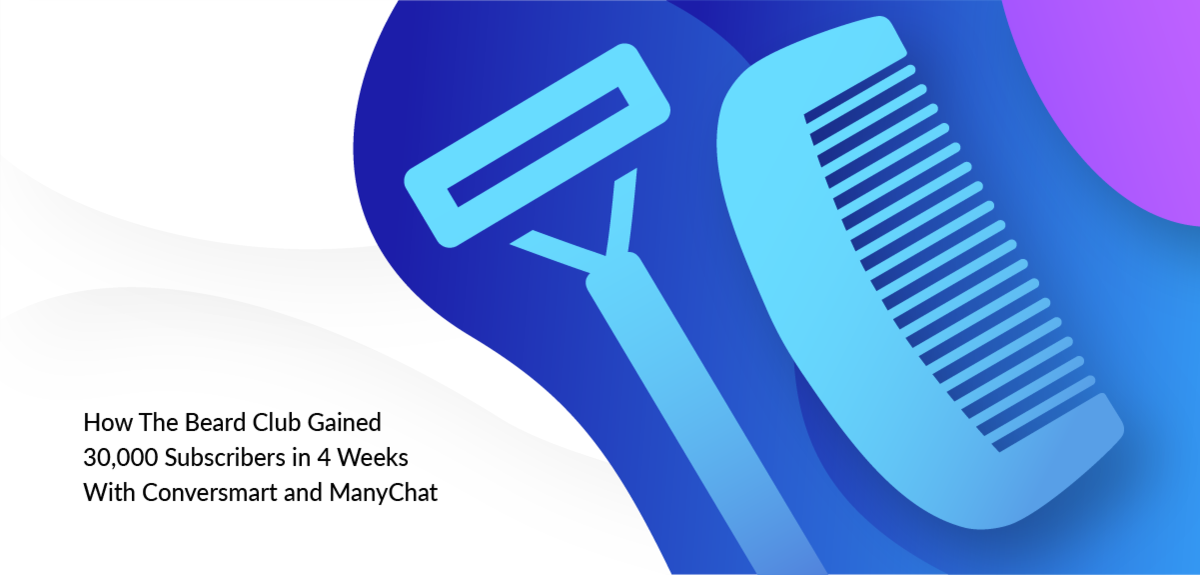 Since its debut in 2016, The Beard Club built a reputation as the finest direct-to-consumer supplier of beard care kits and growth products.
Although it had amassed a solid Facebook fan base of over 1M Likes, they felt there was a faster way to spread the word about their new beard oil.
They needed to create a viral campaign that would increase their number of subscribers, and use it to convert leads into customers.
Together with Arri Bagah, founder of conversational marketing agency Conversmart, they decided to use a ManyChat bot to execute their campaign. Within 4 weeks, they achieved great results, including 30,000 new subscribers, a 63% click-through rate, and substantial gains in revenue.
Top Stats
30,000K new subscribers
92% average open rate
62% click-through rate
A new consumer mindset driving change
In a little as 3 years after their first beard kit shipment, The Beard Club has become the top supplier of beard care kits and growth products for consumers. However, it's viral marketing efforts weren't able to keep up with their growth. The Beard Club noticed they needed a shift in strategy, one that would change sharing habits to smarter, more relevant engagement.

Arri explains, "The Beard Club has one of the most engaged pages I've seen. They've tried doing viral campaigns like this before using just Facebook and email, but it never really worked out. There was no easy way to share giveaway content with friends. They needed to adopt a Messenger-first mindset and focus on relevance and shareability."

The Beard Club teamed up with conversational marketing agency Conversmart, who advised The Beard Club on the giveaways timeline, featured product, tracking, and tools like the ManyChat platform. As a certified ManyChat Agency Partner, Arri Bagah is an advocate of the ManyChat platform and Messenger marketing approach.

ManyChat had everything Arri and The Beard Club needed to build out a viral campaign. Because of ManyChat's API, they were even able to partner with Viral Loops to better executive and track this type of campaign.
Viral Loops giving them the edge they needed
Referral marketing campaigns through email have largely invisible parts — especially around how people share. Viral Loops helps companies better track entries, participants, referrals, and other virility indicators. It was an easy decision for Arri and The Beard Club team to partner up with Viral Loops. Now they were able to quickly launch the campaign and access key insights to support future decisions.

Since Viral Loops works mostly in email and social campaigns, the next step was to create Messenger Giveaway templates for The Beard Club. When it comes to interactions in Messenger, the primary focus is replicating a friend-to-friend experience, not blast promotional messages to your subscriber list. Viral Loops happily (and strategically) accepted the challenge.

ConverSmart Founder Arri explains that ManyChat's API made it possible to connect the Viral Loops platform to improve tracking and campaign management. It was also important to him that The Beard Club was able to display dynamic content in their ManyChat bot.

For example, users were able to interact with The Beard Club's bot after entry. They could get their own share card, see how many entries they have, view how many people they've shared with, and even see how many people joined the giveaway. This kept entrants motivated to share with more people so they could improve their chances of winning the prize (which was a year-long supply of beard oil!).
A successful campaign, and niche audience to build relationships with
Thanks to Arri's chatbot strategy, The Beard Club's ManyChat bot is filled with relevant and targeted subscribers who they can build relationships with for the future. Within 4 weeks of running the campaign, The Beard Club saw over 30,000 new subscribers, while open rates reached 92%, and click-through rates at an impressive 62%.

According to Arri, "the campaign blew up because it's much easier for someone to share in Messenger. The chatbot acts like a friend, and you can easily click in and send to your own groups of friends and colleagues."

Arri continues to help DTC eCommerce brands build meaningful relationships and sell more with ManyChat. He adds:

"ManyChat has really helped me kick off my Messenger Marketing agency. It's perfect for people who don't want to code and want to focus on the marketing part. It's a game changer for small businesses who want to move to a platform that's fast, easy-to-get started on, and can deliver results for clients".

Ready to change your business forever? Create a free ManyChat account and build your bot today.