How to Use Messenger Marketing to Create a Multi-Tiered Loyalty Program that Drives Repeat Purchases From Your Best Customers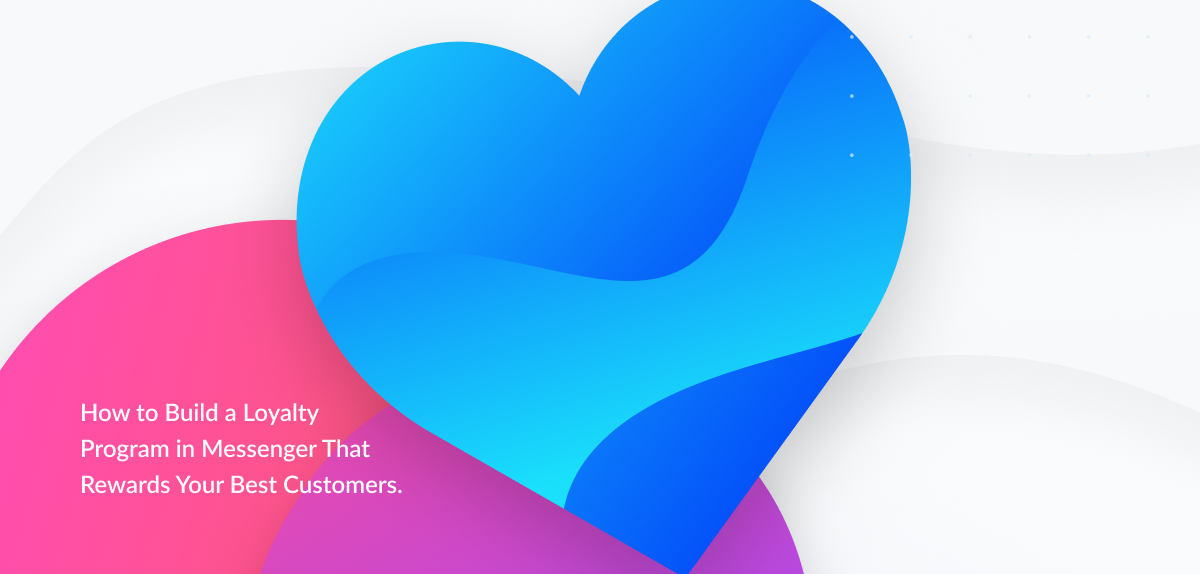 If you're a local business who wants to drive repeat purchases from your best customers, this a loyalty rewards program.
It's hard to overstate the importance of customer retention. For one thing, studies show that it has a much better ROI than trying to acquire new customers.
Did you realize that…
This makes sense when you think about it. After all, your customers already know, like, and trust you. They demonstrated that when they laid down their hard-earned money to purchase your product or service in the past.
And if you want to grow your business profits, you'd do well to take great care of these people and give them a great reason to keep coming back to you—again, and again, and again.
Turns out that Messenger Marketing with ManyChat is a fantastic way to do just that.
In this strategy, you're going to learn how we at Messenger Marketing Experts used a technology stack of ManyChat, Zapier, and Mobile Wallet (Apple & Android) to create multi-tiered rewards program that drives customer loyalty and repeat purchases.
Let's get to it!
Taking a Cue From the World's Biggest Brands
How do we know that loyalty programs and rewards programs work?
Well, take a look at what many of the most successful companies in the world are doing.
Big brands like Starbucks put a massive amount of resources into creating their rewards programs because they're acutely aware of the immense value of encouraging repeat business from their best customers.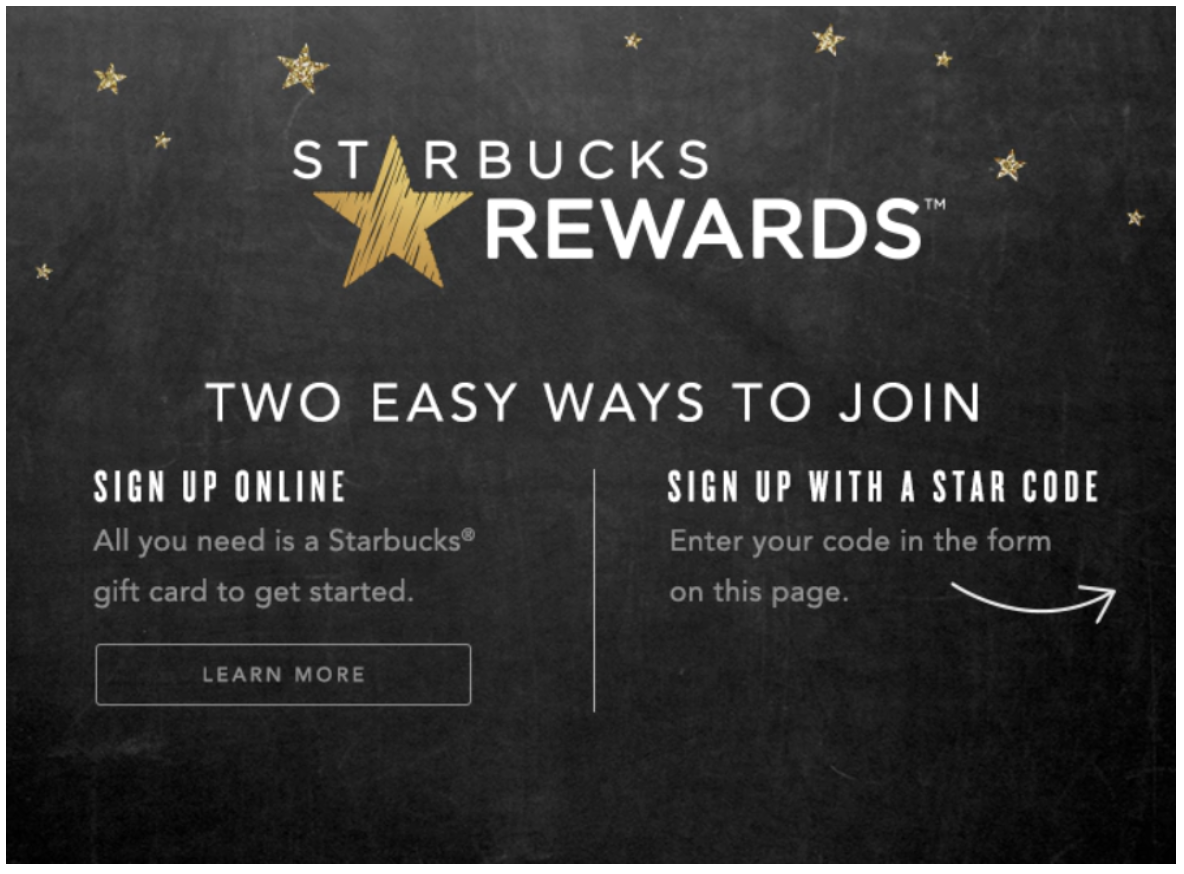 Starbucks has one of the world's biggest rewards programs with 20 million members (and counting). Some analysts estimate that Starbucks earns $5 billion in rewards card transactions each year—making it a huge part of the company's success.
So how does their program work?
Starbucks leverages one primary principle in their rewards card:
Offer increasing benefits for repeat business.
The only way to qualify for "Gold Status" and the discounts that come with it is to make repeat purchases.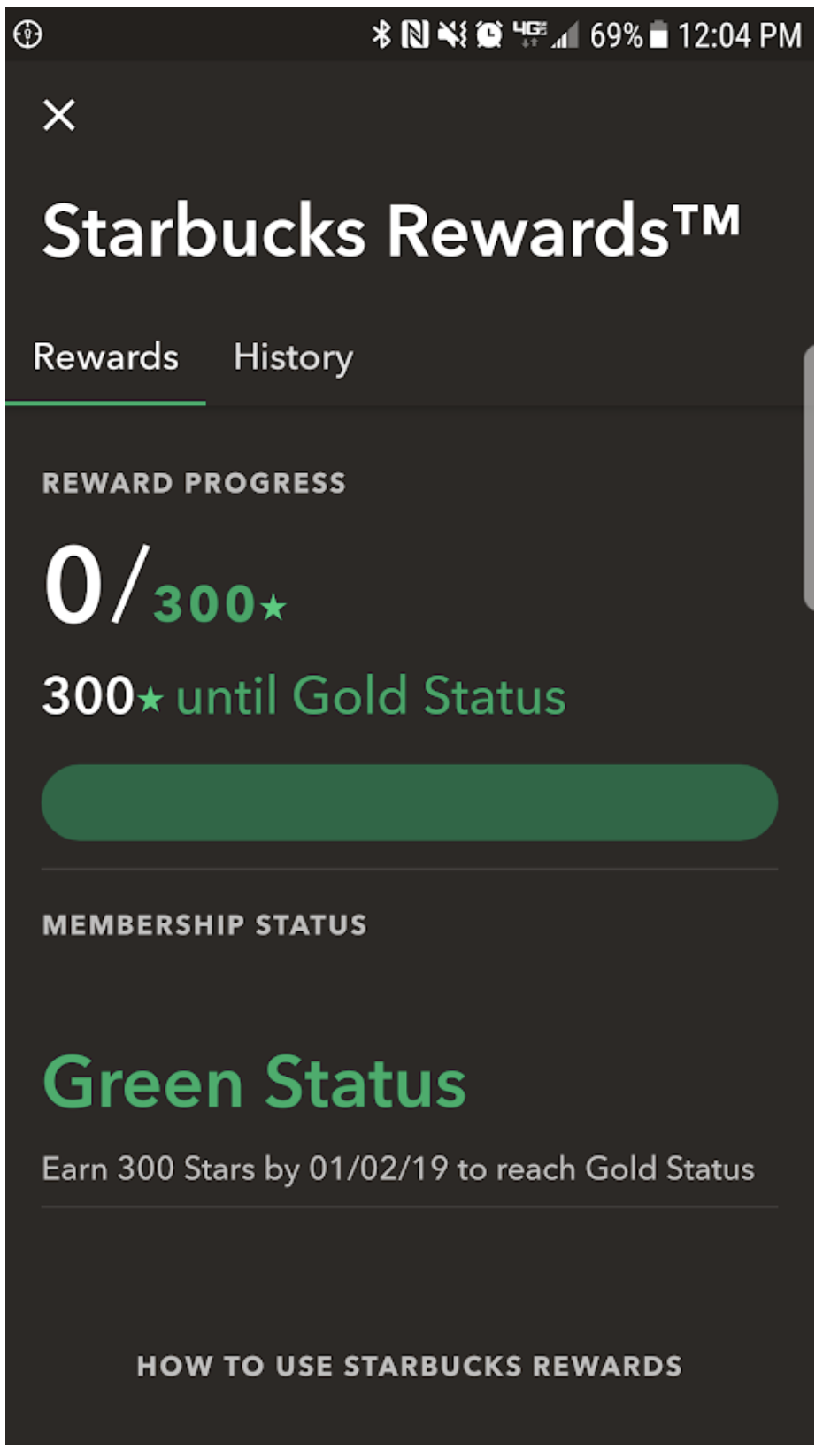 Starbucks is smart to make the program accessible on mobile phones, making it convenient for most people who have their phone with them 24/7. And through the mobile app, they can promote additional offers to rewards card members.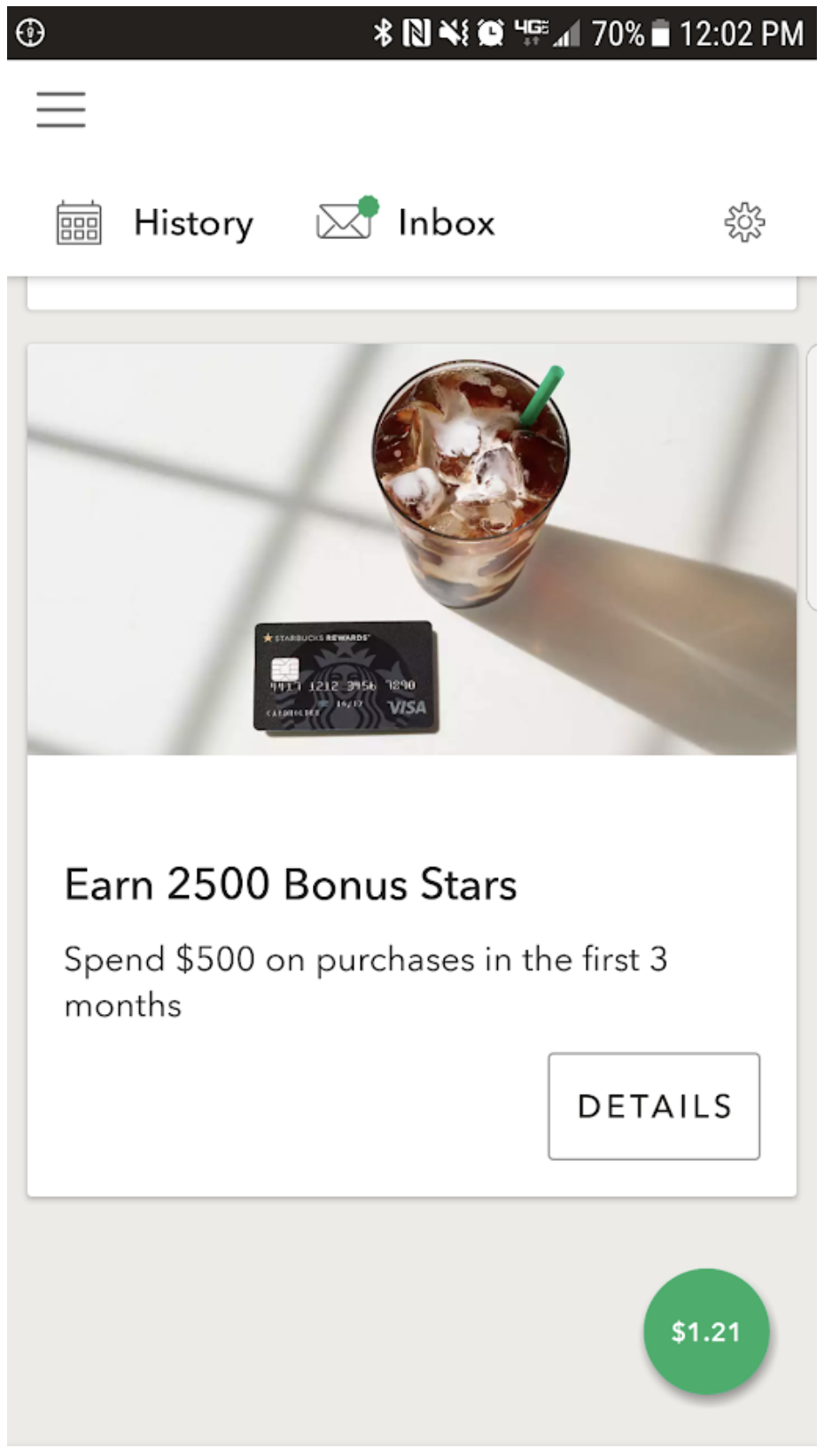 In a nutshell, the more money you spend at Starbucks, the more benefits you receive. Which encourages you to spend even more money at Starbucks, and get even more benefits. And so on, and so on.
It's a simple model that works very well. And now—thanks to the awesomeness that is ManyChat and its Zapier integration—you can do the exact same thing Starbucks is doing.
And you can do it all within an app that your customers are already comfortable and familiar with: Facebook Messenger.
(RELATED: 7 Ways to Implement Messenger Marketing into Your Business Today)
Build a Messenger Marketing Loyalty Rewards Program: Walk-Through
Let's first walk all the way through the program, from initial sign-up all the way through selecting and redeeming a rewards offer. We're going to show it all from the point of view of the end user—so you can see exactly what your customers will experience when they use your rewards program.
First things first: signing up for the program.
You can trigger the sign-up process in any number of ways. For example, you could instruct people to send your business page a Facebook message with the word "rewards."
And when they do, the first message segments them as either an iPhone or Android user.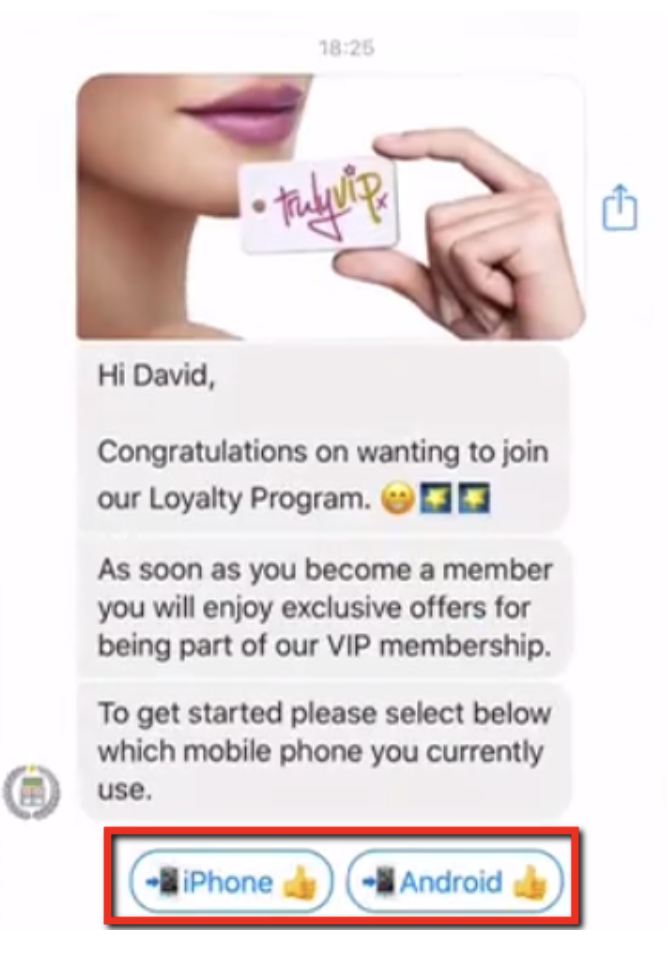 This is an essential first step, because we need to know if we're going to be using Zapier to integrate with Apple Wallet or Android Wallet.
Next, we'll need to grab the user's contact information. Facebook now makes this incredibly easy—simply prompt the user to enter their email and phone, and Facebook will automatically provide those items based on the information in their account.
So all the user has to do is tap on their email address: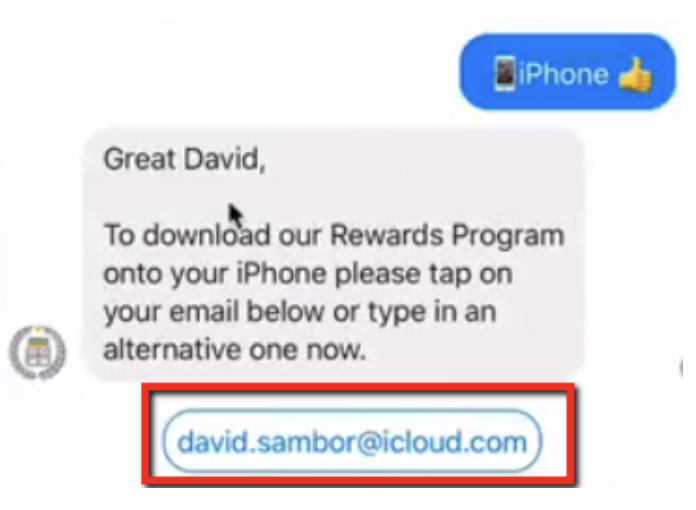 And same thing with their phone number: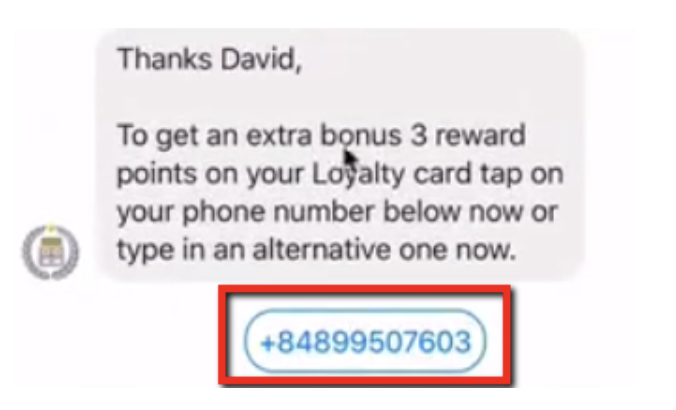 You can see here that we offer people three bonus reward points for taking this step. We give this extra incentive because we know some people are a little more hesitant to give out their phone number.
Also, notice that if the user wants to use a different email or phone number, they can always type in an alternate one.
Once that's done, we have all the information we need to create their rewards card. So we send them a quick message telling them that their card is being created and will be delivered soon.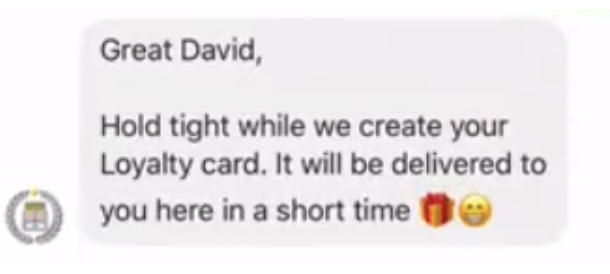 Once Zapier makes all the necessary communications between ManyChat and Mobile Wallet, the user gets another message telling them that their card is created.
All they have to do is click "Install Loyalty Card":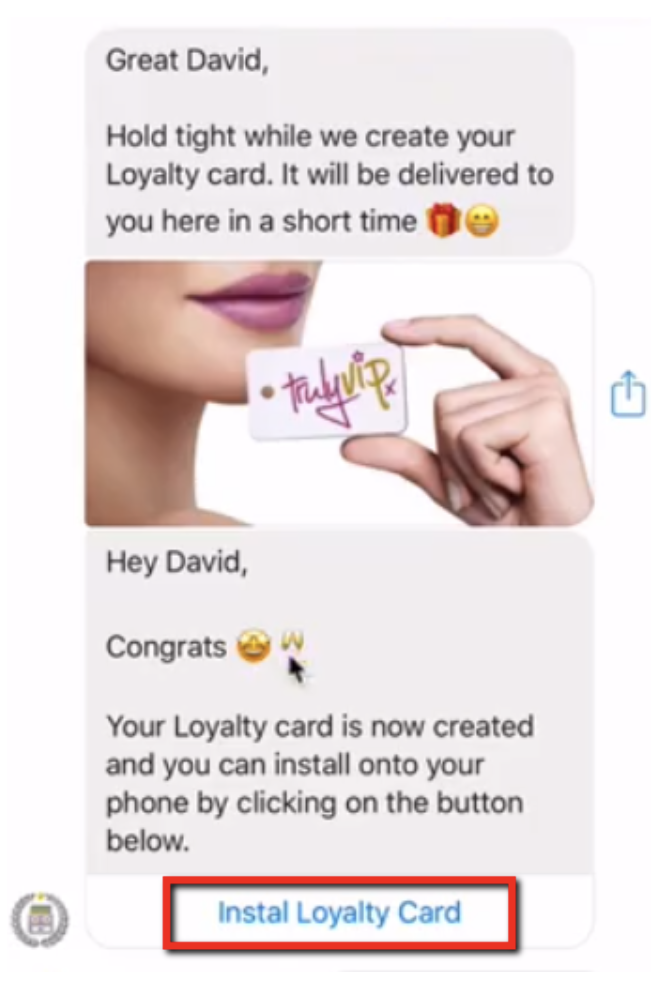 This is a dynamic button that links to the user's new card inside their Apple/Android wallet.
When they tap that link, the card opens up inside their Mobile Wallet. All the information they provided, like their email address, is automatically added.
The only thing the user needs to do to install the rewards card is tap "Add."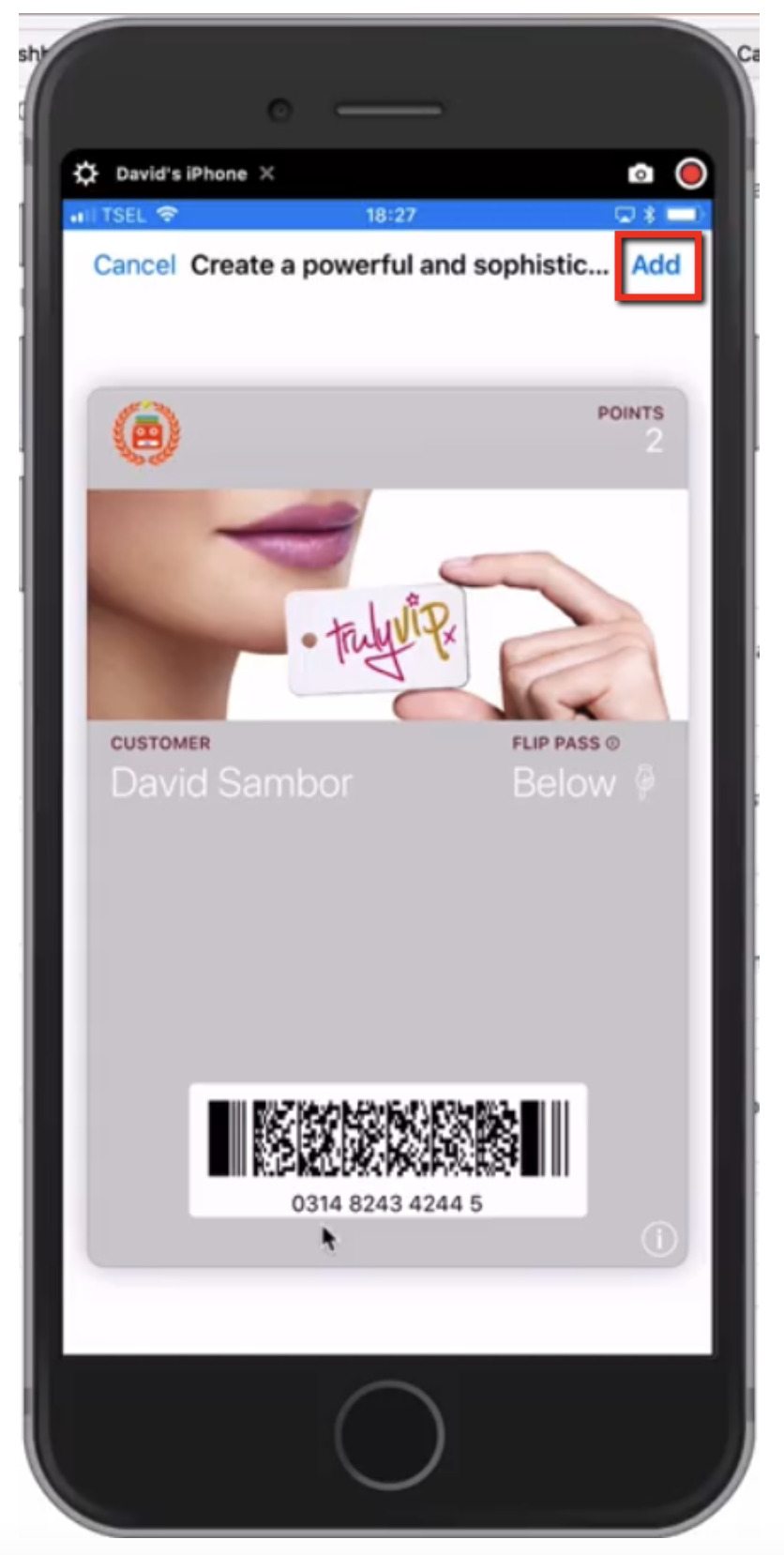 They'll receive a message that their card (called a "pass") has been added. And if they click "Open Pass," it will open their new rewards card inside their Mobile Wallet.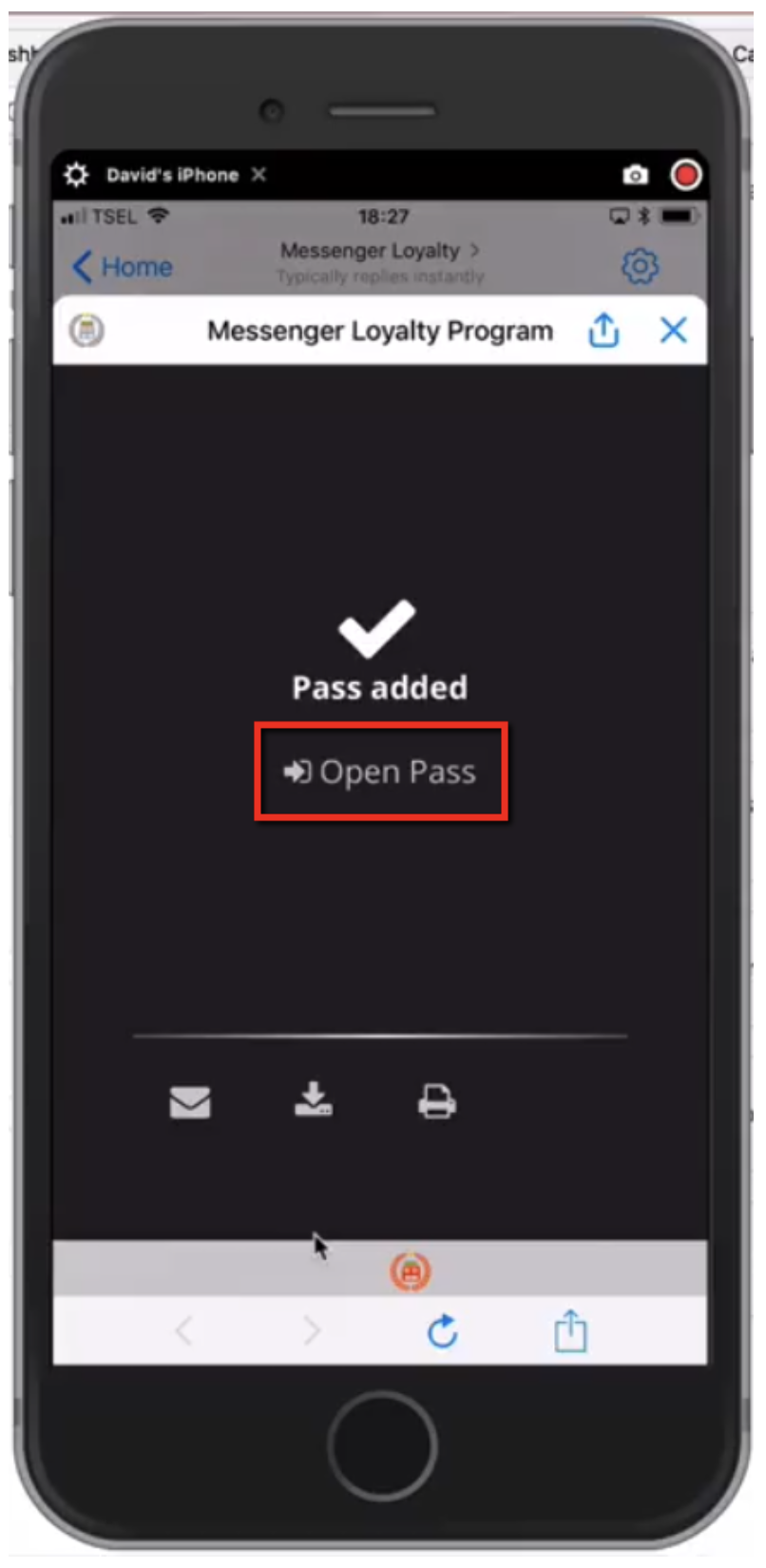 And there it is! One brand-new loyalty rewards card, saved right in the user's Mobile Wallet.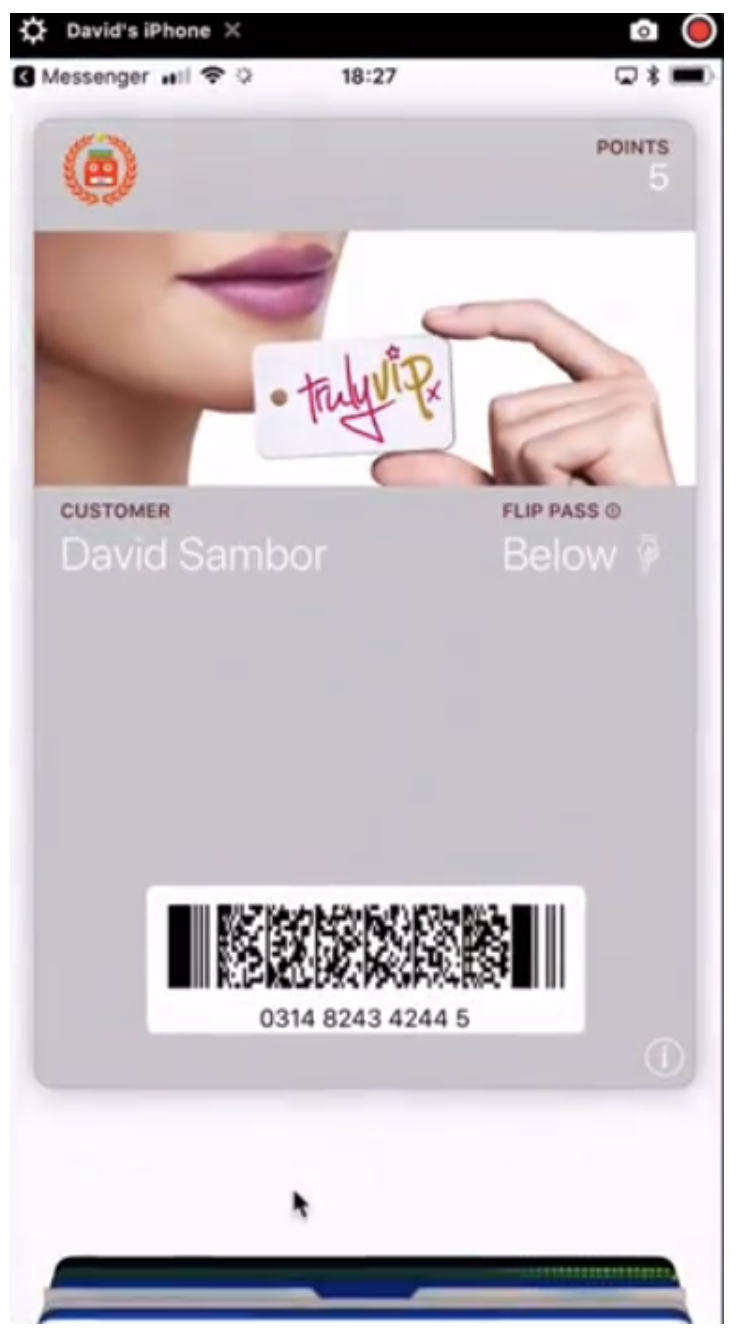 They can also receive push notifications from their Mobile Wallet when you publish new offers.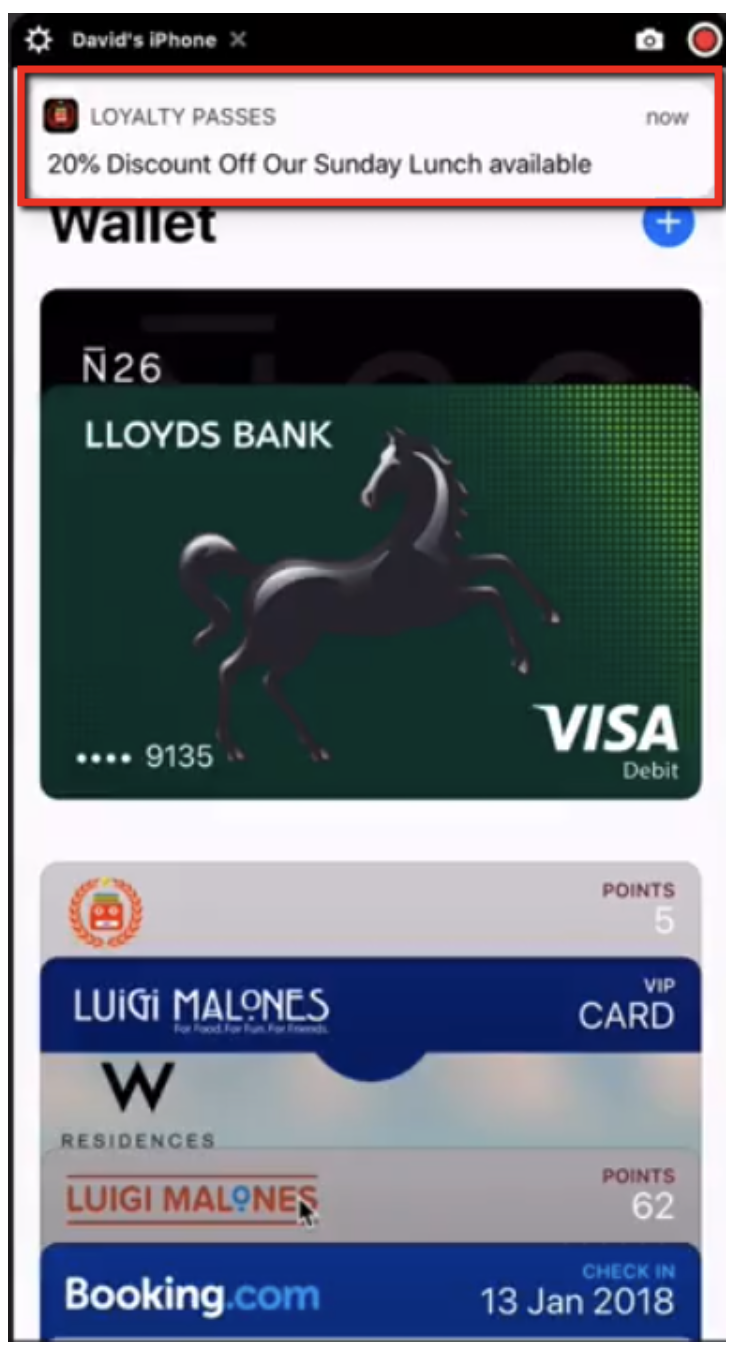 We made the rewards card as simple as possible to keep it user-friendly. One feature that deserves a mention, however, is the ability to share the pass with friends to earn even more rewards points.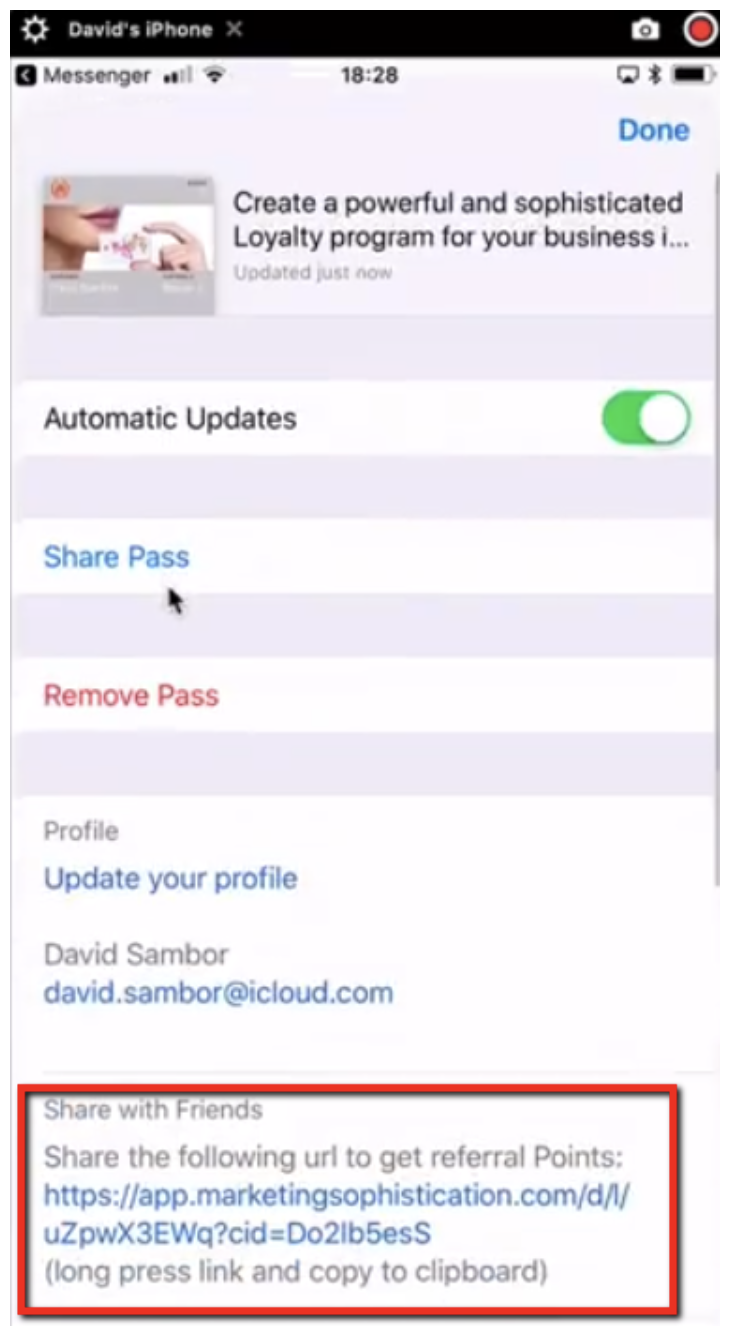 Once ManyChat gets the message that the user's card has been created, it will automatically congratulate the user and prompt them to check out some of the offers available.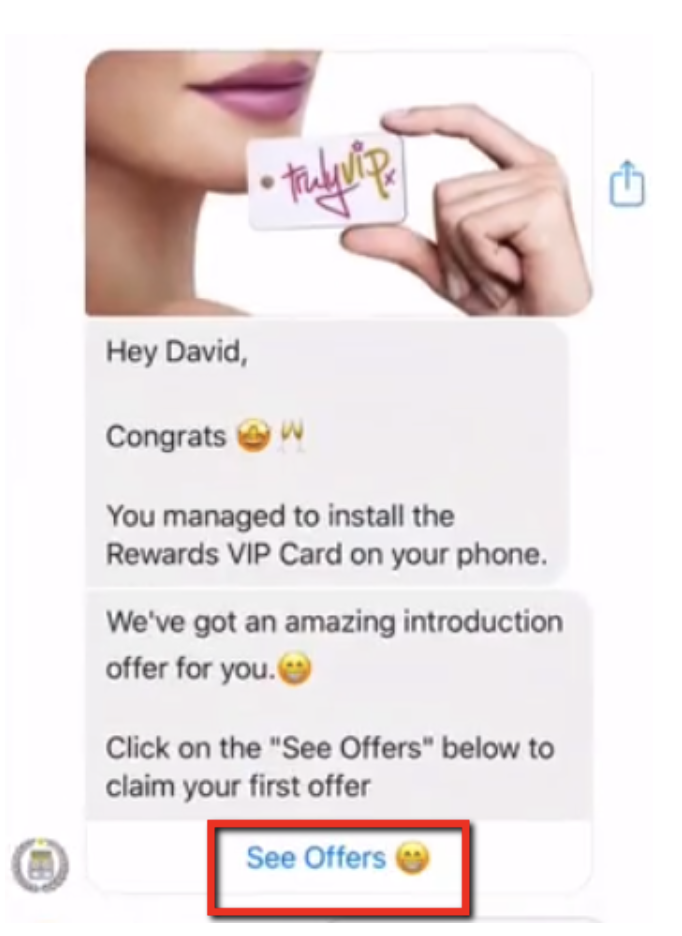 When the use clicks "See Offers," their Mobile Wallet opens in a separate window inside of Messenger along with a list of your current offers.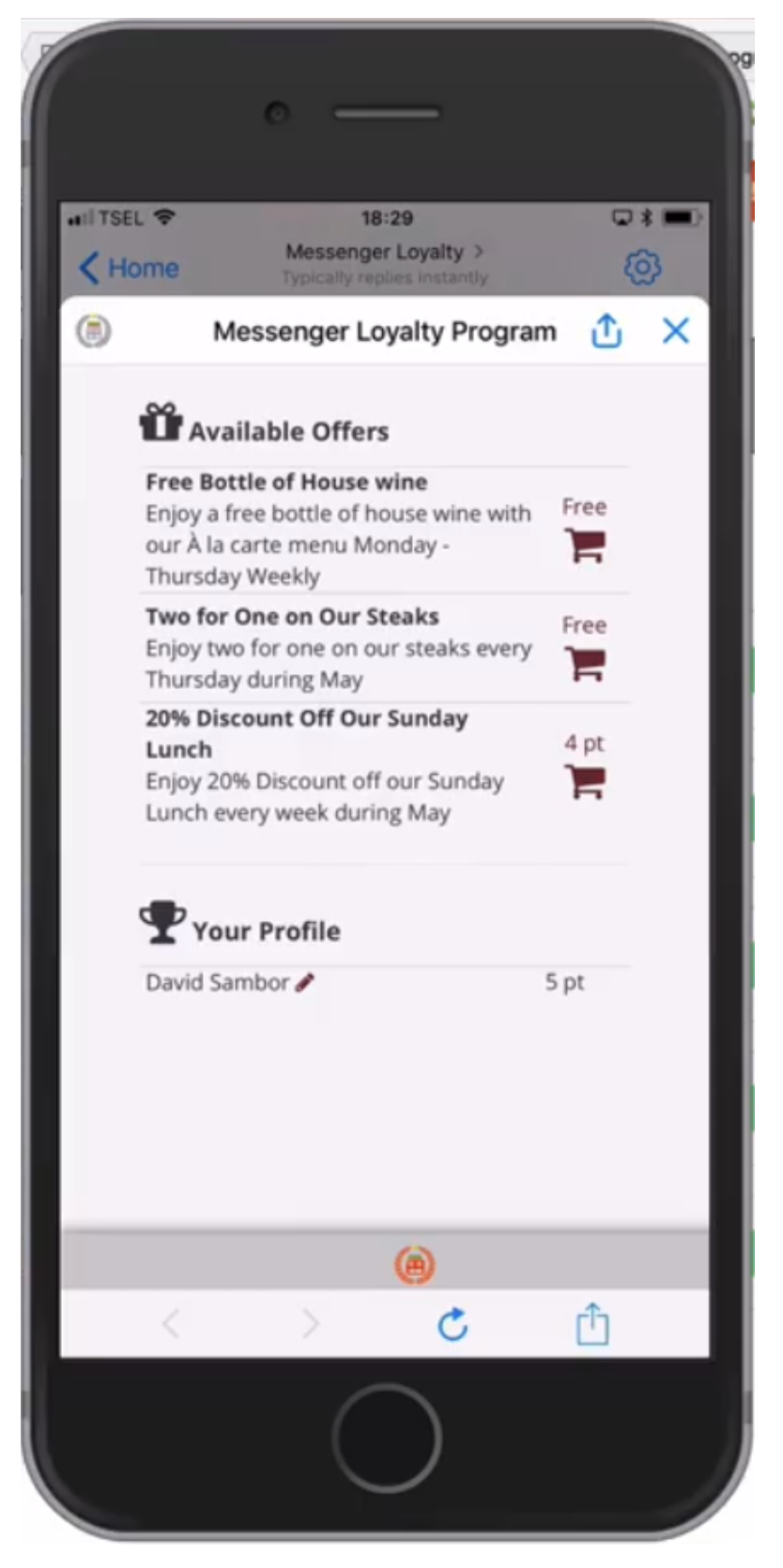 Selecting an offer is easy—just tap on whichever one you want! When you do that, you'll get a confirmation message.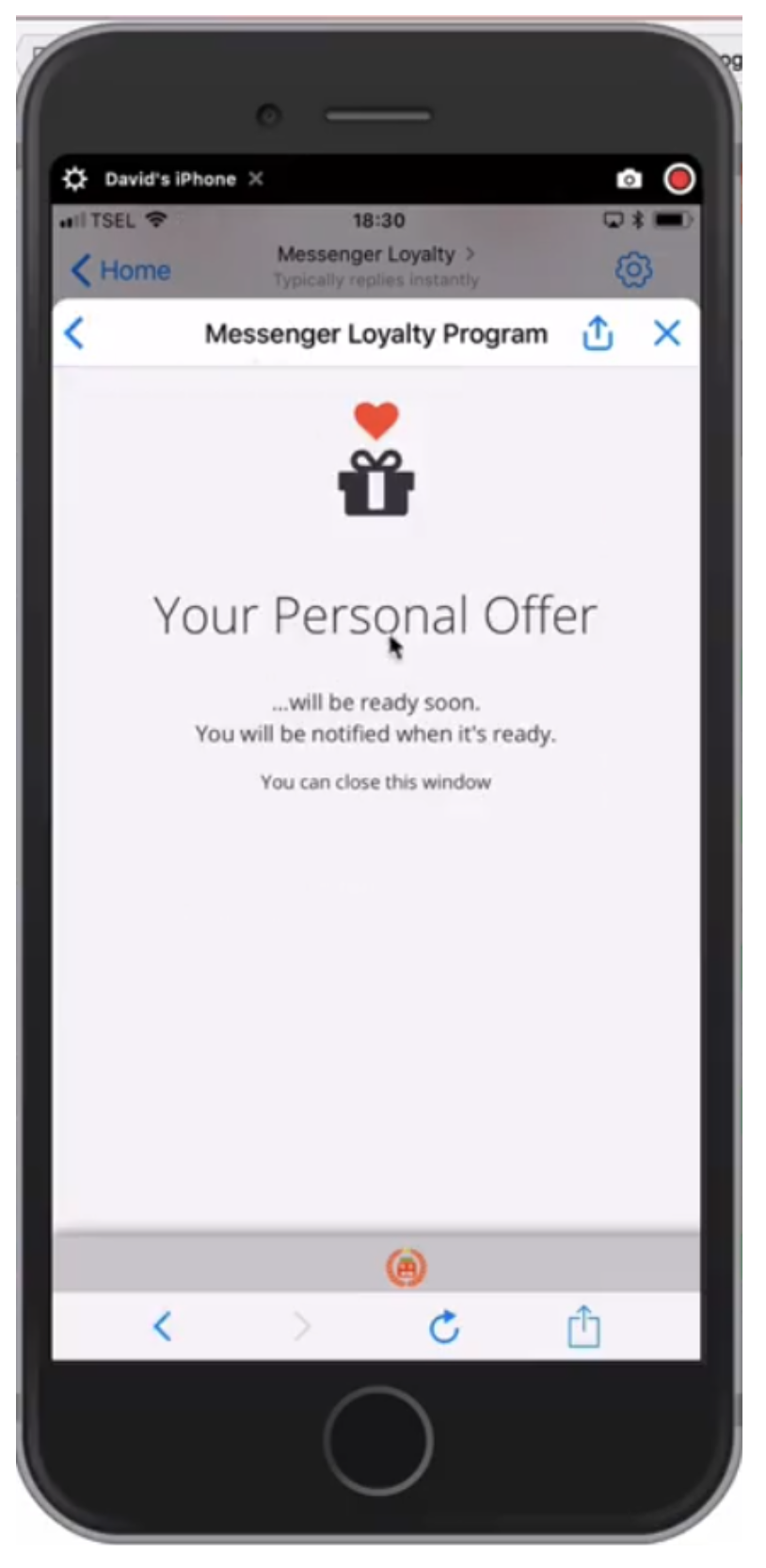 And depending on your Mobile Wallet notification settings, you might also get a push notification.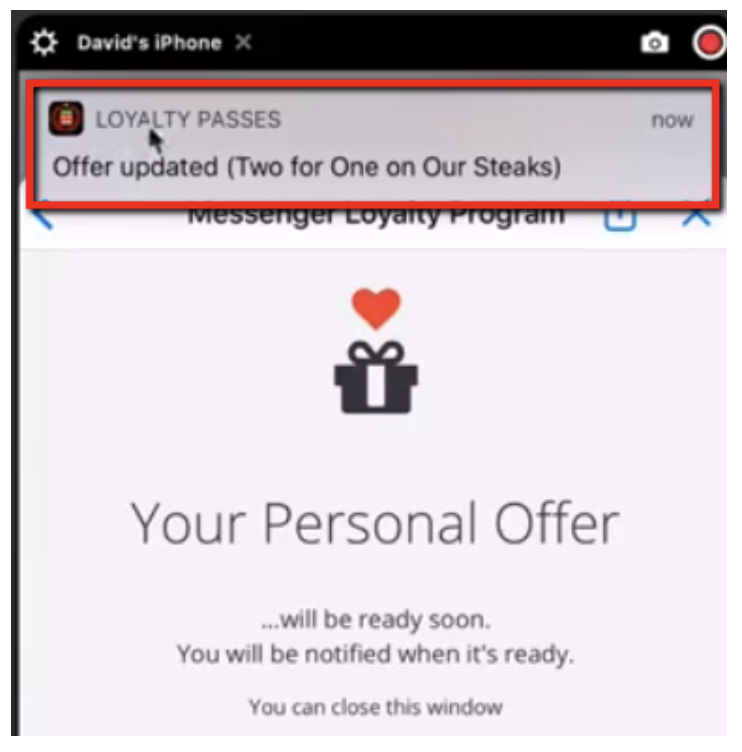 And now if you go back to your Mobile Wallet, you'll see that the image of the card has been replaced with the new offer you just chose.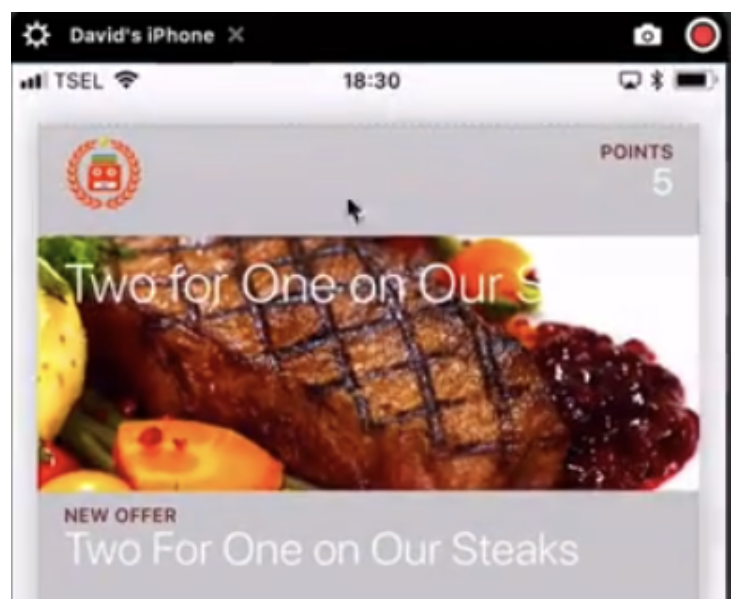 At this point the user has everything they need to claim their offer. But we should never just assume that they know how to claim it—especially when it involves tools like Apple/Android Wallet, which they may not be very familiar with yet.
So we make sure to send the user a message asking them if they were able to download their offer. If they weren't—or if they aren't sure—they can let us know and we'll give them instructions on exactly what to do.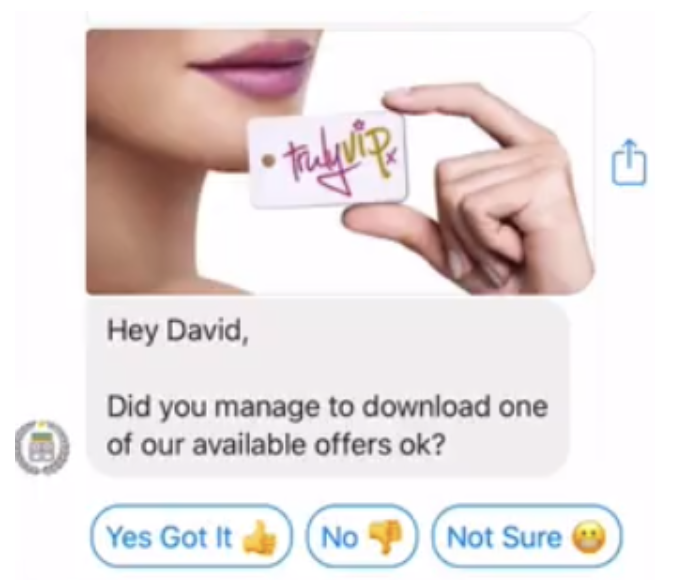 Now we're almost there! Once the offer has been downloaded, the user can go right back into Messenger and click "Redeem Offer" when they are ready.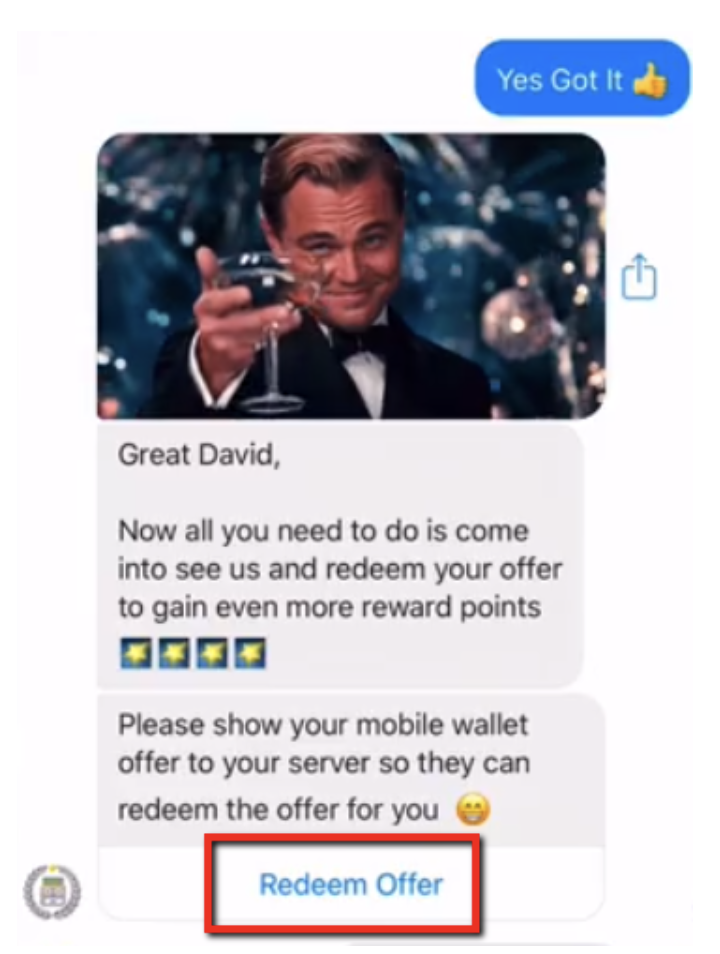 At this point we require a PIN number for verification. The server or cashier can enter the pin number to redeem the offer.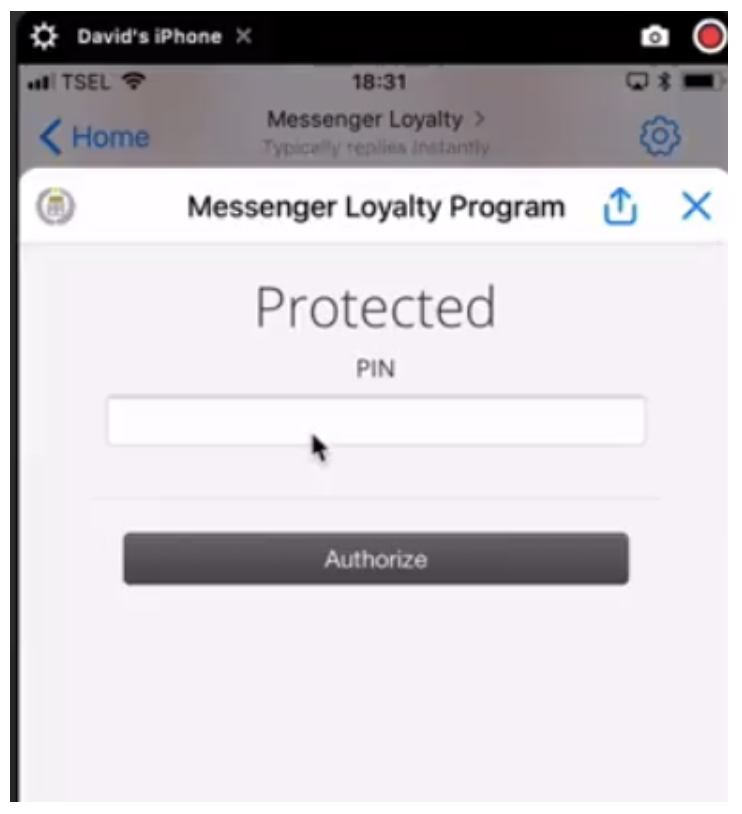 And the offer has been redeemed! You'll get a push notification…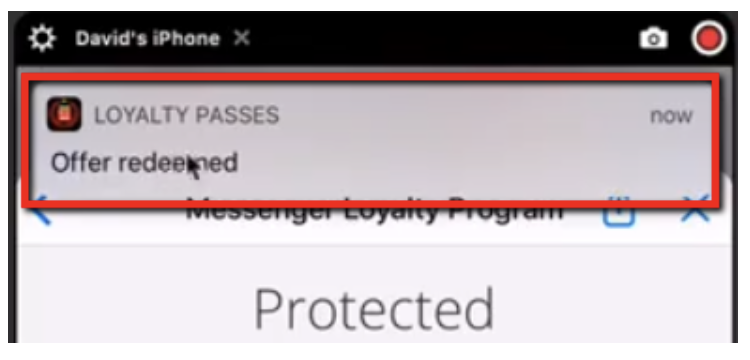 …and you will be rewarded with more loyalty points.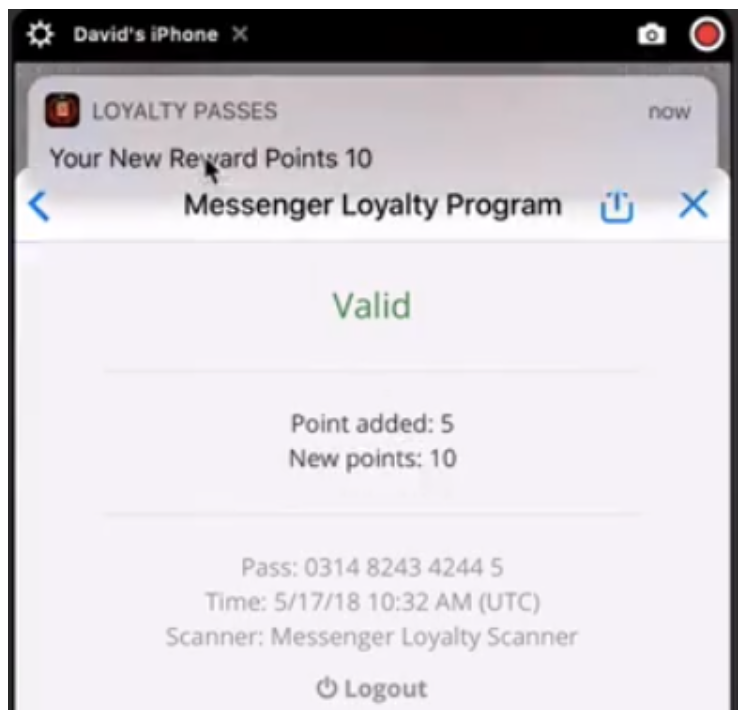 Now, when you go back to your Mobile Wallet, you'll notice the redeemed offer is gone and has been replaced by the rewards card once again. Your rewards points will also be increased.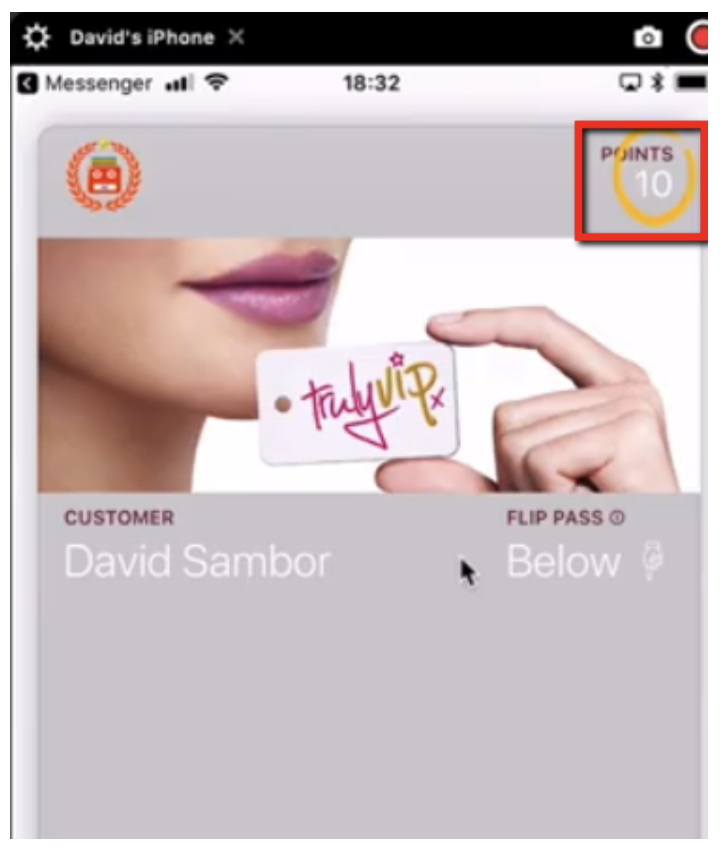 Now the user has redeemed their offer and gotten more rewards points, which they can use to redeem even more offers in the future! It's a virtuous cycle that will encourage people to come back to your business again and again.
The only step left is to remind the user to come back and check out more offers, which we do in Messenger after a delay.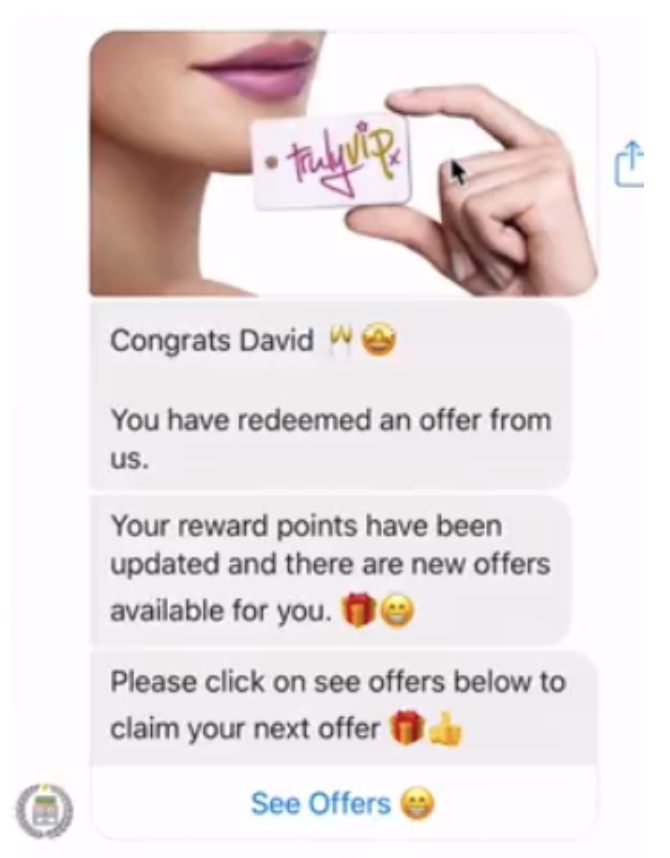 Now when the user goes to check out the available offers, the offer they just redeemed will be gone.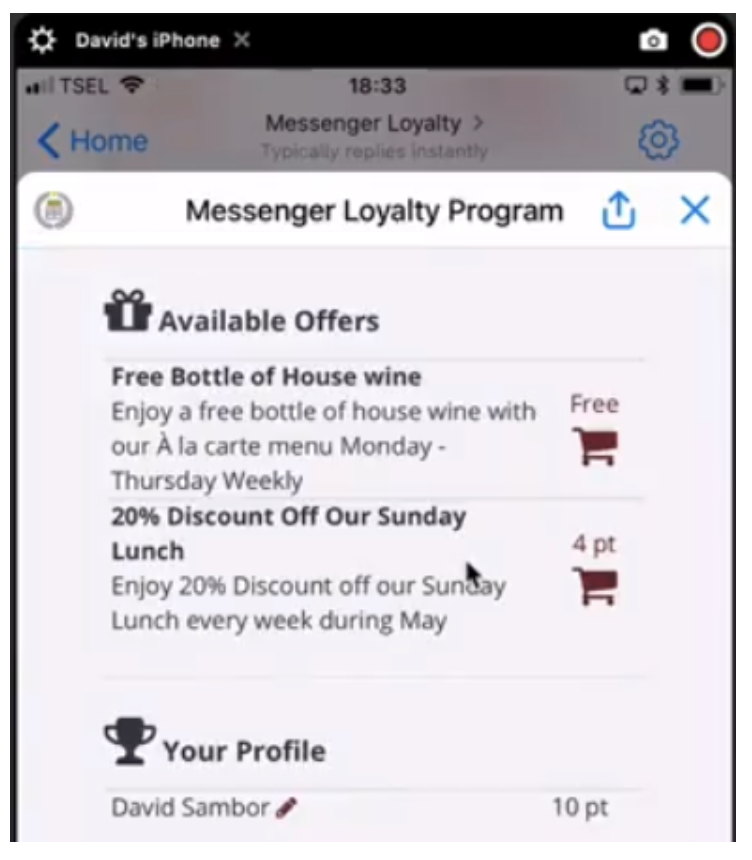 And that's it!
The great thing about this reward program is how simple and convenient it is for the end user.
Everything lives right on their phone, which means they never have to worry about forgetting to bring a gift certificate or coupon with them. And they can access everything right from Facebook Messenger, so it's easy to redeem offers even if they're not familiar with how to use their Mobile Wallet.
(RELATED: How to Build Your First Chatbot Quiz Using ManyChat Conditions)
Best of all, you can use ManyChat to communicate, send reminders, and answer questions. And every time you publish a new offer, a notification will vibrate in the pocket of all your loyalty rewards program customers—incentivizing them to come back to your business.
Build a Messenger Marketing Loyalty Rewards Program: Setup
We created this program using a stack of three different tools: ManyChat, Mobile Wallet, and Zapier.
It requires a total of six flows inside ManyChat. The purpose of these six flows is to:
Create their reward card
Deliver their reward card
Confirm their rewards card has been installed and prompt them to see your offers
Check that you know how to redeem your offer
Redeem the offer & update their reward points
Prompt them to see your new offers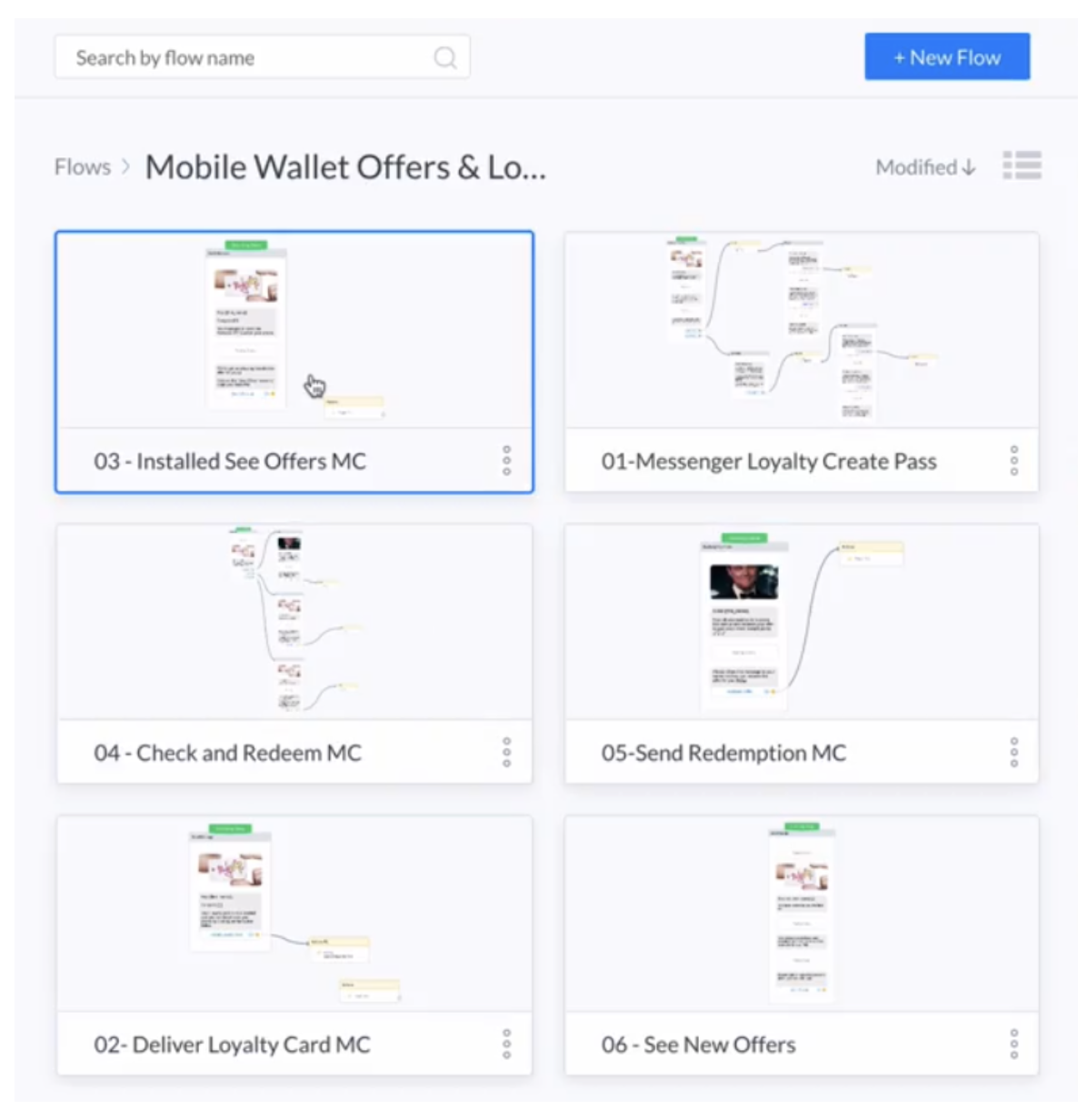 Mobile Wallet, of course, is where you manage the offers that you want to give your loyalty rewards program customers. The offers are totally customizable to your business.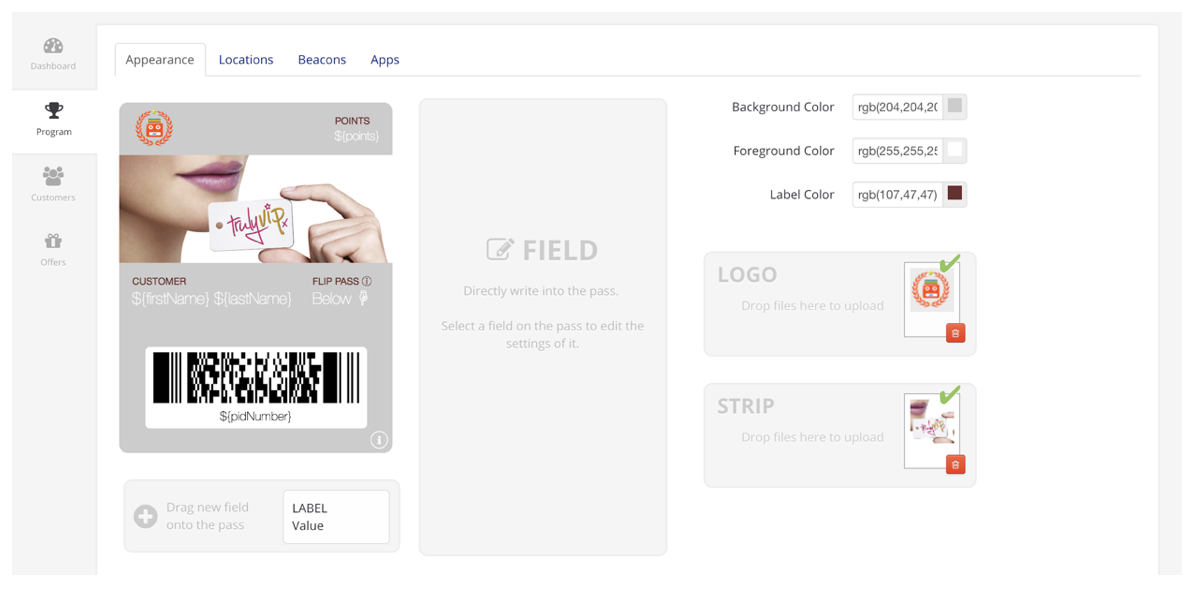 And finally, Zapier is what connects those two services together. As you can see, we need five zaps to make this work. The purpose of those five zaps is to…
Create the loyalty pass
Send the available offers to ManyChat
Check that you know how to redeem your offer
Send redemption information to ManyChat
Prompt the user to see your new offers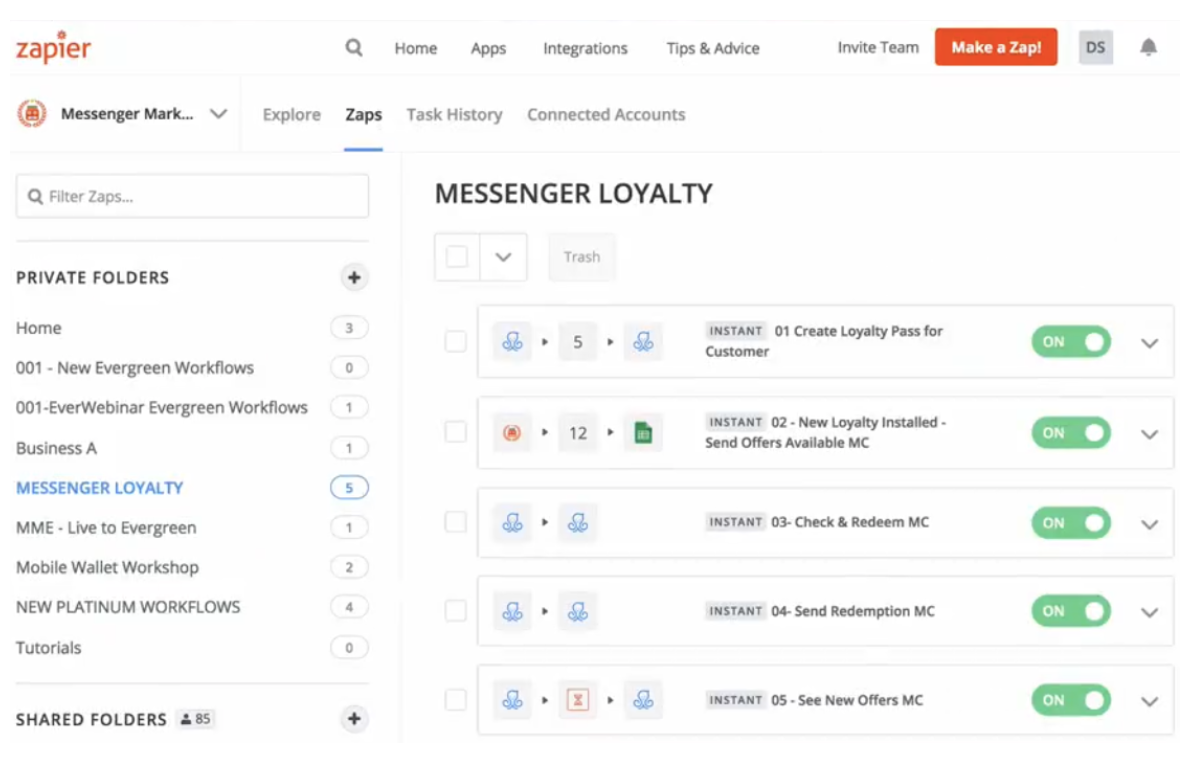 And that's all there is to it. It takes a little time to set up, but it's certainly worth it in the end because you'll have an easy-to-use rewards program that requires no printed-out cards, coupons, or certificates.
Your customers will love it.
Build a Messenger Marketing Loyalty Rewards Program: Tips
As part of your rewards program you can create as many offers as you want, for any product or service you desire.
To appeal to your entire customer base and make the most of this new program, you should consider adding in several different types of offers. Here are a few suggestions:
Make a few offers that are available immediately, as a way to get people in the door. These can be relatively small discounts. For example, one free side-dish or one half-price appetizer.
Provide a range of offers to appeal to different types of customers. For example, give discounts on vegetarian entrees as well as meat entrees.
Create at least one premium offer that requires a lot of reward points. This will be enough to convince some people to come back many times. For example, you could offer a free bottle of expensive wine after 50 points.
Keep things fun around the holidays by creating seasonal offers! For example, during autumn you could offer a free slice of pumpkin pie.
The cool thing about rewards programs is the gamification aspect. Once people start collecting rewards points, it starts to feel like a game that they want to win. If they have 12 points, they'll feel compelled to get 8 more so they can claim that offer for 20 points. Then once they reach 20 points, they might just be tempted to reach 40 points for an even bigger reward.
And not only does this keep them coming back to your business, it also makes their experience more enjoyable.
[RELATED: How to Deploy a Birthday Bot Guaranteed to Make Your Subscribers Celebrate]
Build a Messenger Marketing Loyalty Rewards Program: Connect with Your Customers
Most of the marketing strategies that get a lot of attention are all focused on reaching new people.
Generating new leads. New sales. New customers.
Don't get me wrong—that stuff is great, and you need to be doing it.
But many businesses have a tendency to forget about their existing customers. And they're missing out on a huge opportunity to generate a superior ROI while forming a deeper connection with their biggest fans.
And Messenger Marketing is a great way to do that. In fact, it's probably the single best way for a company to do it.
Because keep in mind, messaging is how most people today prefer to communicate. Email is so overwhelming that people rarely even open it, and nobody likes getting phone calls from unrecognized numbers.
But using Messenger is convenient. Communication is instant, private, and one-to-one. And that's why companies using ManyChat are seeing open rates in the 85% range and higher.
That kind of engagement is simply unheard of using any other marketing channel.
And when you combine it with a rewards program that incentivizes customers to come back to your business, and you've got a fantastic recipe for better customer retention and increased customer lifetime value.
It's a fortune-500 strategy that's now available for small local businesses. And you'd be smart to adopt a program like this now, before your competitors do.
(READ NEXT: Case Study: The Simple 4-Step Messenger Marketing Funnel That Generated $250,000 in Revenue — Without Spending a Dime on Ads)
Want more strategies like this for generating leads, subscribers, and sales from Messenger Marketing? Check out ManyChat's new Messenger Marketing & Chatbot Mastery course! It's 10+ hours of free video content, plus 15 Messenger Marketing blueprints you can implement today! Learn more here.
David Sambor is a digital marketing consultant who for the last 14 years has helped businesses in the hospitality industry grow and scale their businesses.

Alongside Philippe LeCoutre is also co-founder of Messenger Marketing Experts, whose main objective is to help local businesses and agencies scale their business with ChatBots.

In 2012 David began to focus on social media and mobile marketing offering cutting edge strategies for businesses that wanted to grow their customer base. In September 2012 David began to focus on Apple wallet and since then has helped businesses launch and implement digital loyalty programs for increased customer retention.

Philippe A. LeCoutre is a Sales & Marketing strategist with 25 years of consulting for small & large businesses. He has sold services and products to more than 6,000 mass-market distribution international brands (Carrefour, Sephora, Metro, Aldi…) and has acquired an extensive knowledge of customer acquisition and retention.

Co-founder of Messenger Marketing Experts, Philippe teaches digital agencies on advanced marketing automation systems which lead local businesses and brands from around the world to acquire more customers and ultimately build and market a 5-Star Reputation online.
The contents of this blog were independently prepared and are for informational purposes only. The opinions expressed are those of the author and do not necessarily reflect the views of ManyChat or any other party. Individual results may vary.