7 Black Friday Marketing Ideas to Boost Sales This Holiday Season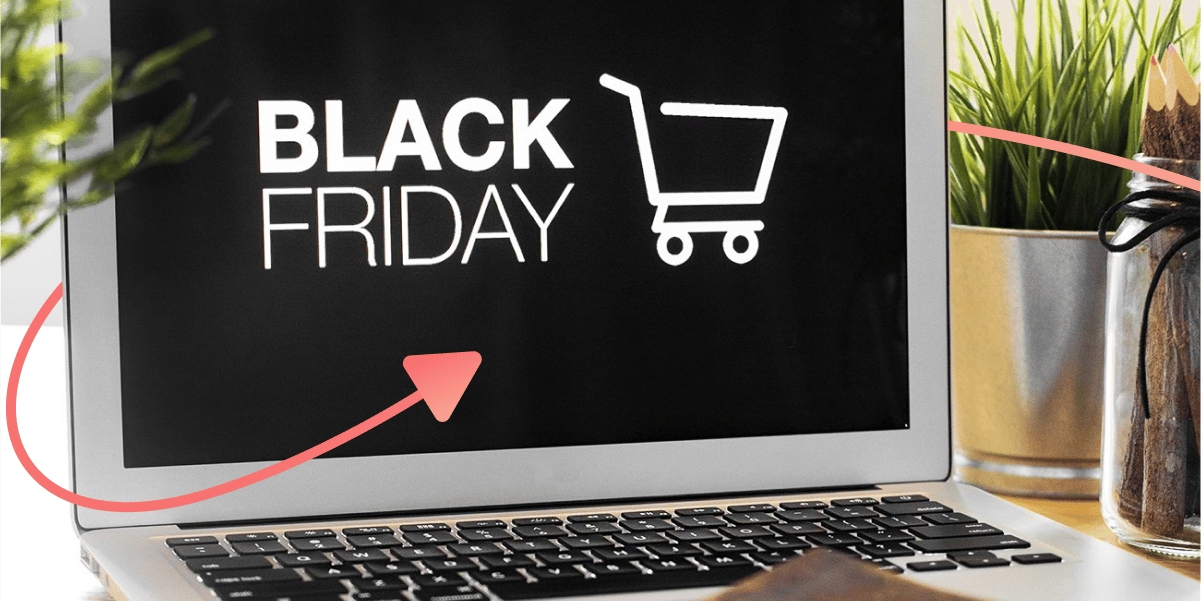 For many online retailers, Black Friday is the season to be profitable! Promotion, social selling, and effortless checkouts are critical to generating sales and profiting from your Black Friday marketing strategy. The better prepared you are, the more you'll sell online.
Learn the latest tactics to promote your Black Friday deals and make serious money this holiday season.
Top 7 Black Friday marketing ideas to increase sales
Browse the following list of Black Friday marketing tactics:
Find and connect with shoppers on Instagram
There's never been a better time to invest in your Instagram marketing strategy for Black Friday. Over the last year or so, Instagram has released several new eCommerce features to help small businesses sell on the platform.
Given that 80% of Instagram users use the platform to decide whether to buy a product or service, now is the time to optimize your Black Friday marketing campaign to target the right audiences, convert followers into customers, and take advantage of the holiday urge to splurge!
Today, you can create a full sales funnel inside Instagram, thanks to its eCommerce features:
Shoppable posts
Product stickers in Stories
The Shop tab
Swipe up links in Stories
Instagram checkout
Instagram Automation
Instagram Automation by ManyChat helps sellers connect with their audience and nurture leads into sales. Let's review a simple three-step funnel you can use this Black Friday.
Start by publishing the same content you're already creating: Stories, lives, posts, IGTV, etc. Tailor your messaging for the season. You could even run Instagram ads or a contest if you have the extra budget. This helps build awareness for your campaigns.
As people begin to interact with your Instagram page, you can use Instagram Automation to manage these conversations. Automatically respond to Story Mentions, prompt new conversations in Instagram Messenger, or provide customer support, all without putting extra strain on you or your staff. Once a follower enters a Messenger conversation with your brand, you can send them through your sales funnel to close the deal.
Now that you have all this free time, you can reach out to high-value customers and clients in real time through Live Chat or send them to a page in your Instagram Shop.
To take advantage of its many features, you'll want to have Instagram Automation in place before the shopping season starts. Use the following steps to set up your ManyChat account.
1. Enable Instagram Automation in your ManyChat account
Instagram Automation is only available for ManyChat Pro accounts, so you'll need to upgrade to implement the following strategies. At the moment, Instagram Automation is available for Instagram accounts with over 1,000 followers.
After upgrading, connect your Instagram account to ManyChat.
2. Set up Conversation Starters
Black Friday Cyber Monday will likely bring a flood of new traffic to your Instagram account. Visitors could end up messaging your brand with questions about products, shipping, order updates, or requesting general customer support. Your best bet to manage the increase in messages is to set up Conversation Starters.
Conversation Starters are pre-filled buttons presented to visitors who message your account for the first time. When tapped, they'll begin a conversation with your business about the topic.
Businesses typically turn common requests and queries into a Conversation Starter, such as "Need help with order" or "Do you have free shipping?" The contact then interacts with your brand through a series of predefined automated messages sent by your bot. This automated conversation supplies the information they need quickly and efficiently.
Watch the following two-minute video to learn how to set up Conversation Starters in your bot.
3. Create keywords
Keywords are a powerful feature for automating your Instagram marketing activities during Black Friday Cyber Monday and beyond. If an Instagram follower DMs you or messages you from a Story using a specific word or phrase, it triggers a conversation with your brand in Instagram Messenger.
Create keywords that are relevant to your Black Friday campaigns. For example, if you are giving away a 50% discount code, you could tell people to DM you the phrase "GIMMIE50" or "TAKE50OFF." You can use the same keywords across ads, Stories, Reels, live streams, or feed posts.
Here's how to set up keywords for your bot.
4. Set Story Mention Triggers
Story Mention Triggers lets you instantly reply to everyone who mentions your Instagram handle in a Story. You could send a thank you note or start a conversation with someone through automation or Live Chat.
The Story Mentions Trigger helps you engage with followers at scale. One online retailer, Roma by Rochi, saw a 741% lift in engagement and an 83% increase in reach while using it during a giveaway campaign. Since shoppers are constantly bombarded by ads all over the place during the holiday shopping season, surprise them with a short, courteous message in their inbox.
5. Run Story ads
Over 500 million people use Instagram Stories daily. It's become one of the best ways to interact with potential customers through both ads and organic means. More than half the people surveyed by Facebook say that they purchase more products after watching Instagram Stories. This makes Stories a cost-efficient marketing tool for your upcoming Black Friday Cyber Monday campaigns.
Last tip: Prepare your support team for the sales rush because Black Friday can get crazy for online brands. Get your team ready with ManyChat Live Chat to respond to all the messages from your campaigns—some people prefer human support. Engaging with people through their preferred method of communication can lead to more sales.
Resources:
Text your customers Black Friday deals
Another way to cut through the noise during the Black Friday holiday season is to text your customers. Build your SMS list ahead of time (everyone must opt-in to receive messages) so you have a database of potential customers to contact.
SMS gives you the chance to get creative with potential and loyal customers. You can:
Send multimedia messages that show off your product.
Promote flash sales.
Send coupon codes.
Send abandoned cart messages.
The possibilities are endless! Once you move from subscribers' inboxes to their phones, you no longer need to worry about the 24-hour messaging rule or low open rates. People read 90% of text messages within three minutes, making SMS one of the best mediums for time-sensitive messaging. And text marketing click-through rates (CTR) can run as high as 30%.
If you're new to text message marketing, check out this tutorial on how to use ManyChat SMS.
Resources:
Send deals to your email list
Whether it's sending deals, company updates, or helpful content to users, most store owners and marketers run some type of email marketing program. Consider encouraging your email list to sign up for SMS and Messenger updates from your company for the holiday season so you can contact them through additional channels.
Using a marketing automation tool like ManyChat, you can send SMS texts, emails, and Messenger conversations all from one place.
Run flash sales
Black Friday flash sales are an easy way to quickly inject revenue into your business and help grow your online presence. On average, they lift transaction rates by 35% and serve a dual purpose of clearing out excess inventory. The goal is to create urgency, compelling impulse shoppers to buy.
A flash sale promo must be eye-catching and provide clear value. Make sure it's designed well and shows how much people will save if they click through.
You can use a few different types of flash sales, like "Deal of the Hour," which updates new deals every hour on the hour; three-hour flash sales, which have the highest transaction rates; and event-based flash sales, which can last 24 hours or until Cyber Monday.
Create a welcome series in Facebook Messenger
The key to running a successful Black Friday campaign is to generate interest before the Thanksgiving weekend. Consumers will be flooded with sales from every company email list they've ever signed up for, so you'll want to stay top of mind as much as you can.
One way to increase awareness about your Black Friday sales is by promoting them in your Messenger welcome series.
In your welcome series, offer potential customers the option to receive a one-time notification when you launch the sale. That way, you can follow up with exclusive deals and promotions in Messenger and cut through the noise in shoppers' inboxes.
Build anticipation and excitement for potential shoppers by:
Setting expectations for when the sale will launch
Offering heavier discounts if they sign up for Messenger alerts
Giving a behind-the-scenes look at upcoming deals
Offering exclusive access to an early Black Friday sale
Take payments inside Messenger
When a shopper scrolls your Black Friday flow product gallery on Facebook, prompt them to pay in Messenger. It's a skillful way to reduce friction during the selling process and create a quick and easy checkout for shoppers. You can now integrate both Stripe and PayPal in your ManyChat bot.
The Stripe and PayPal integration make it easy for customers to pay through their digital wallets. Setup is simple:
Link the payment provider to your ManyChat account.
Add the buy button to a Card, Gallery, List, or Media template.
Publish your flow and start selling!
If you want to start now, follow the ManyChat Payments demo below.
Messenger bots can handle many transactions, from order form processing to sending confirmations in the chat window or by email. You can also set dynamic pricing to charge different amounts. For example, if your customers are "cold," you can offer a certain discount while loyal ("warm) customers receive a special Black Friday discount that's just for them.
Extend your Black Friday promotion until Cyber Monday
When planning your Black Friday promos, save some deals for Cyber Monday. Track what deals achieve the best results on the current Black Friday, then reuse them for your Cyber Monday promos. You can extend the deal from Black Friday into Monday or relaunch it as a separate campaign.
Build a creative Black Friday campaign today
As you can see, it's challenging to stand out from all the Black Friday noise to promote and sell your products. But that doesn't mean you can't do it.
Think about your audience's needs before you map out conversation, make sure they're never more than two clicks away from checkout, and upsell the right products—whether it's an accessory or upgraded version of the item—and you'll quickly bring in Black Friday traffic, subscribers, and sales this shopping season.
Win more customers and drive sales this Black Friday with ManyChat. It's free to get started.
The contents of this blog were independently prepared and are for informational purposes only. The opinions expressed are those of the author and do not necessarily reflect the views of ManyChat or any other party. Individual results may vary.