10 Black Friday Marketing Ideas to Boost Sales This Holiday Season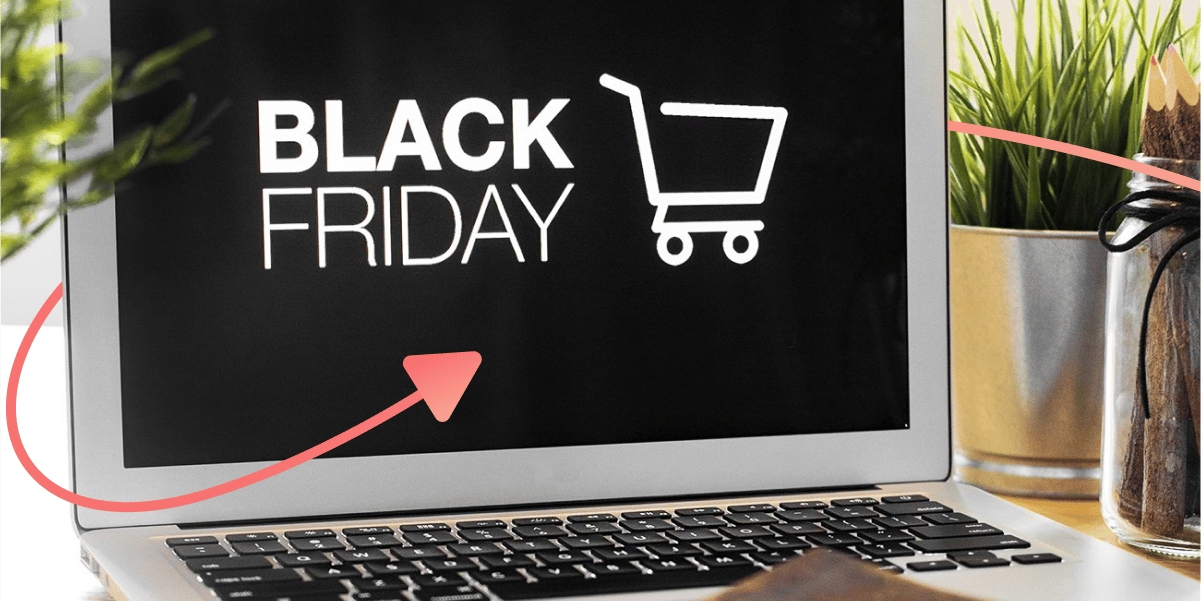 Black Friday sales in the U.S. broke all previous records in 2019, reaching $7.4 billion, as reported by Practical eCommerce. That's up $1.2 billion from 2018's record of $6.2 billion.
Considering shoppers also spent a record-breaking $9.2 billion on Cyber Monday, eCommerce stores have made it a priority to generate buzz and sell more during this holiday shopping season.
For many online retailers, this is the revenue-driving shopping season. Promotion and quick checkout processes are critical to the success of your specials, as well as the success of your Black Friday marketing strategy overall. The better prepared you are, the more you'll sell online.
So, how do you promote Black Friday deals? Here are 10 ways to generate interest and get more subscribers for a boost in sales this season.
Note: Some of ManyChat's interface and information has changed. We're working hard at updating this content. Please stay tuned!
What is Black Friday?
Black Friday is the day after Thanksgiving in the United States. This day is known as the beginning of the holiday shopping season. Many retailers, both online and in-store, offer heavily promoted sales on Black Friday and typically open up Thanksgiving evening around midnight to kick off their sales.
Originally, Black Friday was a one-day in-store shopping event. As the world shifted to eCommerce, in 2005, online retailers began running online-only sales for Cyber Monday. Cyber Monday is the same idea, but takes place on the following Monday and is focused on online sales and shoppers.
Fast forward to today, retailers extend Black Friday sales throughout Thanksgiving weekend and into Cyber Monday. They are taking advantage of the mobile commerce trends, and promoting deals through influencer marketing, social media, Messenger, SMS, and more. For example, a clothing retailer may offer a Black Friday sale for 50% off everything on Friday, a 30% off on Saturday, Buy One Get One on Sunday, and then run a mix of different promotions exclusively online for Cyber Monday.
Why is Black Friday Marketing Important?
Black Friday through Cyber Monday is a shopping season any merchant should take advantage of to sell more products. These Black Friday tips below will help you get a piece of the pie.
Top 10 Black Friday marketing ideas to boost holiday sales
1. Create a welcome series in Messenger promoting your Black Friday sales
The key to running a successful Black Friday campaign is to build interest before the Thanksgiving weekend. Consumers will be flooded with sales from every company email list they've ever signed up for, so you want to stay top of mind in the best ways possible.
One way to increase awareness for your Black Friday sales is to promote it in your Messenger welcome series.
In your welcome series, offer potential customers the option to get a one-time notification when you launch the sale. That way, you can follow up with exclusive deals and promotions in Messenger and cut through the noise shoppers inboxes.
Build anticipation and excitement for potential shoppers by:
Setting expectations for when the sale will launch.
Offering heavier discounts if they sign-up for Messenger alerts.
Giving a behind the scenes look at upcoming deals.
Offering access to an exclusive early Black Friday sale.
2. Text your customers
Another way to cut through the noise during the Black Friday holiday season is to text your customers. Build your SMS list ahead of time so you have a database of potential customers to text.
SMS gives you the chance to get creative with potential and loyal customers. You can:
Send multimedia messages that show off your product.
Promote flash sales.
Send coupon codes.
Send abandoned cart messages.
The possibilities are endless. Once you move from subscribers' inboxes to their text messages, you no longer need to worry about the 24-hour messaging rule or lower open rates. In fact, 90% of text messages are read within three minutes, making SMS one of the best mediums for time-sensitive messaging. And text marketing CTRs can run as high as 30%.
If you're new to text message marketing, check out this tutorial on how to use ManyChat SMS.
3. Tap your email list
Whether it's to send deals and company updates or helpful content, most store owners and marketers run some type of email marketing program. Consider encouraging your email list to sign-up for SMS and Messenger updates with your company for the holiday season.
Using a marketing automation tool like ManyChat, you can send SMS, email, and Messenger conversations all in one place.
4. Upsell and cross sell
When you upsell, you persuade customers to buy a more expensive or upgraded version of items or add-ons to make a bigger sale. When you cross sell, you offer shoppers a different product that complements their original purchase. eCommerce companies who use these tactics see a 10-30 percent boost in revenue, on average.
To upsell the right way, put yourself in the mind of your customer and figure out what will help your customer win. It's a less pushy sales tactic and a more friendly recommendation to help them make the right purchase.
It can also serve as a great reminder for both new and repeat customers who might leave something behind. In the example below, a coffee company upsells to a bigger bag for three more dollars, then cross-sells coffee filters to increase AOV.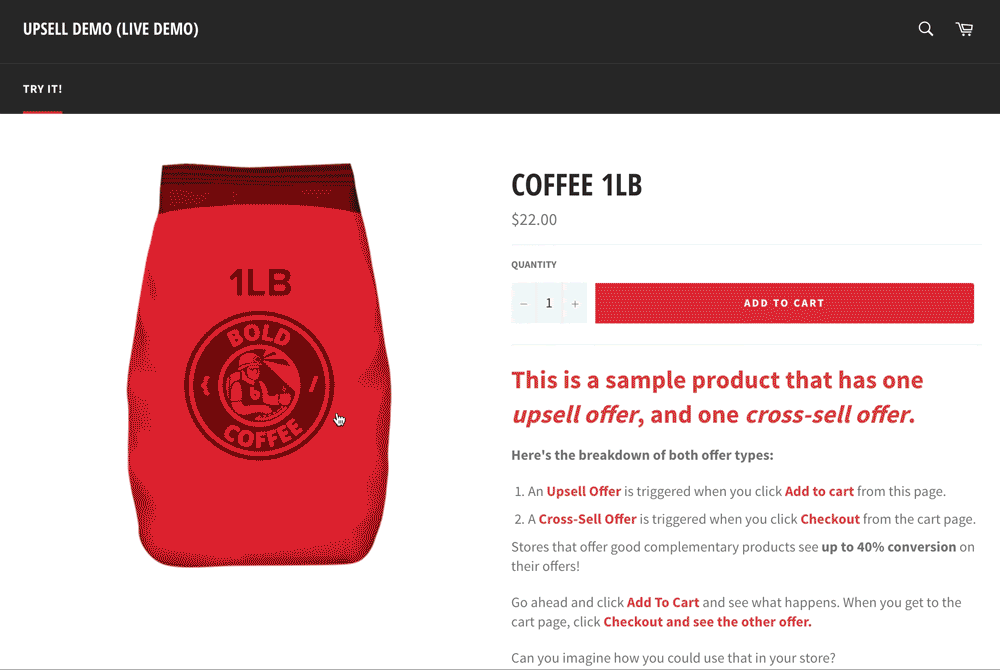 Did they buy a TV? Recommend they check out your wall mounts or soundbar speakers in Messenger. Did someone buy the new Iron Man action figure? Re-market other ones in the Marvel series.
Good copy is essential to effective upselling and cross-selling to boost online sales. Use enticing phrases in your selling prompts such as "Add Extras," "You May Also Like," or "Others Also Bought" for a layer of persuasion.
Since Black Friday is a busy event, your customers may not have the time to search for the products they need or want. You can be there to help them out during the most hectic shopping season of the year.
5. Run flash sales
Black Friday flash sales are an easy way to quickly inject revenue into your business. On average, they can lift transaction rates by 35% and help get rid of excess inventory on Black Friday. The goal is to create urgency, enticing impulse shoppers to buy and grow your online presence.
A flash sale promo must be eye-catching and valuable. Make sure it's designed well and shows how much people will save by clicking through.
You can use a few different types of flash sales, including "Deal of the Hour," which updates new deals every hour on the hour; three-hour flash sales, which have the highest transaction rates; and event-based flash sales, which can last 24 hours or until Cyber Monday.
Experiment with a few different types and versions, then use the ones that make the most sales.
6. Send click-to-Messenger ads to Black Friday shoppers
If you want to maximize ad spend this Black Friday holiday season, run click-to-Messenger ads on Facebook. These conversational ads soften the approach to selling. They're a more friendly and engaging style to run ads that consistently show higher revenue for businesses.
Take The Pearl Source, an online jewelry retailer, as an example.
The company ran a 15% off coupon during the 2019 holiday season to attract more sales for the holiday season. They ran an ad that clicks to Messenger and retargeting campaign, which resulted in 254 redemptions (a 43% conversion rate) and over $64,400 in additional revenue from new customers.
Grab the same Facebook Messenger bot flow they used below to run your own successful ad campaign this Black Friday season. With this Black Friday eCommerce template, you can quickly launch a bot flow full of conversion-focused messaging, product galleries, and Live Chat options to help close more sales.
Check out the flow via this link. Then download it as a template for your own click-to-Messenger ads!
7. Answer customer questions in SMS or Messenger Live Chat
It probably goes without saying, but shoppers — especially during Black Friday and Cyber Monday — may have questions about your products before buying. Instead of routing them to a support agent through email or phone, you can answer their questions through a Live Chat on your website, in the middle of a Messenger experience, or on your Facebook Page.
Say you you set up a flow where users can browse products in the Messenger window:
In your Chat Marketing platform, set up an "Ask An Expert" button for each product which sends potential customers into a Live Chat with your business.
Set up a Notify action block to notify any admins on the account and add the tag Needs Help to keep tabs on the shoppers. Then create a follow-up message to let the shopper know when someone will respond.
Transferring shoppers to Live Chat also triggers the Human Agent Message Tag, which gives you up to seven days to respond to subscribers. Download the ManyChat mobile app on iPhone or Android for quicker and more efficient communication.
For more on how to use ManyChat's Live Chat feature, watch the following video:
8. Extend your Black Friday promotion until Cyber Monday
When planning your Black Friday promos, save some deals for Cyber Monday. Measure what deals are selling best on the current Black Friday, then reuse them for your Cyber Monday promos.
You can extend the deal from Black Friday into Monday, or re-launch it as a separate campaign.
9. Keep users two clicks from checkout
When you map out your conversation, you're likely planning how to get the sale. It's easy to get distracted by creating a great user experience, but you want to focus on what matters most — getting people to click Buy.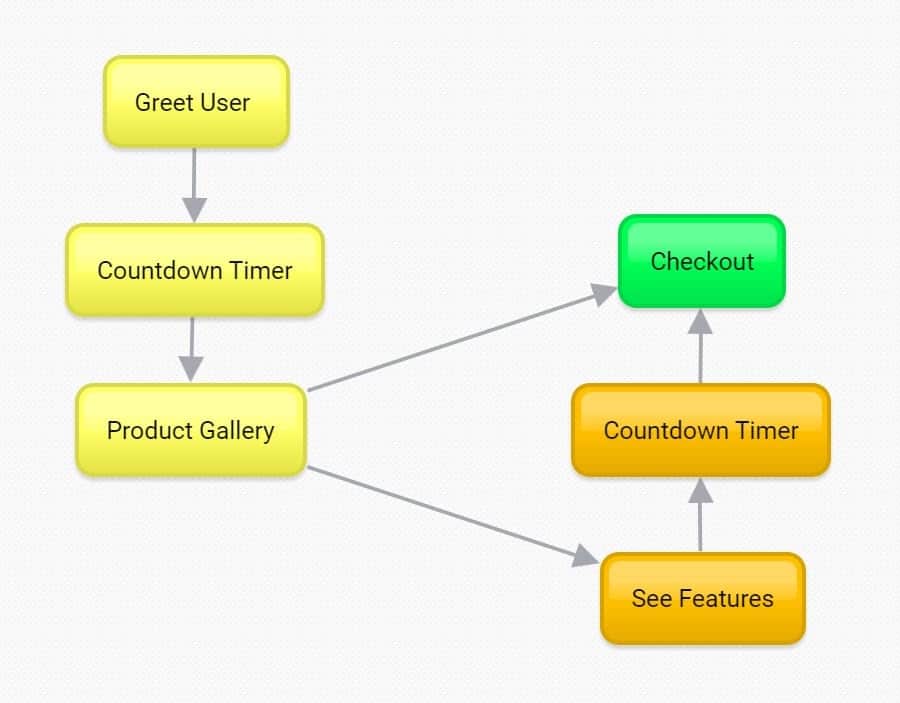 To appeal to shoppers, put a countdown timer and quick access to checkout in your flows. If a user wants to, say, see more features, design the conversation to route back to a countdown timer, then checkout again.
10. Integrate Stripe or PayPal
When a shopper scrolls your Black Friday flow product gallery, prompt them to pay in Messenger. It's a skillful way to reduce friction in the selling process, and create a quick and easy checkout for shoppers. You can now integrate both Stripe and PayPal in your ManyChat bot.
The Stripe and PayPal integration make it easy for customers to pay through their digital wallets. Set up is simple:
Link the payment provider to your ManyChat account.
Add buy button to Card, Gallery, List, or Media template.
Publish your flow and start selling!
If you want to start now, follow the ManyChat Payments Demo below.
Messenger bots can handle transactions from order form processing to sending confirmations in the chat window or by email. You can also set dynamic pricing to charge different amounts; for example, if your customers are cold, you can offer a certain discount. Or you can send loyal customers a special Black Friday discount that's just for them.
Want to run a creative Black Friday campaign?
As you can see, it's challenging to compete with all the Black Friday noise to promote and sell your product. But that doesn't mean you can't do it.
Think about your audience's needs before you map out conversation, make sure they're always two clicks from checkout, and upsell the right products — whether it's an accessory or upgraded version of the item — and you'll quickly bring in Black Friday traffic, subscribers, and sales this shopping season.
Disclaimer: This information is provided for educational purposes only and should not be relied upon as legal advice. Please always consult your own attorney before engaging in text marketing.
Win more customers and drive sales this Black Friday with ManyChat. It's free to get started.
The contents of this blog were independently prepared and are for informational purposes only. The opinions expressed are those of the author and do not necessarily reflect the views of ManyChat or any other party. Individual results may vary.