4 Keys to Drive Sales With Social Commerce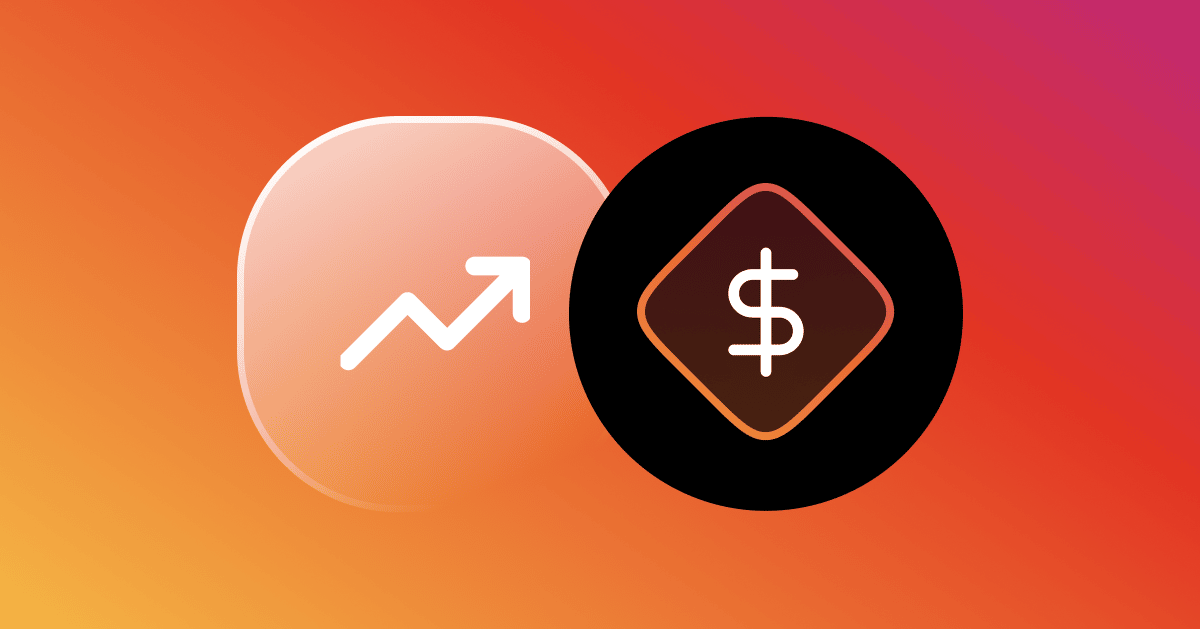 Social commerce is the fastest-growing channel for online retailers.
But not all retailers know exactly how to sell effectively on social media. While it's well-known for its ability to build awareness and acquire leads, ROI has always been a challenge.
That said, with apps like Instagram and Facebook churning out micro-shops, social commerce adoption—by brands and consumers alike—is growing rapidly. You'll want to know how to sell on these platforms, or you'll get left behind!
If you want to drive sales with social commerce, focus on the following four areas:
Content and creative
According to Insider Intelligence's 2021 Social Commerce report, the apparel and accessories category poses the largest opportunity for social commerce. (Consumer electronics, cosmetics, home decor, and consumer goods are also key industries driving social sales.)
Among their insights, Insider Intelligence also found that brands featuring new and different products or those that provide aspirational imagery are best positioned in the social commerce environment.
Ecommerce brands today cannot afford to post poor-quality images on social media, especially on visually-focused sites like Instagram. Fortunately, you don't need to hire a professional photographer to create beautiful imagery. Smartphone cameras are well-equipped to take attractive photos of your products and stream live content.
When it comes to your creative, make sure you showcase your products as a part of a lifestyle. Lifestyle photography has become a critical way to facilitate the shopping process and sell more in your eCommerce store, especially on social media, where so many posts feature images of people "IRL."
When people shop, they want to envision themselves using your products. Thanks to social media platforms' visual nature, there's no better way to show off your product than in situ.
To be successful, your creative needs to grab users' attention and stand out. Your brand needs to be memorable, with content that places less emphasis on copy and more on media.
Brands have 1.5 seconds to grab consumers' attention and need to hook them with key product benefits immediately.

Rachel Tipograph for BI's Building an Effective Social Commerce Strategy report.
Instagram shopping features like in-app checkout and storefronts make the buying process faster and easier for potential customers. But unless you can capture your audience's attention, it doesn't matter how seamless the process is.
Fortunately, photos aren't the only way to make your social media accounts stand out.
Media strategy
When you want to attract an audience on social media, it's important to know exactly who you want to reach and what will snag their attention. A media strategy is an action plan that helps you reach high-intent buyers and improve conversion rates on your preferred social media channels.
First, you'll want to decide what social media channels you'll use. Instagram is one of the most prominent social commerce platforms today, but Facebook, Snapchat, and TikTok have added more eCommerce features over time, making them significant contenders in the space as well.
Here are some types of content you'll want to share on the platforms:
Live streams
Short video clips, like Reels and TikTok videos
High-quality photos
Polls
Instagram Live Shopping sessions
Publishing the above content helps the right audience notice eCommerce businesses, but don't create content just because everyone else is. When crafting your media strategy, consider your target market's demographics. Who are they, and what content are they most likely to interact with? What messages resonate with them?
For example, if you're selling apparel for 18–25-year-olds, you'll want to consider investing in Reels and Stories. If you're a creator and coach, live streaming workshops and Q + A's may be a better media strategy for you.
Regardless, creators and eCommerce brands should not rely solely on publishing organic content and hoping it goes viral. Paid advertising is also essential. Instagram ads, for example, are a cost-effective way to find customers for your social commerce funnel. This paid content leverages Facebook's advanced targeting system, allowing you to show ads to extremely detailed groups and enjoy better returns on your spend.
Audience amplification
Audience amplification (utilizing user-generated content as social proof) is an extremely powerful tactic that, when employed correctly, can deliver incredible results for your social commerce initiatives. It involves making your followers the hero of your products and showcasing their content throughout your networks.
Placing your customers front and center can expand your audience, establish your brand, and create new opportunities for sales and leads. It works because studies show most people are skeptical of brands and their advertising. If they see people just like them (or perhaps those they admire) using your products, there's a higher chance they'll purchase it.
Let's look at some ways to amplify your audience.
Work with influencers
It's no secret that influencer marketing is an effective social commerce strategy. According to Bynder and OnBrand's 2020 State of Branding Report, influencers had the second greatest impact on brand visibility and perception online.
Why are they so successful? For one thing, influencers have fandom. They have amassed fans with whom they've built connections over time, mostly around commerce. They use authenticity to cultivate affinity.
If you associate your brand with influencers whose lifestyle and views align with your product, your target audience will be more likely to see your company in a positive light and trust it.
Launch contests
As your brand resonates with more people, they're more likely to spread the word about it. Contests are a great way to give followers a reason to share fun and good fortune with their friends and family.
Considering 72% of consumers say they want brands to post about discounts or sales, contests are the perfect opportunity to give away free products while building brand awareness.
Read more: Top 9 Organic Instagram Growth Strategies
Respond to Story mentions
When we refer to someone "mentioning" you in their Instagram Story, it means they tagged your brand. People tag brands in their Stories for many reasons: to show off a new purchase, share an unboxing experience, or get a company's attention for customer support.
Businesses can share the Story on their own profile or respond to users through direct messaging (DM). Keep in mind, however, that messaging people individually after a Story mention can become overwhelming as your brand grows on Instagram. For many larger brands, it's nearly impossible to answer all mentions manually. But it's essential to do so because it makes customers feel heard and valued.
High-growth brands on Instagram are using ManyChat's Story Mentions Trigger automation to respond to messages. This tool allows your brand to instantly reply to everyone who mentions your handle in a Story.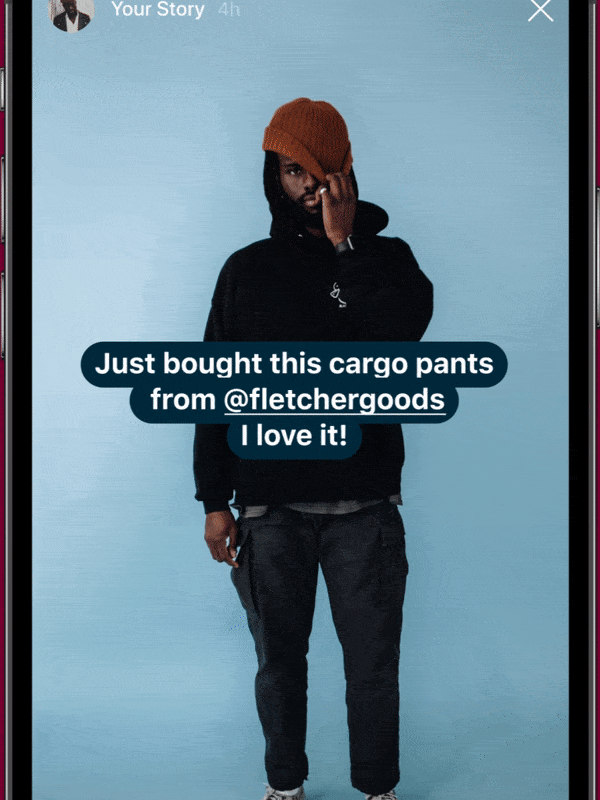 You can send a thank you note or start an entire automated conversation through a Story mention follow-up. Showing you care helps encourage audience engagement and enables your brand to start conversations at scale.
Post user-generated content
User-generated content (UGC) refers to any content on Instagram — videos, images, Stories, Reels, etc. — created by people, not businesses. Brands normally share UGC featuring their products on their Instagram profiles and ads to boost company credibility.
Nearly 80 percent of people state that UGC highly influences their purchasing decisions. Try sharing your followers' Stories on your feed to amplify your brand's exposure and broaden your audience on Instagram. Another option is creating a compilation of Highlights for an album of UGC Stories. People can continually watch them before deciding whether to buy or not. (Highlights stay on your profile, whereas Stories disappear in 24 hours.)
Conversion
The holy grail of all eCommerce is conversion. Getting people to shift from inspired to ready-to-purchase in one session is a unique benefit of social media because many times it's driven by impulse.
A 2020 study by Bizrate Insights found that 35% of U.S. social buyers described their recent social purchase as an impulse buy. The remaining 65% stated that they were already considering the item, and seeing it on social media convinced them to convert.
These three elements can help improve your social commerce conversion rates:
Social storefront: Aka Facebook Shops and Instagram Shops.
Streamlined checkout: Helpfully enabled by both Facebook and Instagram by virtue of their integrated checkout features
Exceptional, fast customer support: Offered by ManyChat Instagram Automation
Instagram Shops are full-screen storefronts where you can showcase products in the app. People can browse and shop from your business profile or through your Stories and feed.
Facebook Shops (similar to Instagram Shops) are also available to retailers online. These eCommerce capabilities allow creators to sell their products and shorten the buyer's journey by keeping the entire purchasing experience on one platform.
As mentioned previously, the majority of social commerce purchases are impulse buys, which means any friction can dissuade people from completing the checkout process. Therefore, keeping the entire buying experience inside one app can increase the chances of people buying from you.
Thanks to eCommerce features like shoppable posts and Stories, you can encourage sales directly from your content, too.
When it comes to providing customer support on platforms like Instagram and Facebook, ManyChat is a great option. If people post a question or complaint on Instagram, you can resolve it quickly using our Instagram Automation features.
Instagram Automation saves businesses and creators time and generates more online sales. With it, you can:
Encourage sales by replying to product questions like, "Does this come in size 10?" and including a link to your product pages in your response.
Automate responses to frequently asked questions like, "Do you offer free shipping?"
Create qualified leads by automating lead qualification and follow-ups.
Achieve greater success with your Instagram ads by sending people directly from an advertisement into a conversation with your business.
You can also take advantage of ManyChat's Live Chat feature to provide human support when needed.
The faster your response time on these social media platforms, the more likely people will buy from you. The deeper customer relationships you build using automation can lead to more followers, better leads, and more social commerce sales for your business.
Now that you know what to do, it's time to get out there and start driving sales!
Grow your Instagram following and make sales with Instagram Automation by ManyChat. See if your business is eligible by applying below.
The contents of this blog were independently prepared and are for informational purposes only. The opinions expressed are those of the author and do not necessarily reflect the views of ManyChat or any other party. Individual results may vary.