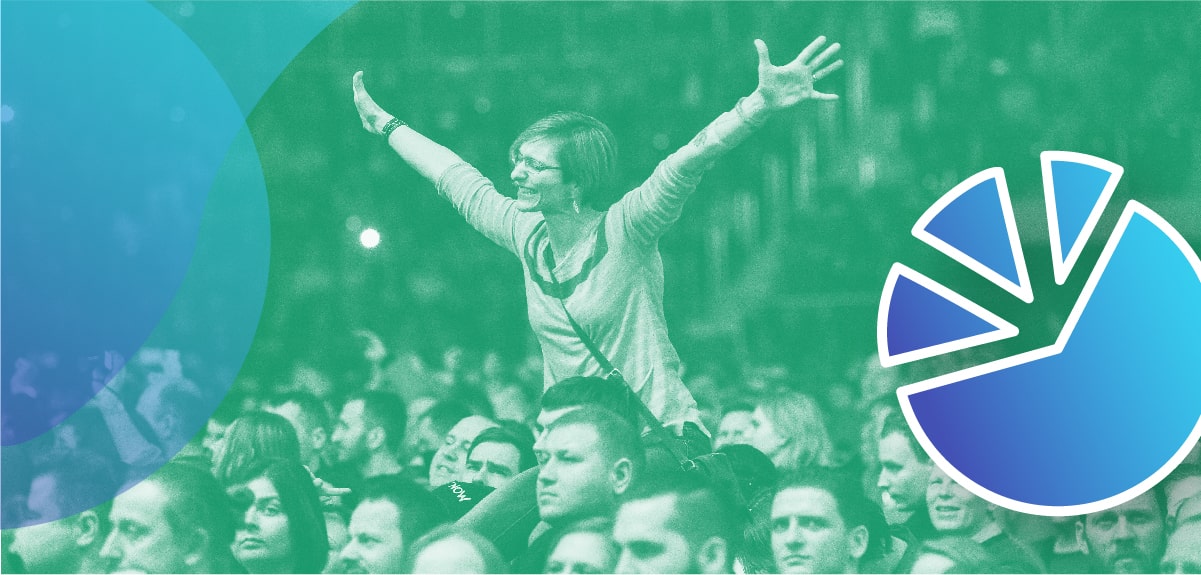 Marketing segmentation can be the backbone of a successful business. Dividing customers into smaller groups based on their needs and actions is exactly what can help you solve their problems and, in turn, sell more.

Surprisingly, not every business owner focuses their efforts on behavioral segmentation. Around 33 percent of companies who use segmentation say they find it effective, according to the latest research by Forrester.

The problem? Many are still using traditional segmentation methods like geographic and demographic. Of course, these aren't bad — but combining all these approaches can enable you to create more personalized and real-time conversations with specific audiences, which, in turn, can lead to a bigger customer base and more engaging opportunities for your leads.

Marketing is expensive, so missing the mark when it comes to outreach wastes time and resources. And that's where behavioral segmentation can help to improve your lead generation strategy and drive more sales for your business.

Note: Some of ManyChat's interface and information has changed. We're working hard at updating this content. Please stay tuned!
Behavioral segmentation definition
Behavioral segmentation refers to dividing your target market by what they do, not just who they are. This type of audience segmentation tracks different actions and activities a consumer takes, for example, their knowledge of, likes and dislike of, attitudes towards, or response to a company.

Behavioral segmentation doesn't exist apart from other types of segmentation. Organizing customers by basic information such as age, location, gender, profession, and interests is fundamental. When combined with behavioral, it can help you better understand your audience and tailor your product or service to meet their needs.

When you zero in on your audience's needs and behaviors, you can market to them more effectively. That's where going beyond the traditional geographic and demographic types of marketing with behavioral segmentation can make all the difference.
Four types of behavioral segmentation
Splitting up your audience into smaller groups, each by actions and attitudes, helps businesses use their time and money better. It also lets you tailor products and services to best meet your customers' needs versus what a competitor offers.

When you understand your target market like this, and group them accordingly, you can create personalized opportunities that draw a prospect deeper into your funnel, and eventually close the deal. There are a ton of different types of market segmentation around behavior, but we'll cover four you can get started with today.
1. Purchase Behavior
When you group by purchase behavior, you look at how customers act while they consider buying from you. It helps you understand what stage they are in when purchasing your product, and how you can send more relevant offers along the way.

Many behaviors can be tracked before categorizing a customer, including:

How many times a customer interacts with your business.
The questions a customer asks.
What buttons they click in your Messenger bot.
How much information a customer seeks before buying (through reviews, return policy information, warranty information, etc.).
Once a customer is categorized by the type of shopper that they are, you can send more targeted messages or ads based on your criteria.

For example, if someone fits into an "I'll get it later" category, they might receive a message that the item they were looking at has a limited supply. The "needs proof" shopper can be targeted with a message displaying that the item is in demand.
2. Customer Loyalty
Loyal customers are usually the highest repeat buyers for businesses. And often, it can be cheaper and easier to market to customers you already have.

Loyalty-based behavioral segmentation helps you focus on keeping existing customers, not acquiring new ones. It works by tracking a customer's participation in rewards programs, for example when someone buys a coffee or product in your online store.

Loyalty programs can also come in the form of referral programs. By leveraging loyalty, a business can build stronger connections with return customers. Plus, they can drive new leads by letting word-of-mouth promotions run their course.

Your rewards program can hold as many offers as you want, for any product or service you wish. To keep up with today's mobile-first landscape, you can create a loyalty program right inside Messenger with ManyChat. Plus, you can make it fun!

When a person begins to collect points, they'll want to collect more and more until they reach that rewards. Make it worth their while by creating offers that help them earn extra points. It's a Fortune 500 strategy that can now be executed by anyone, even small businesses,.
3. Occasion
Everyone has purchasing habits. Occasion-based behavioral segments consider the psychology behind these habits and trends. Some occasions can be universal, such as booking a hotel for New Year's Eve, while others are personal, for example buying a beer after work at Happy Hour.

Most people stick to both universal and personal patterns, so oversimplifying an individual's needs by only focusing on their common patterns does marketers and business owners a huge disservice. And it can cause your company to miss out on reaching customers when they actually want to be reached.

Back in 2012, occasion-based behavioral segmentation made headlines: Target knew that a teenage girl was pregnant before her family knew. This seems pretty crazy, but think about it: Every time you buy something, you give the company insight into your life. Needless to say, the girl's dad wasn't too happy when his daughter started getting coupons for baby clothes in the mail.

By analyzing occasion-based habits, you can target customers during less popular times too. For example, Starbucks knows that customers tend to come in for their morning coffee. So, they offer buy one, get one free Frappuccino during the afternoon to draw in a crowd later in the day.
And more often than not, it works.

By tracking items that people purchase, you can find opportunities to upsell or cross-sell — whether you're a brick-n-mortar or eCommerce store — and help customers win.

4. Benefits needed
When people make purchases, it's done with the belief that the product they buy will add value to their life. What triggers them to buy may be a specific feature or benefit, or a combination of the two, that are most relevant to their situation. This type of segmentation is about diving your audience based upon the benefits or values they get from your products or services.

Many different businesses use benefits segmentation, including furniture, professional services, auto, and clothing. There are five main benefit categories for this type of market segmentation:

Quality: how good (or bad) your product is versus competitors.
Performance: how it helps them carry out an action.
Customer service: how satisfied they are with the product.
Special features: specific things customers like about the product.
Other benefits: any other advantage or profit customer gains from purchasing your product.
For example, Lightning Labels uses benefit segmentation to sell certain products to select groups: Quality, philanthropy, and creativity.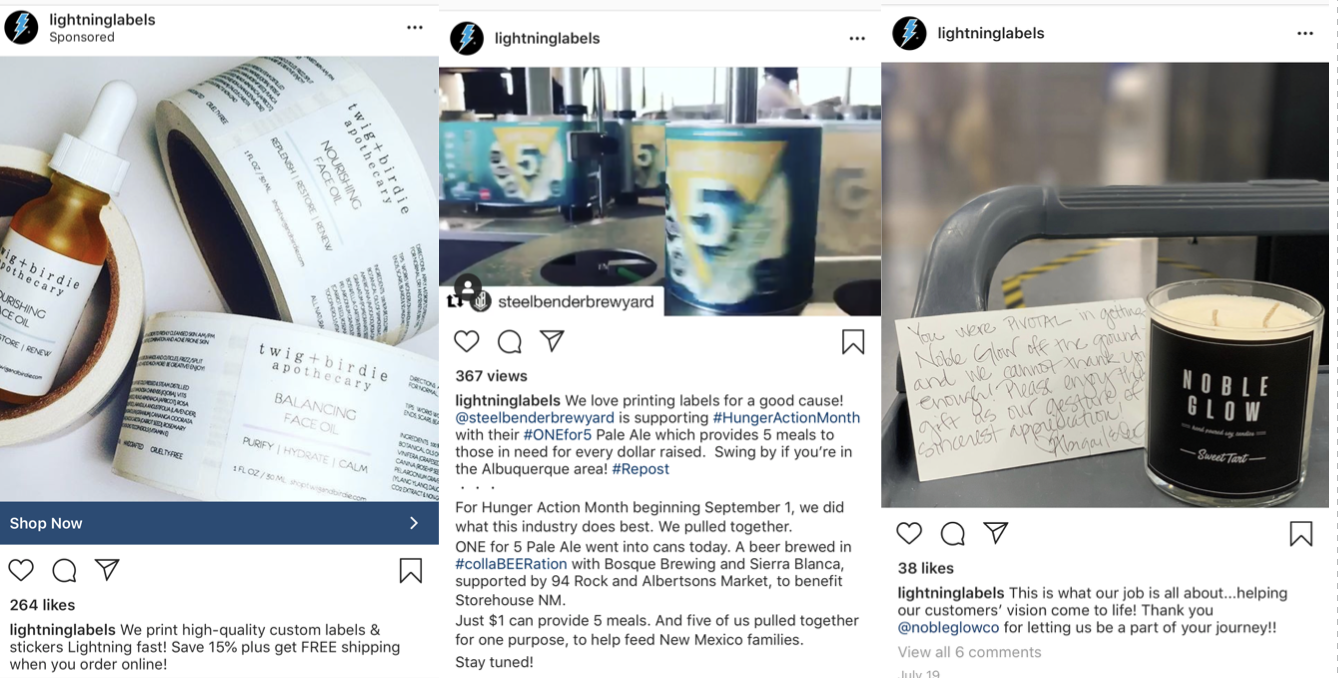 Based on who interacts with their posts, Lightning Labels can tailor content around the benefit that drew in the potential customer. They can use what they learn about their audience to create more engaging and targeted ManyChat sequences, emails, SMS, and Facebook ads.
Examples of behavioral segmentation
Bluesun Hotels
When Bluesun Hotels launched it's remarketing campaign with Chat Marketer Daniel Pikl, the team used a benefits needed segmentation strategy to personalize each customer journey.
The team sent paid Facebook messages to a cold list Bluesun hadn't contacted in years. Users who clicked through the ad were asked a series of questions in Bluesun's Messenger bot to learn more about what they needed to have the best vacation.
Based on the information they provided, sales would segment prospects and send tailored content to encourage the sale. For example, if a couple was booking a trip, the hotel would send "things to do" lists to make a more intimate vacation. Families booking with the hotel would receive resources on how to make family travel easier.
Using a Messenger-based campaign, the Croatian hotel chain achieved impressive results for this remarketing campaign:
17x Return on Ad Spend (ROAS)
300% decrease in cost per lead
9,300+ warm leads
14,000+ Messenger bot subscribers
Jason Swenk's chatbot funnel
Agency trainer Jason Swenk launched a chatbot funnel which brought in over $250,000+ for his business. He used purchase behavior, or readiness to buy, segmentation to determine which leads he should contact personally in order to encourage the sale.
Users enter the bot from a lead magnet on Jason's marketing site and sent into a qualifying sequence. Based on actions leads took inside the funnel, Jason could segment them into groups in order to see who was more likely to buy. Once they hit the end of his funnel, he'd contact leads with a voice note inside Messenger.
This chatbot brought in a quarter of a million dollars for Jason with zero dollars in ad spend.
Use behavioral segmentation in your marketing strategy today.
Behavioral segmentation helps you gain a deeper understanding of who your ideal customers are. The more you know about them, the more you can create personalized and rich opportunities that urge them to close the deal.

Use the four behavioral segmentation techniques above to make your marketing efforts more effective, and get customers to spend more money.
Want to segment your audience better and drive more sales? Get ManyChat today. It's free to get started.