Product Update: DM Automation for Instagram Lives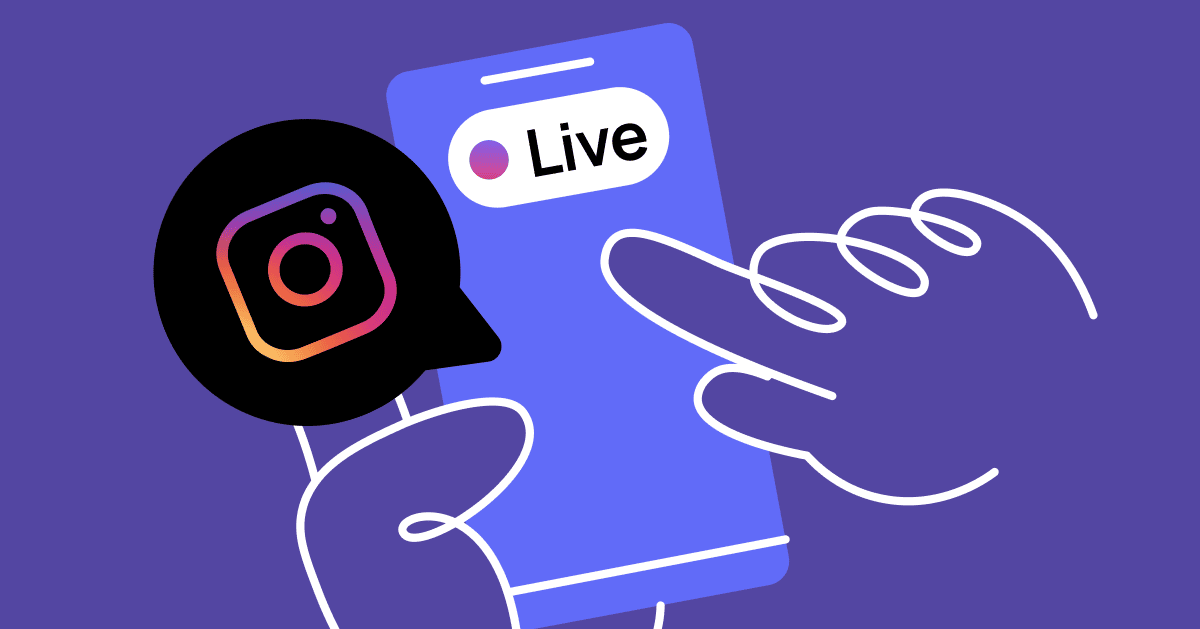 We're excited to announce that DM automation for Instagram Live Comments is now available at ManyChat.

There's been a big shift with brands on Instagram to use Lives because it allows the human behind the brand to connect with their audience on a personal, unfiltered level and is a powerful way to grow on Instagram.

One of the biggest issues many brands faced with Lives was tracking and managing comments from a live stream in an effective, scalable way.
The introduction of the Instagram Live Comments trigger will allow brands to send an automated DM reply when viewers comment during an Instagram Live. This is huge.

You can now easily start a DM conversation with viewers actively engaging during your Live in real-time and at scale, nurturing your audience via automated DM funnels to convert them into customers.
Let's take a look at this powerful new trigger and how to boost your Instagram Live strategy to new heights.

From Instagram Live to your DMs

There are several reasons why you'll want to incorporate Instagram Lives into your business strategy, but this main reason should make it a no-brainer:

All users that have the app open will get a notification that you are Live and your icon is bumped to prime position over IG Stories.

Once your Live has started, getting viewers from your Live into your DMs is a powerful way to shift from a 1-to-many level of engagement to a 1-on-1, personalized conversation that they initiate.
Using this trigger, anyone who comments during your Live will instantly get a DM reply from you. You can set up custom Keywords to trigger the automation, letting you deliver a clear call-to-action (CTA) during your Live, and your DM automation takes care of the rest.
This is what the experience can look like for an IG Live with DM Automation:
It's already natural for users to comment during a Live and having a clear CTA that's powered by automation will allow you to create personalized DM conversations that move them down your funnels.
To grow brand awareness, invite a fellow co-host to your Live with a compatible following and get in front of a new audience. With DM Automation, you can now funnel these new prospects into your own DMs and engage them 1-on-1, at scale.
Here are some other ways to do use DM Automation for Lives:
Get registrations for an event, webinar, training, etc.
Grow email/phone lists in exchange for a free guide, newsletter, etc.
Book appointments by redirecting them to your website
Send a coupon code and link them to your store to purchase

…and much more.
Now let's take a look at how to build DM automation for Instagram Lives.
How to build DM Automation for Instagram Lives
The Instagram Live Comments trigger will only fire your DM automation once for every first comment from viewers. This means you have one shot during every IG Live to get viewers from your Live into your DMs and move them further down your funnel to convert.

You'll find this new trigger when you click 'Add Trigger' from your Starting Step and you can customize your Keywords once you add the trigger:


One thing to note is that the first message sent back via DMs after the comment can only include a Text block with a Button or a Quick Reply for the next step.
Your contact will need to interact with the Button or Quick Reply (opt-in) in order for the 24-hour window to open and the rest of your automation to fire, so make that first message enticing enough to get them to move forward: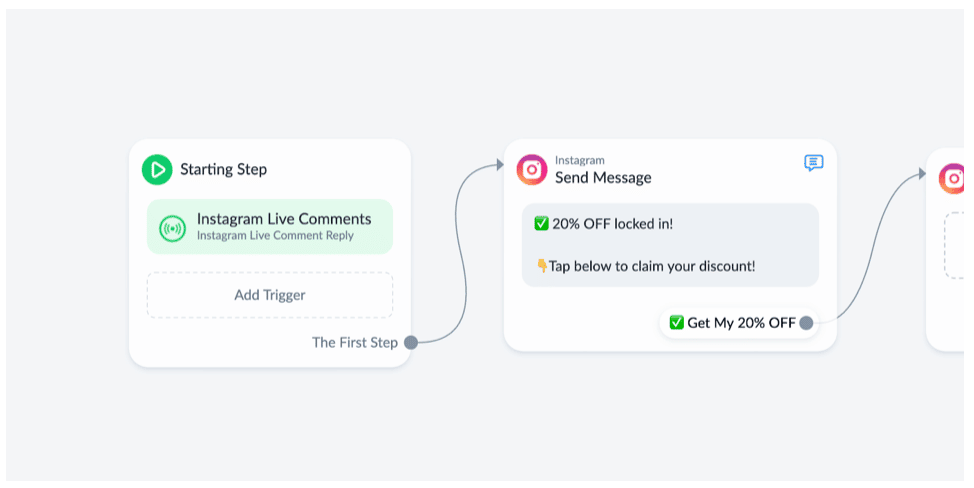 It's also good to think about the timing of your call-to-action for comments. The first message will be sent via DMs upon comment, so the pop-up notification could take viewers away from your Live prematurely if they tap the notification and go into DMs.
One way to manage this is to include a Smart Delay so that the rest of your automation fires after your Live is over:


As long as that first DM reply is sent during the Live, you can ask viewers to rejoin your Live and the rest of your automation will fire once the delay has expired.
For more advanced automation using this trigger, you can include other steps such as a Condition, Action, or Randomizer step before the first message.
We add an Action step before the first message in this example to Tag users that initiated this discount/early bird flow:
For full details on how to use this powerful new trigger, check out our support article on the Instagram Live Comments trigger.
Ready to get started?
The contents of this blog were independently prepared and are for informational purposes only. The opinions expressed are those of the author and do not necessarily reflect the views of ManyChat or any other party. Individual results may vary.