3 Reasons Why eCommerce Owners Must Attend Conversations 2020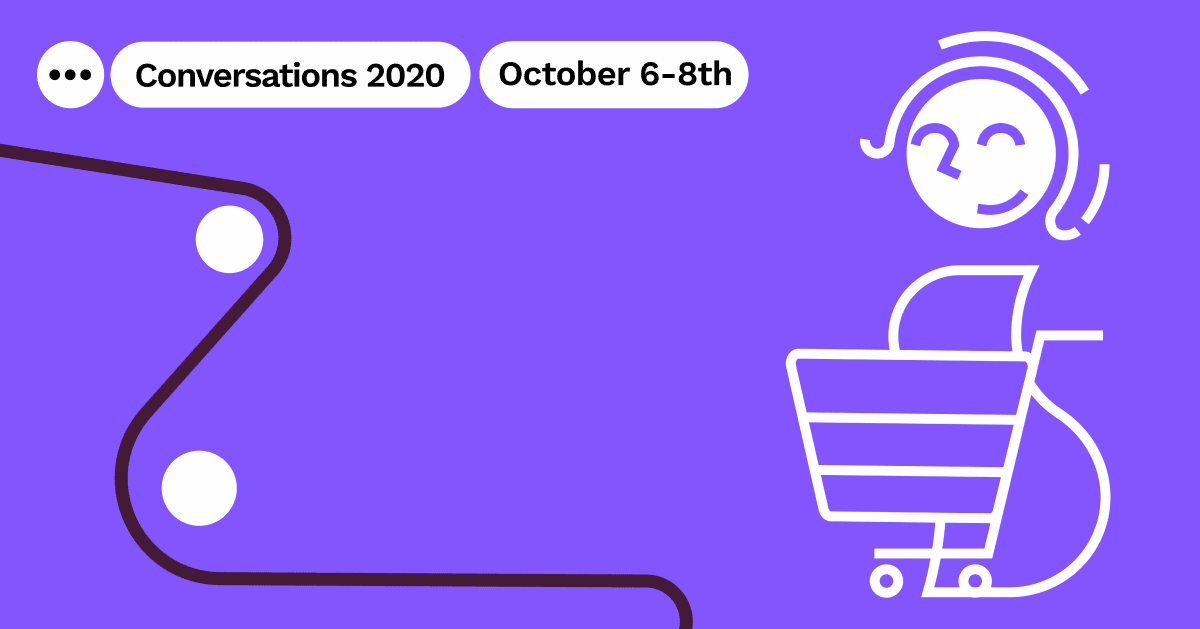 If you sell anything online, block October 6-8th in your calendar now, because you're going to want to attend Conversations 2020. You'll learn the expert strategies and tactics to grow a profitable eCommerce store without ever leaving your living room!
At Conversations, we've rallied the top Amazon and Shopify ninjas to share their secrets for attracting more customers, generating 10x ROI, and growing your store using proven omnichannel marketing strategies. 
At this virtual event, Amazon and Shopify sellers will gain tremendous knowledge not found anywhere else.
The agenda includes handpicked eCommerce sessions that you'll enjoy, even if:
You're new to chatbots and are curious about how they can help you grow a successful online business
You're already testing and experimenting with chatbots, but you feel like you're missing something that will take your efforts to the next level (without your constant oversight)
You want "the secret sauce" that will help boost customer retention rates and hit those all-important sales targets
We've identified the top three reasons you must attend Conversations 2020.
Reason #1: You'll discover the secrets of Amazon's top 1%
You'll get advice straight from renowned Amazon and Shopify experts who will unpack how the top 1% of online sellers use ManyChat to deliver the winning edge against the competition.
In fact, Seller.Tools co-founder Troy Johnston has dedicated his entire session to sharing step-by-step instructions for what top eight and nine-figure Amazon earners are doing right now with ManyChat.
Reason #2: You'll leave with ready-to-go revenue strategies for the holidays
With the holiday season upon us, let the queen of Amazon chatbots, Michelle Barnum Smith, show you how to take advantage of Amazon's massive traffic with strategies that position you for success, outsmart your competition, and build an audience of buyers ready for the new year.
These expert tactics can be applied to any online store, even if you're not an Amazon seller.
Reason #3: You'll score a major shortcut to your success with $15,000 worth of templates and freebies
Conversations speakers will be giving away invaluable templates, checklists, cheat sheets, and more, in 100% virtual, interactive sessions. Some of our speakers have worked tirelessly for months on their freebies alone, the combined value of which is estimated at over $15,000.
Conversations also has sessions for all levels that offer bot-building fundamentals, Feature 101 sessions, and dive into the Chat Marketing revolution with Product Masterclasses.
This event will open your eyes to the untapped potential of your online business.
More About Our Speakers
Our all-star line-up consists of some of the biggest names in marketing, including Daymond John, Neil Patel, Billy Gene, Molly Pittman, Jasmine Star, Ryan Deiss, and many more.
View our full line-up of speakers here
More About Conversations 2020
Conversations is the largest Chat Marketing conference in the world. It unites 5,000+ marketers from over 40 countries who are shaping the future of Chat Marketing.
With 30-plus sessions dedicated to Amazon and Shopify sellers, this top-rated virtual event will deliver winning tactics for growing your business online. You'll get to sit in on breakthrough sessions for coaches, consultants, digital agencies, and more, as well as receive $15,000 worth of templates and practical workshops. 
The contents of this blog were independently prepared and are for informational purposes only. The opinions expressed are those of the author and do not necessarily reflect the views of ManyChat or any other party. Individual results may vary.