Get More Attendees With a Webinar Marketing Chatbot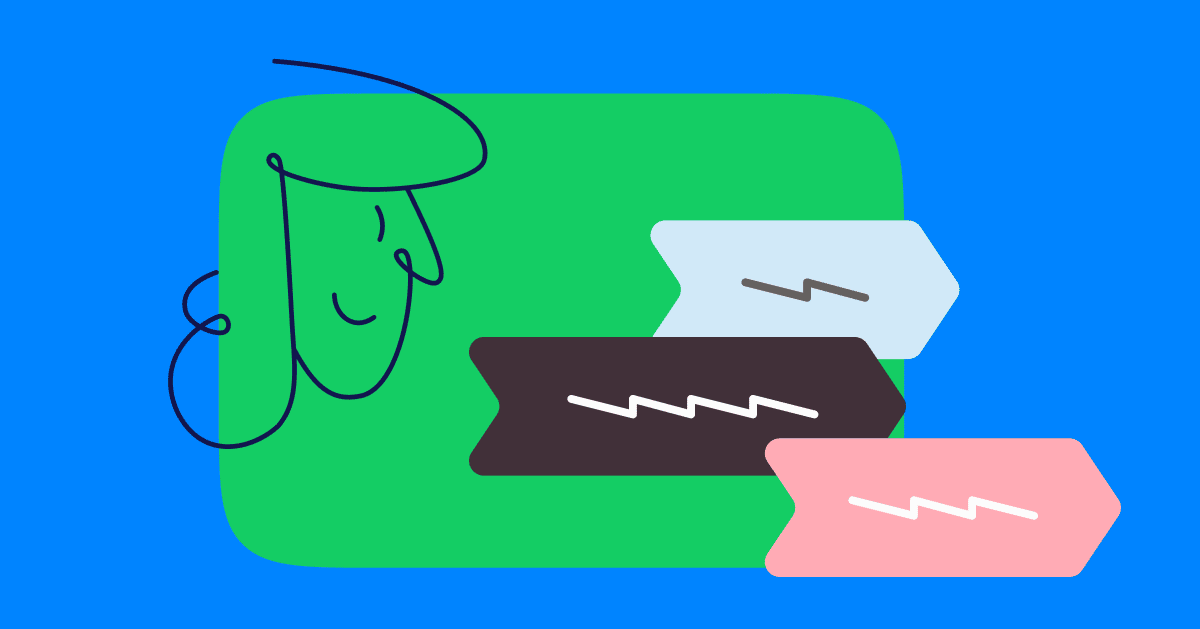 Chatbots are the secret behind the most successful webinar campaigns. They are the best way to register people quickly, reduce manual work, and send reminders and follow-ups that can help acquire more attendees for your webinar.
Traditional opt-in forms for webinars only net you a 35% attendance rate, on average, but our experience shows a chatbot can improve your attendance rate by up to 40%.  
The best part? You can set up a bot in an hour and use it in combination with popular webinar software like Zoom or WebinarJam.
This guide will walk you through how webinar chatbots work and how to set one up for your next campaign today.
Table of contents
How webinar bots work
As a marketing tool, webinar bots differ from traditional methods for obtaining digital event sign-ups.
There are no landing pages or forms; instead, a chatbot will register attendees for a webinar or other events. The attendee provides their information to the business while in Facebook or Instagram Messenger, then the bot automatically registers and confirms them.
The process looks something like this:
You promote an upcoming webinar through channels like Instagram ads, Stories, organic posts, your website, and contact list.
Interested people click your call-to-action button, which opens up inside Messenger.
The webinar bot asks the attendee for their information. You can ask for details like name, job title, etc., and collect SMS and email addresses to send event reminders.
Automated reminders go out to registrants via their preferred channels. You can even send a series of reminders in the days preceding the event.
On the day of the event, the bot will send a final reminder to attendees via their preferred channel that includes an event link.
Sounds pretty easy, right? Using a chatbot to get registrations saves you time and energy. It makes it easy for people to sign up for a webinar and sends automated reminders to increase your RSVP and attendance rate.
How to set up a webinar bot
Ready to use a chatbot for the next campaign? Let's look at how to set up a webinar bot.
1. Go to Zoom and schedule your webinar
The first step is to schedule a webinar. You can use any software you prefer, but this tutorial will walk you through how to use Zoom and ManyChat through Zapier. (Note that you'll need a Zoom Pro account to set up a webinar.)
2. Create your flow in ManyChat
Let's begin with your Starting Step. These are the triggers that'll kick off your registration flow. The easiest way to get sign-ups is by using the Messenger Ref URL. It's a link you can post anywhere that will enter users into your registration flow when they click on it.
Starting Step
Add the triggers you'll use in this block. If you're unsure which to use, read Every Growth Tool Explained to learn about the different types of triggers ManyChat offers. 
Welcome message
Next you'll want to create your welcome message. Think about what potential attendees will need to know about the webinar, along with what would get them excited to sign up.
Here's an example:
Use the thumbnail from your webinar promos in the message to help capture a viewer's attention. Then list any critical information about the webinar, like the date and time, important speakers, and the benefits of attending.
Collect email addresses
Now you can collect an email address to reach attendees without breaking Messenger's 24-hour rule limitations.
To collect email information, first create a Condition after your welcome message using the setting Email has any value. This will check your database for the registrant's email address, as they may have already interacted with your business on Messenger and given you their email.
If the registrant hasn't provided their email yet, craft a message to capture it. Create a message from your Condition block that triggers if you don't have an email address.
To build this message, select User Input. This will let people enter their email address. In the message settings, change the Reply Type to Email. Then toggle ON Save Email to System Field and Set Email Opt-In to save the address in your ManyChat CMS. 
After you create the message, build an Action on reply that tags the person. The tag helps you track people's activity in your bot. (In this case, you'll always know this person signed up for your webinar.) You can then tailor promotions or follow-up communication to them accordingly.
If you already have a person's email, you'll want to check if they still want to use it for registration. Here's the setup to use:
Generating link
Next, connect your email message blocks to your Generating link message. (We'll explain how to set up unique links shortly.)
Registration confirmation
The next step is to create a confirmation message. This message tells the viewer you received their registration and contains their unique event link.
SMS reminders
If a registrant signs up for SMS reminders, you'll want to create an opt-in message to get their permission to contact them in the future. Remember to let them know they can opt out anytime in this message.
Bonus: Provide a link that allows people to add the event to their calendar. It can help attendees remember your webinar and improve participation rates.
3. Connect Zapier to your ManyChat account
Go to the ManyChat & Zoom integration page on Zapier's website. Create a New Tagged User in ManyChat trigger. Choose the ManyChat account you'll be using to run the webinar. 
4. Connect your webinar software to Zapier
Use the action Create Webinar Registrant in Zoom, and set the action event to Create Webinar Registrant.
Then create a Set Custom Field in ManyChat and follow the prompts.
Finally, check that your Zaps work. Your sequence should look like this:
Now, every time you assign a registrant a specific tag, for example, "holidaywebinar," they'll automatically be registered for your event in Zoom.
Tips for using webinar chatbots
Whether you're running your first or fifth webinar, keep these tips in mind:
Set expectations
Make it clear that attendees are not speaking to a live person. Being honest with people builds trust with your business. Your welcome message can say something like, "Hey! This is Mikebot. I'm filling in for Mike today to help get you signed up for the webinar."
Some people may prefer human support. No problem! You can add a button in your messages that, when clicked, connects them to a live person on your team (or you, if you're running solo).
To take the load off your support team, you can also field questions inside your Messenger bot. Provide a button stating "Ask questions" in your messages. When a user clicks it, they'll get the chance to leave questions you can answer later.
Collect contact information for sending reminders
People who interact with your bot automatically become Messenger contacts, but you can use your chatbot to collect attendees' phone numbers and email addresses, too. This gives you more opportunities to send follow-ups to help keep people interested. The more excited an attendee is, the more likely they'll be to show up for your event.
You can send a follow-up through Messenger using a One-Time Notification to remind people about the event. But what if they don't see your message in time? 
Send reminders
With ManyChat, you can send a series of time-based follow-ups before the webinar. Although your business and webinar will dictate the message content in your series, there are a few webinar messages you'll want to include for the best results:
Post registration follow-up message
First reminder, sent one week before the webinar
Second reminder, sent one day before the webinar
Third reminder, sent the day of the webinar
Post-webinar "Thank you for attending!" message
Follow-up "Here's your recording" message
Use your attendees' preferred channel to send these messages. For example, if they favor text messages, then you'll want to send reminders via SMS. If they like email, then send them email reminders. An omnichannel approach increases the likelihood that people will read your messages and can boost your attendance rate.
Using chatbots in your webinar campaigns
There's no doubt that having a chatbot is more than a "nice to have." Businesses can use chatbots to quickly register attendees, improve participation rates for their online events, and ultimately achieve greater business outcomes, be it awareness, leads, or sales.
Build your webinar chatbot today to ensure you get the most from your webinar marketing efforts.
Connect with registrants and get more attendees with ManyChat's marketing automation. Start free today.
The contents of this blog were independently prepared and are for informational purposes only. The opinions expressed are those of the author and do not necessarily reflect the views of ManyChat or any other party. Individual results may vary.