Trending Instagram Hashtags in 2022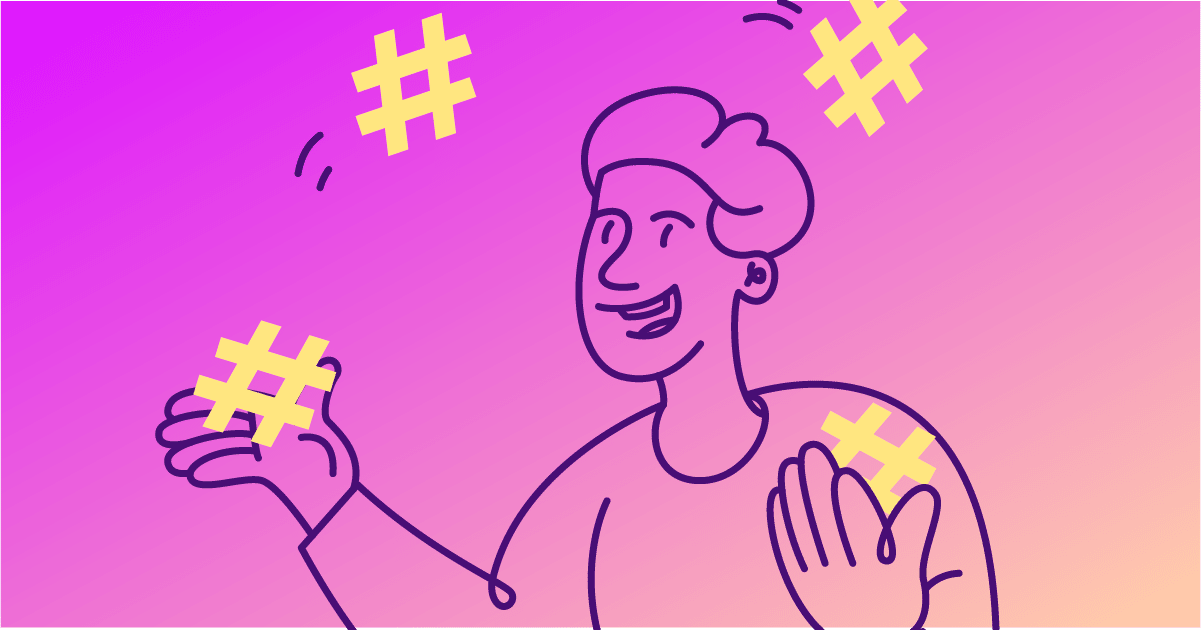 It's time all Instagram users had an answer to the elusive question, "Should I be using hashtags?" We're not going to keep you in agony through the following 1,000 words to find the answer—it's a definite yes. You should absolutely be working hashtags into your Instagram marketing strategy. They are a powerhouse tool for getting your content and brand noticed. But there are caveats to their use.
Below, we'll discuss hashtags and explore how they can help expand your brand reach. We'll also answer more of your dire questions, like, "How many hashtags is too many?" and "What are the trending hashtags in 2022?"
Before we get going, if you are new to the ManyChat platform, visit our homepage for more information or click the button below to sign up for an Instagram-boosting experience. 
Why should you use hashtags on Instagram?
Instagram hashtags have many benefits, the main one being increased performance. Instagram hashtags act as a search engine of sorts—they help filter content to specific niches and industries based on the tags you use. Let's look at some other benefits of using hashtags.
Reach: As we mentioned above, hashtags are the powerhouse that fuel the Instagram discovery algorithm. Hashtags give you consistent reach to users who may never have before crossed paths with you and your brand. This allows for more potential followers and engagement.
Engagement: Speaking of engaging, according to research from Influencer Marketing Hub, brands that used at least one hashtag in their post saw on average 12.6% more engagement than those that went without.
Branded hashtags: Instagram has openly stated that it prefers you to create brand-affiliated hashtags. They allow you to see who is participating in giveaways and promotions and referencing your brand in general.
How can you research the right hashtags to use on Instagram?
If you want to research the right hashtags, you need to use the Instagram app as your research tool of choice. Under the search bar, click on Tags and Instagram's algorithm will populate numerous popular hashtags that relate to the theme of your post. It will also incorporate how many posts are linked out to that tag.
Other ways of conducting hashtag research include:
Surveying your customers
Using audience insight tools
Using Google suggested terms
Looking at competitors and influencers
What kinds of hashtags should I use?
Brands should be focusing on hashtags that produce a return and link up with their target audience. Here are some questions to ask to filter out the good from the bad:
Does it suit your type of content? You don't want to be linking out to food-related hashtags if you're talking about fashion. It defeats the purpose.
Does your target audience follow it? You want to be where your audience is, cut down your hashtag list to only include tags where your audience is active.
Is the hashtag trending? Ride the wave of popularity. If you happen upon a trending hashtag that is used by your followers and your competitors, you likely need to hop onboard.
How many hashtags should I use?
According to research, the best number of hashtags to use ranges from 9 to 12, although you will find some "experts" who suggest two to three or 11 or 30. The best course of action for you is to research your niche and test out different hashtag strategies to know what works best for your brand.
What hashtags are trending in 2022
As for 2022 trending hashtags, we pulled a report from Influencer Marketing Hub to guide you through the top 100.
#love
#instagood
#photooftheday
#fashion
#beautiful
#happy
#cute
#tbt
#like4like
#followme
#picoftheday
#follow
#me
#selfie
#summer
#art
#instadaily
#friends
#repost
#nature
#girl
#fun
#style
#smile
#food
#instalike
#likeforlike
#family
#travel
#fitness
#euro2020
#tagsforlikes
#follow4follow
#nofilter
#life
#beauty
#amazing
#instamood
#igers
#instagram
#photo
#music
#photography
#makeup
#dog
#beach
#sunset
#model
#foodporn
#motivation
#followforfollow
#sky
#lifestyle
#design
#gym
#f4f
#toofunny
#cat
#handmade
#hair
#vscocam
#bestoftheday
#vsco
#funny
#dogsofinstagram
#drawing
#artist
#f4fl
#flowers
#baby
#wedding
#girls
#instapic
#pretty
#photographer
#instafood
#party
#inspiration
#lol
#cool
#workout
#likeforfollow
#swag
#fit
#healthy
#yummy
#blackandwhite
#foodie
#moda
#home
#christmas
#black
#memes
#winter
#pink
#sea
#landscape
#blue
#london
#holiday
If you would like to learn more about hashtag strategy and how to incorporate it into your Instagram marketing, check out the articles below:
The contents of this blog were independently prepared and are for informational purposes only. The opinions expressed are those of the author and do not necessarily reflect the views of ManyChat or any other party. Individual results may vary.