Where To Sell Your Clothes Online (+ Tips for Marketing Them)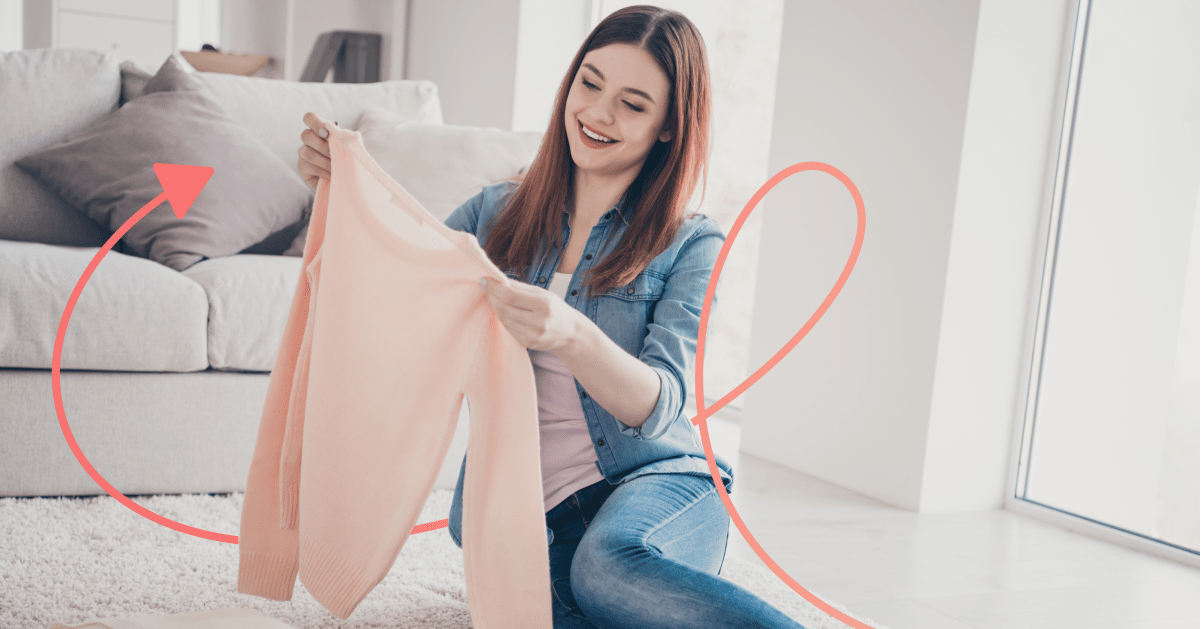 People are buying clothes and shoes online more than ever before. According to research by Statista, the global eCommerce fashion industry will be worth an estimated $713 billion by 2022. 
You're spot on if you want to get in on the action. A well-executed and marketed online clothing store can be an extremely fulfilling and profitable venture.
Whether you're getting rid of old clothes in your closet to make a few bucks or starting an eCommerce fashion business, here are nine ways to sell your clothes online for fun and profit.
Sites and apps to sell clothes online
Your own store
Starting your own online store comes with a few challenges—you're basically building a clothing brand, which can take a little time—but can also be exciting and lucrative.
Keep in mind you'll have to market yourself and find ways to generate website traffic, but the upside is that all the profits are yours. You don't have to pay any commissions or adhere to any marketplace rules. The best platform to create your clothing store is Shopify. 
When it comes to building your own website to sell clothes online, Shopify is the easiest and most trustworthy eCommerce platform. To date, over 1 million merchants use it.
The basic plan starts at $29 per month and includes your store, blog, SSL certifications, social media sales channels, and many other tools and apps. There are no setup or hidden fees. It's beginner-friendly and has excellent customer service to get you started quickly.
Shopify also provides a ton of Shopify apps to help you run your store more efficiently, including an integration with ManyChat, which allows you to find, nurture, and retain more customers for your clothing business. 
Facebook Shops and Instagram
Facebook Shops makes it easy for businesses to sell their items online through Facebook and Instagram. As a seller, you can choose the products you want to showcase and customize your store's look and feel with images and colors that match your brand. 
People who visit your Facebook Shop can browse your items and buy them through the Facebook app. The best part? It's free! Whether you're new to selling clothes online or are an industry vet, you can set up your Facebook Shop without any upfront investment.
Your Facebook Shop shows up on your Facebook Page and Instagram profiles. Shoppers can browse your collections, save their favorite products, place orders, and contact you through Messenger without ever leaving the app.
eBay
Chances are you already know that eBay is a marketplace where you can buy and sell items online. It's been around since 1995, making it a pioneer in online retail sales. According to the latest eBay statistics, it has over 1.3 billion listings and 182 million users worldwide. 
Ebay makes it simple to sell clothes online. People can search by category (women's clothing, men's shoes, etc.) or discover items by brand (Nike, Chanel, Ray-Ban).
Before setting up shop on eBay, one thing to consider is the fees you'll get hit with when selling clothes on its marketplace. Ebay charges a non-refundable listing fee for each product and another insertion fee if it's listed in two categories. You'll also be charged a final value fee, which is a percentage of the total sale amount, including any shipping charges. 
Fees aside, eBay is a competitive marketplace with amazing potential for sales, so you'll want to provide outstanding service to customers, write accurate product descriptions, and follow all eBay policies. 
Amazon
Amazon doesn't need much of an introduction. It's the third-largest online marketplace in the world and brought in over $96.1 billion in revenue in the third quarter of 2020 alone, a 37% increase from the previous year. It sells more than 12 million products on its site to hundreds of thousands of customers, offering clothing retailers a built-in audience.
At a minimum, you'll pay $.99 for each item you list using the Individual Plan. You could also sign up for the Professional Seller Plan for $39.99 per month. This plan is ideal if you plan to sell more than 40 units per month, advertise your items, and want advanced tools like APIs and reporting. Overall, Amazon is a reliable online marketplace to sell on if you want to reach a broad, global audience.
Facebook Marketplace
Facebook Marketplace is the social media behemoth's Customer-to-Customer (C2C) site where individuals can buy and sell their stuff. More than one in three people use Marketplace each month, making it a terrific opportunity to reach active buyers for your clothing business. 
Like Facebook Shops, it's completely free to list your clothing items, and you won't get charged any fees—just make sure you follow the guidelines to sell on Facebook Marketplace. Facebook also partnered with eCommerce platforms like Shopify to let merchants sync their store's inventory to Marketplace, advertise, and acquire new customers. 
ASOS Marketplace
ASOS is one of the largest fashion marketplaces in the world. They have an extensive global customer base of fashion-forward, trendy twenty-somethings. Opening up a shop (referred to as a "boutique") on ASOS Marketplace is a great opportunity for new, up-and-coming fashion brands to get discovered and build a brand. 
To list items on ASOS Marketplace, you'll need to set up a Business PayPal account if you don't already have one. Then you'll have to apply to create a boutique. ASOS requires that "You must be selling either your own designs or a true vintage collection (Y2K or older)." They are selective about who they let sell on the platform.
If you are approved, you'll have your own branded area in the ASOS Marketplace, where you can customize your bio, storefront, and your offerings' layout.
Although ASOS is a more challenging marketplace to break into, it's a great place to find high-intent buyers who align with your values and vision.
Etsy
Etsy is the go-to marketplace for handcrafted and vintage clothing items. You can sell everything: sweatshirts, baby clothes, t-shirts, dresses, socks, tunics—the sky's the limit. With over 60 million buyers on the platform, Etsy is a great channel for building brand awareness and selling clothing online. 
Esty charges a $0.20 listing fee for each item you list. Your listings expire after four months, so if you don't sell your clothing item and you want to renew the listing, Etsy charges you another $0.20. After you close a sale, Etsy also charges a 5% transaction fee of your price, including sny shipping or gift wrapping fees.
If you want to sell clothes on Etsy, be mindful of the fees; they can add up quickly. Despite this, your Etsy shop will provide immediate access to active buyers and tools to help market your business on the platform.
Poshmark
Poshmark is a pioneering social shopping marketplace for selling clothes online. It has become the go-to site for side hustlers and full-time business owners who resell vintage clothing or just want to free up space in their closets. 
In an interview with ManyChat, Katherine Berger, an active Poshmark seller from New York, explained, "Poshmark gives everyday people a platform to sell things you've invested in, but may not wear much anymore." It's become an additional source of income for Katherine as well as a place to find cool clothes she wants to wear. 
"A lot of Poshmark sellers, like myself, shop on the platform. If I have a particular style I want and can't find elsewhere, I turn to a sellers' closet to find it."
New sellers can quickly create a "closet," or online shop, on Poshmark right from their iPhones. According to Katherine, the app is "extremely easy to use" and makes it effortless for her to list, manage, and get paid for her items.
thredUP
thredUp is an ideal place to sell clothes online if you're selling secondhand or vintage items. It's similar to a consignment shop's business model, which works differently than marketplaces like ASOS or Poshmark. 
When you sign up to sell clothes on thredUP, the company will send a Clean Out Kit (aka a big empty bag) to your home. Fill it up with clothes you no longer wear or need, then send it back to thredUP through FedEx or USPS (shipping is paid for by the company). thredUP then inspects your items, and lists eligible ones the marketplace.
Sellers can earn up to 80% of the resale price. You can choose to get paid with cash-outs or store credit for their online shop, where thredUp lists thousands of items each day, including jeans, handbags, shoes, accessories, and more.
Tips for how to sell clothes online
Fashion sellers need a specific skill set to achieve success and make smart decisions for their business. Here are some ways to manage your online clothing store and drive sales.
Add professional photos and descriptions
When selling clothing online, you want to present and describe your items in the best light possible.
Chelsea von Ohain, founder of Gotcha Packed, a female-owned clothing retailer, says, "Since pictures are a customer's only point of reference, it's best to use as many as possible. Include photos from every angle and  close-up shots showing the color, pattern, and texture detail of the garment. 
"Information about the fabric material and what it's made of is helpful too. Furthermore, as a consumer, I also appreciate when brands have pictures of the garment on a variety of body types and skin colors. This helps to understand if it would be flattering on a curvy girl like me or if the color would wash out my skin tone."
Build a contact list
A critical step to selling clothes online is building your contact list. Whether you're starting from scratch or bringing over existing contacts from a brick-and-mortar store, your contact list is where you'll store and manage your customers' information.
You can share your story, promote your business, and showcase your clothes to your contact list, which will turn contacts into paying customers.
If you want to add potential buyers to your contact list, you can use an opt-in pop-up modal on your website to encourage sign-ups.
Many retailers will use perks like exclusive deals as lead magnets to get new contacts. Others offer first-time buyers a discount to encourage them to sign up for their contact list. Fashion retailers can also combine Facebook ads with a Messenger bot to grow their contact list quickly and easily.
Work with influencers on social media
Influencer marketing involves working with popular online creators to generate content that promotes your brand. 
Research shows that 80% of marketers believe influencer marketing is more effective than traditional channels like paid advertising. Influencers can help you reach more relevant customers and generate sales for your clothing business. 
With 10 years of experience owning multiple online clothing stores under her belt, Allison Alexander, owner of KFT Brands, knows her stuff. She recommends building relationships with brand ambassadors to grow your business. "My apparel has been worn by elite athletes in the Crossfit Games & American Open, and I work with over 100 ambassadors [for KFT Brands]," she told ManyChat. 
"The more people you can get to wear your clothing in public and post about it, the better. It's critical to be intentional about whom you work with and not underestimate micro-influencers."
Aim to work with influencers admired by your target audience. Browse popular hashtags and accounts on social media to find influential creators, then reach out to them with an offer.
Provide best-in-class customer service
Excellent customer service is the gold standard for eCommerce fashion brands today for a good reason. The majority of U.S. shoppers won't buy from a brand if they have a bad experience. Even worse, they'll tell their friends about it later. Once a brand gets stuck with a reputation for poor customer service, its stock (both literally and figuratively) can drop precipitously.
Fashion retailers can use chatbots to provide customer support 24/7— they can answer questions, help shoppers find products, and encourage sales. You can connect a chatbot to your website, Facebook Shop, or even your SMS support channel using ManyChat. If a shopper needs human assistance, an agent can jump into a live chat conversation to resolve any questions or concerns. 
Growing your online clothing store
Ultimately, selling clothes online all boils down to reaching shoppers on various platforms. Building multiple storefronts and having the confidence to test new marketing strategies and create demand for your products are critical ingredients for success.
But remember, your job isn't done once you list products on a marketplace. Excellent customer service and a relatable brand are necessary to successfully sell clothes online and close as many sales as possible.
Although it can take some time to build up brand equity and a solid reputation, it's completely worth it in the end. Your sweat equity will help your clothing store become more popular and generate excellent profits for your business. 
Want to connect with shoppers and make more sales? Sign up for ManyChat free to start today.
The contents of this blog were independently prepared and are for informational purposes only. The opinions expressed are those of the author and do not necessarily reflect the views of ManyChat or any other party. Individual results may vary.