How to Use Messenger Marketing for Gyms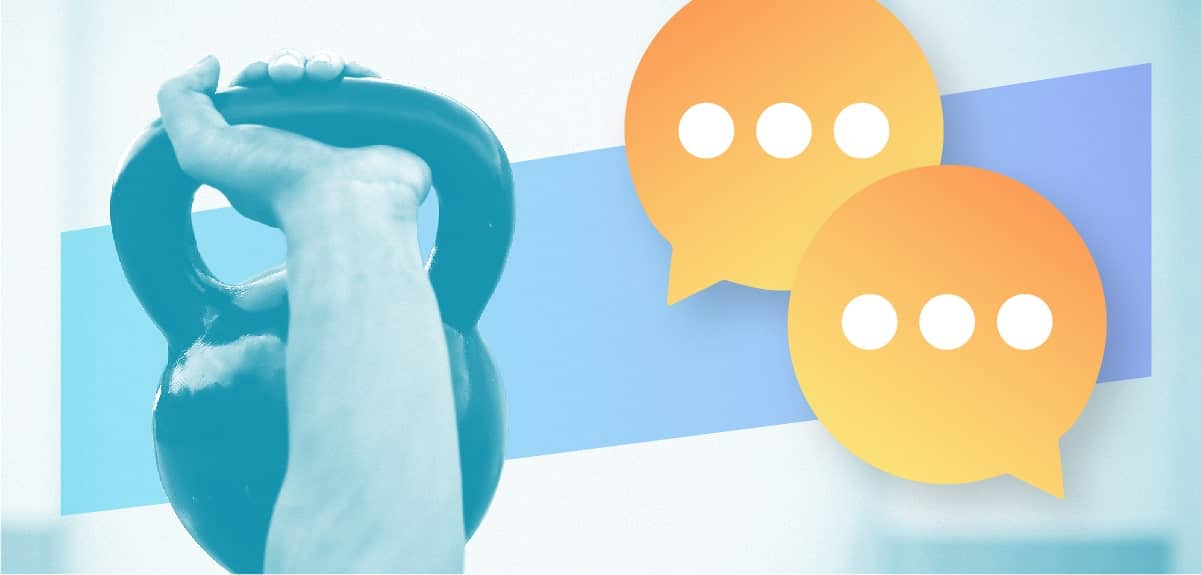 Gyms have a unique edge: Their audience tends to be relatively definable, especially if the particular location targets a certain type of gym-goer. This could be the athlete or the bodybuilder, the appearance-conscious or the person who just wants to get healthier without being in an intimidating atmosphere.
One thing all gyms have in common, however, is that converting their target social media visitors to members can be a breeze with the use of Messenger Marketing. In fact, setting up just a few simple features can create a hands-off flow that turns gym audiences to gym members with little involvement. From FAQs to sequences, here's how to use Messenger Marketing for gyms.
Anticipate FAQs and Set Up Replies
It's key to remember that visitors are on your gym's Facebook page because they're researching their membership options, checking the vibe of your gym, and asking questions. Using a ManyChat Messenger bot allows you to create pre-canned answers to questions, but doing so effectively means knowing exactly what your audience will want to know so that your bot can recognize keywords and respond effectively.
For gyms, these questions might be:
What are your hours?
How much is a monthly membership?
How often do you bill?
What amenities do you offer?
What does my membership come with?
Where are you located?
To know exactly what your audience might ask, sift through old Facebook Messages you've received from customers, or ask team members what they get asked most. This insight will help you set up bots that can answer any and all customer questions, and shuffle them to the right resources or landing pages.
Send Targeted Broadcasts
ManyChat Broadcast is one of the best marketing tools to share your content with your prospective gym audience. It allows you to:
Deliver content to a list of subscribers and target them using audience filters.
Engage your subscribers to communicate with the Messenger bot or subscribe to a Message Sequence.
Get to know your audience and segment it with tags depending on users' replies (conversational actions).
Try the following types of broadcasts:
Non-Promotional Broadcasts – Non-promotional messages such as event reminders and productivity reminders can be sent to your subscribers. These are great for reminding them of upcoming classes they may have signed up for.
Promotional Broadcasts – Commercial messages only to subscribers that were active (interacted with your bot) over the last 24 hours. This can be introductory member offers or other promotions. Note: Use this option carefully so as not to annoy your visitors.
Build Effective Image
Building effective flows that convert visitors to members is going to be the meat and potatoes of your Messenger Marketing. Flows are basically visual editors of your Messenger Marketing campaigns with features such as Triggers, Send Messages, Delays, Conditions, and more. An effective flow is its own campaign, with metrics that allow you to track how well each node is performing at persuading visitors to take the desired action.
Take Fit N Simple: ManyChat's Flow Builder allowed them to map out and guide the user flow from start to finish. They had hundreds of thousands of subscribers but struggled to create personalized experiences before using ManyChat's Flow Builder. After enabling the feature, they were able to deliver customized plans around the time a user would head to the gym, and so much more. Read the entire case study here.
Start Leveraging Messenger Marketing
Using Messenger Marketing for your gym consists of three general practices that can vastly boost subscribers, convert visitors, or help your gym gain traction on social media:
Anticipate FAQs and automate replies for quick answers.
Leverage the various broadcast types to grow subscribers and engage with your audience.
Build flows that create personalized experiences for maximum performance.
Gyms truly have a unique edge. Use it to your advantage and leverage Messenger Marketing today.
The contents of this blog were independently prepared and are for informational purposes only. The opinions expressed are those of the author and do not necessarily reflect the views of ManyChat or any other party. Individual results may vary.