What is Livestreaming Commerce and How Can I Use It?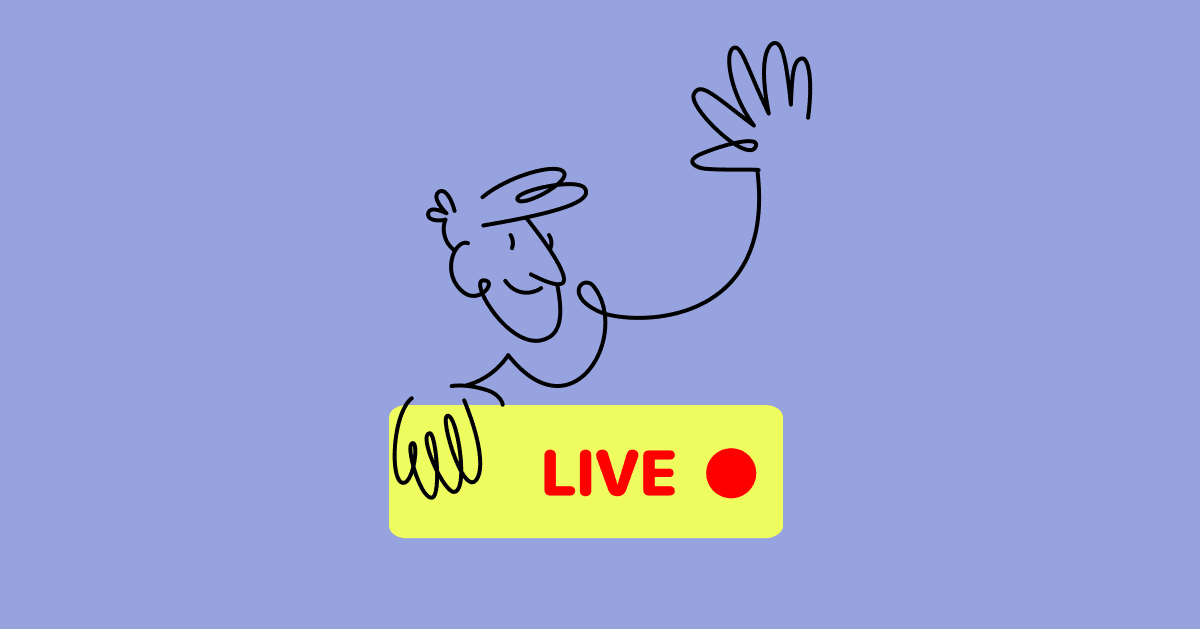 Of all the features available to small businesses through social media (and other platforms), livestreaming is probably the most underestimated in terms of its power.
While you might think that people prefer to watch video content at their convenience, watching in real time has captured on average 25.4 minutes of users' attention per play compared to 19 minutes for on-demand in 2021. When you go live, you have a better chance of holding your audience's attention for longer than if you uploaded a video.
Livestream eCommerce has taken off in China over the past few years, generating almost $300 billion in sales between January and May 2021, an 85% increase from the year prior.
This guide will help you understand what livestreaming commerce is, how it works, and a few examples of use cases that'll inspire you to start streaming.
What is livestreaming commerce?
Livestreaming is a type of video content that is both recorded and broadcasted in real time concurrently. Livestream commerce is kind of like QVC television, where hosts discuss products, engage with their audience, and drive sales by promoting short-term offers.
Livestreaming began in May 2016 with the arrival of Alibaba's Taobao Live. The eCommerce giant linked up a livestream with an eCommerce store so viewers could watch and shop at the same time. Live shopping quickly became the sales campaign for Singles' Day, a massive shopping event in China. In 2020, Taobao posted $7.5 billion in total transactions during the first 30 minutes of Alibaba's Singles' Day.
Live commerce offers viewers instant purchasing options for a featured product, plus the opportunity to participate through a chat function and reaction buttons. While the west has not yet fully embraced live commerce, experts suggest that live commerce sales will make up to 20% of China's eCommerce sales by 2026.
Live commerce can help brands:
Speed up conversions: Live commerce is immersive, exciting, and keeps viewers watching longer. It also expedites the buyer's journey. Hosts can use urgency tactics like one-time coupons to improve conversions by up to 10X compared to traditional eCommerce.
Increase brand awareness: Livestreaming is a terrific way to differentiate a brand and appeal to your audience. It's also effective at driving website traffic. Done well, livestreaming can help you attract new customers and retain loyal ones who appreciate new shopping experiences.
Livestreaming commerce by the numbers
Not convinced live commerce is for you? Let's look at a few reasons why you should consider it today.
How to do livestreaming commerce
Streaming content can be as easy as taking your phone out of your pocket and going Live on Facebook. But if you want to make the most out of your live commerce events, you'll have to put a little more thought into it. Let's start with the basics.
What equipment do you need to start live streaming?
Depending on your budget, you can have a very basic setup or engage a whole professional studio. Let's take a look at some of these approaches.
Budget approach: There's nothing wrong with using a mobile device (iOS or Android) or your computer webcam as your sole streaming setup. Most mid-range to high-end smartphones are capable of getting the job done. However, you'll at least also want to invest in a stand for your phone so you won't need to hold it.

Mid-range approach: You can still use your phone as the main camera, but you should also invest in a high-quality external microphone to improve the audio source (Rode is an industry standard) and a better stand.

Alternatively, you could invest in a dedicated mid-range DSLR camera to improve the overall visual quality. Be aware you'll need to download streaming software (hardware encoder or video encoding software) if you use a camera.

Professional-quality approach: If you've got the budget for big virtual events, you might either want to hire a whole professional studio such as DreamTek to work on individual projects or build your in-house team of experts.
Though none of these approaches are "wrong," most small businesses will benefit the most from a mid-range approach.
Choose your live streaming platform
Once you have all the equipment you need, you'll want to decide which streaming platform you're going to use. To start, you'll have to choose between using native apps and streaming through them only or using a third-party streaming service.
Native apps include:
Facebook Live
Instagram Live
YouTube Live
Twitch (mainly for gamers, gameplay streamers, video game industry, etc.)
TikTok (if you have more than 1,000 followers)
LinkedIn Live (though you need to apply first)
If you have a specific audience that you usually engage with through a single channel (like YouTube), you're probably better off using the native app. However, if you have a presence on multiple platforms, you'll want to use a third-party service.
Third-party streaming services include:
Some third-party streaming services like Be.Live and Vimeo Livestream will allow you to livestream to multiple social media platforms. On the other hand, services like Panopto help you limit your livestream to organization-only access. You'll need to weigh up your options and pick which service suits your needs best.
Have a plan
The last step for effective livestreaming is having a plan in place before you start. While there's always an element of improv and ad-lib moments in live video, you need to have an idea for how your stream is going to play out. If you don't create a plan, you'll end up either freezing up because you don't know what to say or going off-topic and losing the audience's attention.
Before you start streaming, make sure you have an outline or a guide to follow, just as you would with most other types of content. Of course, the plan depends on the type of stream you're creating (promotional, educational, etc.), but you can always record a test video first and watch the video file to assess how you did, then rerecord it later.
If you're stuck for ideas on what you could do for a live stream, don't sweat it. Next, we'll be looking at some use cases along with examples.
Use cases for live commerce
In this section, we'll look at five examples of businesses using live streaming. While each use case builds awareness of your brand, each also has a primary method and goal. Take a look and see which ones align best with your business goals:
Generate leads with live teasers
In a traditional sense, livestreaming is great if you're looking to create a little buzz for an upcoming bigger event. However, you can also use it to target a super niche audience. Position the event as if you're letting them in on a secret—not many people can resist exclusivity.
Take Molly Mahoney, who turned one Facebook Live into $90,000 of sales:
In this campaign, Molly targeted a specific group of people (LuLaRoe Consultants). She used Facebook Live (with Be.Live to schedule the broadcast ahead of time) to talk to them in real time, then used the broadcast as an ad.
The main focus of this campaign was the #MollyBot that Molly created using ManyChat. She used the Comments Growth Tool to automate a Messenger flow encouraging subscribers to sign up to a training program when they commented "connect" on the ad.
By being super specific with her audience and knowing how to solve their problems, Molly managed to reach that $90k sales figure within one month.
Do a live Q&A on Instagram Live Shopping
Instagram Live Shopping allows brands and creators to sell products during an Instagram Live. It's available for any business accounts that have Checkout enabled. You can tag products from your catalog that'll appear at the bottom of the screen for purchase during a broadcast.
Viewers can buy or save products added during your livestream. You can add up to 30 products to a collection to show and pin one item at a time while you're broadcasting to feature it.
Hosting a Q&A is a great way to help shoppers address any concerns about your products. You can market the livestream as an "Ask Me Anything" segment to encourage people who've not yet bought your wares. Because livestreams are intimate and casual, it's a smart way to build trust with viewers beyond your curated feed.
Offer customers live demonstrations
If you're looking to target potential customers in the consideration stage of their buying journey, you should consider doing live demonstrations.
You might be more familiar with the idea of going out in public and giving people a chance to use your product in person. But research shows it would be worthwhile to livestream your demonstrations as well.
Since the pandemic, 96% of people surveyed by Wyzowl said their video content consumption increased. Not only that, but 94% of marketers have said videos helped increase user understanding of their product or service.
Benefit Cosmetics is one brand that has made excellent use of livestreaming product demos :
Many beauty brands face two main problems: a) showing what their products look like on people who aren't professional models and b) how to use them in everyday life. In this case, Benefit Cosmetics demonstrates several products using "normal" people as models, which makes the product (and the brand) more relatable to its target audience.
Build hype with live product launches
If you want to combine both of the above use cases, you'd be looking at a live product launch. As with any other product launch, you should aim to build up to it with smaller teasers first, or drop everything all in one go. Apple offers one of the best examples of live product launches:
Apple has been broadcasting live annual events on YouTube to its global audience for several years now, with exceptional success. Its productions are super high-budget and it shows: For each product the company launches, it moves to one or more product experts (in different locations) who talk about the new features and use cases.
Even without a budget like Apple's, we can still learn from and implement what the presenters do — especially since Apple doesn't limit releases to physical products.
There are a few techniques you can copy in your next product launch to make your audience say "wow":
Stick to a single theme or idea per slide. Don't try to talk about everything under the sun at once.

Use the 10-minute rule. Don't speak for more than 10 minutes without providing a break from your voice. You could bring on a guest speaker, play a video, demonstrate the product, etc.

Show your passion once in a while.

Practice. A lot.

Make your slide deck public afterward (if you used one).
Apple presenters use all of these basic techniques. If you nail these, you can build on them to create an awesome live product launch.
Increase engagement with a live Q&A
Another popular way to make the most of livestreaming is to host a Q&A or AMA (ask me anything). The great part about these types of events is that if your guest is from outside your organization, like an influencer or industry expert, you get to extend your reach to their audience, too.
The other more obvious benefit of live Q&As is that they can significantly improve your audience engagement — since, ideally, the viewers are the ones asking the questions.
In the above video, the vice president of the company, Jeff Kiesel, held a live interactive Q&A on YouTube where viewers got to post their questions in the chatbox. For small businesses, this is one of the easiest ways to conduct a Q&A.
As we mentioned before, other types of Q&As can involve you bringing on a noteworthy person in your industry as a guest, chatting with them, and allowing your audience to ask questions. This format is similar to that of a radio or podcast show.
Each type of livestream event serves one main purpose: getting the audience involved and interacting with you and your brand. If you use a service like Be.Live, you can also use graphic overlays to make the visuals even more engaging for the audience.
Build your audience with live webinars
In most cases, brands create webinars to either educate their customers on an industry topic or train them on how to use their products and services. Live webinars take this concept one step further and can involve having guest speakers, performing live demonstrations, and including time for the audience to ask questions. In this sense, webinars are a very flexible format for live streaming.
Jump Consulting chose to do a live webinar to educate people on protecting their website content from being stolen:
The firm used a ManyChat Messenger bot to pre-register people to the event; a minute later, it sent a follow-up message encouraging registrants to share the event. Finally, the bot sent a reminder for attendees to click through to watch the broadcast on the day of the event.
This webinar improved live distribution by 229x thanks to the secret weapon — Comment Growth Tool, which (when triggered) automatically encouraged users to share the event in return for a freebie.
How to use Instagram Automation in your livestream
Going live on any platform can seem scary. You need to make a good impression on viewers without the chance to edit your video and manage the stream of incoming messages and expressions you receive during the broadcast.
Instagram Live is an awesome way to connect with your audience in real time and show off the more human side of your brand. Yet, when it comes to responding to messages, some creators and brands find it near impossible. How can you run a livestream and answer people simultaneously?
Enter Instagram Automation: a tool that helps brands have meaningful conversations with their audiences on Instagram. For livestreams, creators can use the Keyword Automation feature to trigger conversations in Instagram Messenger. You can tell viewers watching your livestream to message you with a particular phrase or emoji, and when they do, they'll receive an automated, predetermined response in seconds.
To set this up, you only have to tell ManyChat what phrases and emojis to look out for in an Instagram conversation, then set up the automated conversation in Flow Builder.
Learn more about Instagram Automation by reading "Key Instagram Automation Features for 2021."
Enhance your live streams with ManyChat
Livestreaming any event can seem intimidating at first. But as long as you go into it with the right equipment and platform for your brand and a well-thought-out plan, you can boost your engagement, grow your audience, and increase your bottom line.

Using Instagram Automation by ManyChat and Facebook, you can make your livestreams more efficient and effective, growing your contact list and offering them more of what they love.
Build your brand online with ManyChat + Instagram. Start free today.
The contents of this blog were independently prepared and are for informational purposes only. The opinions expressed are those of the author and do not necessarily reflect the views of ManyChat or any other party. Individual results may vary.