How Instagram Automation Can Make the Holidays Easier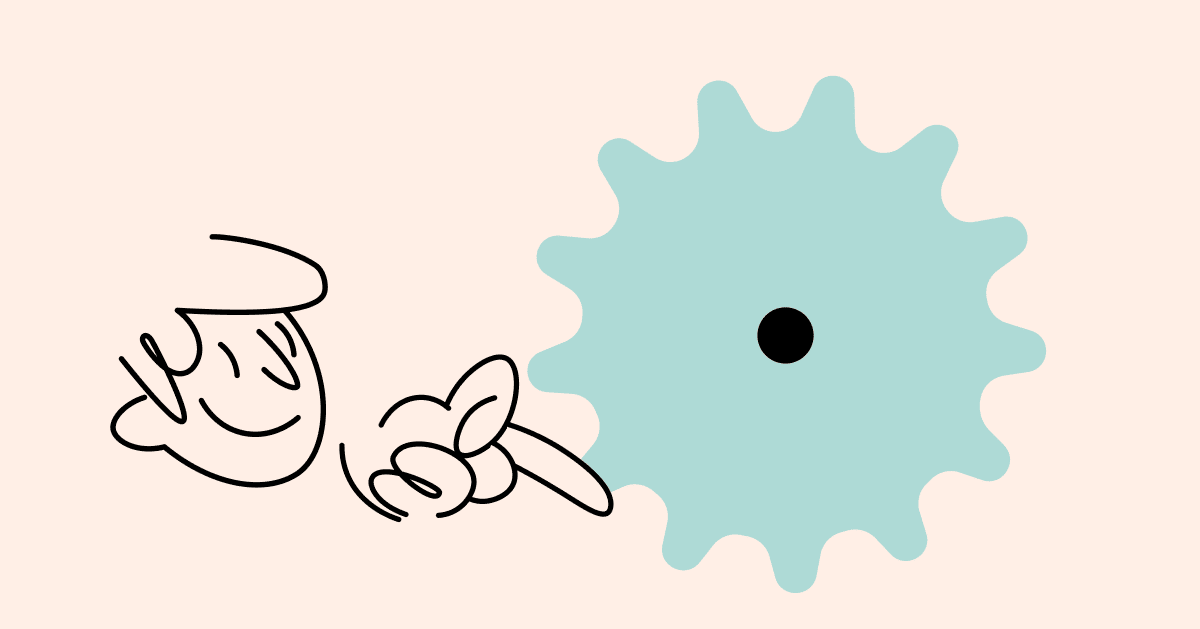 At ManyChat, we love marketing automation, but not just because it's what we do. Automation tools can help you in every stage of the sales funnel—from chat communication to content marketing and social media engagement—and provide a greater chance of reaching your marketing goals. Not to mention it makes things easier for you and your team.
While automation may have once been a nice-to-have tool, it's become an integral asset for creating successful campaigns of all types. We've evolved our automation tools to meet the needs of global businesses that use message services, such as SMS, live chat, and social media to reach their customers.
But not everyone has adopted automation just yet; as the holiday marketing season approaches, there are a few reasons why now is the right time to get started.
Automation helps effortlessly generate leads for holiday campaigns
Lead management is vital for business, but it's a complex task because you have to know precisely when a potential customer is ready to convert. Marketing automation is one way to generate more leads your sales team can assess and move forward with.
At ManyChat, the Flow Builder manages the actions you want Instagram followers to take when interacting with your brand online. You can create, manage, and track a shopper's progress through the buyer's funnel.
Automation increases engagement with holiday marketing and promotions
Use automation to get a higher ROI on your Instagram marketing efforts and boost your holiday offers, such as limited-time deals, exclusive products, and seasonal sales. Since automation is a hands-off approach, the work is done without any effort on your part, freeing up your time for other tasks.
Instagram DM Automation by ManyChat has several features that encourage your audience to engage including Comments Automation and the Story Reply trigger. Once users engage, all of their information is stored in ManyChat's CRM for future reference.
Here's a rundown on what you can do with Instagram Automation:
Instagram DM Automation
Along with some sweet shopping features, Instagram offers customers the ability to contact you directly via Instagram DMs. This allows your followers to use the platform for customer service inquiries rather than visiting your website. It saves customers a click or two, plus they can handle any issues within Instagram, where they are most comfortable. However, handling a high volume of inquiries and conversations manually from your Instagram profile can be difficult, especially during the holidays.
Instagram DM Automation by ManyChat is one solution for maintaining high-quality customer chats on social media (our tools work with Facebook, too). You can automate responses to commonly asked questions and direct customers to information on your website, such as an FAQ page or a product catalog.
Comment Automation
Instagram Automation also helps support other social media engagement efforts, like giveaways and contests. This is where ManyChat's Comments Automation for Instagram comes in. When someone comments on your Instagram post about the giveaway, it will enter them into the contest. Then your Instagram bot will respond with a DM that provides details such as prizes and how to gain more entries.
Encouraging Instagram followers to comment on your posts and DM you are also ways to increase your Instagram engagement, which helps boost your profile's appeal to the Instagram algorithm.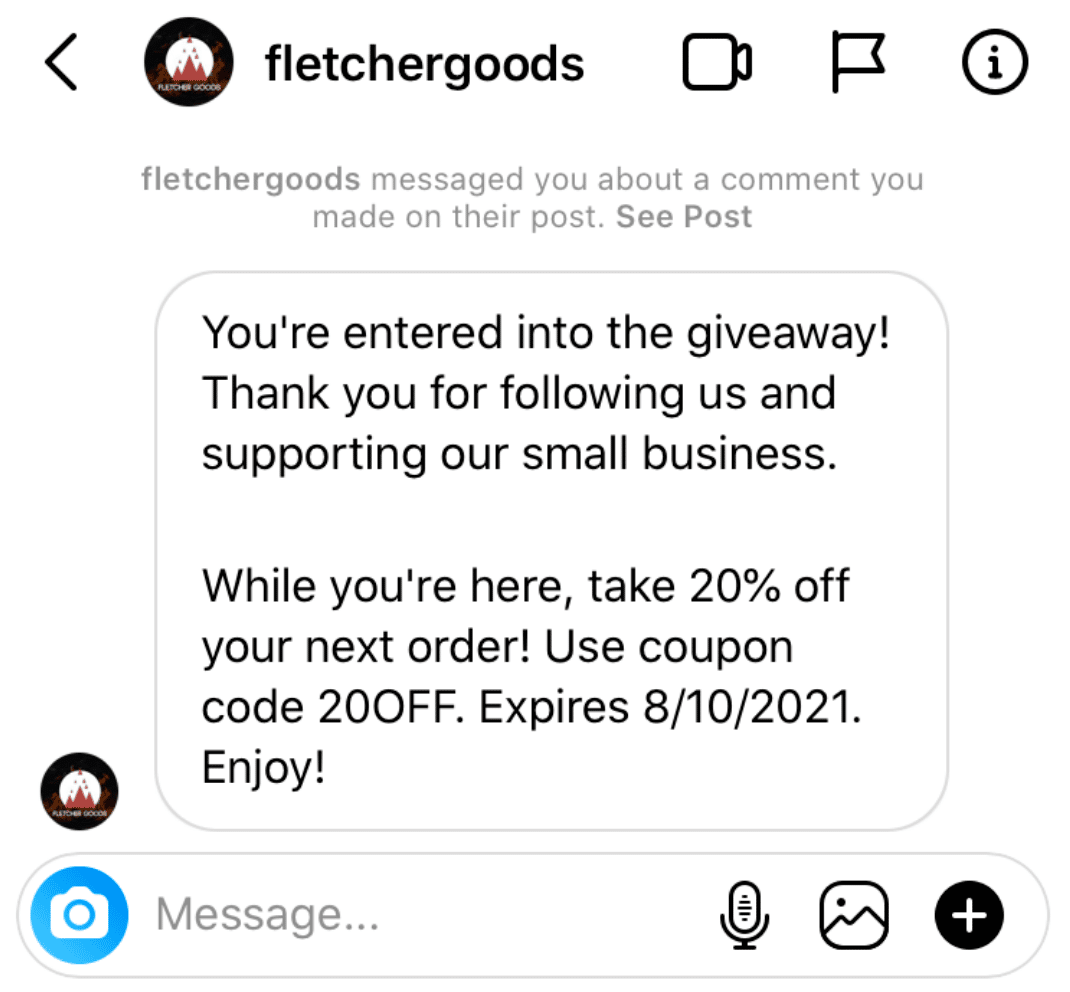 Keywords
You can trigger messages by telling followers about a specific word or a phrase. When you use keywords in Instagram Messages or the Comments Growth Tool, if a user includes a pre-set keyword in a DM or comment, they enter a chatbot flow that asks them for their contact information in exchange for a freebie, entrance to a contest, or to receive promotional emails.
For example, if you've set up Instagram Automation using keywords (such as the word "Win"), you can publish an Instagram Story and tell followers to reply to the Story with "Win" to enter the giveaway.
Story Mentions Trigger
One other way you can use Instagram Automation tools to engage with your audience is with our Story Mentions Trigger. When someone—it can be any Instagram user—tags your Instagram account in a Story, you can send an automated thank you message or begin an entire conversation. This acknowledges Instagram followers and customers who share your content,which increases brand awareness since their followers see it and may also follow you as a result.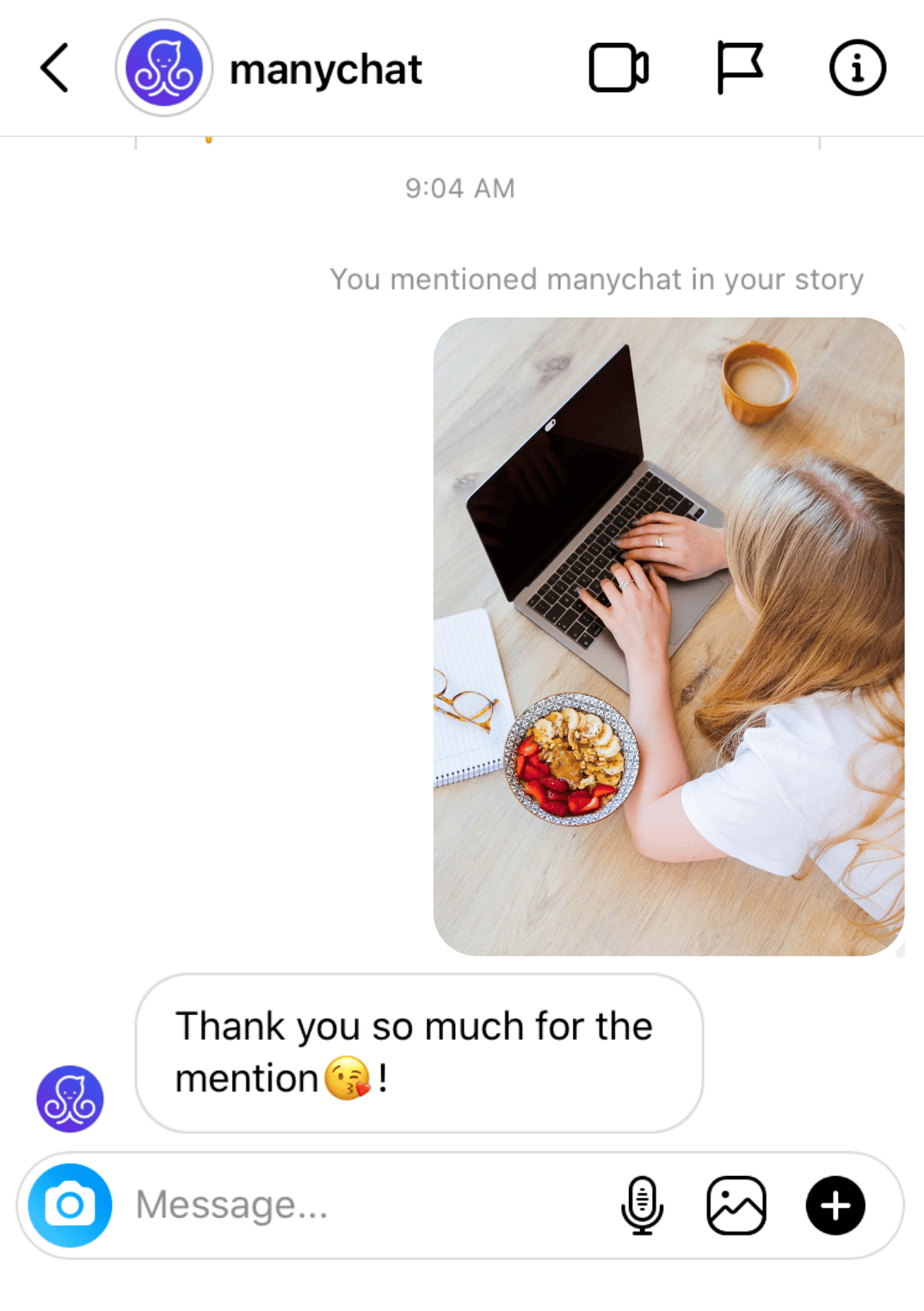 Plus, engaging with potential and current customers and capturing their contact information allows you to follow up with them through other channels (e.g., other social media platforms, email, SMS, etc.) for an elevated omnichannel experience. With ManyChat, you can capture someone's email address and phone number and our CRM all stores their info for easy follow-ups.
Help customers find the right gifts
You can use the same marketing automation tools to help customers find the gifts they're shopping for. For example, use Instagram Automation to chat with customers and point them in the right direction in your online store.
ManyChat integrates with Shopify, so if you use it for your eCommerce store, you can send personalized coupons for products and limited-time deals. You can also automatically answer product questions, create product quizzes, and send customers to the point of purchase.
Our Conversations Starters feature is helpful for Instagram followers who message your brand for the first time. Conversation Starters are pre-written questions such as, "How can I track my shipment?" or "Do you offer free returns?" that appear when a customer opens a chat window.
Quickly answer shipping and delivery questions
As your customer base grows, you'll have to answer questions and complaints and provide general customer service more frequently. You'll be especially likely to get questions about shipping and delivery during the holiday season. Using Instagram Automation to manage this type of customer interaction frees up time for your team to deal with other, more complex issues.
With ManyChat, you can build a customer service bot to assist customers with their questions. The bot is effectively an interactive FAQ that answers queries and points the customer in the right direction to resolve their concerns. Thanks to the bot, you can provide immediate information to help customers without using additional manpower.
Write answers to common holiday questions ahead of time and load them into the Flow Builder. Instagram Automation is incredibly helpful, but sometimes a situation calls for a conversation with a representative. If a customer still needs assistance after they've gone through a flow, their information will be transferred to the right person on your team for them to offer specific help through Live Chat.
Instagram DM Automation by ManyChat has many features that will help you with your holiday marketing efforts. It automates customer service responses to common questions and responds automatically to Instagram comments, among other capabilities, helping you be more efficient during the busiest time of year.
Ready to try Instagram DM Automation by ManyChat?
The contents of this blog were independently prepared and are for informational purposes only. The opinions expressed are those of the author and do not necessarily reflect the views of ManyChat or any other party. Individual results may vary.