How Frazer Brookes leveraged Instagram broadcasting to land 2,029 subscribers in 14 days with zero ad spend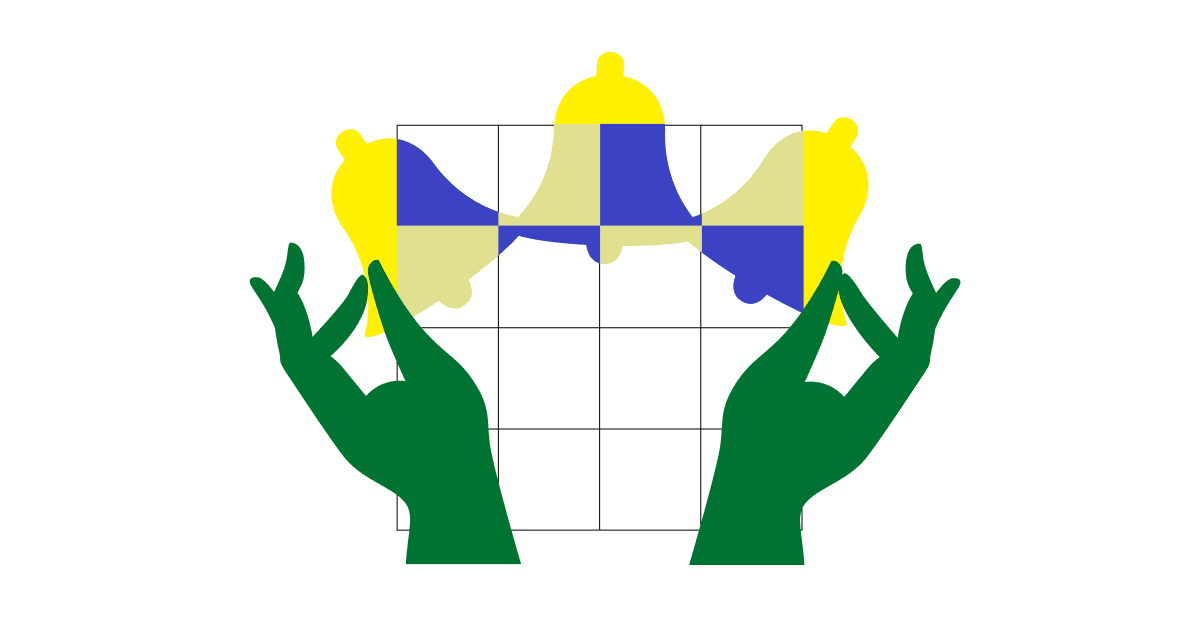 If you're looking to leverage Instagram Stories to promote free and paid events, then Recurring Notifications for Instagram is your golden ticket.
Using a simple yet effective Instagram strategy, Superstar Bots and Frazer Brookes have created an evergreen system that attracts leads and nurtures them into Recurring Notifications subscribers in Manychat.
And all it takes is an Instagram Story and 14 days.
Overview
As a second-generation network marketer, Frazer Brookes has helped hundreds of thousands of network marketers to start, promote, and grow their businesses online.
He's the author of two bestselling books and has spoken on stage in 30 countries, sharing the stage with Tony Robbins, Bob Proctor, Grant Cardone, Sylvester Stallone, and many more.
Frazer partnered with Superstar Bots to leverage Recurring Notifications for Messenger with mind-blowing results.
Now, with Recurring Notifications for Instagram (currently in beta) and Manychat, Frazer and Superstar Bots have taken it up a notch.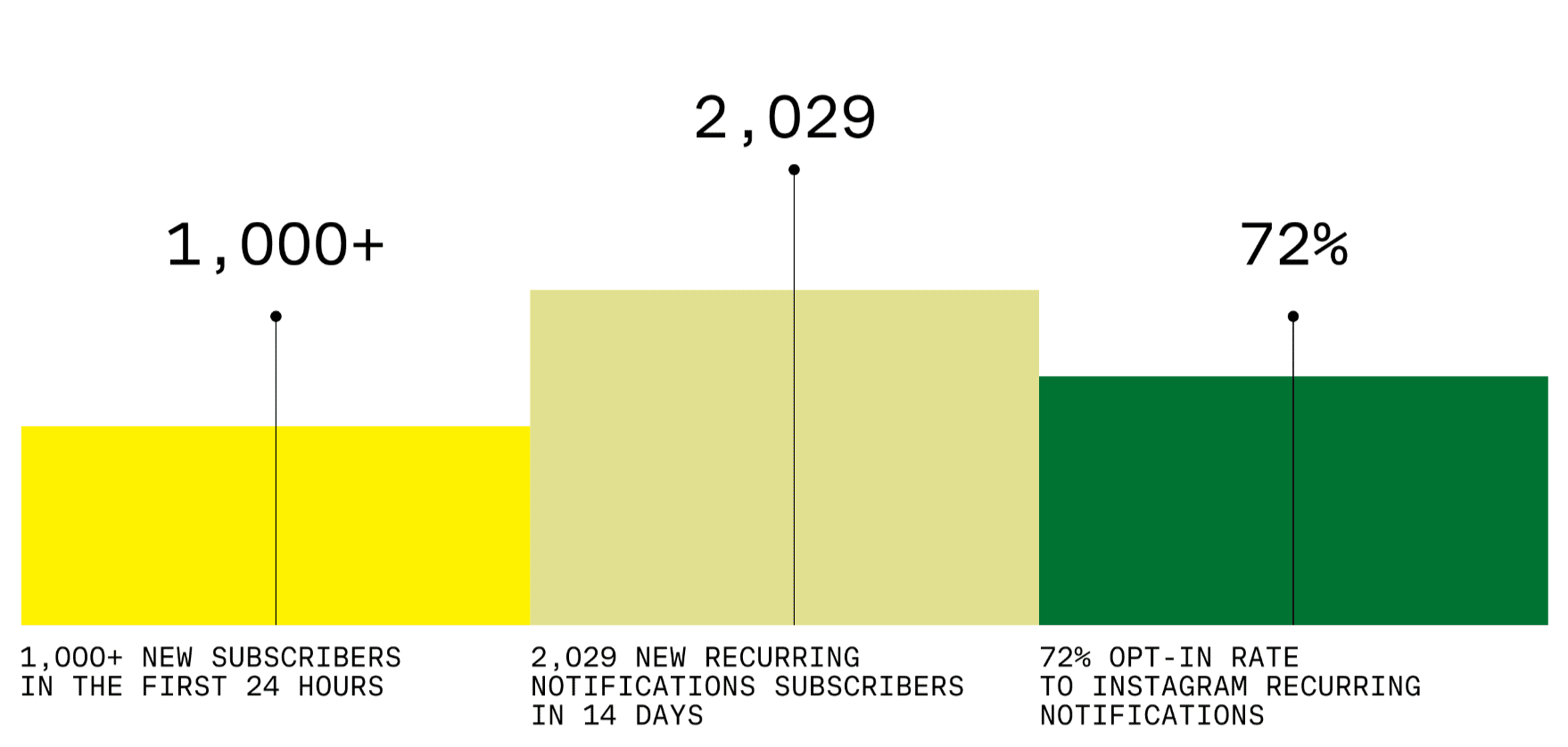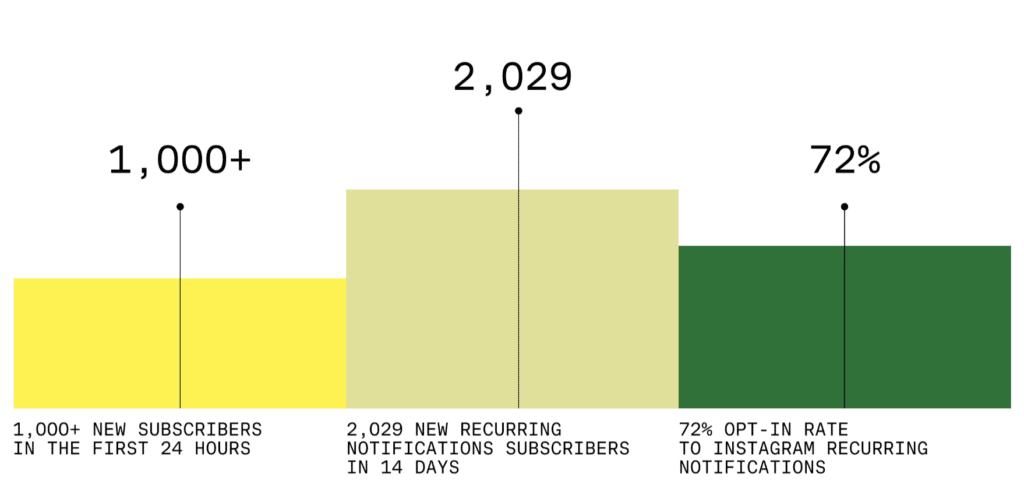 1,000+ new subscribers in the first 24 hours
2,029 new Recurring Notifications subscribers in 14 days
72% opt-in rate to Instagram Recurring Notifications
The challenge
As a prolific educator, influencer, coach, and content creator across multiple platforms, Frazer has seen the most significant growth from Instagram.
John Preston, director of Superstar Bots and a lead generation, automation systems, and funnel educator for network marketers and coaches, identified Frazer's number one challenge on Instagram: list building.
"Instagram has had huge interaction but we could not build a native list on the platform and had to push people to Messenger, email, and Telegram," John explains.
They also wanted a more cost-effective solution, so they could move away from the expensive SMS platforms, which costs about $3,500 per SMS broadcast to reach everyone on Frazer's list.
"We felt that although what we were doing was working, extra steps in the process meant we weren't as effective as we could be. That's where Recurring Notifications on Instagram would change the game."
The goal
Frazer has a highly engaged following on Instagram, with more than 150,000 followers.
He provides a wealth of free and paid information, including book launches, masterminds, and online events. Leads opt in for access to this content and are added to his list.
So, the goal was simple: To build highly responsive lists and audiences.
"We have done this on Messenger for several years and have seen great success," John says.
"In fact, for Frazer's two last two book launches, our list-building exercises ensured over 3,000 launch day sales."
The approach
Working with the Manychat team directly, Superstar Bots took a deep dive into what had been the most effective growth tools and methods of bringing in new subscribers and Recurring Notification opt-ins.
They discovered that Instagram Stories appeared to have a higher intent and conversion rate.
So, they decided to test this out by promoting three events – two free, one paid – for 2023 using Instagram Story mentions and Recurring Notifications for Instagram.
By using Messenger and Instagram Recurring Notifications (in beta), John and his team implemented immediate and evergreen opt-in automation.
Their initial focus was to use Instagram Stories to promote the events over a two-week period, with two objectives:
Generate more opt-ins and website visits for the 2023 events, following up with a Recurring Notification opt-in request as part of an evergreen automation.
Add more subscribers to the Recurring Notifications list using an Instagram Story that had an immediate opt-in request.
Everyone who replied with a keyword received information on the event and a second evergreen opt-in message for Recurring Notifications for Instagram.
The flows for the free events looked like this: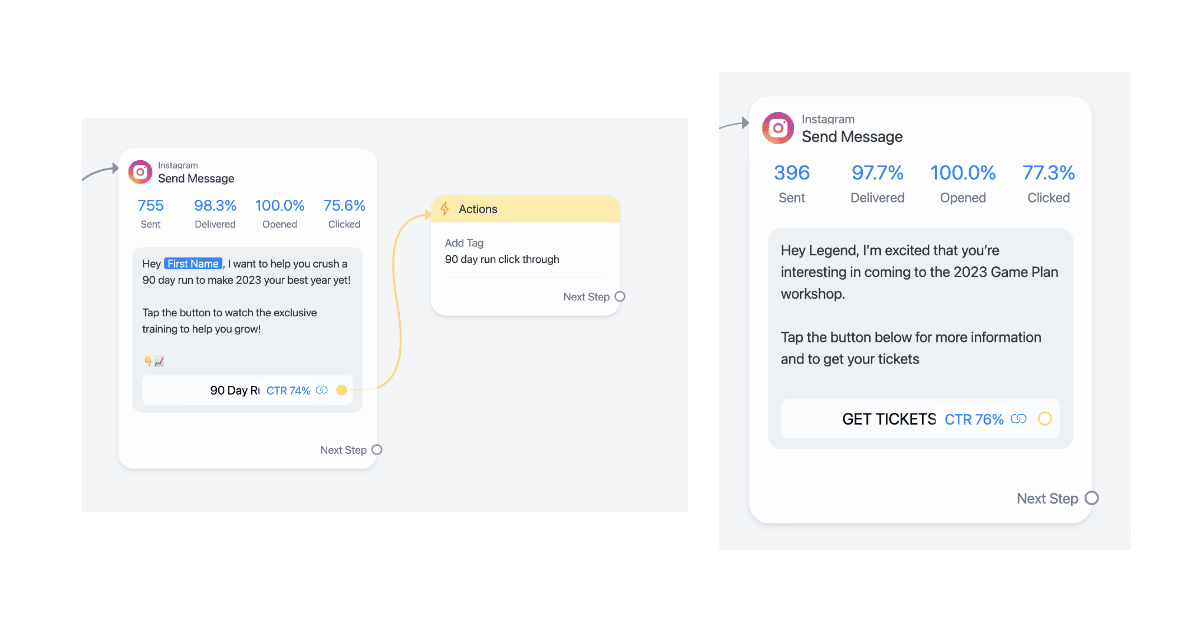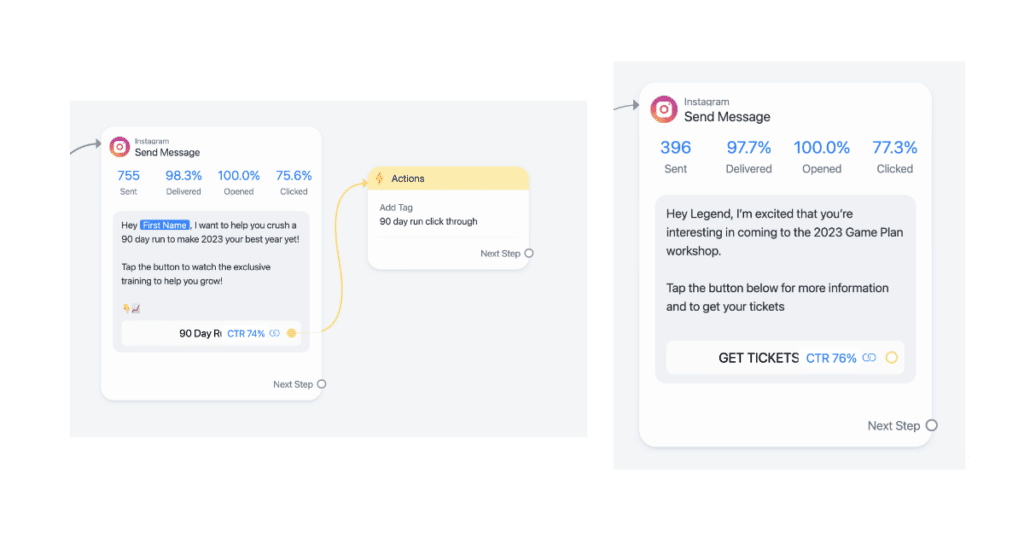 And this is the evergreen Instagram Recurring Notifications opt-in flow:
This is the flow for Story replies and Comments Automation, which allows leads to opt into Recurring Notifications. This forms a major part of Superstar Bots' 2023 strategy for Frazer:
For Frazer's Dare to Dream event, where tickets start at $997 each, the Instagram Story had a call to action: 'Reply with 2023'.
The results
For the first time ever, Superstar Bots and Frazer were able to build a list of Instagram subscribers, and they landed more than 1,000 in the first day alone.
In addition, there were more than 2,000 clicks to the offer with just one broadcast to each channel (Instagram and Messenger).
Plus, the click-through rate on Instagram was higher, showing a greater intent.
"We could also see that through Instagram Story responses tied to a keyword, we gained 375 new Instagram followers over 2 weeks, with 72% of them also opting in for Recurring Notifications – better than any other growth tool," explains John.
Thanks to this strategy, Frazer gained more than 2,000 Instagram Recurring Notifications subscribers in just 14 days.
"The success has been so great that we are now planning 2023 with Manychat and using Recurring Notifications is a primary focus," adds John.
Key takeaways
In order to get the most out of Recurring Notifications for Instagram, steal a page from the Superstar Bots and Frazer Brookes playbook:
Consider how you will message your audience after the initial contact. If you're using Instagram Stories as the opt-in point for Recurring Notifications, decide on the best way to attract more of those leads to opt-in. For Frazer, it was three events planned for 2023.
Leverage your engaged audience. Superstar Bots wanted to turn Frazer's 150,000 followers into customers by building a highly engaged list and delivering valuable content to drive more long-term sales.

Develop a great offer or event. Think about your audience and what they want, and create an enticing offer that answers that need. At every step, you need to be offering something of value.
"Manychat and Recurring Notifications will increasingly be a large part of our ongoing value-driven strategy," says John.
The contents of this blog were independently prepared and are for informational purposes only. The opinions expressed are those of the author and do not necessarily reflect the views of Manychat or any other party. Individual results may vary.
The contents of this blog were independently prepared and are for informational purposes only. The opinions expressed are those of the author and do not necessarily reflect the views of ManyChat or any other party. Individual results may vary.