A Marketer's Guide to Facebook Messenger Advertising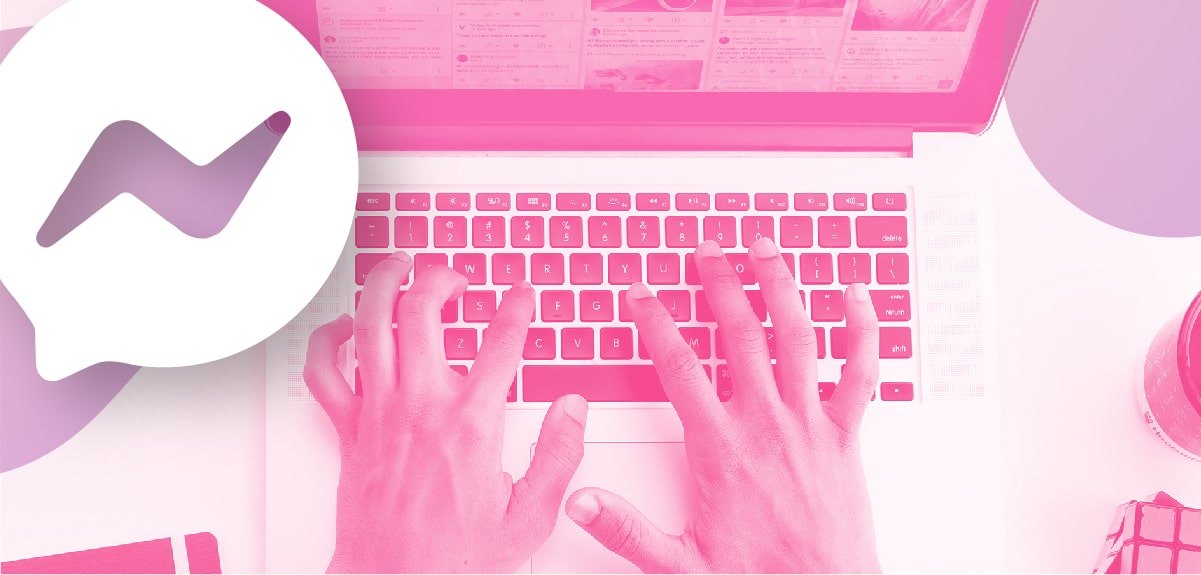 If you're reading this guide, you're one of two people. One, you're a marketer dipping your toe into the ever-growing world of Facebook Messenger advertising. Two, you're already advertising via Facebook Messenger and are looking for ways to better leverage it to convert engagement into paying customers.
No matter what phase you're in, the plain truth is that it's a simple but powerful marketing tool that can help you reach your consumers where they are, build lasting customer relationships, and ultimately, drive your bottom line.
However, adding Facebook Messenger advertising to your marketing strategy takes a bit of finesse, and with anything, a few best practices. That's exactly why we've put together this handy guide — to tell you, the marketer, everything you need to know about advertising with Facebook Messenger.
Why Marketers Are Using Facebook Messenger as an Ad Tool
Simply put, marketers create their advertising strategies around where they're most likely to gain the most exposure. While traditionally it was good old Facebook in general, Facebook Messenger started to gain notoriety as marketers began to observe that it could also be successfully leveraged for direct-response advertising. Mostly due to the fact that its user growth is growing tremendously. By September of 2017, the platform was home to 1.3 billion (yes, billion with a "B") users, and it's not stopping. In fact, a recent study by Business Insider revealed that major messaging apps like Facebook Messenger are even more widely used than major social media networks. When translated that to marketer speak, that a lot of exposure on just one channel.
Key Benefits of Facebook Messenger in Marketing
Direct Line Between You and Customers
When it comes down to it, consumers don't want to feel like they're being sold to. Marketing is slowly but surely moving away from selling-centric campaigns, and are gravitating towards a more casual, friendly approach. Facebook Messenger capitalizes on this trend and pushes it forward even further by creating a direct communication channel between you and your audience. Not only can this be used to support prospects in the research phase of the customer journey, but it also can be used as a way to build meaningful relationships between your brand and it's ideal audience.
Automation
Getting prospects and potential customers the information they need for their purchasing decision is a marketer's biggest hurdle. The automation provided by Facebook Messenger via the chatbots can effectively do this for you if you don't have the manpower to manually address every incoming inquiry. Facebook Messenger bots provide instant responses that sound like they were written by a living, breathing human. Bots can be programmed to answer questions, schedule appointments, and even send special promotions directly to a customer's inbox. Messenger ads are great on their own, but automatic responses maximize their potential.
Key Benefits of Advertising With Facebook Messenger
Exposure
The growing usage of Facebook Messenger by the consumer market means it's quickly becoming a prime channel for optimal exposure. Because a marketer creates campaigns that focus on high-traffic channels, Facebook Messenger is an ideal candidate for max impressions.
Accessibility
Facebook Messenger advertisements put your products and services front and center to your ideal audience. While some companies opt for standard ads to appear in leads' newsfeeds, those leveraging Facebook Messenger take advantage of sponsored messages that are sent directly to a prospect's inbox. Not only can this provide a leg up on competitors using only traditional newsfeed ads, but it also allows you to make the first move in opening communication between you and your ideal customer. This is key because is ease of access, and eliminating the steps a customer has to take to get exactly where you want them, is a marketer's dream.
Personalization
Once clicked, standard Facebook ads send prospects to a landing or sales page which doesn't create a custom buying experience. Advertising through Facebook Messenger eliminates a hands-off, hard-sell approach for a more personalized, one-on-one customer journey. Not only does this provide a quick and easy way to build rapport with your base and develop consumer confidence, but also customer engagement is the cornerstone of a successful business. A direct message encourages a more personal, nurturing experience to better convert prospects into paying customers.
Facebook Messenger Ads: Best Practices for Marketers
When it comes to using Facebook Messenger for your marketing strategy, there are three prominent methods that leverage Facebook Messenger for advertising.
Click-to-Messenger Ads
Click-to-messenger ads are pretty self-explanatory. You can trigger a direct-response to Facebook Messenger with your standard-issue Facebook advertisement. This means, when customers click on your ad in your newsfeed, they're sent to Facebook messenger where a chatbot can open the convo and ideally, nurture them into a lead or paying customer. Best practices for this method are:
Use a chatbot sparingly. The goal for a chatbot is to open the conversation and then pass it off to a real person to have a more in-depth sales conversation.
Open the convo by asking a question that your prospect will want to engage with.
Home Screen Ads
Home screen ads work similarly to generic Facebook ads, and therefore marketers leveraging Facebook ads will want to utilize the same techniques. Some best practices to consider, however, are:
Keep the CTA in Messenger. People are on Facebook Messenger because they're either checking Messenger or want to send a message. Don't send them out of Messenger, they're already in a good spot to contact you.
Use simple, static ads especially made for Messenger. It may take for time to design an ad just for Messenger, but it makes a difference versus just using a Facebook Ad you already have in your arsenal
Promoted Messages
It should be known that promoted messages can only be used for people who have already contacted you in the past. Therefore, they're only for remarketing. That said, here are the best practices for formulating your promoted message:
Promote something specific, like an event, sales event, or discounts. Remember, these customers have already contacted you, meaning they've completed the research phase of the customer journey. All they need is a little incentive to take the desired action.
Don't forget to segment. Marketers know that targeted ads are more effective. Therefore, segment your contact list for a more personalized ad experience.
The Bottom Line
Jumping on the bandwagon isn't always a bad thing. If your organization's social media marketing strategy doesn't include Facebook Messenger, you're only holding yourself back. Messenger's direct engagement is a critical way to connect with your consumers, stay on their minds, and edge out the competition, all of which are a marketer's main goal. Customers will always choose the brand who goes the extra mile — make sure that brand is yours.
Improve your Facebook advertising with ManyChat. It's free to get started.
The contents of this blog were independently prepared and are for informational purposes only. The opinions expressed are those of the author and do not necessarily reflect the views of ManyChat or any other party. Individual results may vary.