Facebook Ads For Restaurants: How To Get More Diners for $.85 Per Lead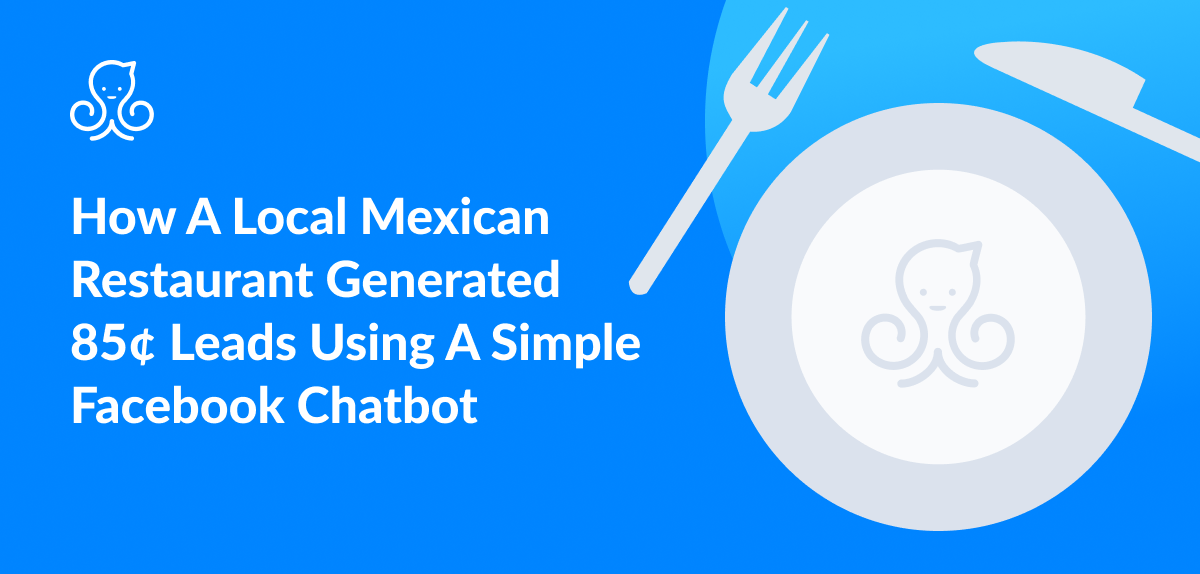 With restaurant sales reaching $825 billion in 2018, you're right on the money if you want to use Facebook ads for your restaurant.
But in a crowded and competitive place, it's hard to figure out the best marketing strategy for your restaurant. Read any "Facebook ads for restaurants" guide and you'll come across tons of different strategies that may or may not work.
And the truth is, you only need one for your restaurant Facebook ads.
80% of diners are likely to try a new restaurant if there's a deal — so what does that mean for you? Coupons are a good idea, but they might cheapen your brand. You might as well put one in your local coupon flip book and call it a day.
But if you want to increase awareness, drive consideration, and qualify leads for only 85¢ a piece — then you're in the right place.
In this post, marketer Mackensie Liberman will give you an easy, step-by-step guide to improve Facebook ads for your restaurant marketing strategy. So you too can get 100% open rates and 99% CTR in your campaigns with just 2 hours of work.
How to run successful Facebook Ads for restaurants
1. Decide on a goal for your restaurants Facebook ad campaign
Fiesta Mexicana in Spokane, WA wanted to get more diners in their restaurant at the cheapest price (as all owners do!). To do this, they decided to promote a giveaway offer on Facebook.
The winners would receive a free meal for two, and everyone else got a coupon for a free appetizer just for entering. And since 59% of consumers choose restaurants because of promotion — it was a good way to separate themselves from other restaurants in the area.
They trial ran promotions using through Facebook Messenger — and the results were impressive.
Key takeaways:
Choose your goal before you start.

Goals can be anything from building your brand, promoting anew dish, a financial goal, or simply filling more seats in your restaurant.

If you choose a giveaway promotion, give everyone at least an entry prize. So if someone doesn't win big, they still have the incentive to go to your spot.
2. Create a fun and creative post for your ad
The first thing people saw was the following Facebook ad: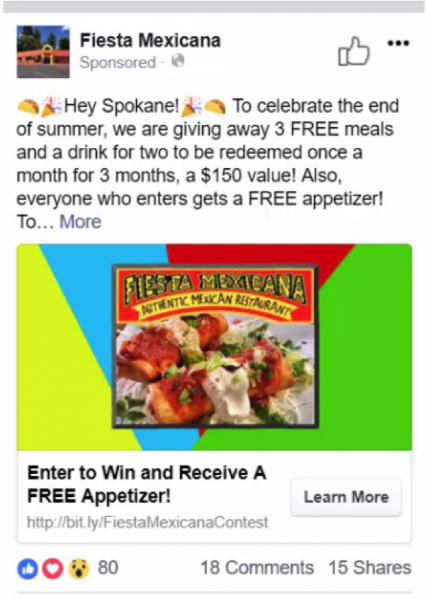 Notice it's a simple image, but it worked really well to spread the news of their promotion.
If you have the budget, you can test a video ad. Paid video ads let you see where people stop watching your video. So your retargeting efforts can be more precise and effective.
The ad targeting used was fairly straightforward. You want to test different groups in order to maximize your ad spend.
For example, we tested different age groups, as well as targeted people who liked Mexican food—burritos, tacos, tequila, salsa, and so on—who lived within 10 miles of the restaurant itself.
Here you'll see we spent a total of $146.12, reached over 9,000 people and generated 305 clicks (cost per click of 48¢).

Key takeaways:
Use a simple image in your add.

It's cost-effective and doesn't distract people from your main message. Show off your delicious food by using it in your ad.

Target different age groups to improve conversions.

Breaking down your targets into different groups helps you reach new audiences. If you see one age group performing higher than others, you can put more ad dollars into the group that's giving you more business.

Target interests related to your restaurant. This is commonly overlooked but can change your targeting for the better. Notice how we drilled down into people who like food that's on our own menu, like burritos, tequila, etc.
3. Send people to a simple landing page
Fiesta Mexicana didn't use the "Send Message" call-to-action for this campaign. Instead, we used one of ManyChat's free growth tools to create a simple landing page.
Here's what the landing page looked like: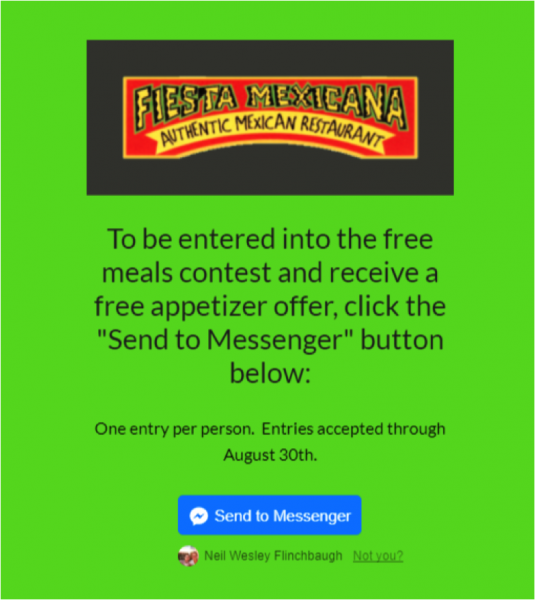 When you click the button, the page turns red and updates like so: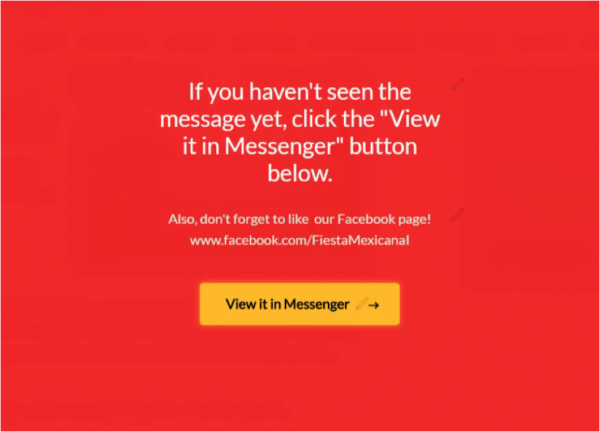 From here you just have to click "View it in Messenger" to open the restaurant's chatbot.
Note, there are two options for this type of advertising: Facebook Ads JSON and Landing Pages. If I were to do it over again, I'd test JSON ads to reduce the number of clicks it takes for people to reach their goal.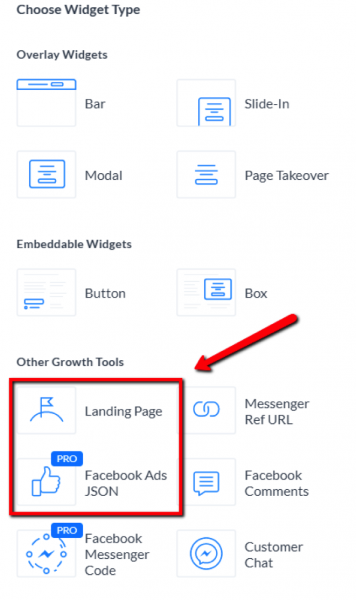 The JSON growth tool accomplishes the same thing in fewer clicks, and it may improve your conversion rate!
Key takeaways:
Don't make your landing page hard to navigate.

Your goal is to get people into Messenger. Give a simple description of the contest, plus any requirements and limits. Then set your CTA to push to Messenger.

Test JSON ads to reduce user clicks to goal.

Click-to-Messenger ads are becoming more popular. To see how you can make one, check out our tutorial

here

.
(RELATED: How to Build a Simple Facebook Messenger Bot with ManyChat)
4. Give them an entry prize right away
After you click through to reach the chatbot, the first message makes it super easy to enter the drawing—just click the button to enter: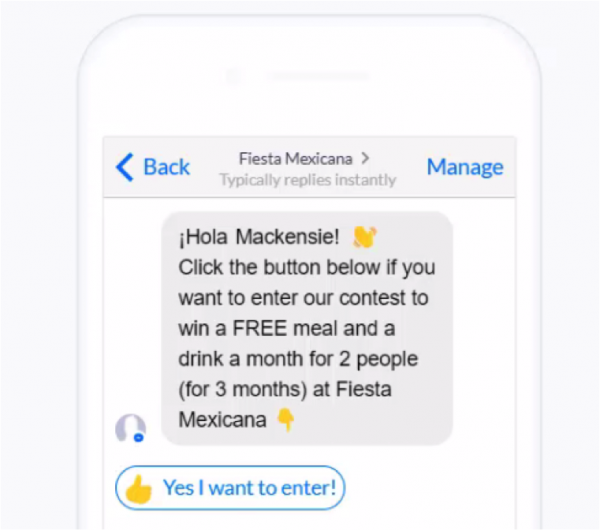 If you want to keep track of everyone who enters the contest, you can tag users who click through to enter.
For example, I tagged anybody who clicked this button with the tag "Entered free meal contest" and subscribed them to our VIP Offers sequence.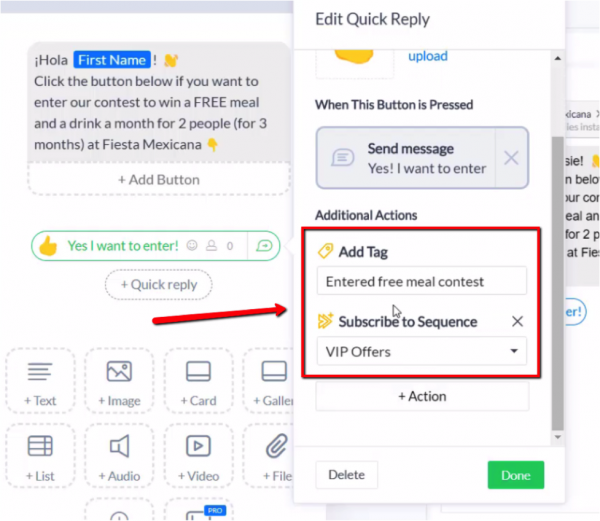 So how well did this message work? Take a look for yourself.
It was delivered to 173 people. Everyone opened it, and nearly everyone—171 people, or 98.8%—clicked the button to enter the contest.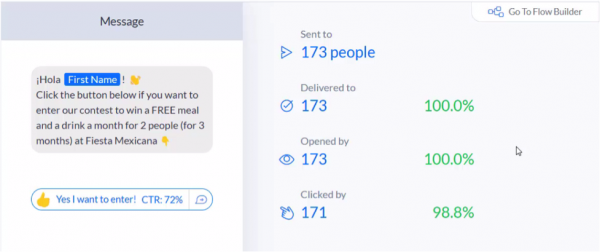 Once the visitor clicked that button, we sent them a few messages explaining how the contest worked: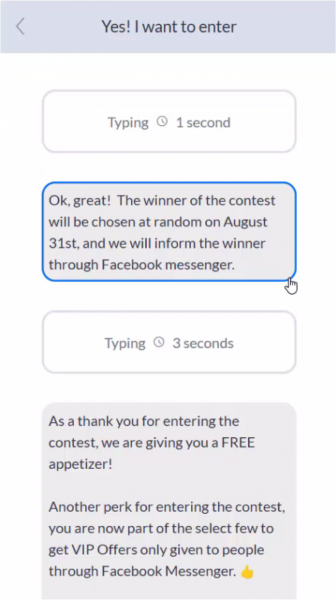 Then we sent them a coupon for their free appetizer: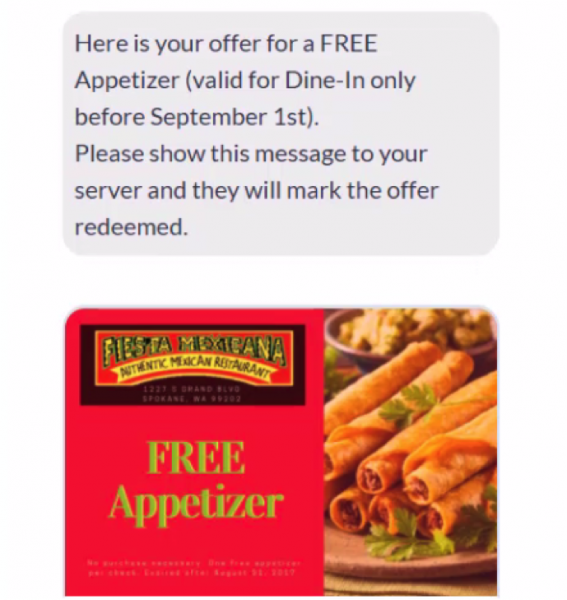 The coupon was to help draw more people into the restaurant and turn them into long-term patrons.
But in order to achieve that goal, you need to maximize the number of people who redeem.
Key takeaways:
Offer incentive for people to come in

even if they don't win the big prize. You can do this by giving people who enter a free app, dessert, side, milkshake, etc.

Tell entrees when and where you'll announce the winner.

No one wants to be left in the dark.
(RELATED: How to Send Facebook Messenger Broadcasts Using ManyChat (Including Best Practices and Setup!))
5. Make it easy to redeem coupon
It wasn't enough to simply give people a coupon. We wanted people to actually USE the coupon—to come into the restaurant for a meal.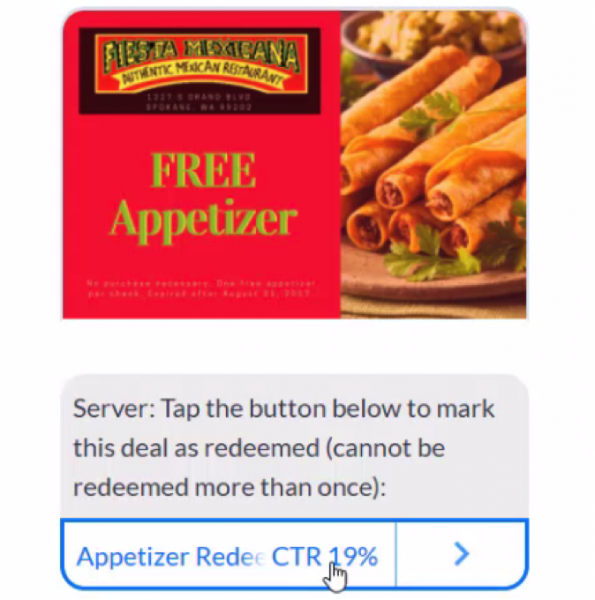 You want to make it as easy as possible to redeem. For example, we told people to show this message on their phone to their server:
Then, their server would then click the "Appetizer Redeemed" button and redeem the coupon.
Once that happened, I made sure to tag the user so that we would know who had actually come into the restaurant to redeem their coupon: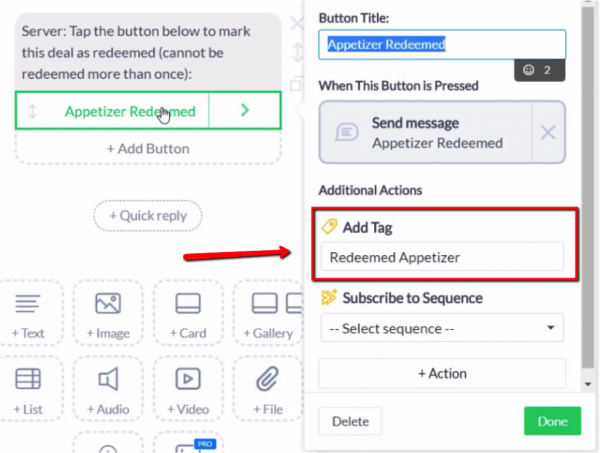 After redemption users saw a simple thank you as their final message.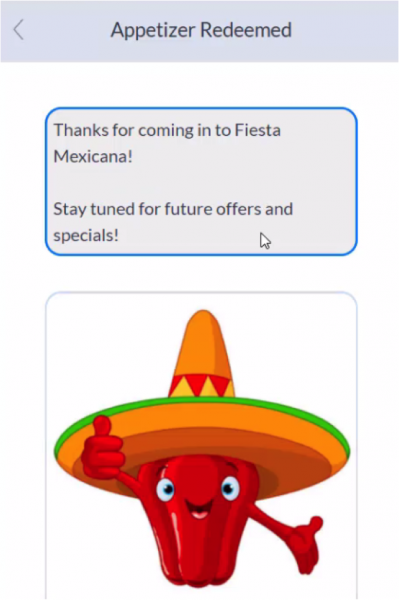 If you take a look at the stats below, you'll see that this thank-you message was sent to 33 people. This means that out of 171 people who entered the contest, 33 of them actually came into the restaurant to redeem the coupon.
That's a 19% redemption rate—pretty impressive, considering those people had to actually visit the restaurant to redeem their coupon!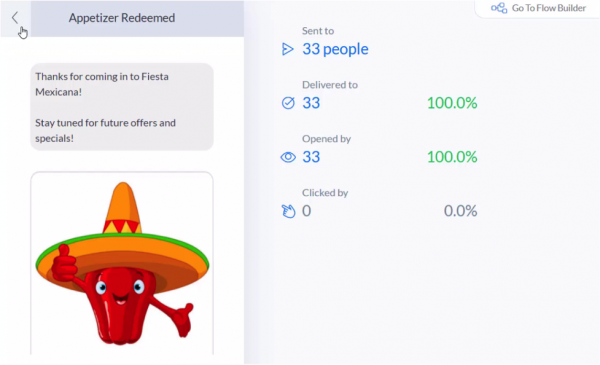 So you may be wondering:
How did you get such a high coupon redemption rate?
Key Takeaway:
Make offers redeemable in Messenger.

Because that's the whole point of Messenger Marketing, right? No one wants to print coupons or dig through emails to find them.
6. Pro step — Send reminders to entrees
People are busy, and it's easy to forget about something like a coupon for a free appetizer.
So to stay on top of peoples minds, you want to send out a reminder a few days after they enter the contest.

You can see that our open and clickthrough rates were very high. Here's what the message looked like: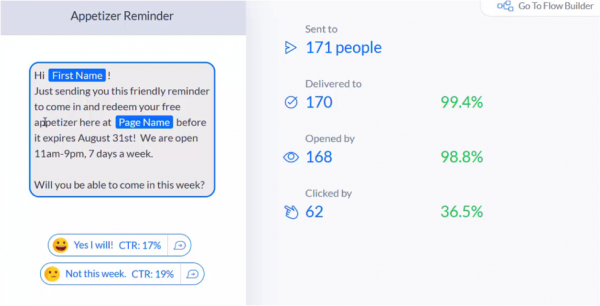 This is a pretty short & simple message, but it actually has some powerful psychology behind it.
First, notice that we reinforce the fact that the coupon will expire on August 31st. This creates a sense of urgency in the reader's mind.
(After all, nobody wants to miss out on something that's free!)
Second, I ask the reader to commit in advance to visit the website. Out of 170 people who opened this message, about 30 of them clicked "Yes I will!" and another 30 clicked "Not this week."
The goal behind those buttons was to get people to pre-commit to coming in for a meal.
My theory was that if people commit to visiting the restaurant, even if they're just clicking a button in Messenger, it makes them more likely to actually follow through on that commitment.
And as I mentioned above, it worked really well!
The Coolest Thing About This Restaurants Facebook Ad Campaign
When I ran this campaign for the client, I was thrilled at the results we were able to generate.
But even more impressive, I think, is the massive potential it shows for the future of Messenger marketing in general.
I mean think about it, guys. This campaign wasn't run by some massive tech company with unlimited resources and a huge marketing department.
This was a standalone Mexican restaurant in Spokane, Washington.
If a small local business can use Messenger marketing with this much success in their very first try, just imagine what YOU can do—especially after you've had a few chances to refine and improve it to fit your business.
Want to grow your restaurant with Messenger Marketing? Get a free ManyChat account today.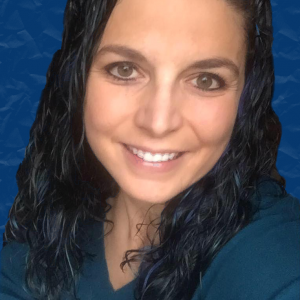 Mackensie Liberman's path to becoming a digital marketer has been far from typical. With her friendly nature, background in science and statistical analyst skills, combined with her love of computers and tech, her transition into the digital marketing field from Cytogenetics was a very easy one and has helped her to get great results in advertising for her clients. She has been involved with ecommerce marketing online since 2012, and after the success she experienced for herself, she dove into helping small businesses with their digital marketing needs in 2016, with her focus being mainly in Facebook, Messenger Bots, and YouTube combined with sales funnels to get outstanding results.
The contents of this blog were independently prepared and are for informational purposes only. The opinions expressed are those of the author and do not necessarily reflect the views of ManyChat or any other party. Individual results may vary.