The Ultimate Guide to Facebook Messenger Marketing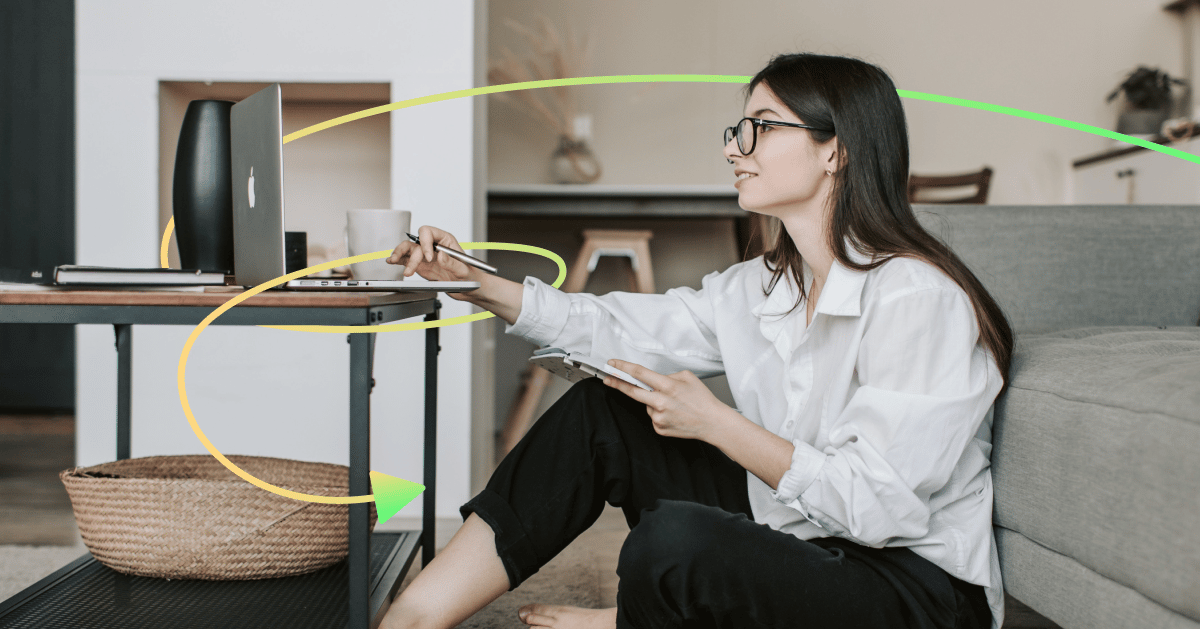 These days, marketing online is tough. Competition is fierce, and sometimes it feels like you have to fight tooth and nail for every new customer.
Maybe you're getting frustrated. Maybe you're looking for a leg up on your competition. Maybe you're looking for a new communication channel that isn't already saturated with marketers.
If that's the case, then you're in luck.
Because Facebook Messenger Marketing is in prime position to become the world's #1 marketing channel in the coming years…and the companies who become early adopters of this fast-growing channel are going to have a serious advantage over their competitors.
If you want to come out ahead as the world moves away from email and toward messenger apps, this Facebook Messenger guide is for you. Discover why messaging apps are so huge (and why they're going to continue growing), how to use them to grow your business, and finally get a step-by-step walkthrough of the industry-leading eCommerce software for Facebook Messenger Marketing—ManyChat.
To make this 6,000+ word post on Messenger Marketing even better, use this index to navigate different sections of the post or feel free to scroll.
Communication Is Changing
The way people communicate is changing in a big way.
Just compare the way you communicate today with the way you did 10 or 15 years ago. If you're like most people, you have shifted away from email and phone calls towards chat through SMS and messenger apps.
Like everyone else, you probably prefer communication that is convenient, instantaneous, and always at your fingertips. And, because most of us use our smartphones as our primary PC (not to mention our primary source of contact with others), we prefer communication that is smartphone-friendly.
Messaging apps are the perfect solution.
They're fast and intuitive. The responses you get are short and easy to read. And people like using them!
These are just a few of the reasons why messaging apps have become so universally popular today, and why they're such a great channel for digital marketing professionals looking to reach new customers and grow their business.
Related: How Chatbots are Changing The eCommerce Industry
What Is Messenger Marketing & Why Is It Important?
Messenger Marketing is simply the act of marketing to your customers using a messaging app.
You can build a list by attracting new leads, nurture those leads by sending them content and answering their questions, and ultimately convert those leads into new paying customers.
Conceptually, it's similar to how Email Marketing works. But in practice, Messenger Marketing works much differently than email. It's much more conversational— with Messenger Marketing people are looking for a conversation that feels 1-1, where emails from most businesses are one to many. Also unlike email (where open and click-through rates continue to decline year after year), Messenger Marketing is actually growing.
Rapidly.
And here are a few reasons why:
High Engagement Rates
A 2016 report from Statista compared the open and click-through rates for different types of emails. In their research, they found that the average email open rates were 5.9%-18.8%, and the average click-through rates were 0.4%-2.1%.
Compare that to Messenger Marketing—where marketers are currently seeing open rates of 80% or more and click-through rates greater than 30%—and you'll start to get an idea of the potential of this new marketing medium.
People are much, much more likely to open and click on a messaging app than they are with an email. And that's good news for any company hoping to engage their leads and prospects online.
Messenger Apps Have Less Friction Than Email
One of the beautiful things about messenger apps is that they provide a seamless user experience with very little friction.
By comparison, think about all the friction that comes from using email:
First of all, simply looking at your inbox is probably enough to fill you with anxiety. If you're like most people, your inbox contains anywhere from a few dozen to several thousand unread messages. Seeing all those "open loops" is painful, especially when you know it could take hours to sort through & organize all those unread messages.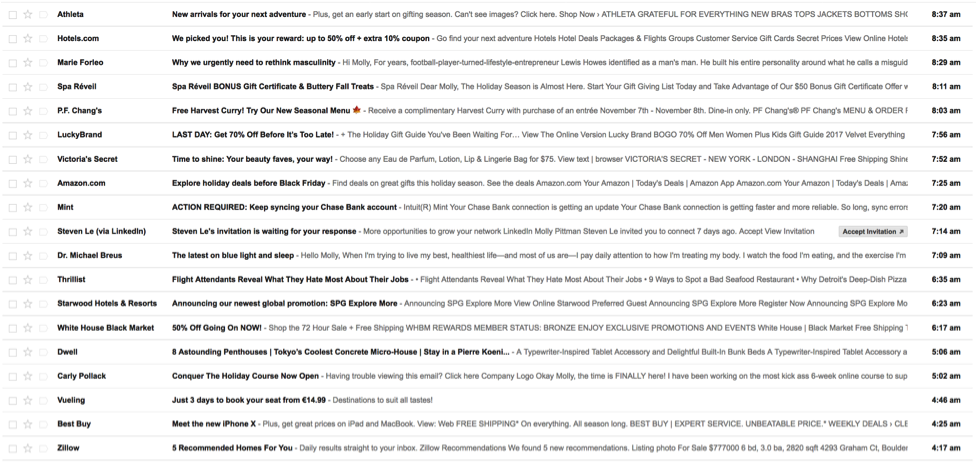 Scary, right!?
Second, email comes with the constant threat of spam and viruses. We're inundated with unwanted email every day, and we all know someone who accidentally downloaded a virus from an innocent-looking email. So the trust factor with email marketing continues to decline.
Finally, consider how much more work it is to open, read, and engage with an email. Emails tend to have a lot of text, and depending on the email and the device you're using, that text may or may not be formatted correctly for your device.
Have you ever tried to read a non-mobile-optimized email on your phone?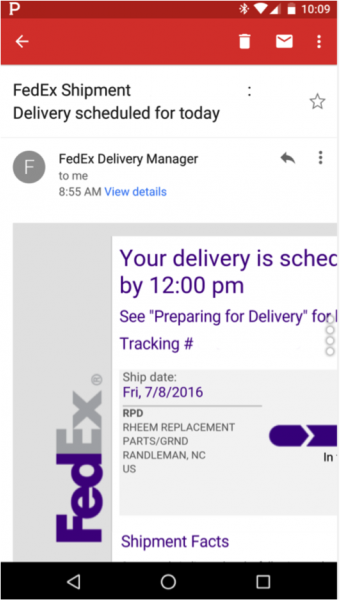 It's painful… and even big companies like FedEx are making this mistake. Not only is the text impossibly small, but in some cases you actually have to scroll back and forth if the text wrapping is off.
A messenger platform has none of that built-in friction. They are safe and familiar places for us. We're comfortable using them. The messages we receive in messenger apps are typically short and easy to read, and they're automatically formatted to look great.
Messenger Apps Are More Personal
Another great thing about messaging apps, compared to traditional advertising, is that they are much more personal and interactive.
Just about every other traditional advertising channel—TV, direct mail, email, print, radio, etc.—is a one-way communication. The company is communicating AT you, and there isn't much you can do to personalize it.
But Messenger Marketing changes that.
With chatbot marketing, the messages you receive can be easily customized based on the links you click as you progress through the message flow. And at any point you can always type a message to the company and get a personal response from a live customer service rep.
This makes communication on messaging apps more personal. It's a two-way street, just like communication should be. And most importantly, this is the kind of communication people are growing to expect from the companies they do business with.
Messenger Apps Are Growing Rapidly
In just about every country in the world the most frequently used app is a messaging app. They're pervasive; everyone uses them. And this has been the case for quite some time. Messaging apps surpassed social media networks in terms of monthly active users way back in early 2015: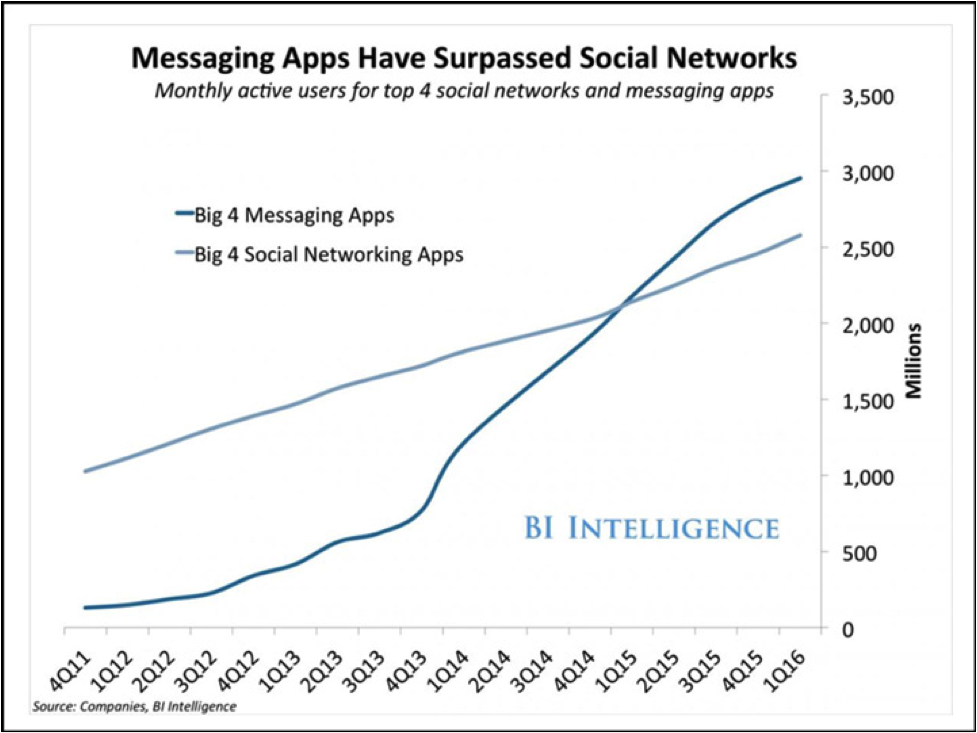 Now the specific app that people use varies by country—Facebook Messenger is the most commonly used app in North America, while WhatsApp (also owned by Facebook) reigns supreme in Europe. In China, WeChat is the hands-down winner. But regardless of the specific app, it's clear that messengers are the channel of choice for people all over the world when communicating with friends & family.
Why Facebook Messenger?
With all the messaging apps out there, why should you focus on FB Messenger as your go-to app for Messenger Marketing?
There are several reasons.
First of all, if you live in the U.S. or Canada, Facebook Messenger is the hands-down clear winner in terms of users. With over 1.3 billion active users each month, Facebook Messenger has an enormous reach.
Second, Facebook has been testing and expanding the capabilities of its Messenger app for this very purpose. So unlike WhatsApp, which is still a fairly bare-bones app (more like SMS), Messenger features the ability to build automated chatbots complete with images, videos, galleries, call-to-action buttons, and more—making it the app of choice for marketers and business owners looking to grow their business with a Messenger Marketing strategy.
How to Grow Your Business with Messenger Marketing
Now that you know a little more about what Facebook Messenger Marketing is and why it's becoming such an important marketing channel, let's dive into some more specifics about how you can actually use this marketing channel to acquire new leads & customers.
First we'll go over the fundamental, overarching principles of Messenger Marketing in general. And then, in the next section, we'll show you how to actually do it all inside of ManyChat.
How to Get Facebook Messenger Subscribers
The first step in Messenger Marketing is to get some subscribers.
If you compare Messenger Marketing to Email Marketing, this would be the same thing as growing your email list. But unlike Email Marketing (which involves a friction-filled process of requiring someone to opt in), getting new Messenger subscribers is much simpler and easier.
There's one way to get someone to subscribe to your ManyChat subscriber list:
They send a message to your brand's Facebook page
That's it—they don't have to type out their contact details or perform any sort of annoying opt-in confirmation. All they have to do is send you a message.
Pretty simple, huh?
Here's an example of a Facebook ad with "Send Message" as the call-to-action. If you saw this ad in your newsfeed, clicked the button, and sent the company a message, you would be automatically added to their ManyChat subscriber list: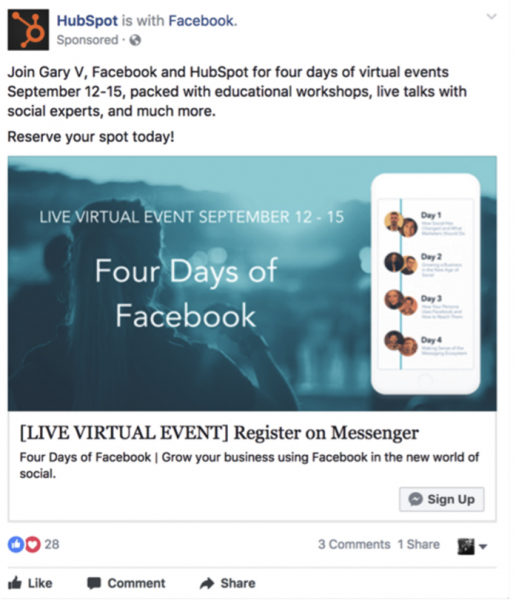 By using ManyChat's growth tool widgets, you can even embed a "Send Message" button on your website—allowing people to join your messenger list right from a blog post: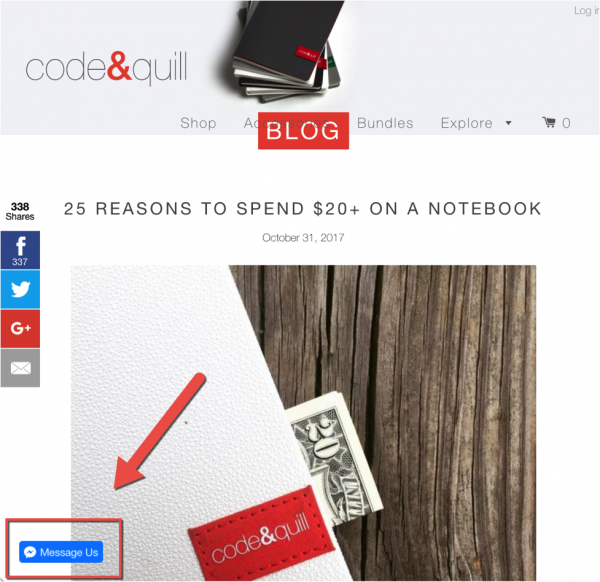 And here's an example of a post using ManyChat's "comment to subscriber" feature. In this post, the text tells people to leave a comment if they want to receive a free guide: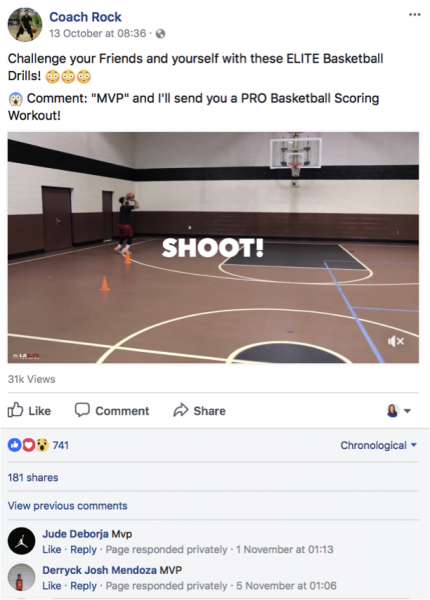 Once you do, you will be sent an automatic response message, like this: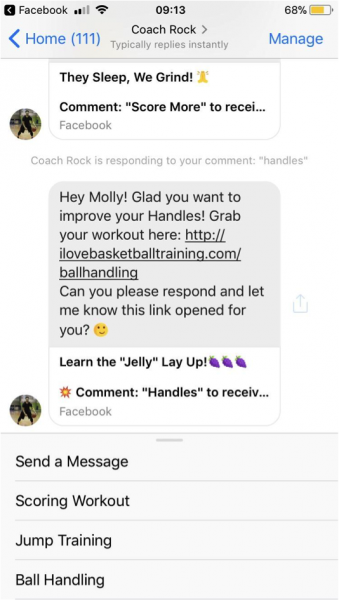 Send Messages to Your Subscribers
Now that you've got some subscribers, what do you do next?
Well…you send them some messages, of course!
At this point it might be helpful to use Email Marketing as a reference point. When you send a message through Email Marketing, you basically have 2 options:
Send a one-time broadcast
Set up an autoresponder series
The same is true of Messenger Marketing. You can send one-off broadcasts to your entire list (or to smaller segments of your list)…
And you can also set up automated messages that respond to certain keywords with pre-written responses. And when you combine a number of those automated sequences together to give users an interactive & conversational experience, that's called a "chatbot."
Automate Your Messenger Marketing With Chatbots
Chatbots send content to your users automatically, based on the actions they take (clicking on call-to-action buttons, typing in certain keywords, and so on).
But unlike email autoresponders, chatbots allows for logic branching and greater personalization. Instead of simply blasting out the same email to everyone, chatbots allow for menu options like this: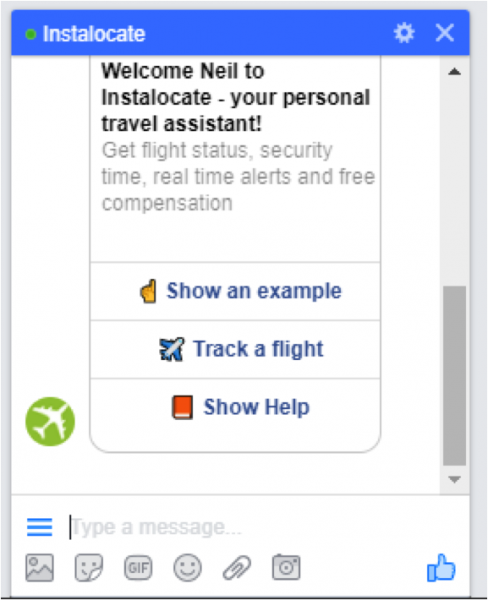 This gives the user the option of choosing which information they get—so they only receive messages they're interested in. (Which is probably another reason why Messenger Marketing has such high engagement rates.)
Related: 6 Proven Direct Response Marketing Techniques to Try Right Now
Now that we've explored some of the chatbot marketing strategies for using Facebook Messenger Marketing to grow your business, let's really dig in and take a look at how you can implement those strategies using ManyChat.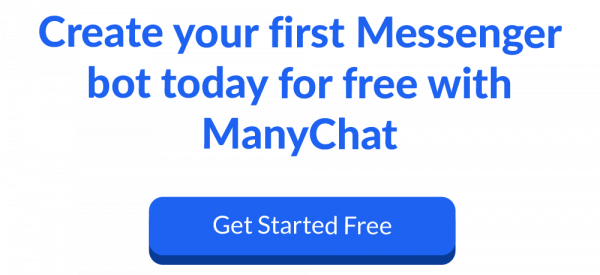 To keep things simple, we'll be exploring each section of the member's area in order. If you take a look at the menu on the left-hand side of your ManyChat screen, those are the areas we'll be covering in this part of the guide: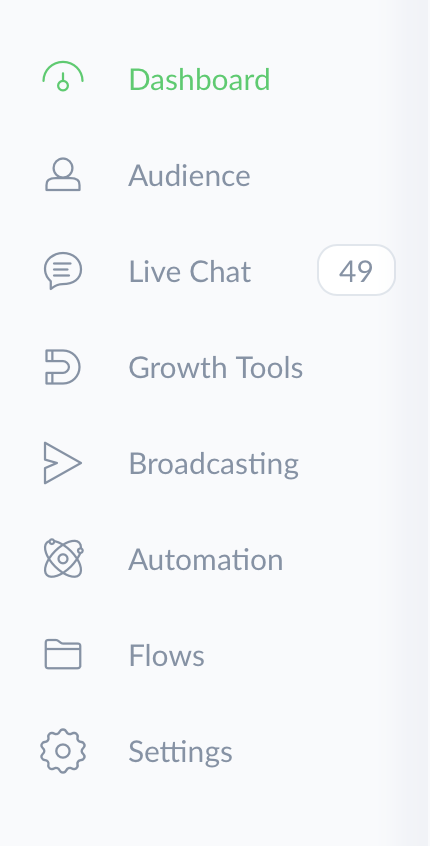 Dashboard
Your dashboard is a simple screen that provides general details about your account. You can see a graph of active subscribers, net subscribers, and subscribers/unsubscribers over a given date range: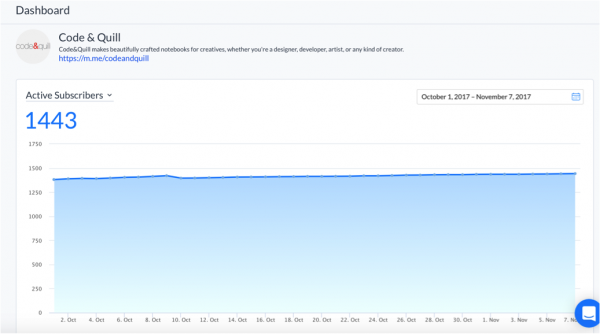 Audience
This is another fairly straightforward screen. All your subscribers are listed out, along with some basic information. If you click on a user you'll see more detailed information, such as their tags and which sequence(s) they're subscribed to: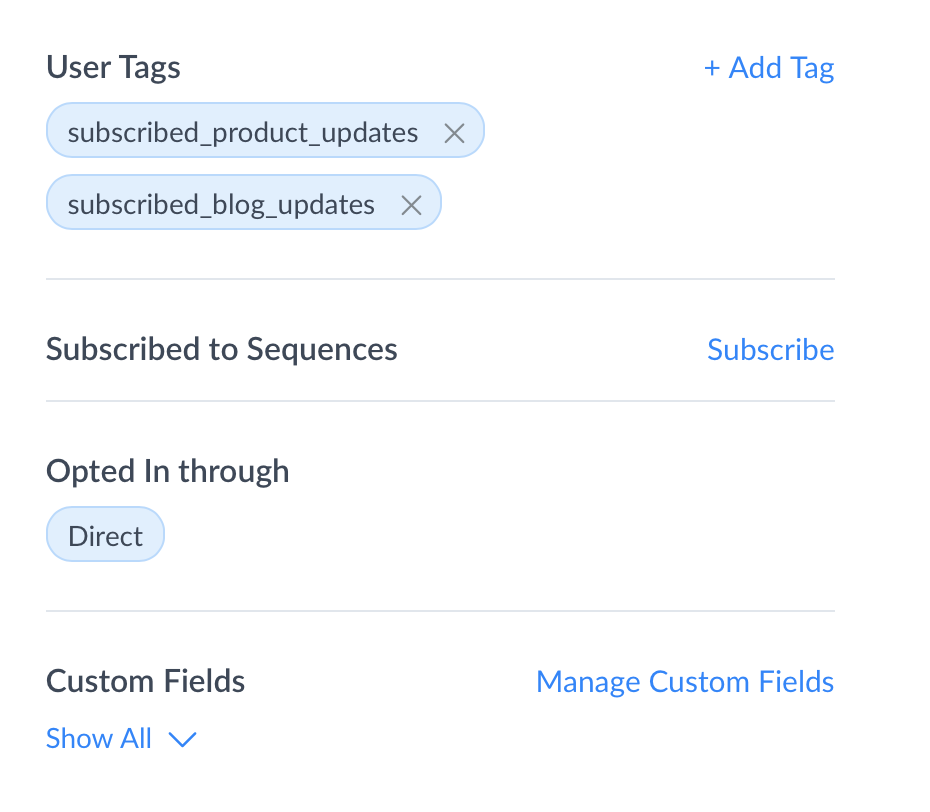 You can also make changes to your subscribers here: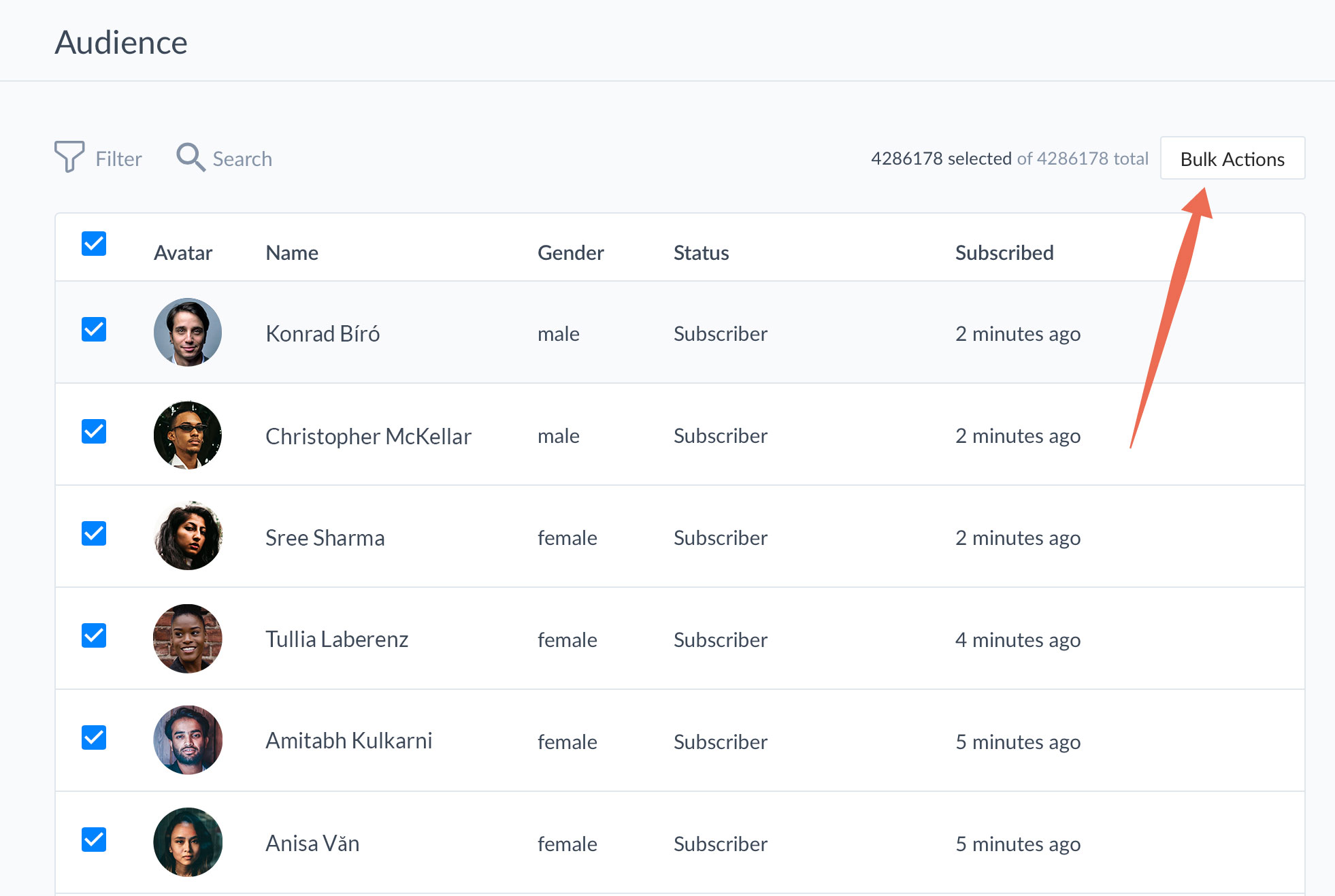 If you click the "Bulk Actions" button in the top-right, you can add or remove a tag, subscribe or unsubscribe users from a sequence, unsubscribe them, or adjust their custom fields: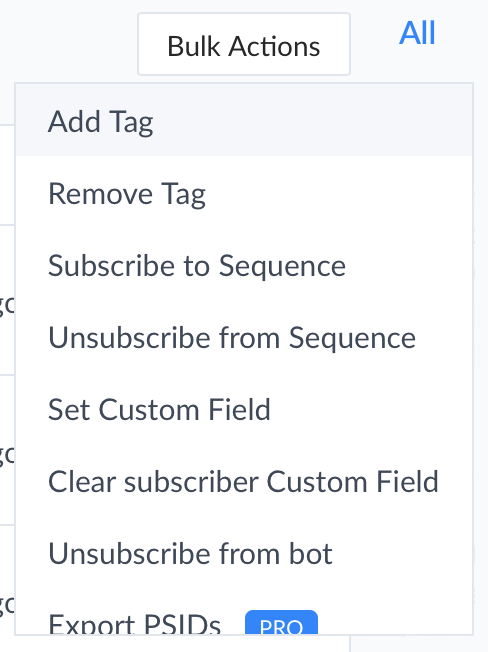 Customer Live Chat
This is where ManyChat keeps track of all of your live, non-automated conversations.
Anytime someone sends you a message—whether it's providing feedback, asking a question, giving thanks, or whatever—those messages will show up here. This way, customer service reps will have one central location where they can deal with customer issues.
On the right-hand side of the screen, ManyChat displays some details about the user in question. It shows their name, picture, gender, and language.
You can also choose to tag the user or subscribe them to a new sequence: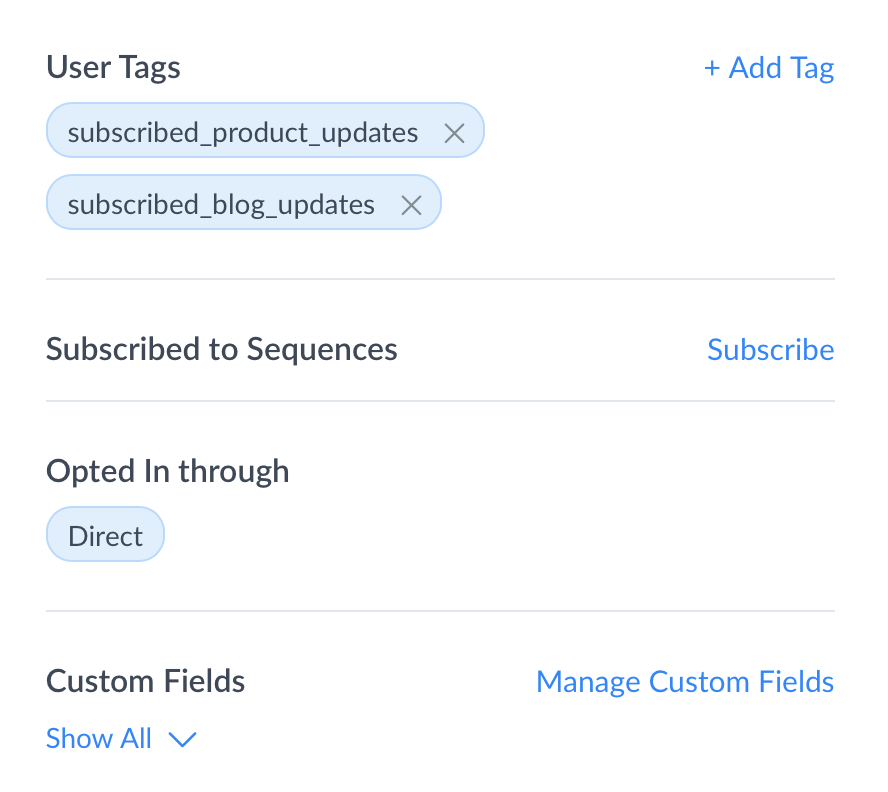 Keep in mind live chat conversations have a time limit of 24 hours. After that time has passed, you can respond to live chat messages only if you are responding about a customer service issue that required more than 24 hours to resolve:

This is one of the coolest parts of ManyChat. Inside the Growth Tools area, you can customize a number of different overlays, widgets, and pop-ups to help encourage people to engage with you via Messenger and join your subscriber list.
After clicking on the "+ New Growth Tool" button in the top-right, you'll see a list of options: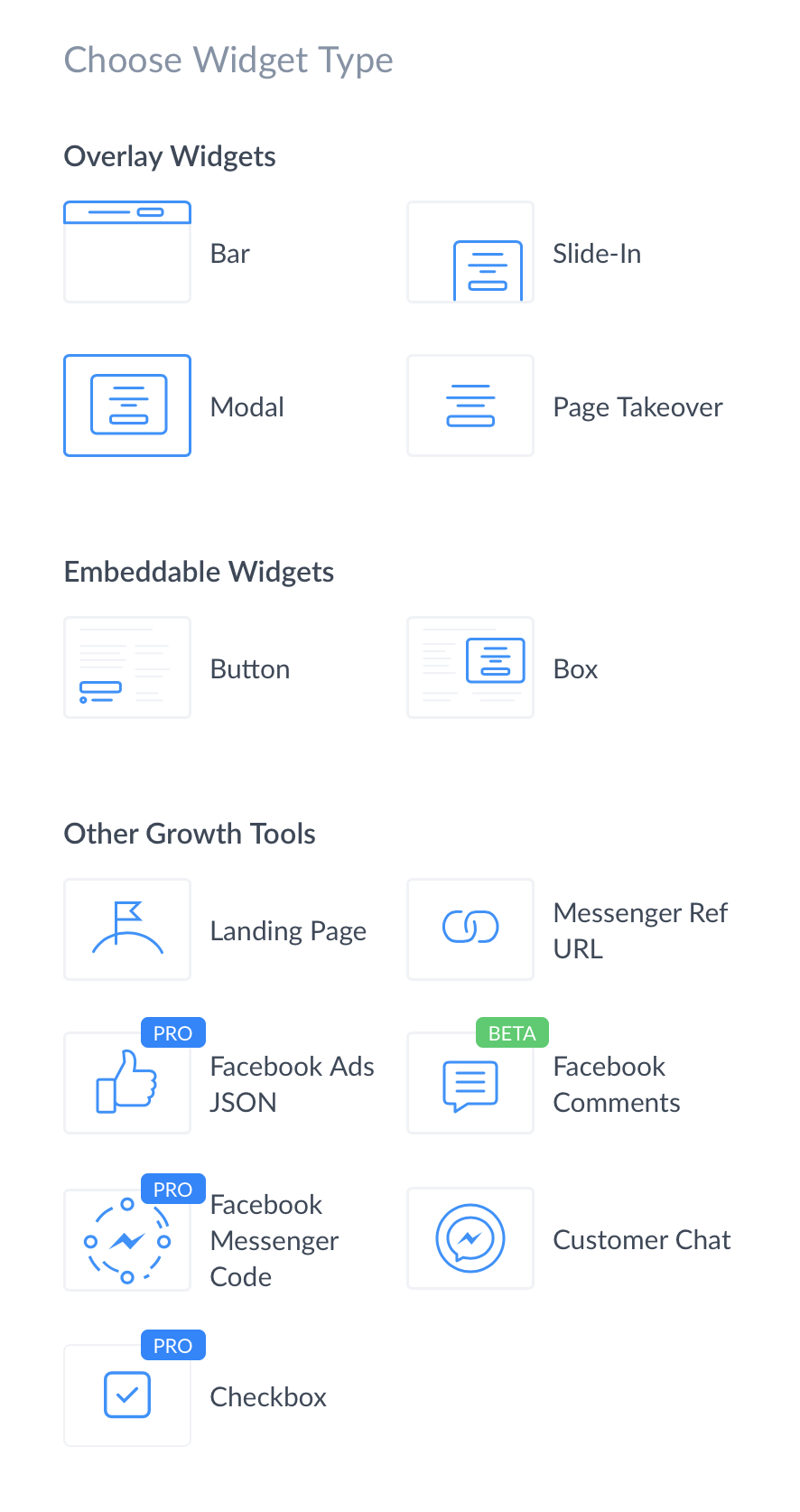 First we'll cover what each of these tools does. Then, we'll explain how to configure each of these Growth Tools depending on your needs & goals in different situations.
Overlay Widgets
Here you can create and embed 4 different types of widgets on your website. Each widget contains a call-to-action button asking the user to open Messenger and engage with your chatbot.
The 4 types of overlay widgets are:
Bar: This creates an opt-in bar that shows along the very top of your screen.
Slide-In: This creates an opt-in window that sides into view from the edge of your screen.
Modal: This creates a popup window in the center of your screen.
Page Takeover: This creates a full-page overlay that takes over the entire screen.
Here's an example of what the "Slide-In" widget looks like: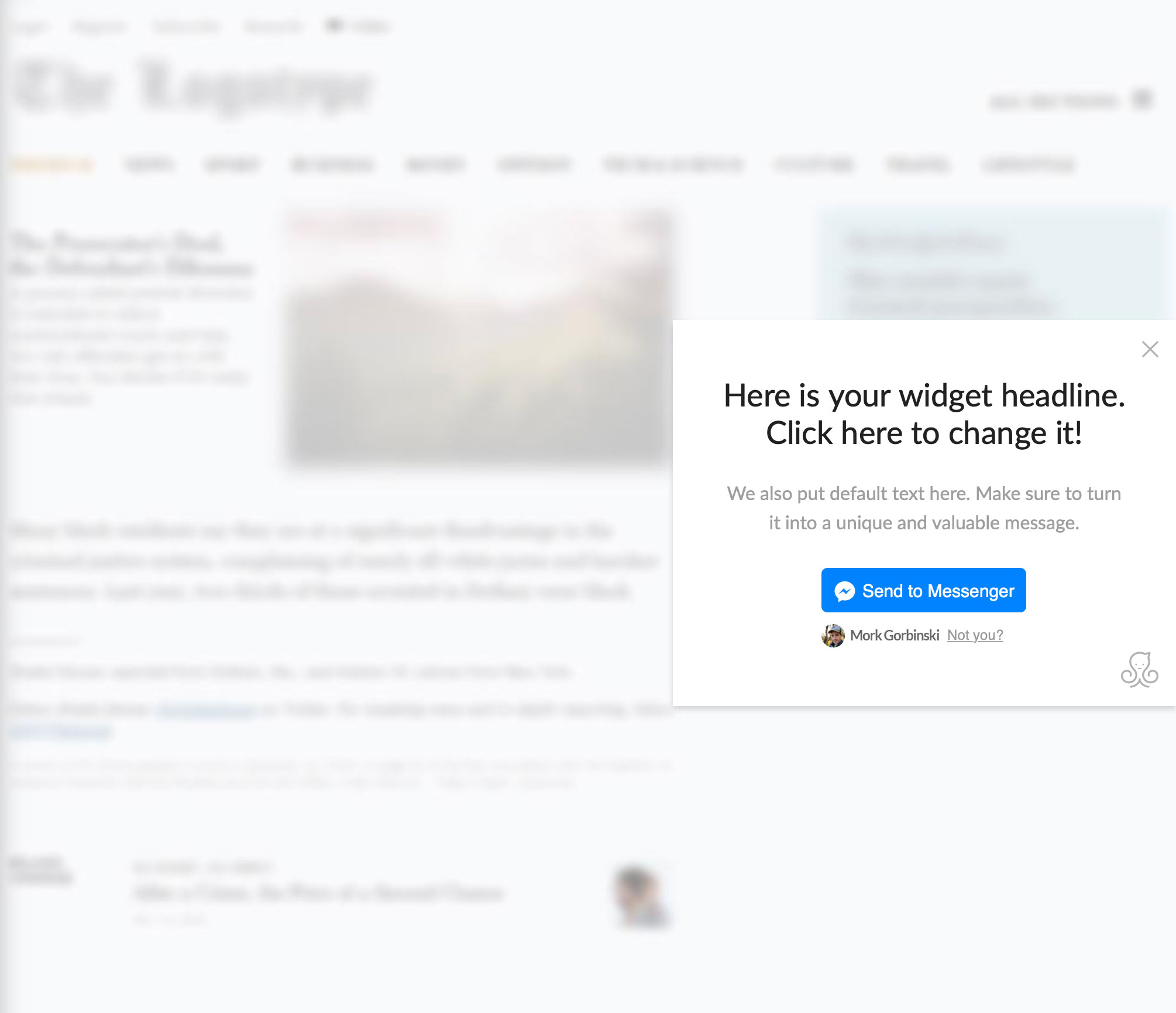 Embeddable Widgets
The next 2 growth tools, "Button" and "Box," allow you to embed a widget directly into the content of a website (instead of overlaying over top of the content). Once again, the call-to-action button will cause the person to open a Messenger conversation with you.
Here's an example of the "Box" widget: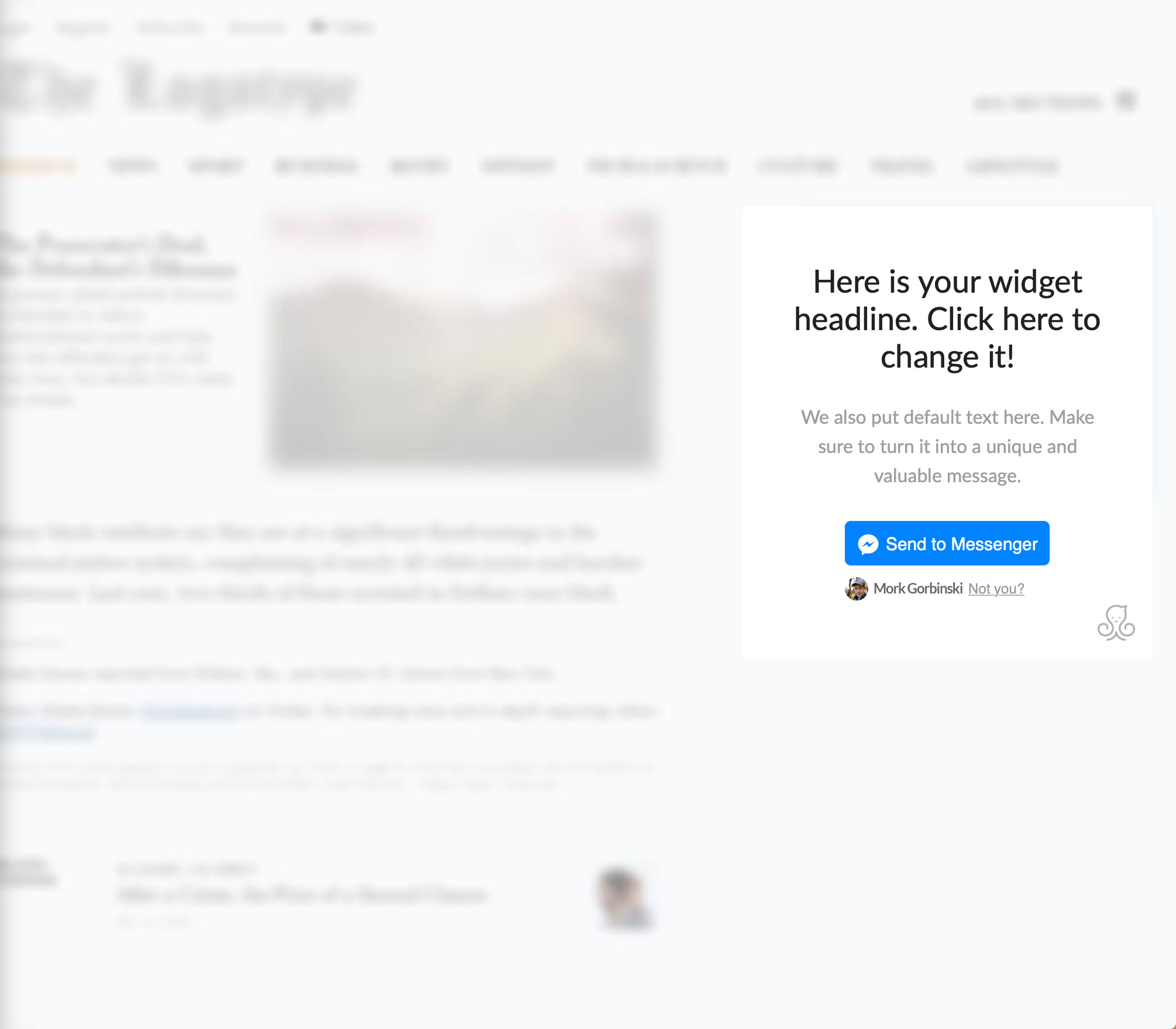 Checkbox
The 'Checkbox' Growth Tool is lets you to add a checkbox to forms on your website. With this tool, site visitors with a Facebook account can sign up to receive messages from your bot in Messenger.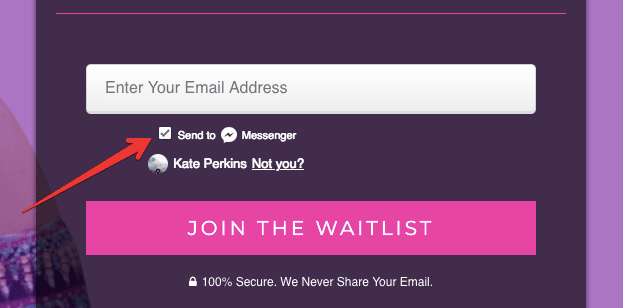 To set up a Checkbox on your site, we recommend reading this support article on How to Create Checkbox Growth Tool.
Landing Page
With this option, ManyChat will actually host a simple landing page for you. This landing page has only one goal, which is to get the visitor to engage with you on Messenger and join your ManyChat subscriber list.
This is a great tool for companies that don't have their own website or would rather have a separate landing page for generating new subscribers.
How to Configure Widgets
Now that you have an idea of what each growth tool does, let's take a look at how you can configure these tools. And for the most part, the customization options inside each tool are very similar.
In almost every case, you can configure these 4 things:
Initial State
Submitted State
Opt-In Actions
Setup
Initial State
In this first tab, you can customize your "Initial State"—in other words, this is what your widget looks like before the person engages with it. You can adjust things like the colors, the text, how long the widget is displayed, and so on.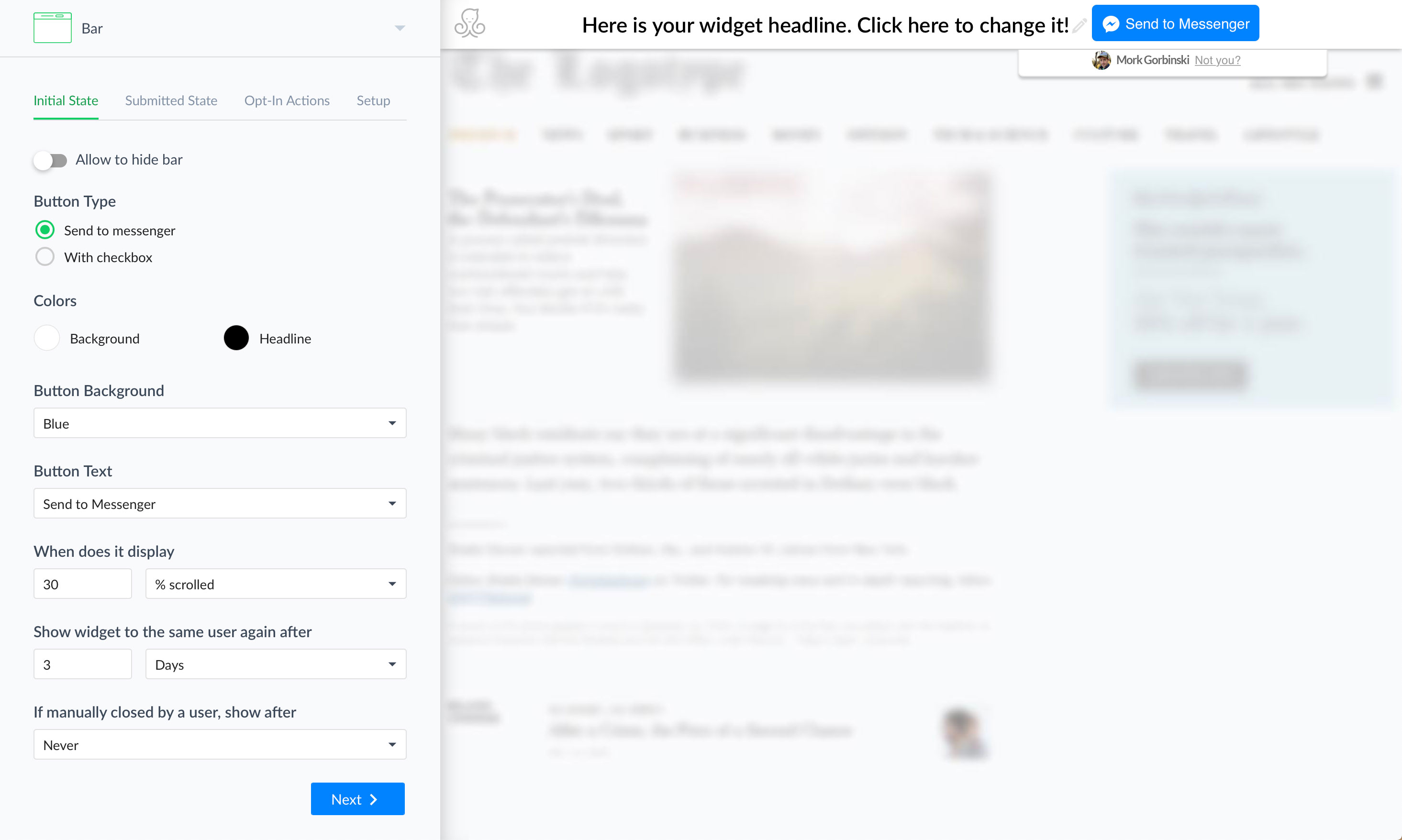 Submitted State
Here's where you can customize what the widget will do after the person messages you. In most cases this will be some kind of thank-you message: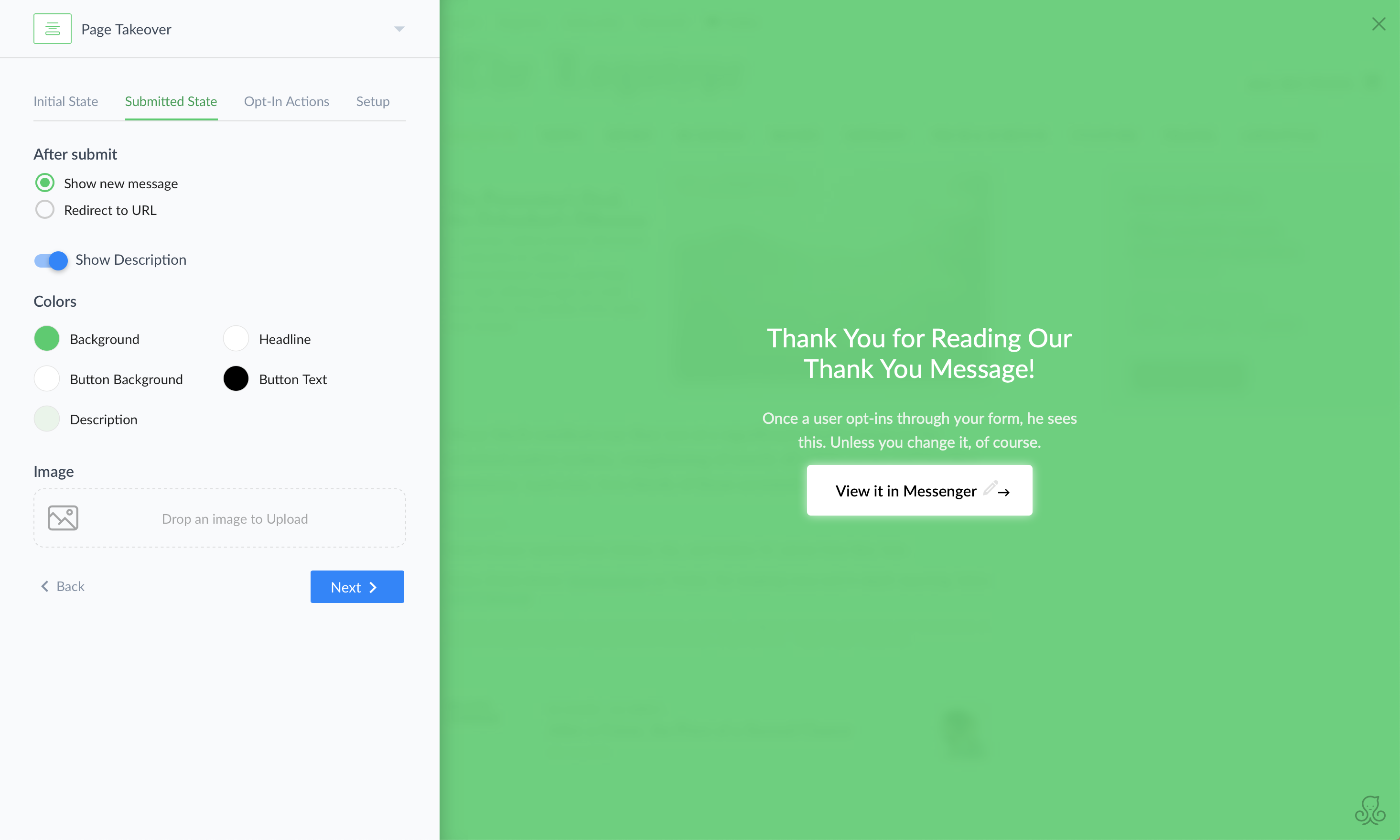 Opt-In Actions
Next, you can customize what happens when that person messages you—specifically, you can choose which message they'll receive and which sequence they will be subscribed to: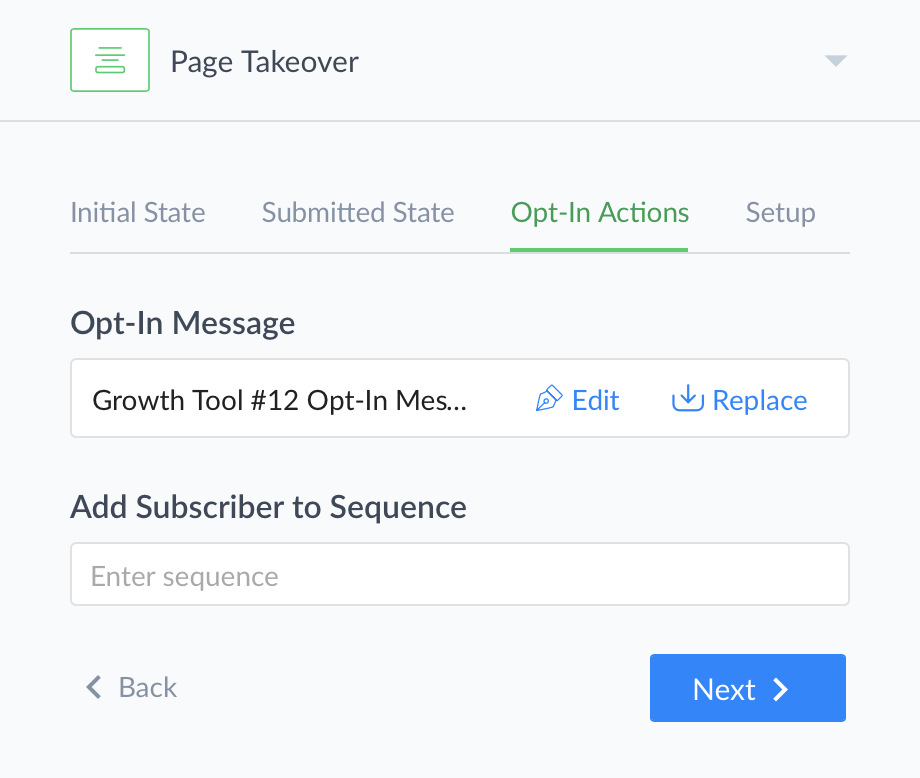 Setup
Finally, the "Setup" tab provides the details & customization information on how you can embed each tool on your website. From here you can install your JavaScript snippet (if applicable), specify which page(s) to show your widget on, which device types to target, and more.
Messenger Ref URL
This tool allows you to create a URL that will open a bot's page in Messenger. This makes it easy to send visitors to any chatbot with a single click.
Read more: 6 Easy Ways to Get Your First ManyChat Subscribers
Facebook Comments
This highly effective growth tool lets you add users to your subscriber list when they comment on a specific Facebook post.
Here's how it works:
First, a user sees your post in Facebook.
They leave a comment on your post.
After leaving a comment, they receive an automatic message from your chatbot.
If they respond to that chatbot's message, then they will be added to your ManyChat subscriber list.
Pretty powerful stuff, huh? So here's how you can set it up for yourself.
When you click on this growth tool, you'll see a list of options that looks like this: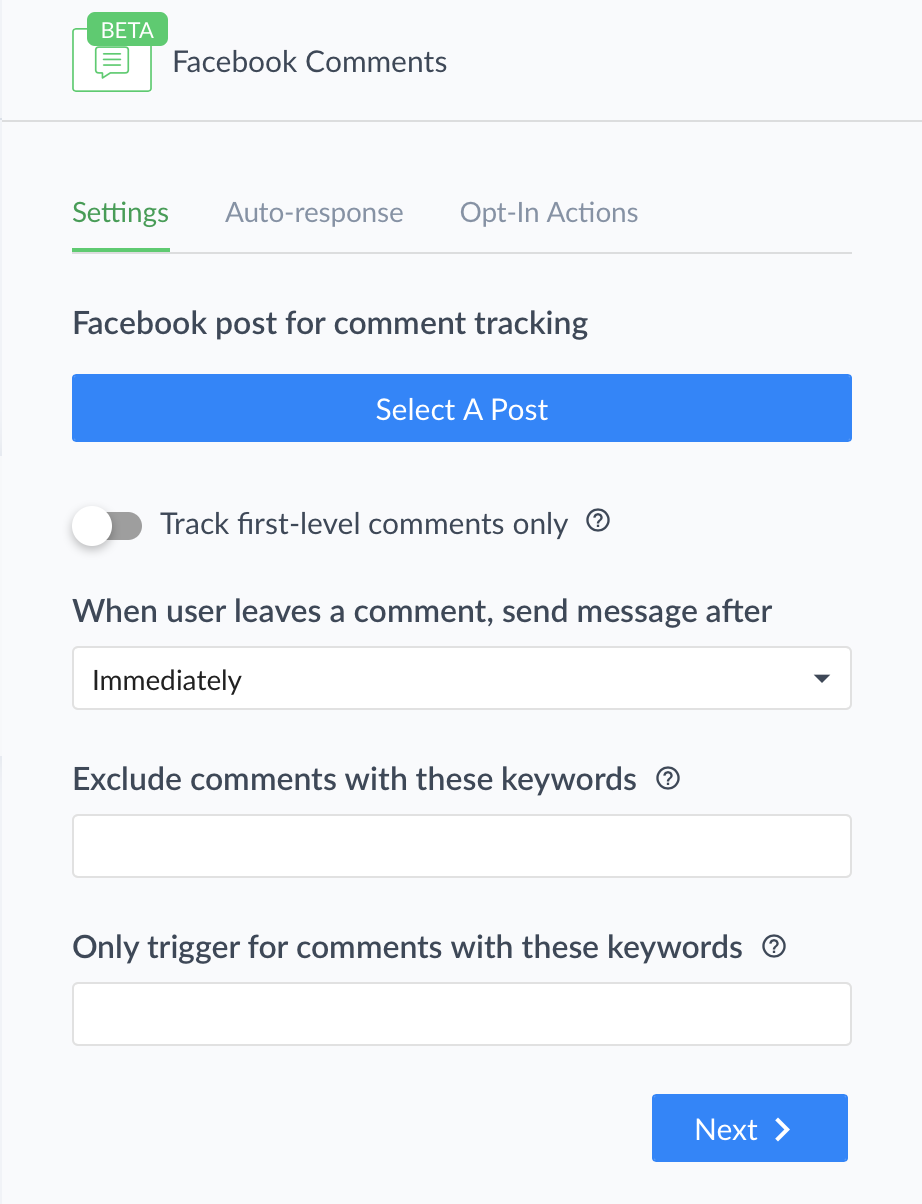 The first tab allows you to customize which comments will receive your auto-message. If you specify a keyword list in the final field, then users who comment will receive your auto-message ONLY if they include one of the keywords in that list. If you don't specify any keywords in that final field, then anyone who comments on your post will be subscribed to your chatbot.
The next tab, "Auto-response," is where you can customize the automated message that users will receive after leaving a comment. When creating this message (which must be text-only), keep in mind that your goal is to get the user to respond to you. That's the only way they will be added to your subscriber list, and the only way to engage them with your chatbot.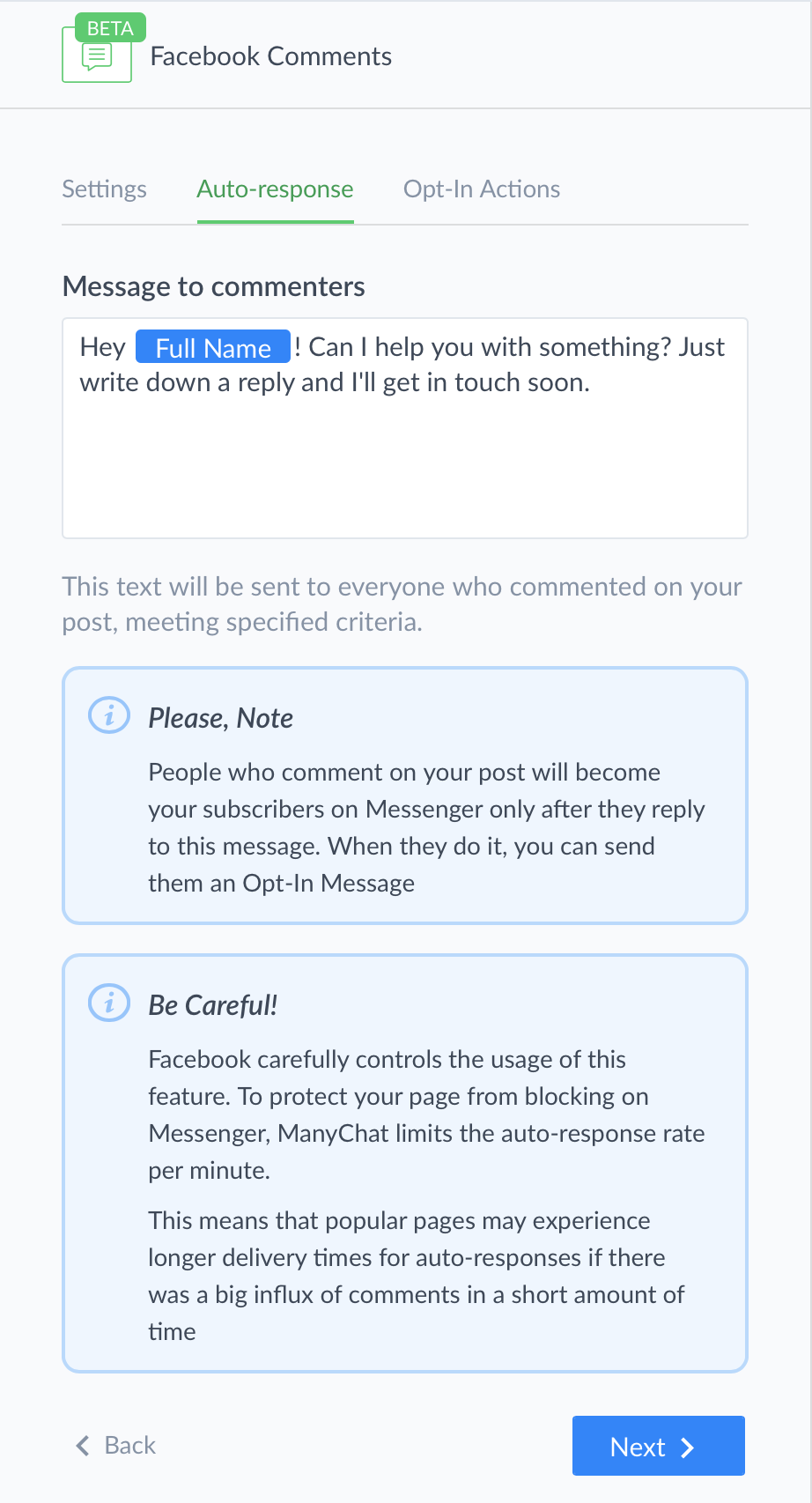 Notice how Coach Rock asked users to "please respond and let me know this link opened for you?"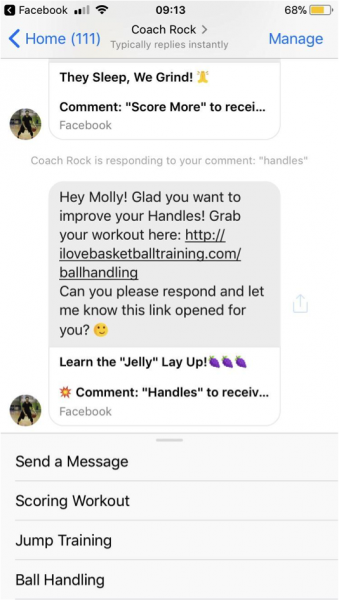 This is a great way to ensure people become a messenger subscriber. You can also prompt users to type in another keyword to deliver whatever you promised in the post.
When creating your auto-response, bear in mind that Facebook is keeping an eye on these automated messages. As a result, ManyChat limits the speed at which your automated messages can be sent. So if you have an especially popular post, there may be a delay between users commenting on your post and receiving your auto-response.
The final tab of this growth tool, "Opt-In Actions," lets you send a customized message to anyone who responds on Messenger and opts in to your ManyChat list. And you can customize this further by sending a specific message to anyone who responds with a certain keyword: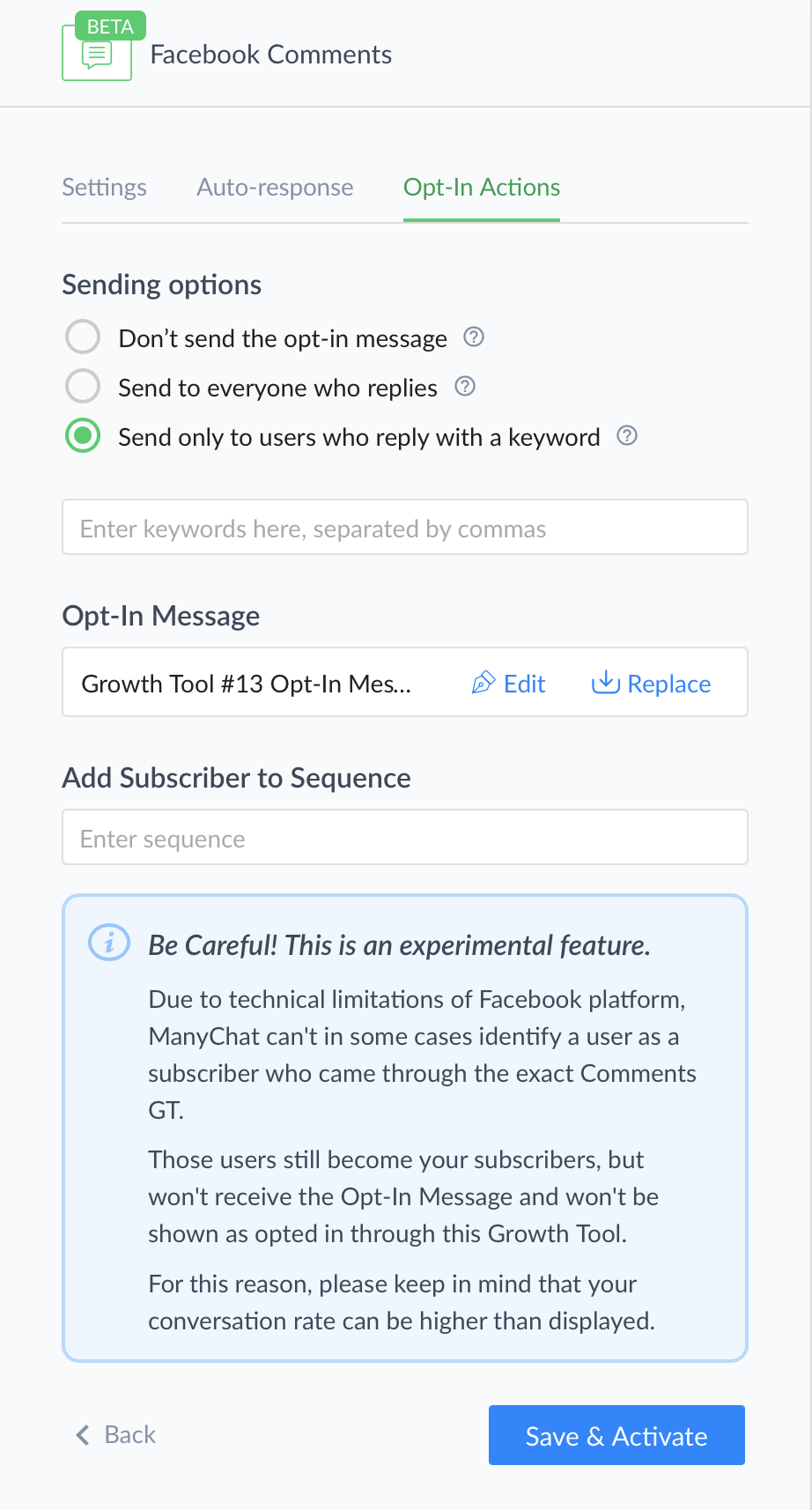 The possibilities with this tool are really awesome. For example, DigitalMarketer uses this feature to allow people to download a free guide if they reply to the welcome message with the word "guide":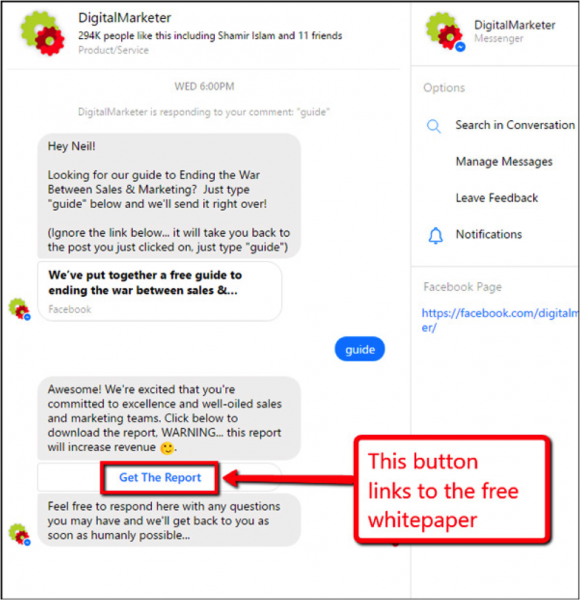 Facebooks Ads JSON
Facebook ads JSON is a ManyChat PRO feature that allows you to convert users who click on a Facebook messenger ad into bot subscribers immediately, without them having to message your page!
Simple copy and paste the code under "setup" into the Facebook ad platform (at the ad level) when setting up your ad campaign. Here's a step-by-step video tutorial on how to do so:
Broadcasts
This is where you can send broadcast messages to your ManyChat subscribers. In many ways, it's very similar to sending a broadcast email from your email service provider.
The Broadcast option in ManyChat allows you to include many different types of content in your broadcast, from text to images to videos and more: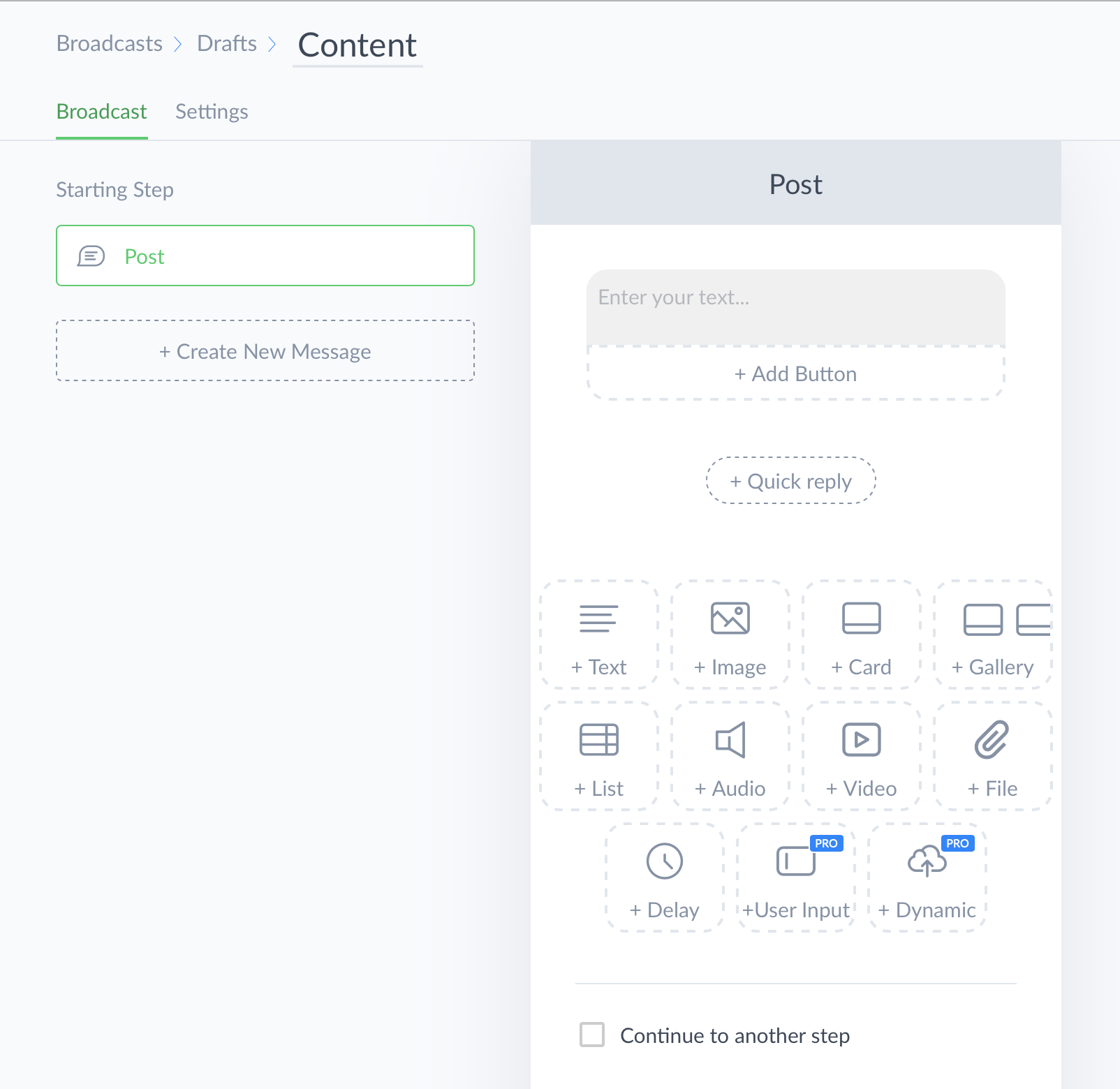 By clicking on the "Settings" tab, you'll be able to customize the details about how your message is sent. Here's what that screen looks like: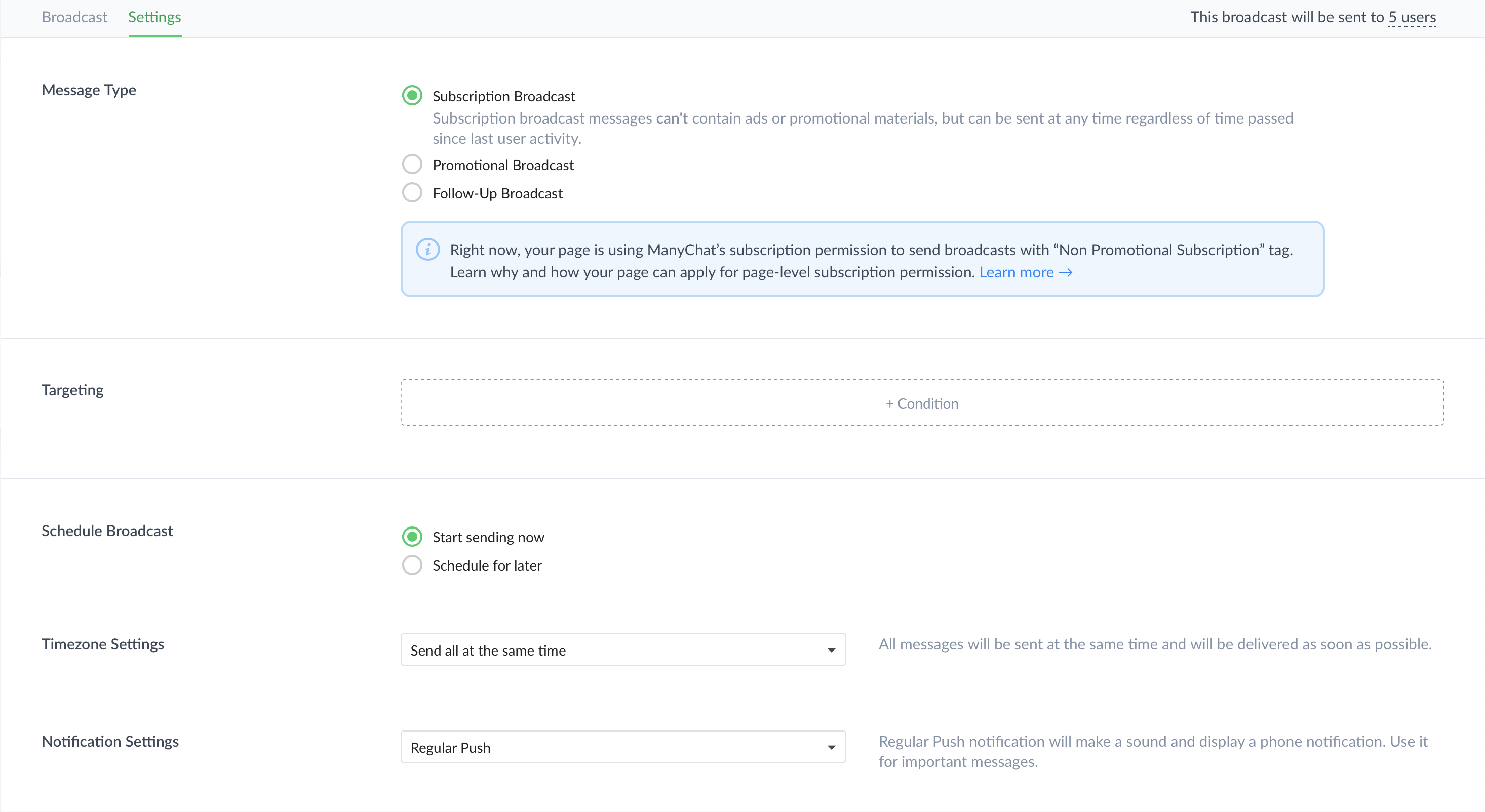 From here you can choose to target custom audiences/subscribers based on a number of different conditions, including:
Tags (so you could target everyone who is tagged as "interested_in_rock_climbing")
Opt-in widgets (so you could target everyone who opted in through a specific overlay widget)
Sequence subscription (so you could target everyone in your "Lead Nurturing" sequence)
You can also target users based on more generic demographic information such as gender, language, etc. You can see the full list by clicking the "+ Condition" button next to "Targeting":

Keep in mind when you send a broadcast you have to choose a message type. The 3 types of ManyChat broadcasts are subscription broadcasts, promotional broadcasts, and follow-up broadcasts. And each type of broadcast comes with some limitations:
Subscription Broadcast: These messages can't contain ads or promotional materials, but can be sent at any time.
Promotional Broadcast: Promotional broadcasts can contain ads and other promotions, but you can only send them to subscribers who were active in the past 24-hours.
Follow-Up Broadcast: After the end of the 24-hour window you have an ability to send one follow-up message. Once a person receives your follow-up broadcast, you won't be able to send them any promotional broadcasts until they interact with you again.
You might find it slightly odd that you are restricted in the type of messages you can send to subscribers, but this is Facebook's way of protecting its users from spam and unwanted messages. Remember: the average person gets 121 emails a day. That massive amount of emails is why email, as a marketing channel, is becoming less & less responsive.
By making sure that you can send only relevant content to interested subscribers, Facebook is protecting not just its users—but Messenger as a marketing channel.
For many marketers, the Automation section of ManyChat is where the real magic happens. This is where you can create set-it-and-forget-it campaigns that will engage users, nurture prospects, and even turn leads into sales.
Main Menu
Think of your main menu like the top-level navigation on your website. This is where you should include links to the most relevant and important content in your chatbots.
Your top-level menu is limited to 3 items, each of which can have a submenu with up to 5 items.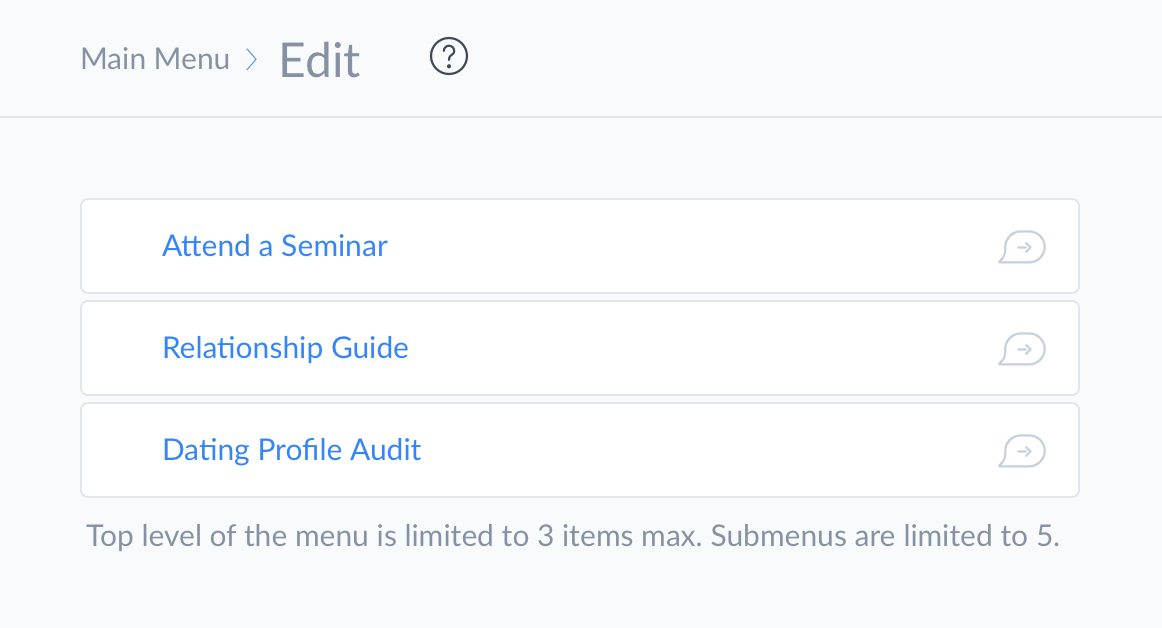 In most cases, the goal of your menu should be to help users find what they're looking for as quickly and easily as possible. So a good idea might be to categorize your chatbot content into big buckets.
For example, a travel site like Kayak might use a menu structure along the lines of:
Book a Hotel
Book a Flight
Rent a Car
Whereas a tech company might opt for a menu like this:
Browse Desktops
Browse Laptops
Browse Tablets
And a company like the NFL might create a menu like:
Default Reply
Think of your default reply as a fallback option. If someone asks your chatbot a question that your bot doesn't know how to answer—say the question contains no keyword matches—then it will respond with your default reply.
A good option here is to give users a few examples of things they can ask about (in other words, some of the keywords you have set up). This would also be a good place to provide a menu of some of the different message options, like this: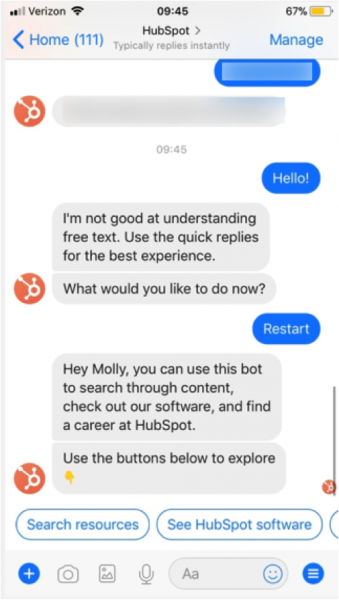 Welcome Message
One of the first messages you'll want to set up inside of ManyChat is your welcome message. This is just what it sounds like: it's the very first message that all your users will receive when they interact with you on Facebook Messenger.
To see and edit your welcome message, click "Automation" on the left-hand side of the screen, then click "Welcome Message":

From here, click "Edit Message" in the top-right: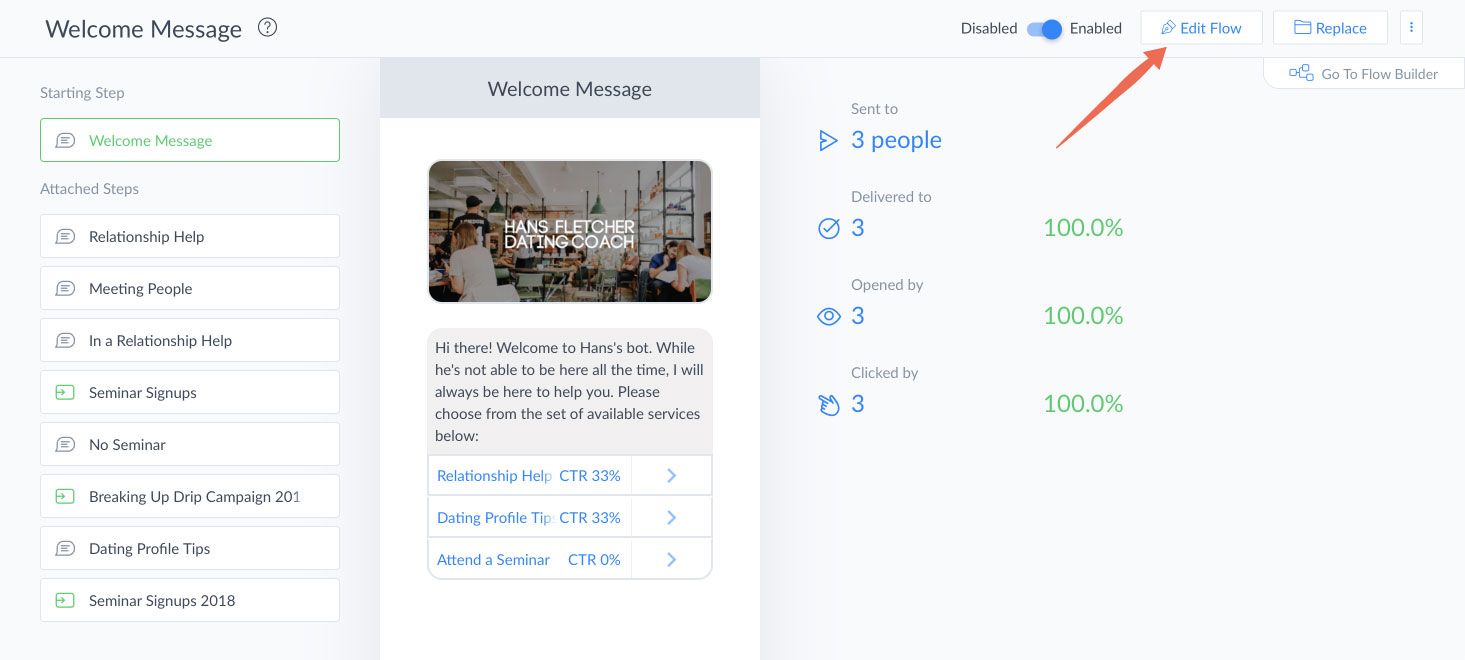 Now you can customize your welcome message by adding text, buttons, images, videos, and more: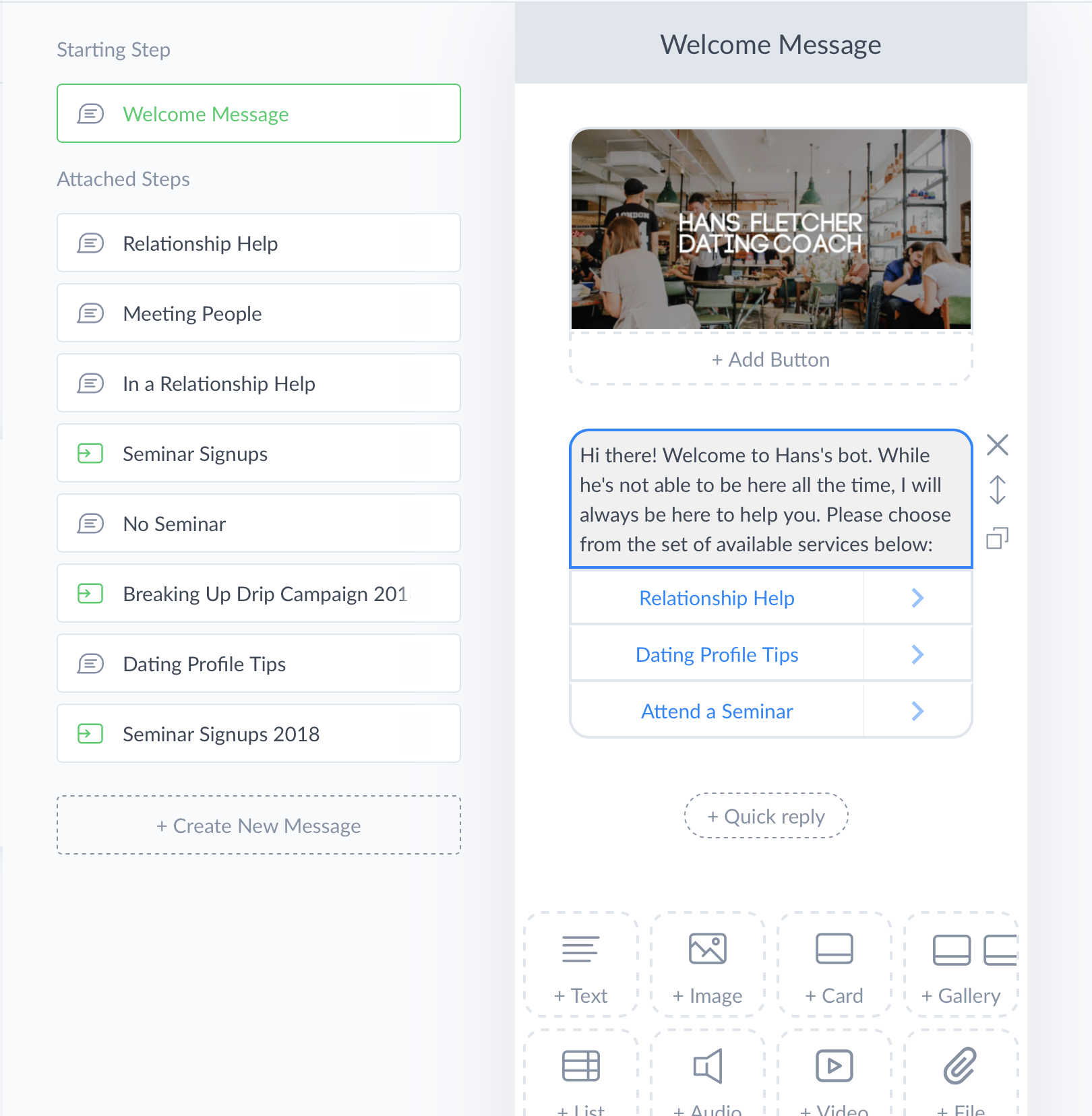 Notice that you have the option of adding a Delay in your message. This can be really helpful when you want to give your prospect enough time to read one message before they receive the next one. So if you include several lines of text in your welcome message, consider adding a slight delay between messages so your users can keep up.
So what should you include in your welcome message?
First, you should probably say hi and thank your users for connecting with you. If there's any preliminary information that they should know about you or your company, this might be a good place to include that info.
Next, it's a good idea to give your users some options for interacting with your chatbot. For example, you might want to include several buttons that will help guide people as far as what they should do next.
Here are a few ideas:
Include links to your blog, podcast, and some of your most popular videos
Give users the choice to download resources from your website (white papers, free reports, etc.)
Include an "About Us" button that will tell users more about your company
List a few of the different keywords users can type to engage with your chatbot
No two companies should have the same welcome message, because every company is a little different. The key is to think about what your company offers, what your users are looking for, and what would be most helpful for them to see.
Here's a great example from Instalocate: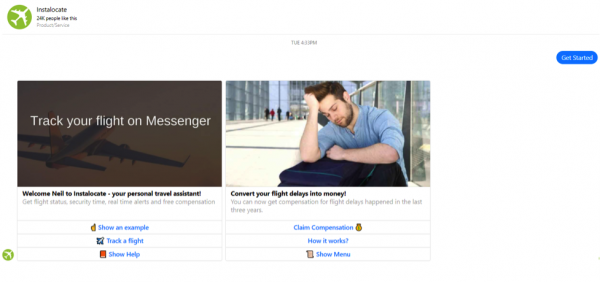 They give you a half-dozen different options, each of which is highly relevant to what they offer. They also include links like "Show help," "Show an example," and "How it works?" Each of those buttons provides helpful information that shows users exactly how to use the chatbot to get flight status updates, real time alerts, and free compensation for flight delays.
Check out this video for even more on setting up a welcome message:
Keywords
Without a doubt, keywords are one of the most useful parts of ManyChat. This feature gives you the power to create automated bot replies whenever your users ask a certain question. This is essentially… how you create a bot!
To create a new keyword, simply click "+ New Rule" in the corner:

Next, click in the box that appears and type in the keyword(s) that you want to create an automatic response for. Keep in mind you might want to include several close variants of your keyword. So if you keyword is "workouts," you should probably include similar keywords like "workout," "work outs," and so on.
The next thing you'll need to set up is the response for that keyword. This is the sequence of text, pictures, videos, buttons, etc. that your bot will respond with after the user types this keyword. And here you have 2 options for setting up this content: you can create a brand-new reply, or you can choose an existing piece of content from your library.
Finally, you can choose from several different actions—such as tagging the user, subscribing them to a sequence, and so on.
This is one part of ManyChat you'll want to get familiar with. Keywords play a big part in setting up highly interactive chatbots.
Sequences
In a way, sequences are a lot like email autoresponders. They allow you to string together a series of messages, each with a customized time delay between their delivery. Here's what a sequence looks like inside of ManyChat:

To add a new message, simply click "+ Message" and specify the content you want to include with that message. You can create a brand-new message or select existing content from your library.
By clicking on the text to the left of the message, you can specify how long ManyChat should wait before sending it: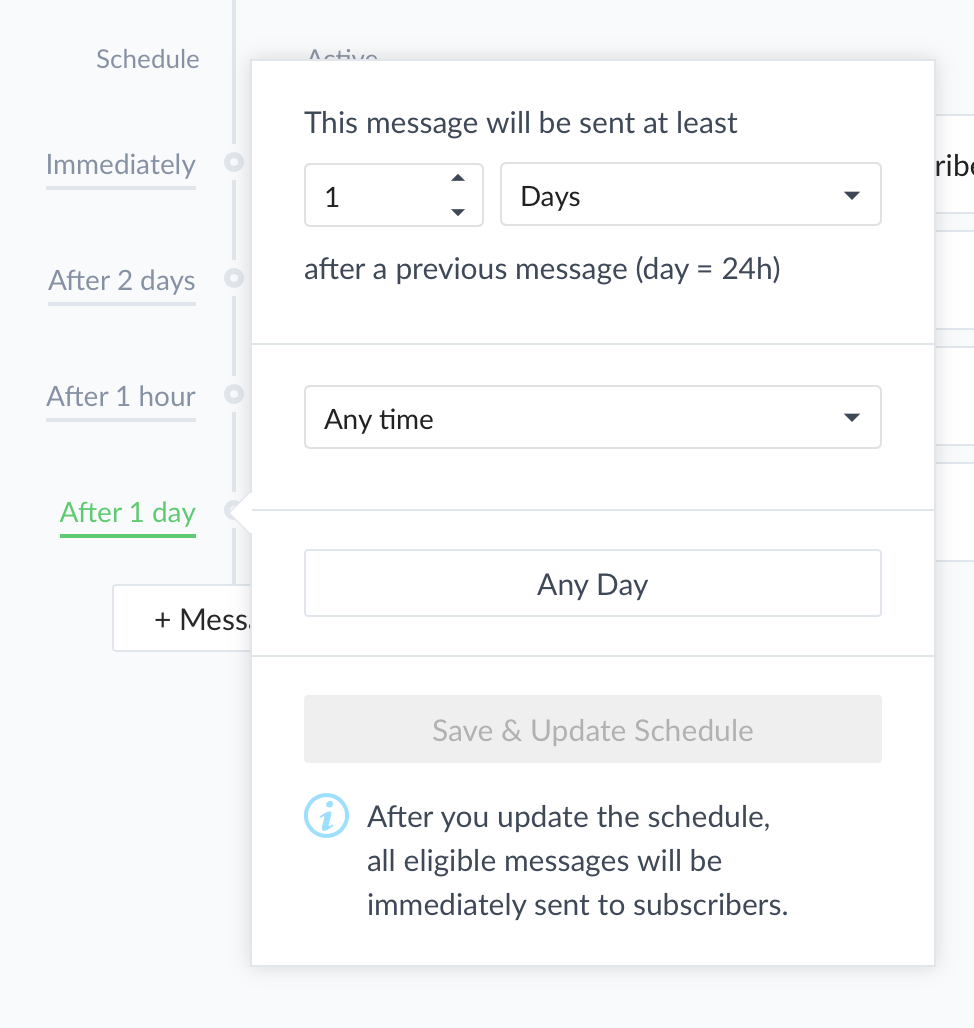 Your delay can range from nothing (send immediately) to any number of minutes, hours, or days.
Flows
Think of this as your ManyChat filing cabinet, your centralized content repository. It's where you can save & sort all your sequences, opt-in messages, keywords, and more.
You can also create folders to keep your content organized in a way that makes sense for your business:

And you can, of course, edit any of your content simply by clicking on it.
Integrating ManyChat with Zapier
You can now use Zapier to automatically integrate ManyChat with 750+ other marketing tools you're using online.
Would you like to add ManyChat subscribers to your email list in MailChimp?
How about capturing webinar registrations through Messenger (while sending reminders and follow-ups right from your ManyChat account)?
Or perhaps you'd rather integrate ManyChat with Salesforce so you can automatically send notifications about qualified new leads to your sales team?
All these are possibly using Zapier & ManyChat. And when you're ready to set up some advanced Zapier integrations with your ManyChat account, click this link for step-by-step instructions on how to do just that:
[Zapier + ManyChat] 4 Ways to Integrate ManyChat into Your Business
A Quick ManyChat Tip
Hopefully this guide has helped answer some of your biggest questions about using ManyChat. But there are a lot of tools in ManyChat, and we're adding new features all the time.
If you're ever confused about how a feature works, look for a "?" near the top of the screen. If you hover your mouse over that question mark, you'll see a screen appear with an explanation of how that feature works—along with a short video that walks you through how to use it: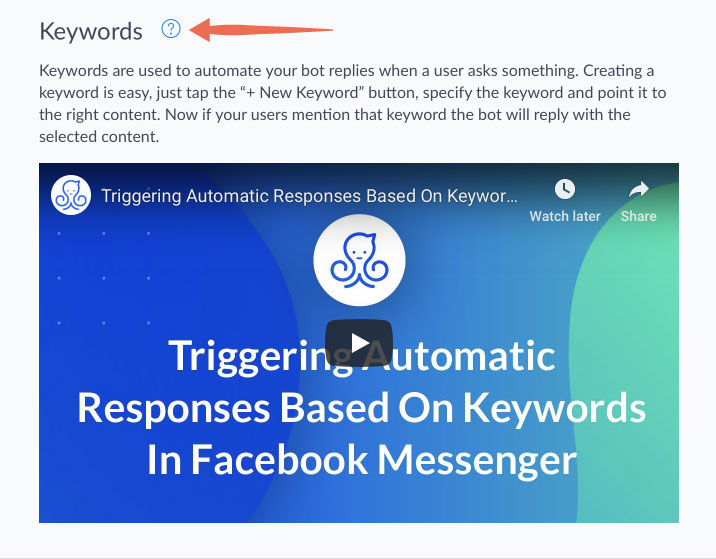 How to Create a Messenger Ad Inside Facebook
Because Messenger is so closely integrated with Facebook, Messenger Marketing is, in many instances, closely tied with Facebook marketing. And there are several different types of Facebook ads you can run that will result in people interacting with your chatbots.
Destination Ads
When creating a Facebook campaign, you now have the option to use Messenger as the objective—meaning that Facebook will show your ads to people who are more likely to open Messenger and send you a message: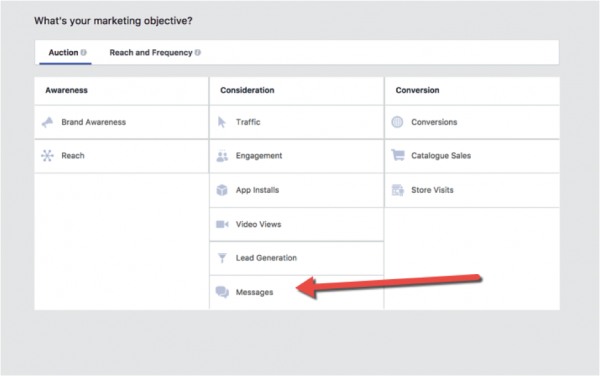 This is a helpful option when you are trying to build your ManyChat subscriber list.
When you choose this objective, Facebook will automatically set your CTA as "Send Message":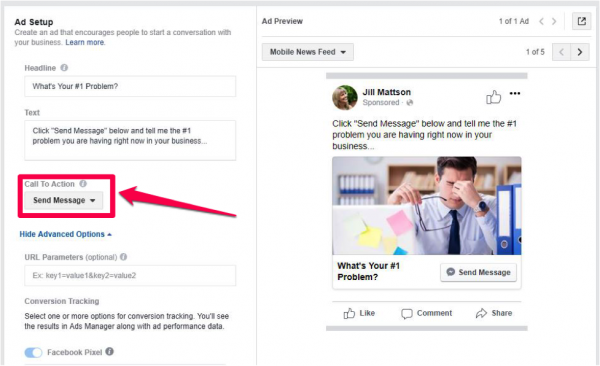 From there, you can customize the first few messages people will see inside of Messenger after they click on your ad. You can even include Quick Replies or Buttons to encourage users to interact with you: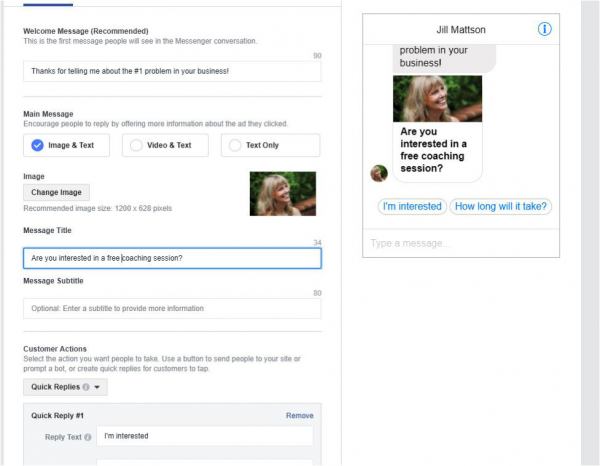 Of course, if you're a ManyChat user than anyone who sends you a message from one of these ads will be added to your subscriber list. That's why this is a great marketing strategy to get people interacting with your chatbot and build your ManyChat subscriber list.
Sponsored Messages
Another option is to send "Sponsored Messages," which is where your ads will show up directly inside of someone's Messenger app. If we continue using email as our reference point, this is sort of the Messenger equivalent of paying for a solo email drop. In other words, you are paying to deliver your messages to someone who is not necessarily on your subscriber list.
Here's what it looks like from the user's point of view:

To create ads like this, you simply have to choose "Messenger" as the placement option for your ads. When setting up a new ad set, scroll down to the "Placements" area and click the box next to "Sponsored Messages":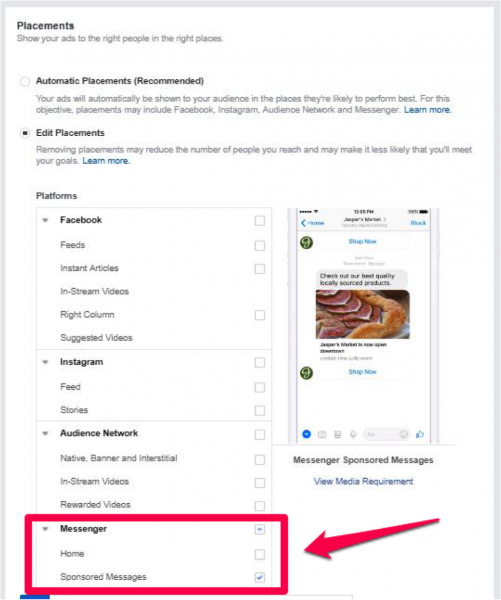 You'll now be able to send sponsored messages directly to someone's Messenger app.
Keep in mind: if the person responds to your sponsored message, they will be added to your ManyChat subscriber list. And if they respond to your sponsored message using one of your keywords, they will receive your normal chatbot response for that keyword.
As you can see, the possibilities are endless for creating highly interactive and individualized marketing campaigns!
Ways To Use ManyChat
Now that you know how to set up messages, keywords, and sequences inside of ManyChat, let's step back for a minute and think strategically. How can you use this new tool to help grow your business while delivering a better user experience for your customers?
Here are a few ideas to help get you started:
Lead Nurturing
Messenger is a great lead generation strategy. You can nurture prospects through a combination of education-based selling, overcoming objections, and reminding users over time about the benefits of your product or service.
The key to a successful lead generation campaign is to make sure your messages prompt an ideal sales conversation. For example, if you sell high-end blenders, use Messenger marketing to get your prospects thinking about all the ways a high-end blender could simplify and improve their life. And at the same time, point out the situations in their day-to-day life where they're currently missing out some of those great benefits.
Order Updates
More and more ecommerce companies use Messenger to deliver order & shipping updates directly inside of the app: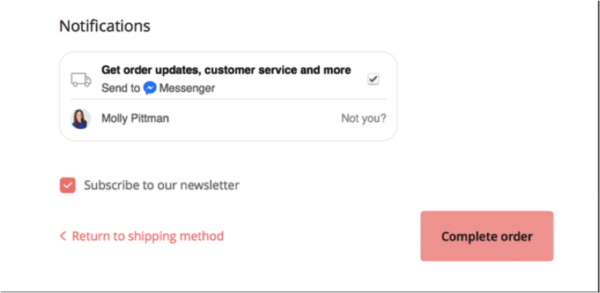 This provides a quicker and easier experience for many people who prefer using Facebook Messenger over email.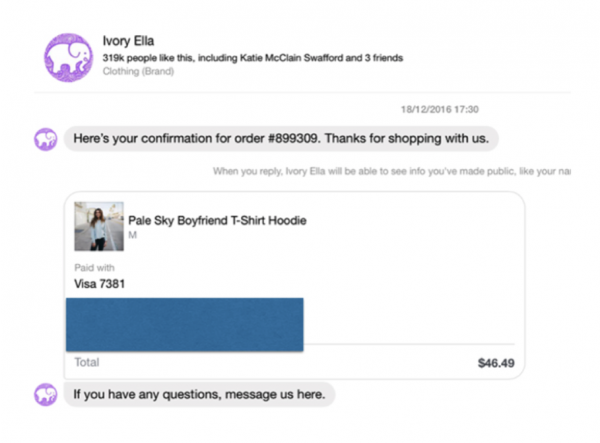 And because the shipping information is delivered directly inside of Messenger, it makes it easy for customers to ask questions about their order and get a speedy response from a customer service rep.
Companies like Lyft, Dominos, and Bank of America continue to use chatbots for customer service in fun and innovative ways, so customers can get the convenient and quick service they want.
Content Delivery
Messenger is a great way to increase consumption of any new content. Maybe you've just published a blog post, a video, or a podcast. In that case, shoot a broadcast out to your ManyChat subscribers inviting them to check it out!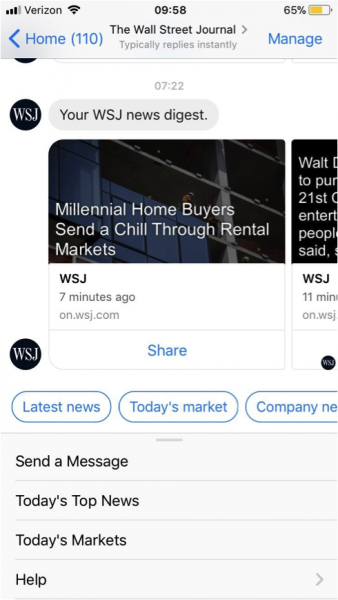 And in some cases, you might be able to deliver that content directly in Messenger itself through a combination of text, images, and videos.
Retargeting
Facebook is known as a great social media channel for remarketing to people who visited your site without purchasing your product—and Messenger Marketing is just as effective.
Here's an easy way to set up retargeting for Messenger Marketing:
First, define the audience you want to target inside of Facebook. For this example, let's say it consists of people who visited your sales page without purchasing your product:
Next, create an ad with "Send Message" as the call to action button. And in the text of your ad, ask people to send you a message with their #1 question or hesitation regarding your product:
This is a personal and low-friction way to find out what is holding people back from purchasing your product. Armed with that information, you can do several things to increase conversions—such as overcoming those objections one-on-one with your leads inside of Messenger, and updating your sales page to address your most common objections.
Drive More Sales
I don't want you to think that ManyChat is just an engagement tool. You can absolutely use the tools in your ManyChat account to drive more sales & conversions to grow your company's bottom line.
As you learned just a moment ago, a ManyChat sequence is a perfect way to nurture leads. And what should you do at the end of that sequence? Why, you should give your users a call-to-action to purchase your product or service, of course!
In most cases that will entail creating a button that leads off of Messenger and onto your sales page, product page, or registration page. But as Messenger Marketing gets more & more sophisticated, your options continue to grow.
Consider this: using our Zapier integration, it's possible to register a subscriber for a webinar—right from within Messenger. And then you can even provide automated follow-up messages, also within Messenger. For companies who rely on webinars to drive purchases and trial sign-ups, this tactic could be a game-changer.
You can also create other customized conversion actions inside of ManyChat, such as scheduling an appointment or calling a phone #. These are perfect choices for companies whose sales process typically requires some sort of contact with a sales person.
Introducing ManyChat Flow Builder
October was an exciting month for ManyChat! With the introduction of Flow Builder, we've taken Messenger Marketing to an even better level with our revolutionary visual editor. Now, setting up broadcasts and sequences faster, easier, and more intuitive than ever before.
Check out this post to get the full scoop: Introducing ManyChat Flow Builder: A Revolutionary Visual Editor for Messenger Marketing.
Case Studies
Want some real-world chatbot examples of how companies are using ManyChat to generate leads & sales to grow their business? Here are a few recent case studies published on the ManyChat blog:
Time To Take The First Step
Now that you know how to set up your own Messenger Marketing campaigns using ManyChat, there's only one thing left to do—take the first step! If you're already a ManyChat user, that means logging into your account and working through the steps in this guide to create your own marketing chatbot.
If you're not yet a ManyChat user, what are you waiting for?
Every day more and more companies are joining the Messenger marketing craze and discovering just how effective marketing can be when you communicate with your leads in a personalized and interactive way. It's 100% free to sign up, so you have nothing to lose.
Sources & Examples:
Los contenidos de este blog han sido elaborados de forma independiente y sólo tienen fines informativos. Las opiniones expresadas son las del autor y no reflejan necesariamente los puntos de vista de ManyChat o de cualquier otra parte. Los resultados individuales pueden variar.