[Case Study] Matze Brandmüller Generates Over 550K in Revenue for Chatbot Creator Bootcamp with ManyChat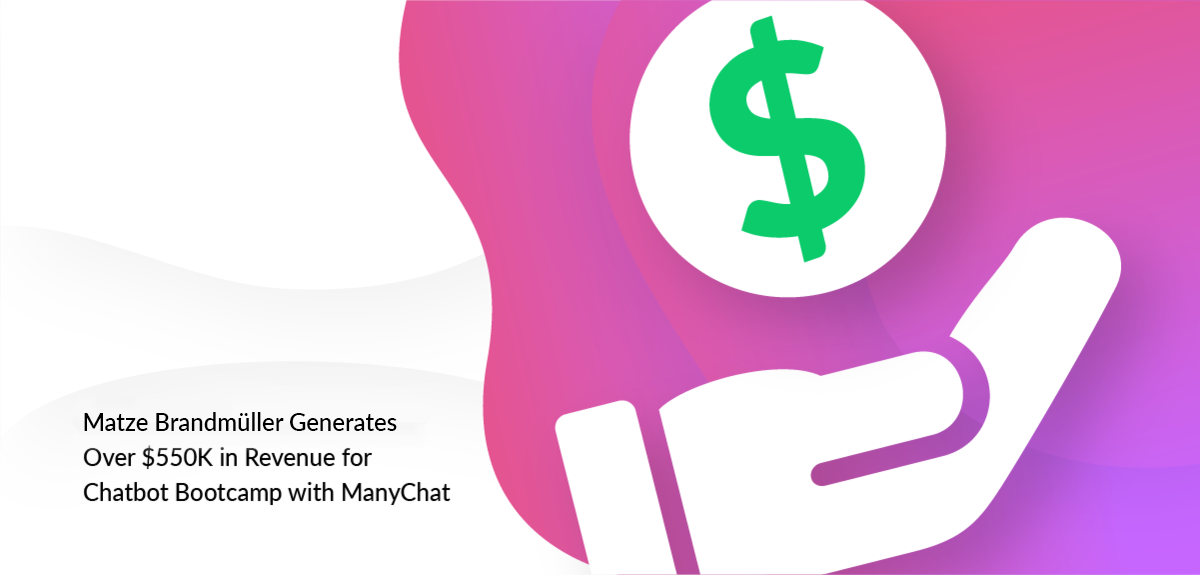 Matze Brandmüller, CEO and co-founder of BotBlocks, has streamlined webinar sign-ups for his exclusive Messenger Marketing eLearning course, called Chatbot Creator Bootcamp, and uses ManyChat to generate leads, recapture prospects, deliver, and sell course materials. After testing a mixture of landing page and email marketing tactics, he found the best results came from his ManyChat bot, which generated over $550,000 in revenue in just six months.
Testing New Lead Generation Tactics
Matze needed a better way to improve web sign-ups for his Chatbot Creator Bootcamp eLearning course. He'd been testing email marketing and landing pages, but open and click rates continued to decline.
He also tested retargeting through Facebook, but found that whether it was an image or video; people lost interest. Sign-up and attendance rates for his webinar continued to drop as well.
And for those who did sign up, they didn't remember (or care about) the webinar they once wanted to join. Matze explains:
"It's essential to use webinars in marketing. They convert better than a normal sales page. Some products require more explanation and who has 90 minutes spontaneously to watch a 90-minute video on a landing page? The chance to market a product that is so expensive and in need of explanation is almost zero. It's easier with a webinar"
The time-lapse between sign-up and appointment caused most of the drop-off. Matze knew you can't sell high priced products this way, so he reimagined his marketing approach.
"You lose a lot of people and, in the end, a lot of money. If someone clicks on an ad and doesn't get immediate attention, they lose interest. People were forgetting the date quickly after signing up for the webinar. We needed an effective way to remind them of the date to improve attendance rates."
The old way of doing it was proving ineffective, and it was getting harder to get the results he wanted.
It was time to put all his effort into Messenger Marketing.
ManyChat + BotBlocks + a little Live Chat changed everything
Mazte heavily relied on the ManyChat + BotBlocks EverWebinar integration for Chatbot Creator Bootcamp. Because everything happened inside the chat window, he was able to market the course without a website.
People who were interested in the webinar could sign up right in Messenger. All dates were automatically scheduled and a reminder was sent by ManyChat before the users' webinar date.
He adds:
"We connected EverWebinar to centralize the entire funnel in Messenger, from sign-ups to payments, and set up flows to re-engage people who didn't buy the course after our webinar. The most powerful thing was when people went after the webinar to check out but didn't buy the course, we'd have live chat jump in after 20-minutes to encourage the purchase."
For every 10 people they followed-up with, eight returned to buy — an 80% recapture rate that brought people back to checkout, credit card in hand, ready to pay for the course.
Matze said that he couldn't test processes like this without a ManyChat bot. In the beginning, they tested the standard landing page, but it was more expensive to get a lead than keeping people in Messenger. He also shares with us a pro tip to get more people to sign up for your event.
"If there are people in your webinar funnel, ask them again. Hey, are you sure you're coming? Because I have limited places (or availability). You'll take the spot away from someone else who's really honest and serious about building his business".
It was a psychological approach. If the person confirmed, the chances they would show up were higher.
A massive increase in both webinar attendance and revenue
Since moving his entire marketing budget to Messenger Marketing, results have increased exponentially. In the first 6 months, he brought in over $550,000 (500.000 €) in revenue from Chatbot Creator Bootcamp, almost on autopilot.
He tells us that without any website or email marketing effort, he's never had such low marketing costs. He's also seen a 50% increase in webinar sign-ups, a 30% jump in attendance, and higher engagement with Messenger Marketing.
Matze's long-term goal is to bring on more professional trainers, marketing consultants and chatbot builders from around the world together; and also offer a second training to help chatbot builders start their own agency or become consultants.
Results Rundown
$550K in revenue in 6 months
80% of users who abandoned cart returned with automated messages
Increased webinar sign-ups by 50%
Increased webinar attendance by 30%
100% of sign-ups made through ManyChat bot
Want to start using bots to grow your coaching business like Matze? Get a free ManyChat account and start building your bot today!
The contents of this blog were independently prepared and are for informational purposes only. The opinions expressed are those of the author and do not necessarily reflect the views of ManyChat or any other party. Individual results may vary.